If you didn't know, RILEY (formerly Amber Riley) is a part of the Beyhive. Twenty minutes into our conversation, the all-around superstar started effortlessly singing "Bigger," a song Beyoncé recorded for The Lion King: The Gift. As usual, RILEY's voice was in excellent condition, as she deftly floated through the original song that reaffirms Black greatness. 
RILEY related to Beyoncé's soundtrack number over its affinity to her new song "Ride." While the lyrical content of each song differs, they're unknowingly bonded by their choruses. And although she said she intentionally didn't listen to music while recording the island-fused R&B cut, she understands why the two songs might have a true connection. 
"My producers are Nigerian, so it could be the influence of Nigeria because they have a certain sound and a certain groove," RILEY tells Rated R&B. "But honestly, when I went into the studio that day, in connection to Beyoncé, two writers that I was supposed to write with that day ended up having to cancel because Beyoncé had writing sessions going on all over L.A. that particular day that I wrote ["Ride"]."
The song appears on RILEY's self-titled debut EP, which is available now. Throughout the project's six songs, RILEY offers a rounded take on sonic experimentation and reinforcing messages of body-positivity, authenticity, and confidence. 
"BGE," the EP's lead track, is an acronym for big girl energy, and defined in her words as a woman who "handles her business." The title of the first song she wrote for the project takes on a greater meaning for RILEY, who saw it as an opportunity to be seen and heard in a new light. 
"I wanted to write something that personified what I felt and I really went in the studio and was like, 'I want to talk to my shit,'" she shares about the process behind writing the project opener. "I wanted to erase everything in my mind that I feel people think I am and talk about who I really am. I wanted them to know that big girls can be sexy. I wanted to do it in a way that wasn't corny. Sometimes people can do an anthem and it can sound so cheesy, but I think I did it with authenticity and it was very strategic." 
In an interview with RILEY, the homegrown vocalist talks more about her new project. She also discusses collaborating with BJ The Chicago Kid, not sacrificing her talent and much more. 
Congratulations on your debut project RILEY. What does it feel like to finally have a body of work, that your long-time followers can now stream?
I feel relieved because everybody's been cussing me out for ten years about it. I almost feel like an evolution has happened. Like just within me, giving people another side of me and showing them another talent that they probably weren't either expecting or used to, or aren't used to from me.
Many of us know you as Amber Riley, a major star in the world of television, film, and Broadway. On this project though, you're RILEY, an emerging new artist on the right track to make a name for herself in the music industry. Did you find that people were confused at your releasing music under this alias? Also, how do you work to differentiate the two personas to your existing and new audience?
Some people were kind of confused and then some people were like, "Y'all it's just her last name." What's funny is most of my male friends call me RILEY anyway. I don't know what that's about. I don't know if it's like a sports thing, but that's how I'm identified with a lot of people that are in my life. But for me, it's all-encompassing. I guess I can say like RILEY is my Sasha Fierce. That's kind of how I try to get people to kind of understand it. Amber Riley and RILEY are one in the same, it's just a different part of me being shown in my music. It's a sexier part. It's the more outrageous part, the more hood part of me, the blacker side. Even though I know, Black is not a monolith, but I feel [this project] is an introduction to the side of me that people probably either have not noticed or have not met.
How much of Amber Riley is in this EP as opposed to RILEY?
I think Amber Riley definitely came out in the heartfelt song "A Moment." That's the last song that I wrote of my EP. She is definitely more sensitive and more open than RILEY. She is a boss. She is hood. She doesn't suffer any fools (laughs). She is about her check, her music, her look. I feel like Amber Riley is more of the business side — maybe the Hollywood, presentable one. I think the album it's all of me, but I think I had my RILEY hat on for some stuff and for "A Moment," it was just laying it all on the line and being very open.
"A Moment," sounds completely different from the large fusion of genres that make up RILEY, particularly because it has more of a stripped-down and emotional vocal to it. Why was it important to end the project in that way?
I wanted to show all sides of myself. When I did this project, everything was very calculated and very on purpose. Every time we went into the studio, me and the producers Sons of Sonix (SOS), talked for a long time about what messages that we're trying to get. I feel like that song, along with the amazing writers that I worked with, — Jordin Sparks and Blush — was calculated, but it was a natural progression. I know that people were definitely expecting vocals. That was one thing that I was like, "We're not sacrificing vocal ability for pop sound or to be on radio." I still wanted to give vocals, but it was a delicate dance that we had to have.
It is very difficult in this day and age as a vocalist. I don't know what that's about. I don't know if we're now a society that we crave [mediocrity]. And I don't mean that in a way where I'm dissing anybody else, but sometimes, it's like in relationships when you dumb yourself down for that other person. You may have that person's attention, but you don't feel fulfilled. And that's what I wanted to stay away from. Yes, I want the attention of my fans. I'm not just making music for myself to listen to. If that's the case, I wouldn't release it. At the same time, I want to be satisfied with what it is that I'm putting out into this world and hope that my people find me. And I think my people found me.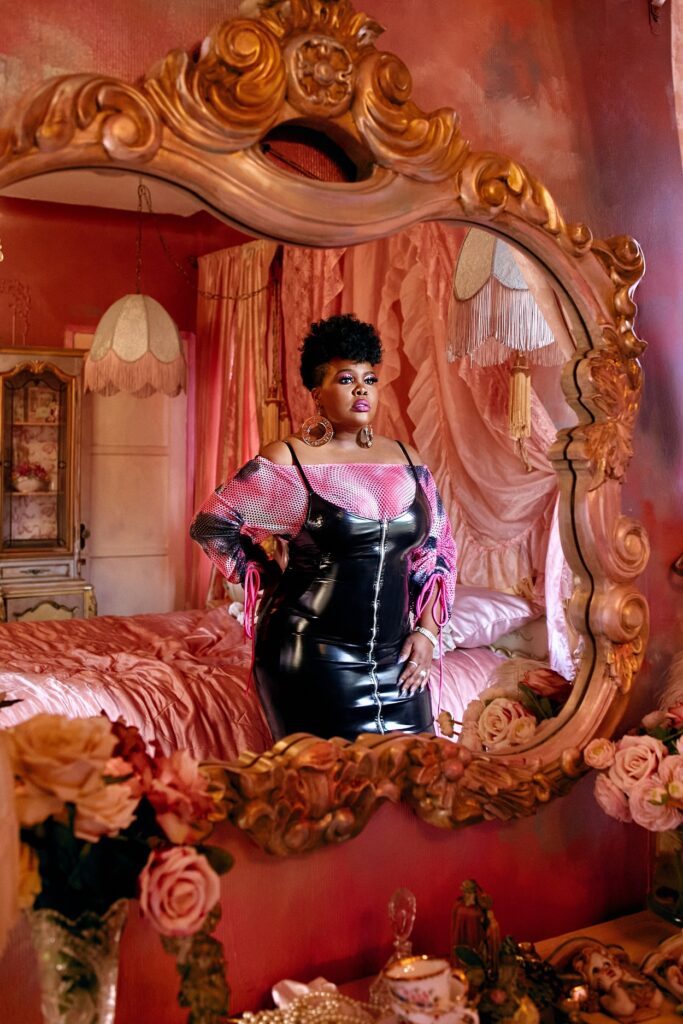 BJ The Chicago Kid has been lending his voice to quite a few debut projects lately. How did you connect with him for the song "Hood Living"? Also, what advice, if any, has he offered as you embark on this journey of artistry?
I was such a fan already. He's always been down and stayed the same. I knew of BJ when I got out of high school, I was sneaking into clubs to hear the open-mic singers. BJ was one of them. There were certain places in LA like Cozy's, The Cellar, and Café Cordiale, where he would frequent. I would see him all the time and I just never heard a singer that reminded me so much of the Sam Cooke's. Like he's a crooner, but he's also like D'Angelo where he can give you that sultry, too.
My manager actually suggested him [as a guest feature] when she heard "Hood Living," because it wasn't going to be a duet. It actually had a second verse already. She suggested that BJ come do the song. I thought it would be dope to have that Chicago, Southside sound, and my West coast sound together talking about our hood experience and how we grew up and he absolutely killed it.
As far as advice, we always talk about the industry in general. The one thing that he did say to me was, "Always stay true to who you are because that's who they're buying. They're buying into you." The industry can try and change you and strip you, but he was like, "They love you. I want you to know that artists respect you." He's just like a big brother, very encouraging all the time. I was honored that he took the time to come and record and bless my track because them some golden vocals right there (laughs).
What's something you're looking forward to in the near future?
I don't know if it's near in the future, but I'm looking forward to touring. I don't get to tour [this EP] live and that's the one part that has been kind of a letdown for me. I don't get that moment of putting the microphone out there in the audience and people know the words to my song or be in a room full of people that know your music and getting to say thank you. I just haven't gotten that, so I'm really looking forward to the day where I just can come out and everybody's singing the lyrics to my songs because I know I'm going to lose it.