Lenny Williams is still in the game, and he's doing just fine.
Since serving as the lead vocalist for Tower of Power in 1973 to simultaneously launching his solo career the following year, Williams has been consistent with releasing music. In fact, the 75-year-old legend has released an album in every decade since the '70s. How does he remain creative?
"I think it's just keeping your eyes and ears open and trying to figure out a way to say something differently," Williams explains to Rated R&B over the phone.
"There are only so many things in the world that excite people. Generally, the basic feelings we have about love, loss, excitement and sadness, those are feelings and emotions that human beings have had and will have — just trying to find ways to talk about them in a different way."
As a veteran in the game, who has inspired artists that came after him, Williams looks to the newer generation for some inspiration. "I try to listen to the radio a lot and see how young writers, who are fresh and energetic, may say something and give me an idea."
In April, Williams proclaimed he is doing just Fine with his latest album, which is the follow-up to 2012's Still In the Game. "My vision was to make a record that people would like — that would inspire people to listen, to comment, to purchase, to dance and just to love the music," Williams shares.
https://www.instagram.com/p/B_5k1ALHlQS/
The 15-track effort primarily features production from Levi Seacer, a founding member of Prince's backing band New Power Generation. It also includes contributions from Derek "DOA" Allen (Karyn White, Joe, Kem) and Thomas Shelby of Lakeside.
In our interview with Lenny Williams, the legendary balladeer candidly speaks on his new album, including why he unapologetically still records songs about making love. He also talks about his experience with artist development early on in his career and how he has kept his voice healthy over the years.
It's been eight years since you declared you are Still in the Game. What was your process starting your new album?
I got a call from a friend of mine who wanted me to do him a favor and go to the studio with this guy by the name of Corey the Poet. I told him I would do that. I didn't know Corey; I knew of him but didn't know him personally. I went to the studio and as life will have it, the producer was Levi Seacer. He was the guitar player that played with Prince in the New Power Generation Band. I liked Levi's style, so I asked him if we could work together. We started writing songs and that was kind of how it started. Then, I wrote a couple of songs with Derek Allen, also known as DOA. He and I wrote two songs. We actually wrote a song with my granddaughter, too.
Tell us about the song you co-wrote with your granddaughter. How did you end up working with her?
The song is called "Shine." DOA sent me a track and he was like, "I think this would be a great song for you, why don't you come up with something." I was kind of stuck. I couldn't think of anything. My granddaughter had been telling me over again how good she writes. So, I sent it to her and the next thing I know she sent it back to me with the first verse — she had the melody and everything. I wrote the second verse and took it to DOA. It's a great song. She did an excellent job.
You also collaborated with your sons on "Take It From There," which is kind of like you passing the torch to them. Can you speak about the importance of this record and your experience recording with your sons?
We all think about the future. You have kids, your kids have kids and then you look up one day and you're 75 like me. It's like, "Okay what's the average life expectancy for a male in the United States — a Black male?" And then you say, "I'm getting pretty close to that number." We know that someday it's going to happen. We are going to transition. So, I was just thinking about my sons, well all my children, but my sons because they sing. Levi Seacer and Corey the Poet got together and wrote this song. It's kind of like a father passing it down to his children. "Hey, I've built this. We got an empire over here. This is what I've done. Take it and multiply it." That was kind of the motivation.
I'm 75 and I still like to make love.
"All Night" is one of the more explicit songs on the album. What inspired you to include it?
That was a song that DOA sent to me. Tank has this song called "When We" and it's very explicit. DOA was like, "I want you to do something like that. I want you to go there." He had the music and the melody for the chorus but not for the verse. I had it for maybe a couple of weeks. I couldn't come up with anything. Then, I was just lying in bed one night and I just turned it on, got a pencil and paper, and it just started happening. I got the chorus. I sent it to DOA and asked what he thought. He said, "I love it," and then I asked, "Do you have a melody for the verse?" He was like, "No that's on you." I just started trying to play off of the chorus. I think the words weren't hard to come up with, it was the melody. I came up with a melody, sent it to DOA and he loved it. He said, "I think that we should probably have a lady sing the chorus."
The woman you collaborated with is Jeanie Tracy. How did you connect with her?
It's really interesting in a way because I had talked to Jeanie. On New Year's Eve 2019, I did a show with The Whispers. She and her husband bought a ticket. She wanted to come backstage because she wanted to see me and see The Whispers — she grew up with them. During that dialogue, she said, "Lenny if you ever needed me to do anything for you, sing with you, or do some background or whatever, let me know." She used to sing on everything — all on Aretha Franklin's hits. She sang background on Mariah Carey's stuff. She was formerly with The Weather Girls. She sang a lot of stuff with Sylvester. I said, "Okay" and kind of put it at the back of my mind. When DOA asked if I had anyone to do it, I called Jeanie and she came down and did a fantastic job.
There are some people out there who believe that after a certain age, an artist shouldn't explicitly sing about having sex — for whatever reason. What are your thoughts on this?
Some people say to me, "Well you're 75. Do you still think about that? Is that part of your life?" And it's like, "Yeah." A lot of people think you reach a certain age and the act of making love is no longer at the forefront of your mind. People still have a desire for passion, touching, and expressing their love in a physical way, well into their 80's and 90's. I'm 75 and I still like to make love.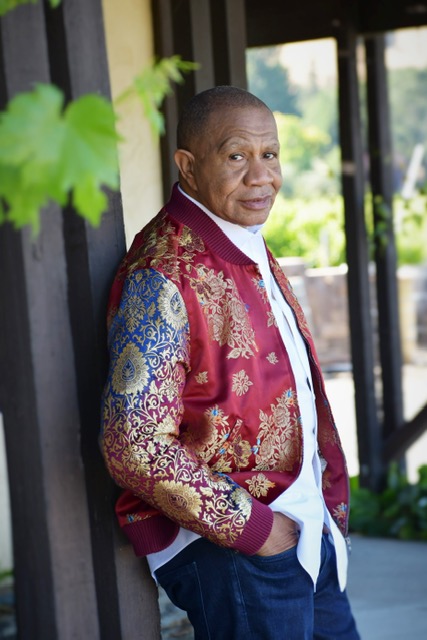 We often hear about the lack of artist development in the music industry today. When you first started as an artist, what was your experience?
I did go through some development. It wasn't like it was structured or anything like that. I learned how to stand in front of a microphone and sing so I could get the best out of my voice. I developed that lesson and then basically all I've learned by watching other people and life's lessons. I would do shows with great artists or artists that were more proficient on the stage than me. I always tried to learn and see what they did.
Some people were more fortunate. Artists who came up in Motown had visionaries like Berry Gordy who would teach them how to walk, how to speak to radio people, how to speak to the crowd and all these various things. I notice all of the classic Motown artists that I've met have a certain demeanor — a certain professionalism when they're entertaining or talking to people, no matter what. I think it's important and you can save a lot of time and a lot of hassle by having that type of development for sure.
How have you been able to keep your vocals healthy over the years?
I do my vocal exercises all the time just about every day. I'm always trying to learn about the voice, always on Google trying to see what all these new voice instructors are saying or what doctors say about the voice and what you should do to keep it healthy. I don't really go to clubs and things like that because people want to come up and talk over loud music, then next you lose your voice or you're hoarse. I try to avoid places where I can't speak in my normal speaking voice. If I have to raise my voice a couple of decibel points, then usually I don't go to those types of arenas.
What's your stance on lip-synching?
I've done it on television before because that's what they demand. Other than that, I've never done it. I see these kids that are adding equal amounts of dancing as it is singing, or sometimes more dancing than it is singing. I guess they have to do it but I think about some of the great dancer-singers like Tina Turner or James Brown that were always moving and always singing. It can definitely be done, you just have to build your wind up. I think sometimes people take the easy way out but to each his own.
Stream Lenny Williams' new album Fine below.