There isn't a direct path to breaking into the music industry. In some cases, it's a matter of being in the right place at the right time and connecting with someone who can get you through the door. Then there are cases such as LAYA's where you have to build your door to walk through.
The Staten Island, New York native has been singing since grade school. Even at a young age, she knew that her destiny was to become a professional singer.
"I've been singing all my life and writing songs. It was always something that I knew I wanted to do. There was never a plan B," LAYA tells Rated R&B over a video call.
Eager to get started with her musical journey, the ambitious singer decided early on to take matters into her own hands — not for luxury but out of necessity. "I was young and didn't have money for studio time," she says.
After saving her money to buy basic recording equipment, LAYA started to teach herself how to engineer her sessions and mix her songs. She eventually started posting music to SoundCloud to get her music "out there in the world."
While slowly but surely carving out the pathway to her dreams, there was another budding artist who she thought was motivating to watch in real-time: Tyler, the Creator.
"I was always a big fan from early on in his career. I was aware that he not only wrote his own songs, but he produced and recorded his own stuff," says LAYA.
"If you listened to his earlier work, it sounds a lot rougher than it does now because he was doing it all independently. He was creating his artwork and all those kinds of things. I was very inspired by that."
After years of sharing music on SoundCloud and dropping two unofficial mixtapes, LAYA finally caught the attention of Ericka Coulter, an A&R at Warner Records, with her 2019 self-released EP Um, Hello. The project was accompanied by a virtual reality-inspired video for "On Sight," filmed, directed and edited by LAYA.
She was ultimately offered a record deal with Warner. When it was time to release music, reps at the label wanted to give Um, Hello the push it deserved.
"They felt like it was a very solid body of work and no one had really heard it still, so they were like, 'We've got to give it its flowers,'" explains LAYA.
Instead of just reissuing Um, Hello in its original form, they decided to upgrade it with new artwork and six new tracks, including the Fivio Foreign-assisted "Brag" and "Crazy Down," which interpolates Missy Elliott's "Crazy Feelings" and Brandy's "I Wanna Be Down."
"I'm very proud of it. I love the original, of course, but we were able to beef it up a little bit and polish it up," says LAYA.
In Rated R&B's interview LAYA, the multi-talented creator talks about her experience transitioning to a major label, shares the meaning behind a few songs from the EP, explains her fascination with Brandy and more.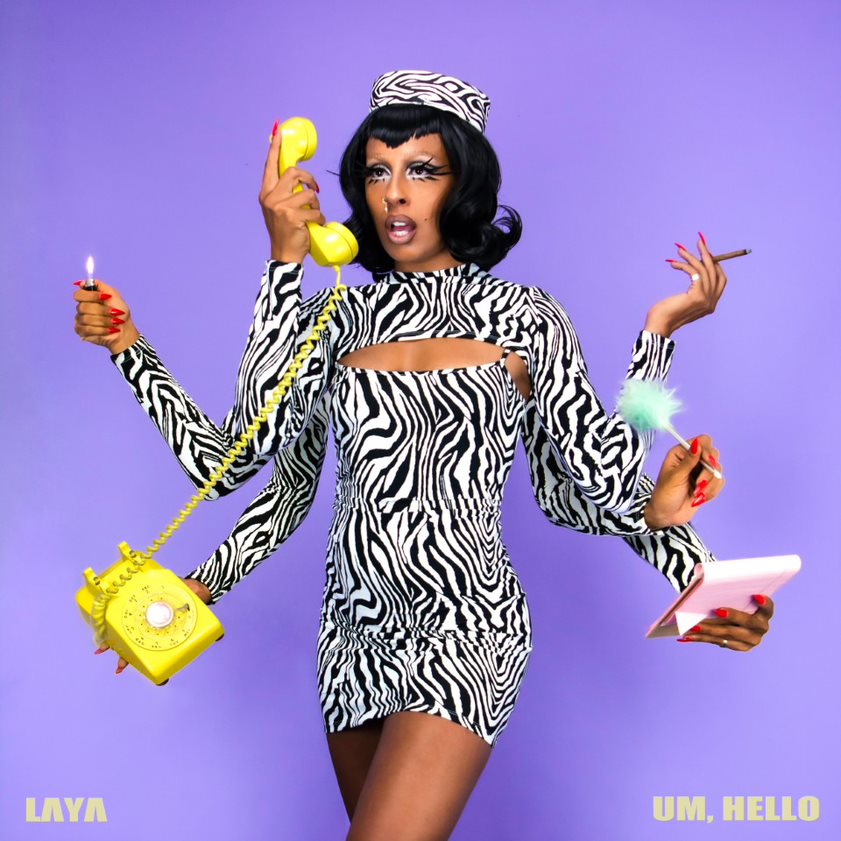 At one point, you were doing pretty much everything on your own — from recording music to filming your visuals to designing artwork for your releases. How would you describe your experience transitioning from DIY to having a label to support you?
It's still new for me. Most of it is trying to find other creatives to work with that compliment my style or understand my vision because everybody has a different flavor — videographers, photographers, stylists and makeup artists. I was doing all this stuff by myself. It's still a transition but we've been doing great.
There are so many more things that I never realized that I have to communicate because I was used to doing it myself. Now there's a lot of structure to what I was doing. Everything kind of flows and has an actual plan.
How did you circumvent burnout and protect your creative energy when you had to do more independently?
I would take my time and wouldn't put too much pressure on myself because I was the only person doing everything. When shooting videos, if I know I'm doing multiple looks, I'll split it up in days because I would have to set up everything.
With editing, I would try to be kind to myself and give myself a flexible deadline. What was most important was the art that I was creating. It's like, "Hey, if it's not done by this deadline because it's not where I need it to be yet, then it's not where I need it to be. I'm going to make sure that it's giving what I need to give before I give it away."
Let's get into some of these songs. "Brag" featuring Fivio Foreign is among the standouts on this project. Your angelic vocals over a hard-hitting production pair well. What was the inspiration behind this song?
It's my personal manifestation song. I'm saying in the hook, "I don't wanna brag when I get the big bag." When I wrote this song, I did not have a big bag. I was broke and didn't have anything.
In the lyrics, I say, "Got a deal and it's on the real." I did not have a deal at the time. I was just speaking it like, "I may not have it right now, but listen, I'm about to and when I do, I'm going to keep it cute. When I get that big bag, I'm not going to rub it in, but know that this is what I'm going for, and this is what I'm getting to." It's cool because a lot of people feel they relate to that.
"Crazy Down" is another song that I've seen people chatting about on Twitter. It's a nod to Missy Elliott's "Crazy Feelings" and Brandy's "I Wanna Be Down." What sparked this idea?
I was with my producers ORA. They're a duo. I was with them in Atlanta and I was playing "Crazy Feelings" by Missy Elliott featuring Beyoncé, which is an old Missy song that's super slept on. It's one of my favorite songs. I'm just playing it and singing to it like I always do, but they hadn't heard it. They were like, "What is this? This is fire."
The next thing I know, within 24 hours, they make this beat like sampling that song. Then one of them said to me, "I kind of hear a piece of Brandy's 'I Wanna Be Down.'"He just said the first couple of lines, "I would like to get to know if I could be," and I'm like, "Oh, okay!" I took that and ran with it and created the song.
It's kind of built around that "Crazy Feelings" sample. Then I took this interpolation of Brandy's "I Wanna Be Down" and did my own thing with it. It's like this mashup of all my mothers. It just came together so well.
When it was time to re-release it, I had to change the original sample since we didn't get it cleared. We had to create something similar enough that still gave you the same feeling. However, the truth is the song was built around that sample.
You've mentioned before that Brandy is one of your biggest musical inspirations. How has her music impacted you?
Her music is just classic. It's part of the golden era of the '90s and early 2000s R&B. I always loved her tone, her range and how she approaches songs. Never Say Never is one of my all-time favorite classic albums. I can play it and not skip anything and just have a ball. I love me some Brandy.
Missy Elliott is another inspiration. Earlier this year, you reimagined her 1997 classic "Sock It 2 Me" for Amazon Music. Why that song in particular?
They had pretty much told me I could cover whatever song of my choosing. "Sock It 2 Me" was the first song that popped in my head. I always loved singing the song around my house. It's one of those songs where I wish this was my song (laughs). It's so good and it's funky.
Missy kind of goes under the radar a lot for her R&B influence. So, I just took that opportunity as my moment to sing a Missy Elliott song and pay homage in a different light on the record. It's not the original, nothing will ever be the original, but it was fun to do.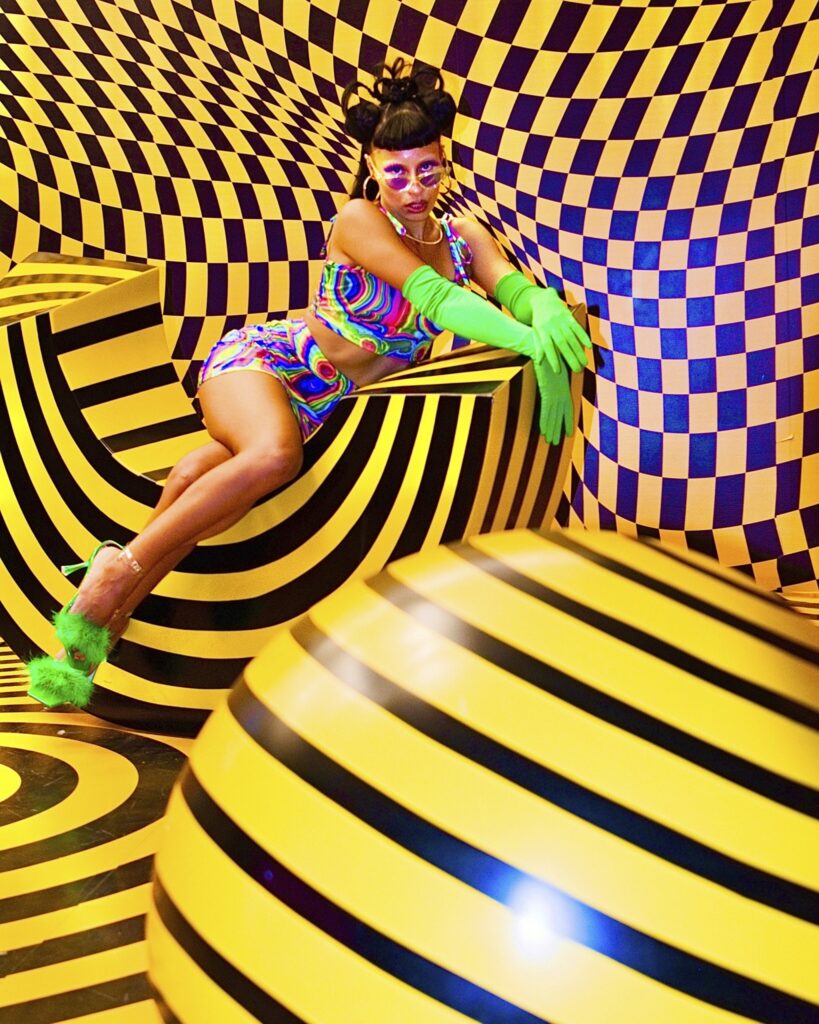 Back to the EP. "Calling Me" feels like a personal record from you. What went into making that song?
It was actually the last song that was created for this project. What's funny about how "Calling Me" came to be — I don't think I've even talked about this yet — but originally, there was a third verse that I had created for "Brag" that never made the cut. ORA went and sampled me from the verse that I never used.
They made this funky-ass beat for the song that's now "Calling Me," and I'm like, "Oh, this is crazy! I'm already hearing where I'm trying to go with it." That's really what it became. I love when they do stuff like take our own work and flip it into something else. We didn't waste any scraps!
"Calling Me" really ended up becoming this bookend of the, Um, Hello experience from everything that I went through from releasing it the first time. The song is really just coming from that place. I think that's why it's just so special to me because I remember where I was when I started working on this project. To see how far we've come and how much has changed since then, just with one EP, was so profound.
You mentioned that Um, Hello is that statement to get people's attention. After you get someone's attention, what do you hope they take away from the project?
I hope people feel inspired and motivated from this project and the whole story behind it — my whole story. I hope they realize that there is nothing out of grasp and that you can literally speak into existence what you want and manifest it.
There are a lot of motivational messages in my music. It's R&B, but it's not all about the bedroom or being in a club. It's stuff you could play in a club, but it still motivates you on a different level and makes you proud of yourself.
Stream LAYA's Um, Hello EP below.