Chxrry22 (pronounced "Cherry") was a bit skeptical when she received a DM from someone expressing interest in potentially signing her to XO Records, the label co-owned by R&B-pop superstar The Weeknd. That someone was Amir "Cash" Esmailian, co-founder of XO Records and co-manager of The Weeknd.
"I was at my friend's house like, 'Is this a prank?' Because, at the time, he didn't even have Instagram. It was his business page," Chxrry22 recalls to Rated R&B. "But then I was like, 'Oh wait, Travis Scott follows it. So it has to be real,'" she laughs.
Growing up, Chxrry22 had always loved to sing but didn't make it a focus until 2017, when she started posting song covers. After gaining traction from sharing her gift, she decided it was time to focus on launching her career as a recording artist.
The Toronto, Canada, native ended up relocating to Atlanta, Georgia, to begin her journey. Not long after, she took a meeting with The Weeknd and the XO Records team.
"It was really immediate. We flew to LA. We all had dinner and [Cash] was like, 'Yeah, I'm sold. I wanna sign her. It makes sense,'" says Chxrry22.
Some may call it luck, but for Chxrry22, it was her destiny.
View this post on Instagram
Like The Weeknd, whose real name is Abel Tesfaye, Chxrry22 was born to and raised by Ethiopian immigrant parents in Scarborough, a district in Toronto.
"We grew up in the same city, like the same community," she reveals. "When people figured out I was starting to do music, [they would] come up to me all the time and be like, 'I bet you Abel's gonna sign you.'"
Chxrry22 admits that "it felt surreal" to sign with XO Records, before adding, "I almost feel like people manifested it for me for a long time. When it happened, it also just felt like, 'Oh, okay, this makes sense.' It wasn't like I'd never thought of it."
On Sept. 28, Chxrry22 released her debut EP, The Other Side, via XO Records/Republic Records. The seven-track project doesn't contain any features, allowing listeners to focus and get to know Chxrry22 one song at a time.
The bulk of the EP was produced by Sensei Bueno (Snoh Aalegra, Baby Rose), with additional credits from LordQuest (Kelly Rowland, SiR) and Sonic Major (Kaash Paige, Phabo).
In Rated R&B's interview with Chxrry22, the promising act talks about her musical influences, her new EP The Other Side, her dream collaborations and more.
What inspired the name Chxrry22?
Chxrry22 used to be my Finsta [fake Instagram] name (laughs). Growing up, I would say, "If I was a stripper, my name would be Chxrry22." I really love it, so it just stuck.
What's your earliest memory of R&B?
My earliest experiences with R&B has to be Keyshia Cole. Literally, Keyshia Cole's music kind of taught me how to sing and help me find my sound. I grew up in Canada, so we didn't have that much. We had like one station for R&B and hip-hop. BET opened a whole new world for me — growing up, just watching different videos on 106 & Park and all those things.
It's interesting you mentioned Keyshia Cole. In a way, The Other Side brings that same rawness that we get from The Way It Is. It's not identical but I can understand the influence.
Oh, my God! That's such a compliment. That album literally raised me. And I love her so much to this day. I feel like she's such a legend. She was so honest and so real. Even when she's singing, you could feel the rawness. I try to do that with my music. I just want to make timeless music that lives on for a very long time. I don't ever want to look back and be like, "Why the f*ck did I put that out?"
What was your intent when making The Other Side?
I like that question. I feel like I've lived a hundred lives. I used to be really wild growing up. I'm an Aries, so the people I naturally gravitate toward are very raw, honest and real. I like people who are themselves. My approach to writing this project was, "Just be as honest as you can be and talk about everything — the good and the bad. Don't make yourself the victim." There's a lot of people that walk around feeling like the villain all the time. And it's okay. Not everybody is the victim. Someone's gotta be the villain. When I sat down and made the project, I just took all of the rules out and was like, "Okay, I f**ked this guy. I did this and that. Let me just write about it."
"The Falls" was released as your debut single. What was the inspiration behind this record and what made it the right song to introduce Chxrry22?
"The Falls" is based on an actual story. So, when I was in Atlanta, there was a point where I was working with people almost every day. I think I kind of lost my voice like, "Okay, well, what do I really wanna say?" It became about numbers. I was at a point where I didn't want to be around or work with anybody. I was just at home. I taught myself how to record and I literally just wrote it. I felt like because of the references to Toronto and the rawness of the song, I said, "This is a song that I think if people heard, they'd be like, 'Oh, I feel her. I've been through that.'" I just thought it was the perfect introduction to me.
What's the story behind "Call Me"?
I was in Houston, visiting for the weekend. The project was essentially done. I just felt like I needed something with a little bit of movement. When I made the project, I wanted to make a world. I just wanted a long listen. My producer sent me a bunch of beats. They were all very slow and jazzy, so I wrote "Call Me." It was really different — I still have it. But I took certain elements from it when I went back to Atlanta. We sat down and tweaked it. My writer Daijah came and we rewrote certain parts. When it was done, I was like, "Oh my God, this song is my favorite song." I just love listening to it.
"Us" has a bop to it that I like. When I previewed the song before it was released, I noticed that the file name was "You and Me." What prompted the title change?
Aw, thanks. Well [in the sequencing], it was "Call Me" and then "You and Me." But I was like, "It looks crazy. Let's change it to 'Us.'" So, "Us" was at a point where I felt very far away from my family. I was missing birthdays, celebrations, and stuff like that [because] I was living in Atlanta. The song is actually not about a boy. When I wrote it, it was about my family and friends and feeling like I'm chasing this thing and sacrificing so much time. I just wanted to write about someone leaving you behind.
On "Alone," you discover the significance of making time for yourself, especially after a breakup. What was going through your mind when you were writing that song?
If I'm being honest, I have been in different relationships since I was 17. Each time I would leave, I felt more and more empty. I wanted to make a song about someone realizing they need to be alone and the energy you give and the energy people give to you does affect you in the long run. You don't realize how much it's affecting you until time's passed and you get into another relationship.
Speaking of being alone, what do you enjoy doing in your free time?
I love shopping. I'm an addict. I love thrifting; it's probably my favorite thing to do. And I really like ice skating in the winter because I grew up in Canada.
What's your favorite clothing item to buy?
I think pants. It's so weird. I have a lot of pants. And right now, I'm really into kids' shirts. I'll go to a store and will go right to the kids' section because I fit their size. They have these cute little graphics on them. Some are funny.
"Wasteland" is your current focus track and certainly one of the highlights on the EP. What's the inspiration behind that song?
Literally, my city. If you come to Toronto, there's very much like a clear divide in a sense with women and men. Honestly, I think in the world — in every industry and every city — women aren't looked at as equal or viewed as important. There's been times where I've been around men, and they'll say hi to everyone except me. But later, they'll find out, "Oh, she works with Abel," or "Oh, she's a singer." And it's like, "All of a sudden I'm worthy of your introduction?" I needed to make a song about that. Every girl has been in this position where you're with your boyfriend, he sees his friends, and they say hi to him but don't acknowledge you.
You are the first woman to sign with XO Records. What does that mean to you?
It means a lot. I've seen a lot of comments in the last week where girls are like, "Finally!" I think not just XO but every label needs more women. We need more female producers. We need more female managers and more females in the music industry. I understand my responsibility and just want to do a good job.
Well, you're doing a great job so far, especially with The Other Side. Even though it's just an EP, it still feels personal and intentional. Like you said before, it sounds like you're creating this world.
I f*ck with you. Thank you so much because I really do care about what I do. People have come up to me and said stuff like, "Your songs are so raw." I'm like, "Thank God. I was a little nervous you guys would judge me." But I'm glad we're all the same amount of f*cked up (laughs).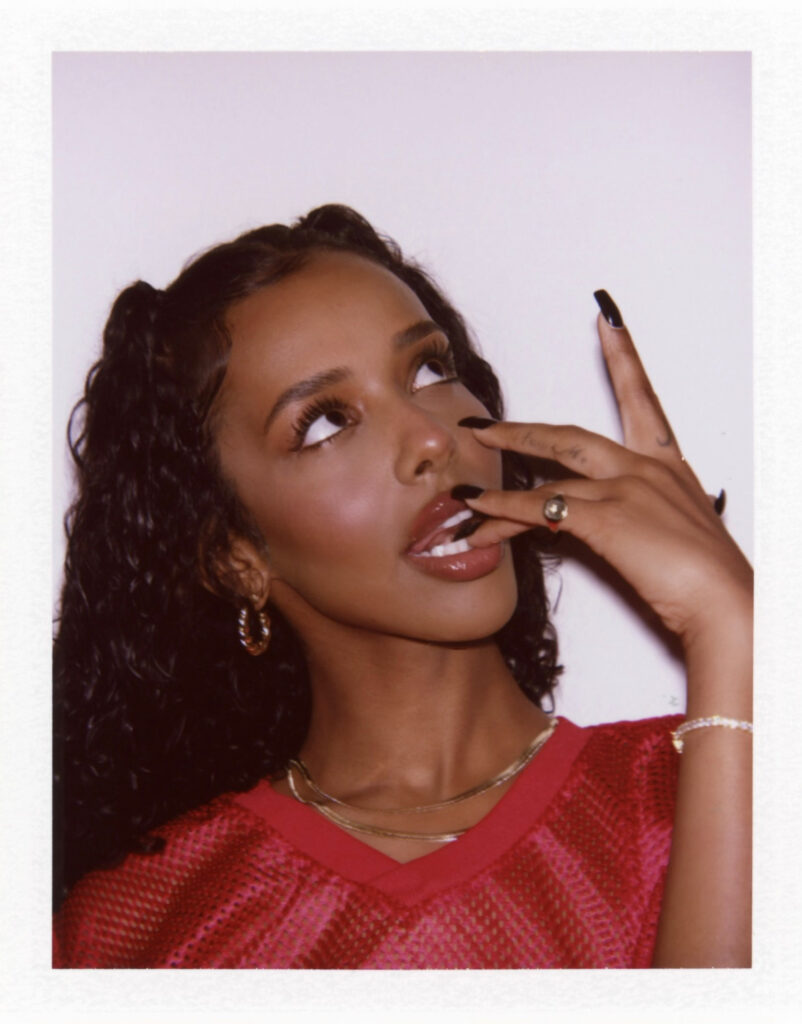 It's only been about a month since you dropped The Other Side, but what's next for you?
I know, I know (laughs). My label's like, "Yeah, we're gonna gear up and drop another one soon." I definitely am dropping something at the top of the year because I think there's a lot of momentum and excitement. I am gonna have a video for "Wasteland," as of right now. Obviously, everything changes all the time.
Do you have any dream collaborations?
I would love to work with Rihanna. I wanna work with all the girls — Summer [Walker], SZA, Kali Uchis. I would love to work with Omar Apollo. I'm a fan of his right now. I really like Brent [Faiyaz] and Don Toliver. Working with another artist would be so fun for me. I haven't done any real collabs yet, so I'm excited.
Is it possible that we will get a Chxrry22 and The Weeknd collab in the future?
I think so. I think that's in the works for sure (laughs).
Stream Chxrry22's The Other Side EP below.