Don't call Stephanie Mills an underdog. "I've had a fabulous life and fabulous career," the legendary singer confidently tells Rated R&B. "It's just that I've never had someone to display my accomplishments the way others have. My career has always been very grassroots."
Mills has achieved considerable success since the age of nine when she had a background role in the 1968 musical Maggie Flynn. She continued to eke her way into show biz, notably winning amateur night at Showtime at the Apollo for six consecutive weeks.
It wasn't until 1975, as part of the original Broadway production of The Wiz, that Mills would see her star rise to unimaginable heights.
On the strength of playing Dorothy, a Kansas farm girl whose life took an unexpected turn to the whimsical world of Oz, Mills received rave reviews.
With the Broadway circuit a solid foundation for infinite career moves and one album under her belt, Mills set her sights more on music. She proved the following decade that her popularity as a leading woman in R&B was growing, having a career studded with multiple top 10 singles and five No. 1s on the R&B charts.
Among those songs to lead the Hot R&B/Hip-Hop Songs chart (formerly known as the Hot Black Singles chart) was "Home."
Initially, Mills performed the song, written by Charlie Smalls, as the finale for the streak of Broadway gigs. She later used the song for a 1989 album of the same name. While it was hard to choose, Mills considers the album and its updated rendition of the stage favorite as her prime vocal performance.
"I love all my albums [but] I think my prime album would be the Home album because I put a lot of thought into re-recording 'Home' and the songs on that album," Mills notes. "But each of my albums [has] a story of a time in my life [and] what I may have been going through at that time."
Of all the things Mills has accomplished throughout her phenomenal career, she's never starred in a film. Mills' first feature film, Pride: A Seven Deadly Sins Story, is the fifth installment in a T.D. Jakes-helmed anthology and premieres on Lifetime Saturday, April 8, at 8 p.m. ET.
In Pride: A Seven Deadly Sins Story, directed by Troy Scott and written by Felicia Broker, Mills steps into the role of Birdie Moore, an entrepreneur and reality TV star, whose painful past could be disastrous for all those involved. In addition to Mills, the film stars gospel singer Erica Campbell and comedian Thomas "Nephew Tommy" Miles as well as Keeya King.
In Rated R&B's interview with Mills, the Grammy-nominated singer discusses her role in Pride: A Seven Deadly Sins Story, why she enjoys touring, new music and more.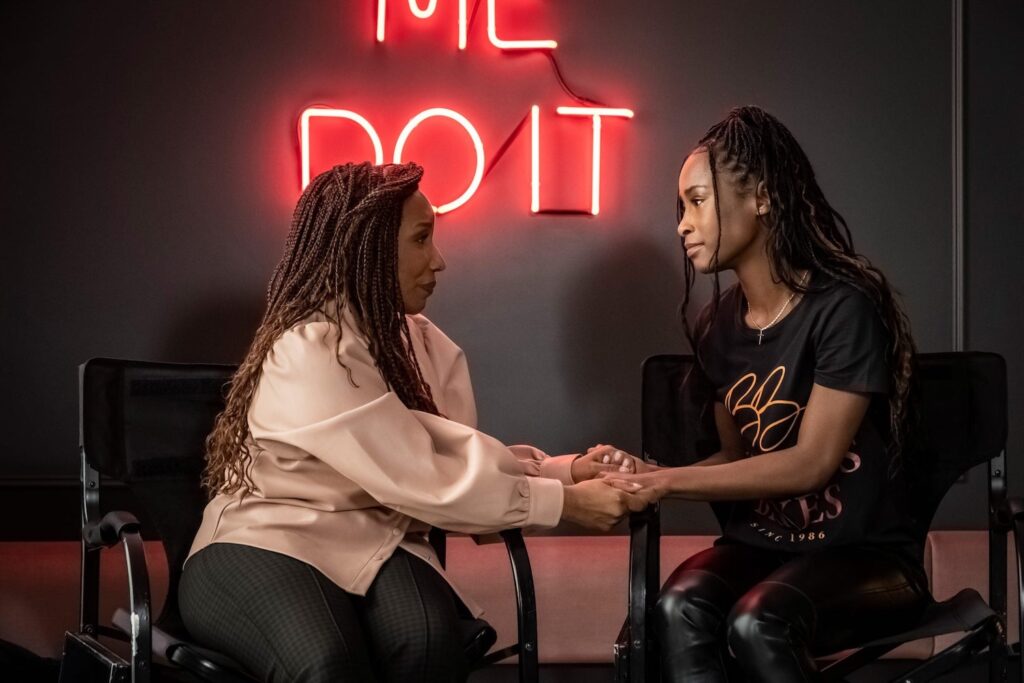 How did you prepare for your first movie role?
I know that my theater background prepared me. Had I not done theater, I wouldn't have been so prepared, but it was quite easy to jump into it. I thought it was gonna be more difficult than it was, but it wasn't. The people around me, Nephew Tommy and Ms. [Keeya] King and Erica Campbell, made it quite easy.
You said at first you thought it was going to be difficult. Why?
Well, because I'm 66 years old. I was worried that I wouldn't be able to remember my lines, but I did. Of course, it was long, 16-hour days, and we shot it in 17 days. But it wasn't hard at all. I could do more [movies]. I told my manager: "I could do this again." It was very easy.
Did you connect with your character Birdie in any way?
Of course. She's a strong woman. I'm a strong woman. She loves her family. I adore my family. But I'm not a reality star. I would never do a reality show. But her strength, how much she loved her son and wanted the best for her granddaughter, I related to that.
Birdie, who is enormously successful as the owner of a bakery and reality star, is having a hard time keeping skeletons in the closet. How do you think entertainers can get ahead of embarrassment that could cause a wrinkle in their brand?
I think you don't try to hide it. When you approach it head-on, you take the power away.
What do you hope viewers take away from Pride: A Seven Deadly Sins Story?
I hope that they realize how detrimental pride could be. Saying, sorry, or I didn't mean it, or having compassion for another person is very important. Sometimes people are so prideful [that] they can lose everything because they don't wanna address the elephant in the room. It's very important that they take away that pride is not a good thing to have.
Touring is essential to many artists. It seems like it could be taxing on one's voice. After all these years of performing, how do you preserve and protect your voice?
I sing every day, but I get a lot of rest. I sleep a lot, but I love touring. It's not taxing. I'm older, so when I come home, I am tired, but it's a good tired because I love leaving everything that I have on stage with my audience. I feel blessed and fortunate to be out on the road, selling out shows, and doing well in 2023. I would've never thought, but I'm having a great time.
What makes you the happiest when you're on stage?
Seeing the audience's faces and seeing them enjoy my singing. I take pride in trying to sound as close to my records as I can. In fact, when I sing, I sing to my original recording. People pay their hard-earned money to come see you. That's big. That's a lot.
I can appreciate when artists stick to the original rendition of the record in concert. Some artists can get away with changing it up but it's nothing like the original tune.
Oh, yes. Because that's what you bought; that's what you know; that's what you probably [were] listening to on your way to the concert is the original recording. I like to hear it the way I heard it on the radio and in my car.
To what, if anything, do you credit your longevity in this industry?
Never following a trend. I've always done my own path and stayed on my own path. I didn't listen to a lot of noise of what people say: "Oh, you should do this, you should do that." I took the best from whatever they said that I felt was best for me and would work for me and I would do that. I always took my time and just slowly did the slow walk. I didn't do a fast run. I did a slow walk.
You released "Let's Do The Right Thing" two years ago as part of Juneteenth. When it comes to releasing new music today, what motivates you?
My thoughts, my writing [and] the urgency in me to express a certain song or topic. For a long time, I didn't feel like recording, but these last couple of years, I felt like recording and writing and expressing myself the way I wanted to. I love being able to put out music on my own and market it ourselves. I love that.
https://www.youtube.com/watch?v=L63PN4ROQ5o
You hinted at recording songs with Marcus Malone, who was part of the song just mentioned. Is a project in the works?
Yeah, that's still in the works. We still gonna do some songs. But I've been so busy on the road, and he's my [music director], so he's on the road with me too, and then doing this movie and everything, we just haven't had time to put it together the way we want to. But yes, that is a possibility.
There is so much happening in the world. What gives you hope?
My faith in God and my honesty of wanting to spread joy. You can never give up. I think we've been through much worse as a people. So we have to keep going, keep our head up, let the sun hit our face, and spread joy. We can't give in to the negativity — and we're not fighting human beings. It's a spiritual warfare, I believe. And we have to keep the faith. You have to keep the faith.
Watch the trailer for Pride: A Seven Deadly Sins Story featuring Stephanie Mills below.