According to some spiritual believers, the number seven is a powerful number. In the biblical scripture, it symbolizes physical and spiritual fulfillment. In numerology, it represents the need to embark on a spiritual connection full of depth and meaning. For R&B icon Brandy, it makes perfect sense to name her seventh studio album B7, as it exhibits the promise and healing she discovered on the personal path she initiated during her respite.
"I wanted to reconnect with music and find my sound — that unique sound that I've been searching for. Starting the project with DJ Camper and working with amazing writers, I started to feel inspired," Brandy shared with Rated R&B in May.
"I started to write more and really tell some of the experiences that I've been through over the last few years. I wanted this album to be honest and as authentic as it could be. I wanted it to be true to who I am as an artist. It took me a minute but I feel like I found that niche."
By rendering herself more open and content, Brandy reveals an elevated form of herself on B7 that fans have not heard on albums prior. She touches on the doubt and pressure she grappled with over the years, despite her regarded standing in the industry. In doing so, her refined spirit becomes settled and at ease, allowing her to wholeheartedly tap in — spiritually and artistically.
This arduous road to self-discovery produced new accomplishments and independence. For the first time in her career, Brandy gained creative control over the direction of her album. With this newfound leadership, she co-wrote and co-produced the entire album over the span of three years. She took the necessary time to carefully craft a distinct sound that was truest to her in this blossoming stage in her life. Unapologetically baring her emotions and life on B7, she's brought her loyal fanbase along for the encouraging and inspiring journey.
Each era of Brandy differs from its antecedents. Full Moon solidified her place in R&B, blending contemporary R&B with an electronic rhythm that couldn't be contested. Afrodisiac was a slight peak into the alternative-R&B plateau that's currently in demand. While Human drifted into the pop lane, Two Eleven steered her back into the soulfully lush and innovative track we know her for and this time is no different.
As there are a few modest tributes to her prior artistic stages, her audience gets a whole new Brandy at an enhanced level and deservingly so. If anyone is expecting any direct descendants of her prior work, they might want to come into B7 with an open mind and a fresh set of ears.
The album opens up with the verdantly balmy "Saving All My Love," giving a nod to the "goat," her idol and mentor the late Whitney Houston. Placing the precedence for the album, Brandy asks to excuse her tardiness, as it's been nearly eight years since her last proper album. She had a good reason for her delay, though. In dealing with some personal burdens, she needed time to simply be herself and not the artist critics and fans know her for.
She plays with her tone a lot more this time around. Many listeners are used to hearty, chest-lead vocals, where she's executing an airy and plush timbre that she hasn't employed often. On tracks like "Unconditional Oceans" and "Lucid Dreams," she utilizes her higher register more frequently, showcasing her comfort with going outside the box and dabbling in different textures to extend her notable sound.
Teasing "Rather Be" ahead of the album's release, this straightforward number reinforces the ambiance of Brandy. Just as she sings that she doesn't need any extras, there are no bells and whistles necessary. Her soothing voice melts into the propelling production, allowing her inexplicable notes to do all the heavy lifting.
The three-part interlude "All My Life" honors her roots, as replicated from her debut eponymous album with the "I Dedicated" triad; an easter egg honest fans can appreciate.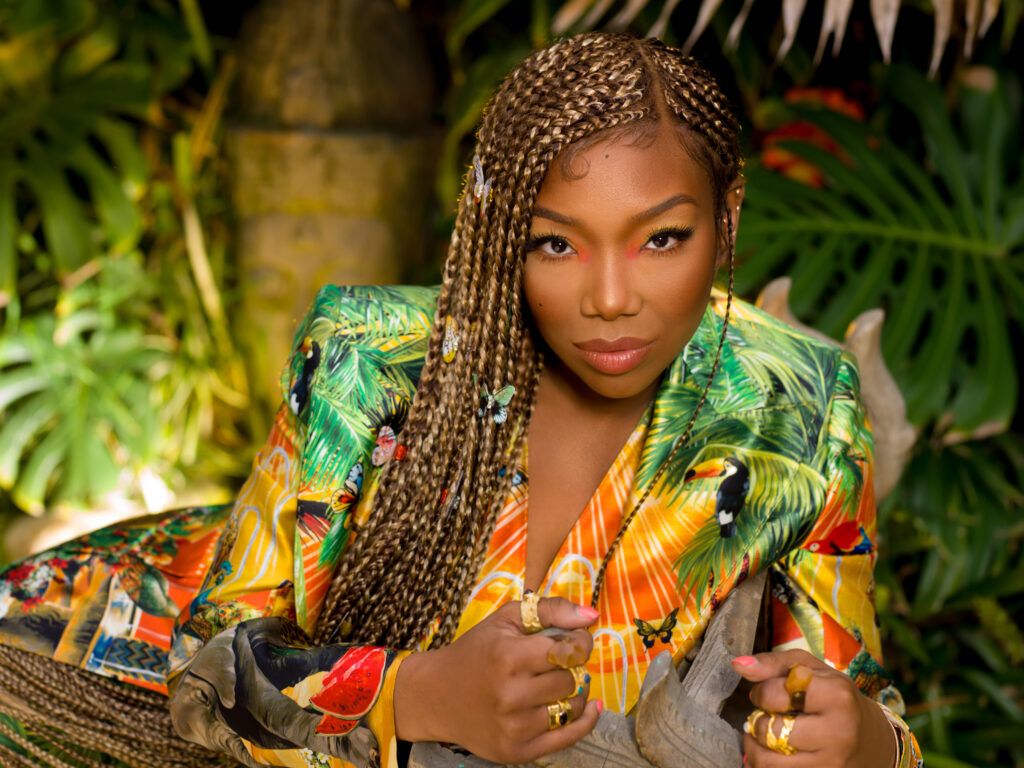 "Say Something" is a jazzy-blues fusion that'll hook listeners from the piano introduction. All Brandy requires is some honesty and even though she doesn't want to keep her guard up, it's best that she does. "I'm on defense cause I'm under attack / Been on the fence and I ain't looking back / Question some things that I thought was a fact / Said some things that I could never take back," she sings in the opening verse. The weeping organs support the soul-soaked crestfallen energy displayed throughout the song. Her lover's probity is on the line and her reasoning to terminate the relationship makes for a memorable melody.
Brandy's alter ego B-Rocka makes brief appearances on "I Am More" and "High Heels," which features her daughter Sy'rai. Confidence is key on both tracks. Over a funky, electric guitar-laden production, she declares the awareness of her worth on the former. The mother/daughter duo affirm themselves with pride on the latter, as their voices congeal beautifully on the hook, "There's not a grain that I'm taking now / It's me who validates me / See the growth and it makes me proud / There ain't no shallow in me."
"Bye Bipolar" is probably the most personal and in-depth record on B7. Metaphorically touching on mental health, she sings about how a failed engagement flipped her life upside down. She begins to close the song on the last ending hook by singing, "You turned me into a stone-cold monster / Ill intentional love distorted my reflection / Cuz you strung me like thread I was damn near dead / And you fucked with my head like lead." It's a fitting way to end the album, on an extremely vulnerable number that only features her and a piano.
Brandy subtly lifts a few pieces from her previous eras and interweaves them into B7. As most are on their own journey to rediscover themselves, one thing that will always follow is their core essence. For the distinguished artist that she is, it would be hard to abandon the elements that have transcended each tier of her evolution. Sonorous harmonies, potent backgrounds and ad-libs, and an influential delivery that true connoisseurs can detect.
Brandy used B7 as a source of healing, freeing herself from the situations that seemed to hold her in contempt. In conceptualizing and executing B7, Brandy shows us that time, honesty and strength are the keys to becoming your most authentic self.
Rating: 8 out of 10
Must-hear tracks: "Rather Be," "Borderline" and "Bye Bipolar"
Stream B7 by Brandy below.