Love is universal. We're all capable of giving and receiving love in various forms. It's something that fuels us to pursue careers in particular fields and people that have our interests. Yet, this four-letter word can come with complications, especially in a romantic relationship.
On The Love Language, Trevor Jackson's debut LP via Born Art/EMPIRE, the 24-year-old leans into his past experiences to help unpack the complexities of love. The 14-track project serves as a necessary reminder that love can be a rollercoaster that's full of ups and downs.
"I definitely feel like I really opened up, it was a little more vulnerable in terms of the subject matter," Jackson tells Rated R&B over a Zoom call.
In the age of social media, it's easy to forget that love isn't perfect and that humans are flawed. Often we see couples share the good moments of their relationship, which can lead to "relationship goals" for some spectators.
"Not that I bash social media, but I do talk about the parts that are bad about it," he says. "I think a lot of people allow it to become their real life. People only show the good parts and that's what people expect from love as well. They expect when you find someone that you love that your life is going to change and it's going to be perfect."
He adds, "We grow up watching these fairytale movies where people live happily ever after. That's not how it always goes. I wanted to talk about that."
In our interview with Jackson, the multi-hyphenate entertainer talks more about The Love Language, his decision to seek therapy and his philosophy on social media.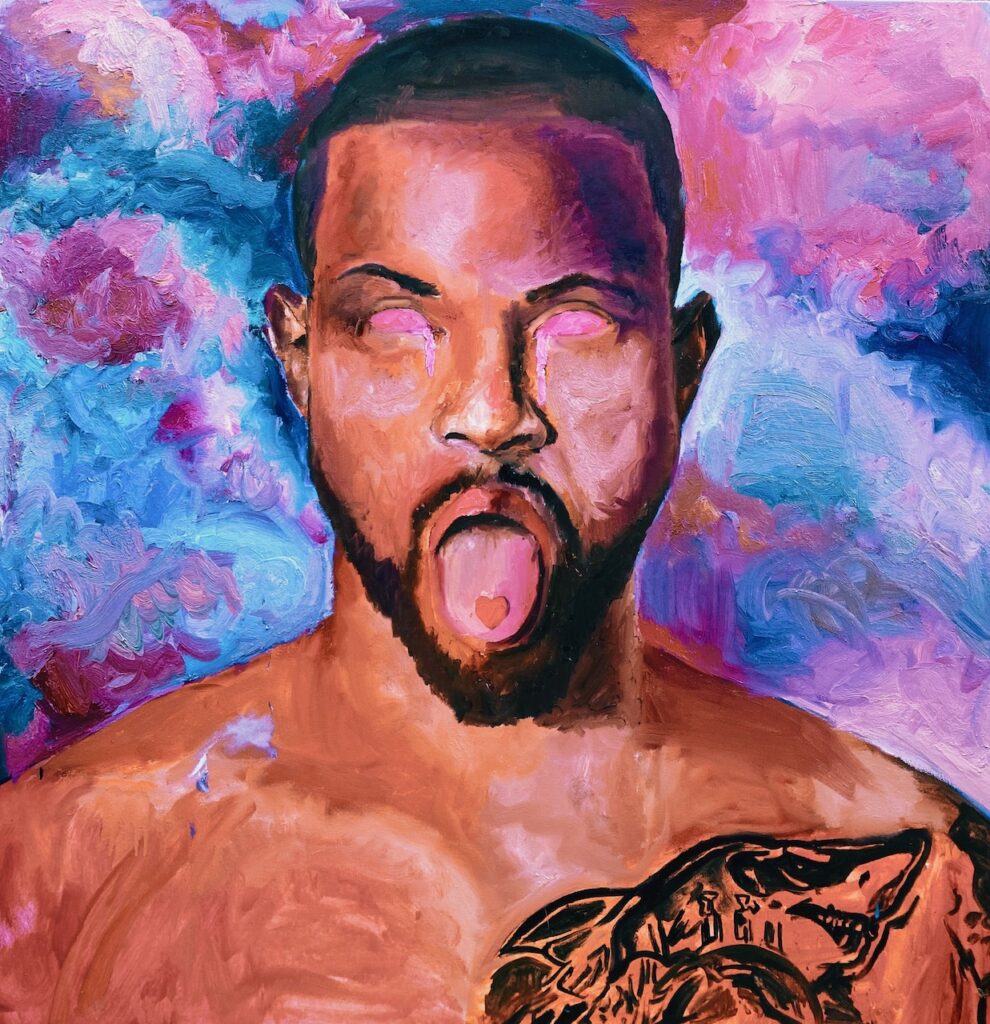 What's the meaning behind your album cover?
I was looking at this incredible painter Mariella Angela on Instagram. I wanted her to paint the cover. I played the album for her. I told her the colors that I wanted — pink, blue and purple. To me, love is a drug. So I have an acid tab on my tongue there but in the shape of a heart. I just want to be like tripping out, but on love. She painted [the cover] over like a week. She did her thing.
How important was it for you to sing about love from all sides — not just the good moments?
True love is the acceptance of your own flaws, the acceptance of your partner's flaws, and the willingness to work through those flaws. Love is very complex. There are days you wake up and you can't stand the fact that they're just waking up next to you. Then you're like, "This is why I love them." That's human nature. That's why I wanted to talk about it. The reality is nothing is perfect. There's one line in "Pictures By My Pool" where I'm like, "How come no one told me love would be this hard?" It's like I can't live without you but you get on my last nerve (laughs).
Let's dive into some tracks on the album. At first-listen "Bouts to Be," takes me back to the mid-2000s with the vocal arrangement and production. How did that song come about?
That song was produced by Harvey Mason Jr. I remember when I first heard it. I was too young to sing it. They were thinking about giving it to Chris Brown. I was like, "No, it's mine. It's mine, please." Years went by. I hit [Harvey] up. I was like, "Yo. I'm about to put out an album. I need this song." He was like, "Well, you're in luck. Nobody's taking it, so it's yours." Harvey was totally cool about it. You just said the early 2000s; that was me growing up. That's what made me believe in emotion. That was the first thing that I listened to that caused me to feel differently than I naturally did. I miss that feeling. So, I freaking love that song. The fact that I got to cut it was awesome.
You sing about authenticity on "Be Yourself." What motivated you to write that song?
I was just writing that about a chick who says all these things to you but you're not new. You've seen it before. It's almost like you both are taking the good with the bad. It's like, "Okay, I know what's really going on, but at least I get to be around you. At least we get to share some moments together. At the end of the day, we're not really going to be together because you're not ready to be who I would want you to be. It's not my job to control you and make you be who I need you to be." I'm not the type of person to change anybody. I want people to be happy with who they are. What kind of life would you be living if you were being somebody else for me? I've definitely been there.
"Get to You" is another standout on the album. It's like you're using jealousy to win over a former lover. Can you talk more about this…toxic anthem?
When you're with someone for so long, it doesn't matter. When you guys get near each other, you can't help it just because you shared that space for so long. Now, you're somewhere and they're sharing the space of someone else. I don't even care if I don't want to be with you. The fact that you're with someone else makes me angry. I want you to pay attention to me.
The video, which you co-directed, gets pretty wild. What was your intention with bringing the song to life in video form?
I love that video. I feel like there's that one guy at the party whose hair is combed over to the side and has glasses from the 1980s. Everyone's like, "Oh, he's a weirdo." But all he wants to do is tell a girl that he likes her. I feel like we're all like that on the inside. We've watched movies. We've watched music videos. We've seen people talk. So we try to do what we see. On the inside, we really don't know. We're really all scared. We don't want to be rejected.
There are several social media references on the album. The message in "This Won't Go Viral" is powerful. The album ends with that song. What was your mindset while creating it?
It's like, "What do you really want in life? Do you want to be famous?" Most people's answer at this moment would be "yes," until they live it and then realize that's not really what life is about. A lot of young people want a bunch of followers and want people to like them. That's because of lack of self-love because of social pressure. That's because of the lack of therapy or counseling, which everybody needs to have — and prayer. Do you want the life that we all hope for, which is to have a family and be in love? We all want that and is that enough if it doesn't go viral? Is that going to be enough for you if not the whole world knows about it?
When I talk to certain women, I'm like, "I want someone that wants the experience for the experience, not to be able to go and tell everyone about it." When I share time with anyone, I am in the zone. That's what makes me excited. Some people are just waiting for the reaction and that's sometimes hard being in that position. It's just a hit or miss. We try and we fail, but that's what [the song] is about.
Social media has allowed public figures and fans to connect on a more personal level. Though, it seems like they are pressured to share so much of themselves to relate to their fanbase. Fans want to know who they're dating, what they're doing, and so forth. How do you personally balance it all, since you seem to value having a private life?
I'm going to say this in terms of, with all due respect, you don't owe anybody anything. I always say that you give people the keys to your car because they will drive it — and I mean emotionally. That's not just for celebrities. If you start living for the happiness of others, you will be a slave to it.
You mentioned therapy a moment ago. How has it helped you?
Therapy helped me just with myself. I just started doing that this year. Just having someone to talk to is awesome. It gives you an unbiased ear to talk to. We have to stress that it doesn't have to mean you have a particular issue. We are humans. We grow up and we start to internalize things. It's just taking the time to hear yourself. We're also caught up with everyday life that we sometimes forget about ourselves.
Stream The Love Language by Trevor Jackson below.