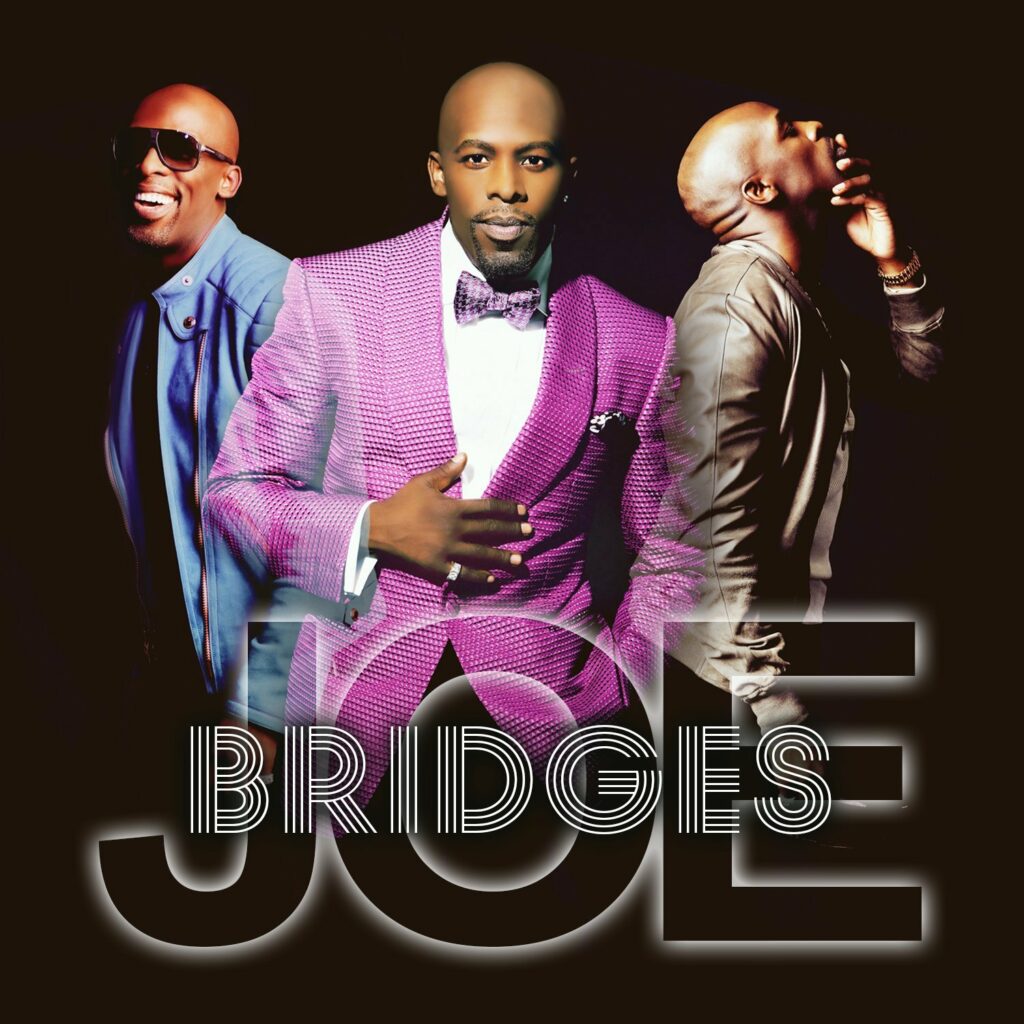 In today's world of R&B music, lines seem to be blurred on what is considered R&B and who is considered an 'R&B' artist. In the pool of singers who are labeled with the R&B tag, there are only a few who rightfully represent the title—and one of those is R&B veteran Joe Thomas. Just over a year has past since he blessed the music-sphere with his authentic R&B collection "Doubleback: Evolution of R&B" and filled a void of authenticity that was missing in the music realm of rhythm & blues.
Continuing on his path of breaking the embellished shell that has covered the core of pure homemade R&B, Joe releases his antidote for music's infirmity with his eleventh studio album "Bridges." Although the literal concept behind the album is about building relationships and transitioning from his previous label with Kedar Massenburg to his new label home with BMG Chrysalis, the Columbus, Ga. native manages to unmask the disguised genre that is now over-dressed in pop/mainstream attire and guide it back to its home-ground roots.
As Joe weeds his way through a conformed industry who praises counterfeit R&B and subconsciously imitates artificial makings of the genre, the crooner collectively bridges the gap between the genre's natural art form and its now diluted configuration. Spearheading the revivement of credible genuine R&B, the veteran baptizes the R&B industry with a plethora of soulful gems from appreciative old school joints to notorious slow love records. Without further delay, we will dive into the tracklist that will wash those of us who have unknowingly backslide from authentic R&B.
1. "Future Teller"
Joe spearheads the progressive album with a feel-good track that (without having to be said) invites listeners to relax and kick off their shoes as they are invited into the extensive tracklist. The appetizing track puts listeners at ease like a nice bottle of wine prepping them for the experience they are about to encounter. On the old school step-dance track, Joe symbolically takes each listener by the hand leading them to the promise land of genuine rhythm and blues. With his creamy vocals, Joe tells his lover if she gives him forever, he'll match it with his eternity.
2. "Dilemma"
Giving us a delectable dose of the different tastes of R&B, Joe switches flavors and serves us with a modern urban sounded track to disclose his dilemma of his triangle love affair. In the pretty, dark ballad Joe croons over having to choose between two women knowing that 'one is gonna smile, one is gonna cry, one's gon' feel like living, one's gon' feel she's gonna die.' Joe presents his case over a blissful melody fit for urban R&B radio and music chart success.
3. "Do A Little Dance"
The R&B slow songs were foreshadowed, but its early entrance was sooner than expected. Just arriving at track three, the R&B crooner wastes no time at all to get into the lovemaking chamber. The intimate night time groove is sure to spin on a romantic night out on the dance floor as soon as the DJ utters the words 'Let's slow it down for all the lovers in the house tonight.' The lust-driven track emphasizes the many things that lovers can do on an exotic night both inside and outside the bedroom. As if serving us food without MSG, Joe delivered a classic R&B track without any filters.
4. "If You Lose Her"
Dusting off his soapbox that he exercised throughout his career, the music veteran jumps back on his raised platform and lectures men to keep grasp on a good woman when found. Joe steps on his soapbox and schools men on keeping their grasp on a good woman. Like previous soapbox records "You Dropped Your Dime" and "I'd Rather Have Love," the love guru offers his wisdom in the field of love. Adding another tip sheet to his unwritten guidebook, Joe explains, 'if you lose her you may not see it now, but when she's gone you'll know how much she's worth.'
5. "Sex Ain't A Weapon"
Presenting another layer of R&B, Joe opens up his musical palette and sheds light on a jazzy view of the genre. The suspenseful track that hints at a New Orleans, La. influential sound, explains that sex shouldn't be used as a form of coercive temptation. The intensity of the song's storyline is matched by the intensity of the song's musical tone adding an interesting element to the album's track list. The melodramatic tune sounds like it could rightfully fit on a soundtrack of a Lifetime love drama flick.
6. "Love & Sex Pt. 2" Feat. Kelly Rowland
Continuing on the topic of worldly pleasure, Joe continues his desire to have both love and sex simultaneously originating from his previous album. This time assisted by Kelly Rowland, he appeals to a younger audience with an upbeat version of the original record. Their two voices melt over the track for a pure R&B tasteful offering. The sweet tune declares the musical chemistry between the two singers as they reproduce the feelings of why R&B lovers originally fell in love with the compelling genre.
7. "Blame Her Broken Heart On Me"
On the seventh track of Joe's album platter, he manfully takes ownership for his contribution to the broken heart of a woman who fell victim of the 'good girl gone bad' syndrome. Joe's sincerity parades on the track through his sympathetic tone and heartfelt lyrics. The skillful artist shows how to craft a mainstream crossover record without diverting from its roots. The track screams international appeal and Top 40 Chart potential.
8. "First Lady"
After taking the blame for a woman's broken heart on the previous track, Joe progresses to the logic of making his woman first priority. With an upbeat change in tempo, the crooner throws all relationship hiccups out the window and focuses on a carefree presentation of love. Circling back to the feel-good vibe on the introductory track, "First Lady" exudes a graceful and distinguished presence on the album.
9. "Take It to the House"
As an early warning, this track produces symptoms of uncontrollable head bobbing and finger snapping that may become a habitual reflex throughout the entire song. This infectious track shows that a club record can possess elegance and finesse. The transformative tune has such an euphoric presentation to the ear that it covers the underlying storyline of wanting to take his lover home with him– and we're not just talking about for a chit-chat on the sofa. For the topic at hand, Joe opts out of the traditional slow lovemaking tune.
10. "Till the Rope Gives Way"
For his tenth selection, Joe transforms into a pleading man pouring out his soul in fight for his love barely holding on by a rope's thread. The 1960s-Sam Cooke reminiscent record displays the elements of genuine rhythm and blues at its best like a 1960s bottle of wine that is just being cracked open in 2014. It's almost as if this timeless record sat in an oven marinating for years, instead of hours, to be put out in a time such as this when R&B music needs it the most. Who better to deliver this than Joe Thomas himself.
11. "The Rest Will Follow"
This feet-tapping mature record comes from the heart of a man who acknowledges his flaws. A man who after making foolish mistakes, recollects on what he should have done right and accepts the 'reap what you sow' repercussions. The melodic tune foreshadows that after all the hiccups of a premature relationship, the better and brighter moments will follow with time and dedication.
12. "Mary Jane" Feat. 50 Cent
Starting with a mediocre 30-second verse from rapper 50 Cent, Joe presents a remix to his sultry old-school "Doubleback: Evolution of R&B" track "Mary Jane." After gliding through the less than stimulating rap bars, Joe saves his own record with his crooning vocals. Whether it's the unneeded feature, the change in tempo or the contentment with the original track, the remix seems to be less invigorating than the original song. Yet, 'the high off love' track still has potential as the veteran singer looks at it as a potential radio single.
13. "Bridges"
Now gliding to the title track of the album, this ballad explores the metaphor of 'burning bridges.' On the simple tune, Joe croons to his no longer interested lover who no longer wants to embark more mileage on his love bridge. After the flicker in their flame of love, he charges his lover not to burn the bridges or ties they have built between them because he will be returning to fight for his love.
14. "Love Sex Hollywood"
Moonsliding into the fourteenth track, Joe channels his inner Michael Jackson showing off his high falsetto vocal ability. On the fun vivacious track Joe meets the fantasy woman of his dreams and wants to capture every moment in his own personal homemade flick. Gluttony takes over the intrigued singer as he indulges in his Hollywood sexcapade. The metaphorically written lyrics add a unique and catchy appeal to the record.
15. "For Love"
The fifteenth track is a sweet and simple track serving as the desert on Joe's album platter. Stuffing us with another great hit, the crooner gives a toast to love. The beautiful tune possesses a carefree vibe that makes you want to explore love at its deepest level willing to take any risks for the profound emotion. This track is sure to be a fan favorite because of its natural appeal.
16. "Love Undefeated"
Wrapping up the album, Joe decides to completely change lanes from the previous track and go futuristic. After traveling the bridge through dilemmas, broken hearts, burnt bridges and thin ropes, the singer manages to prove that his love is undefeated in the end. While the record may not scream single potential, it has its purpose in reaching his older audience and fan base.
In conclusion, Joe's album took us on a bridge of many levels of classic R&B music. Even though these days sticking to authentic R&B poses risks of less recognition for awards and less charted records, Joe values genuine R&B over stats, numbers and recognition. Though he has yet to scoop a Grammy, his quality music, witnessed with his album full of soulful gems, reigns over all.
Album Rating: 4 out of 5
Potential Singles: "Dilemma," "If You Lose Her," "The Rest Will Follow," "For Love"