If Bruno Mars and Anderson .Paak were tasked with curating separate playlists, chances are their selections would be different, yet there will be common ground in the range of sounds that make up their musical DNA. It's not a far-fetched hypothesis, either. Both acts are known for experimenting with stylings from timestamps in their solo work.
Let's go back to early 2016 when .Paak released his second proper album, Malibu. The well-received LP blended stylings of R&B, funk, soul, disco and hip-hop. Later that fall, he released a project, Yes Lawd!, with producer Knxwledge as a duo (NxWorries). This smooth body of work leaned heavily on '70s soul/funk production as a backdrop for .Paak to showcase his versatility as a rapper and singer.
Concurrently, Mars was on his third studio album. 24K Magic, which debuted at No. 2 on the Billboard 200, harked back to the music that soundtracked his childhood. Specifically, this album merged elements of '90s R&B (including new jack swing), '80s funk, and even a dash of hip-hop in just nine tracks.
Even though Mars and .Paak occupied different lanes in the music landscape at the time, they soon crossed paths. In 2017, .Paak joined the European leg of Mars' 24K Magic World Tour. While on the road, they formed a bond that would plant the seeds for future collaborations.
In a March 2021 interview with The Breakfast Club, Mars recounted their fellowship on tour. "We started hanging out and listening to music. He put me on some music. I put him on some music, and then we went to the studio a couple times," shared Mars.
Some music they started to work on at that time was later revisited. Fast forward to early 2020, when many people worldwide were sheltering in place due to the pandemic. Consequently, this meant that musical acts like Mars and .Paak had to cancel plans for shows.
With extra time on their hands, the two eventually found their way to the studio to work on music, while following safety precautions. Before they knew it, an album was born, and they formed the super duo Silk Sonic — a name given to them by legendary bassist Bootsy Collins after he heard the project.
In March 2021, Silk Sonic released their breakout single "Leave The Door Open" as the lead single from their debut album, An Evening With Silk Sonic. The '70s soul ballad, co-produced by Mars and D'Mile, reached No. 1 on the Billboard Hot 100. The nostalgic tune was praised by many fans and critics alike, thus creating a high demand for their album to follow.
Well, An Evening With Silk Sonic has arrived via Aftermath Entertainment/Atlantic Records. Every song was co-written by .Paak, Mars and D'Mile, with some outside help on a few tracks. Mars and D'Mile handled the majority of the production.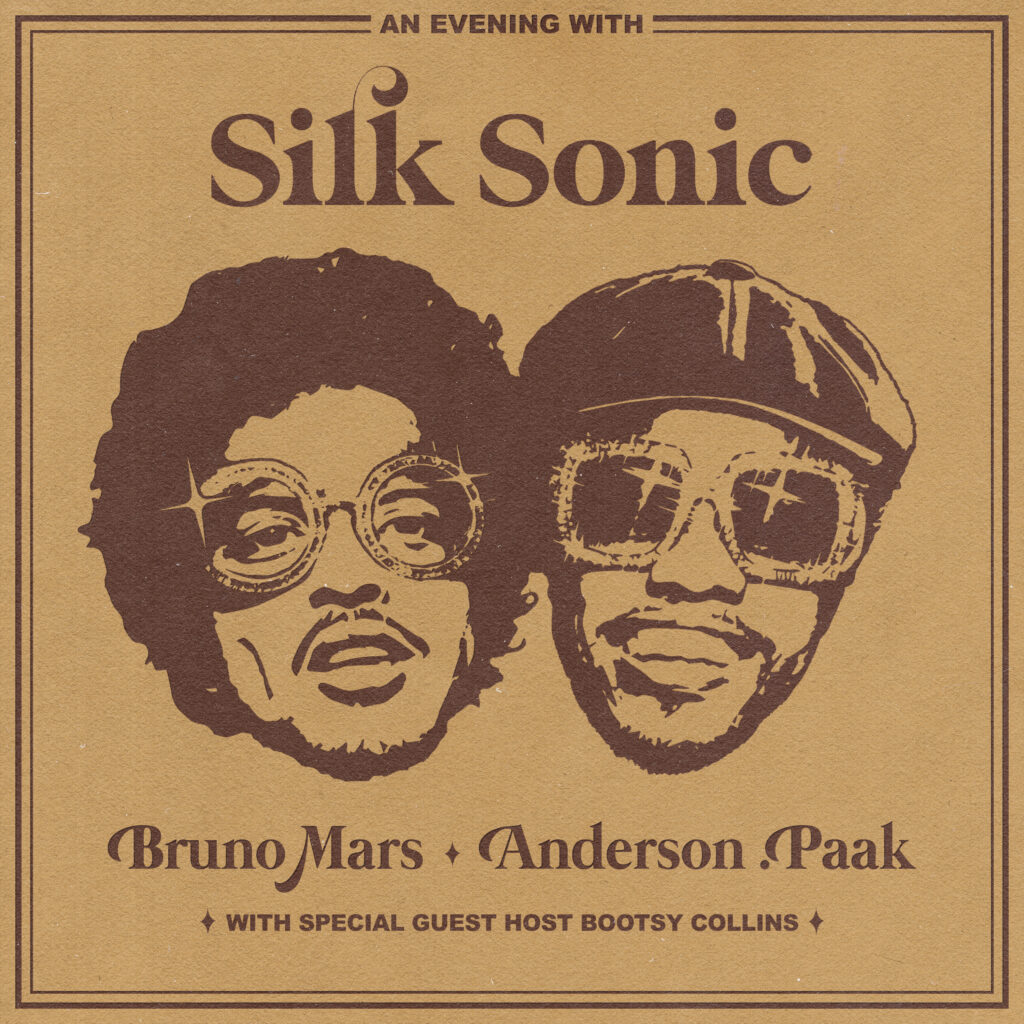 Hosted by Bootsy Collins, the album is structured like a live show, done intentionally by Mars and .Paak to fill the void of not being able to perform at concerts. The songs are somewhat like a setlist for a grown-and-sexy show.
The duo warms the stage with the enticing "Silk Sonic Intro," where Mars and .Paak gets listeners pumped for what they're about to experience and properly roll the red carpet for Collins to make his smooth appearance as the MC.
"Well, alright / It is I, Blaster of the Universe / Bootzilla himself," says the funk legend. "Fellas, I hope you got somethin' in your cup / And ladies? Don't be afraid to make your way to the stage / For a band that I named Silk Sonic," he continues.
Given all the challenges the world has faced due to the pandemic, Silk Sonic decided to keep the subject matter light for the most part.
Following "Leave The Door Open" is the self-assured "Fly As Me," which includes additional writing credit from James Fauntleroy and Big Sean. Here, .Paak takes center stage as he melodically flows over a funky production about being the perfect match for a potential lover. Mars sings on the chorus, "I'll bring that fire and desire, baby," paying homage to Rick James and Teena Marie's 1981 duet "Fire and Desire."
The album's standout is the sensual "After Last Night." Thundercat plays the bass and contributes background vocals and Collins adds his suave commentary throughout the track. It begins with a woman speaking in amazement about her pleasurable time in the bedroom from the night before. "Damn, I don't even who I was last night / There's just somethin' about you / You just made me feel…mmm," she says over angelic coos. The dialog is somewhat reminiscent of Andre 3000's "Where Are My Panties?" skit from Outkast's Speakerboxxx/The Love Below.
On "After Last Night," co-produced by The Stereotypes, Silk Sonic sings about being emotionally attached to a woman after a steamy lovemaking session. This delightful tune belongs on any playlist that is curated for a long night full of romance. Production-wise, "After Last Night" bears a resemblance to Collins' 1976 staple "I'd Rather Be With You." So his presence on this tune is certainly a stamp of approval.
The joyous mood shifts a bit midway through the album. On "Smokin Out The Window," a frustrated Mars and .Paak light up a cigarette and vent about an unfaithful woman. "I thought that girl belonged to only me / But I was wrong / 'Cause she belong to everybody," they sing on the unforgettable chorus.
Sure, this may be a breakup anthem but Mars and .Paak can't resist adding a bit of humor that mirrors their personalities. In . Paak's second verse, he references Black comedic films such as The Nutty Professor ("Screamin', 'Hercules, Hercules, Hercules"), and the late John Witherspoon's hilarious line from a scene in Next Friday ("Help me, please, help me, please").
"Put On A Smile," co-written by Babyface, is arguably the most gut-wrenching song on the album. The somber tune looks behind a man's happy-go-lucky facade and unpacks his pain from a failed relationship. In this case, they're singing from the perspective of a man regretting his actions that caused his lover to walk away.
"Tryna fight these tears from cryin' / But Lord knows I'm dyin', dyin' / Tryna put on a smile," Mars and .Paak sing over a wailing guitar.
The tears immediately dry up for "777," a gleeful song heavily influenced by the Godfather of Soul James Brown. On this party anthem, Silk Sonic jet-sets to Las Vegas to be accompanied by "big booty hoes" at a "bar full of liquor." They honor the King of Pop Michael Jackson, with lyrics such as "moonwalk to the money like I'm Mike Jack" and "the man in the mirror sayin', 'Go on, get your paper.'" They even wink at the Jackson 5 with "Can you feel it?"
Then, there's the infamous second single, "Skate," which received mixed reviews from fans and critics. Understandably, it's hard to top "Leave The Door Open" and its success, but "Skate" is still an enjoyable track that was made to bring people together — at a skating rink, perhaps.
The album concludes with "Blast Off," which yet again sounds like Collins' "I'd Rather Be With You" with a dash of Earth, Wind & Fire's "Can't Hide Love." This psychedelic groove can be interpreted in multiple ways. "We're levitatin' up in this room" indicates that they are describing the sensation of being high. Though, "blast off into the sky" could also represent the album's final track and Silk Sonic taking a bow at the end of their show.
An Evening With Silk Sonic is like a ray of sunshine on a gloomy day. The 31-minute set is filled with mood-boosting jams that can be enjoyed in any setting, whether you're doing chores on a Saturday morning or catching your groove at a family cookout. Overall, it's a sleek, well-produced album from masters of their craft.
Rating 8 out of 10
Listen to An Evening With Silk Sonic below.