A standard piano has 88 keys, each representing a particular musical note when pressed. Beneath the surface, each key consists of over one hundred parts. Like the instrument she has mastered, Alicia Keys is multifaceted. There are several dimensions to the New York native's artistic identity. She is a classically trained pianist, musician, singer, songwriter, producer, and composer.
Though she has always been confident about who she is as an artist, she found herself overthinking what it means to be a public figure, particularly after garnering much success.
She told Zane Lowe of Apple Music in a 2020 interview, "I was so concerned with pleasing everybody, so concerned with saying the right thing, so concerned with not kind of getting caught up or tripped up in the people trying to have these sensational headlines. I was so cautious and so protected, and had such a wall that was perfect."
Keys' 2016 album, Here, was her attempt to reintroduce herself more authentically. Keys explained in a past statement, "The music on this album is a reflection of the truth I've found in myself and the conversations happening all around me. Here is about exploring the good, the bad, the ugly… the shadows and the light with compassion and an open mind."
Here was the entryway to ALICIA, her 2020 album. The emblematic cover art featured four portrait shots of Keys against vibrant backdrops. "ALICIA was the first time that I was experiencing this idea of duality, multiplicity [and] all the different sides that we have within us," Keys explains to Rated R&B over Zoom.
Two months after releasing ALICIA, Keys reissued the album with two bonus tracks, including her duet with Brandi Carlile, "A Beautiful Noise." The empowering track is nominated for Song of the Year at the 2022 Grammy Awards. It's Keys', a 15-time Grammy winner, first nomination in this general category since 2003's "If I Ain't Got You," which lost to John Mayer's "Daughters" at the 47th Grammy Awards in 2005. (Even Mayer believed Keys should've won.)
Now, she has a second shot at winning the coveted songwriter's award. "It's a blessing," Keys tells Rated R&B with her heartwarming smile.
"That song is so powerful because it was a momentum builder for all of us getting behind the election and being motivated to be a part of the cultural change that you want to see. That song was written by women, produced by women, sung, and recorded by women.
It's a powerful statement of how you can create the change that you want to see. I love that song because it's gorgeous, but it also means something. For it to be there for Song of the Year makes me feel so good."
It's almost like each album opens up new doors for Keys. When working on ALICIA, she learned to embrace and "understand the dynamic nature of each of us." This new way of thinking aided her in her imaginative quest to the follow-up, KEYS, her latest album that is out now.
On KEYS, a double album, Keys welcomes listeners into her universe made up of two worlds: the Originals and the Unlocked. Here, she invites visitors to take off all their pretense and be who they are.
The Originals side, consisting of 14 tracks, pays tribute to her signature sound that won over fans since her debut LP. (Speaking of her debut, Songs In A Minor celebrated its 20th anniversary this year.) KEYS (Originals), produced by Keys herself, features appearances from Pusha T ("Plentiful") and Brandi Carlile ("Paper Flowers").
One of many standouts from the Originals side is "Dead End Road," an optimistic anthem about overcoming hardship. The motivational tune blends elements of gospel, soul and blues.
"You have such an amazing ear, man," says Keys before sharing the meaning behind the uplifting tune.
"That's another one that just sends me to a place. I wrote it with Fred Ball and Arrow Benjamin — two amazing writers. It's this feeling that I think we've all felt before where you keep running up against this wall and you keep hitting it. The lyrics are really powerful. I think there's not a soul on a planet that can't hear that and feel it because at one time in all of our lives, we felt like there wasn't a way out. This song represents the way out."
Keys' diehard fans may recognize "Is It Insane," a previously unreleased song recorded during The Diary of Alicia Keys sessions. The melancholic jazz tune always held a special place in Keys' heart. "Honestly, that song is one of my favorite songs of my entire life," she says. "I'm talking about it right now and am getting chills. That's how I feel about that song."
Keys intentionally makes timeless music. It's why she is able to revisit cuts from her vault, such as "Is It Insane," nearly 20 years later, and it still feels fresh. But even with an everlasting sound, Keys wanted to ensure that it made it to the right album.
"I remember writing it just like how I wrote 'Ain't Got You' in that Diary moment, how I wrote 'Diary,' which was a big one for Diary. After I finished writing it, I loved it, but I was like, 'It doesn't fit.' Every year, every album after, I would go back to 'Is It Insane' and be like, 'Does it fit here? Can it fit?' Finally, I started to be like, 'I guess it's not meant to fit.'"
At last, "Is It Insane" found its home on KEYS. "It fits as if it has been the missing piece of the entire album," she declares. "It was meant for this album. Sometimes songs are just waiting for their time. And now this one has found its time."
Where Originals is stripped-down and nods at the classic Alicia Keys sound, Unlocked finds Keys in uncharted territory with Mike WiLL Made-It by her side as co-producer.
Gravity doesn't exist on the Unlocked side. Keys is boundless as she floats freely over varying styles of production. Each track, mostly flipped versions of the original, takes a new life of its own.
The Swae Lee-assisted "LALA (Unlocked)" and "Come For Me (Unlocked)," with R&B heartthrobs Khalid and Lucky Daye, are the only two songs that don't appear on the Originals.
"It speaks so much to just like there being no limits, which is what KEYS is all about," she explains. "It was all about imagining and dreaming in a way that just opened up the possibilities."
The Unlocked side had always been a part of Keys' vision, which is why she intentionally made sure the Originals side was mainly complete before starting.
"I knew I wanted to have this alternate side. I love this concept of creating almost a sampled version of the Originals," she shares.
When it was time for her to get started on the Unlocked side, she had a few collaborators she had in mind. But she ended up getting connected with Mike WiLL Made-It, who is known chiefly for his work in hip-hop but has produced for other notable R&B acts such as Brandy, Ciara, Kelly Rowland and Mariah Carey.
SPEAK ON IT ! this Alicia album is the graduation… can't wait for y'all to tap in 👂🏾🥁🌐 https://t.co/6hsNKTqmWC

— MADE-IT (@MikeWiLLMadeIt) October 31, 2021
Keys reveals that she was amazed by his level of enthusiasm to begin collaborating after a phone conversation with Mike.
"I had never spoken to him before. Obviously, I know his work. I know his vibe, and it's all good. He was so ready. He was instantly brainstorming like, 'Alicia, what if we did this? I'll fly up to New York we'll get it started.'"
The two eventually traveled to New York to begin the process, which Keys describes as an "incredible" experience.
"When you collaborate with people, sometimes it's great. Sometimes it's like, no, that's not working (laughs). With Mike, it was really instant. He's been all in for the whole process on the Unlocked side and really helping to create that sonic. It's fire. The concept is sick. I loved that we were able to connect like that."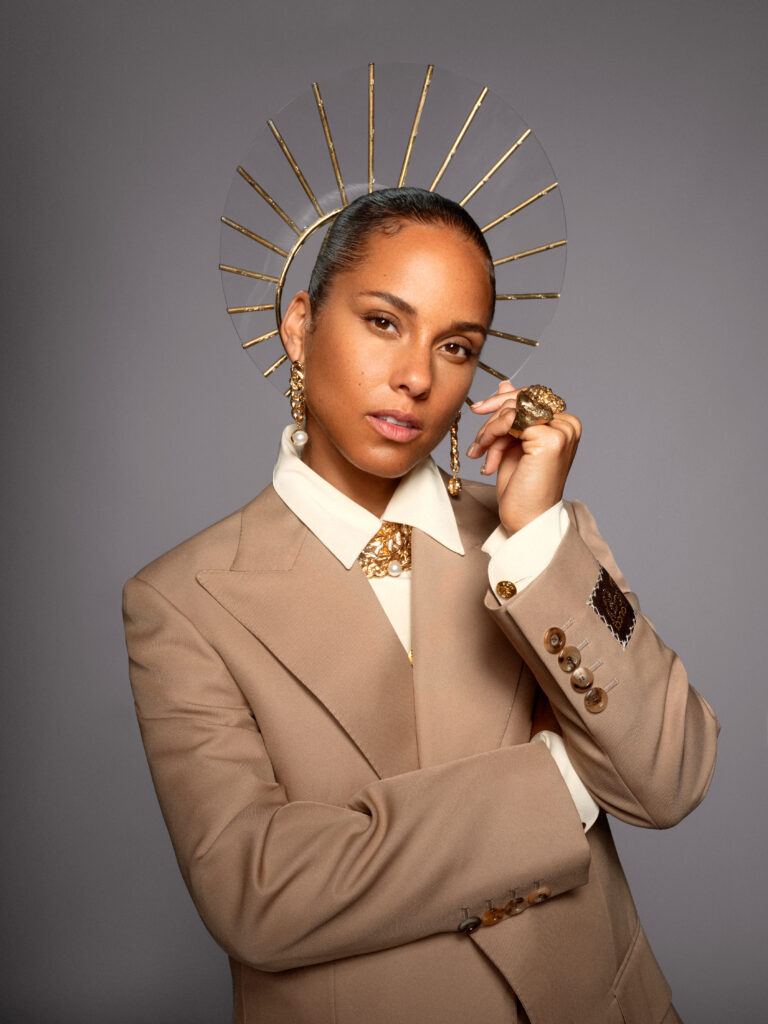 KEYS unlocks the mysteries of her creative mind. It's certainly Keys' most liberating album to date. The only way to truly navigate this oeuvre is to let go of all preconceived notions. If you can't, the bass-drop on "Is It Insane (Unlocked)" will undoubtedly throw you off balance.
"It is an invitation for all of us to show up to ourselves and not hold back any part of ourselves," Keys explains of the album's concept. "I think a lot of us oftentimes feel like we have to dim it down and small it down. No, I refuse it anymore. I invite us all to refuse it because there's a power and a special energy that we all have."
She adds, "I was really open to that during the creative process too. I think what I felt the most was the magic of creativity and the allowance of that magic."
When asked to identify one song that she would sing to her younger self, Keys gets excited, "Oooh, come on question! Okay!" before taking a moment to ponder.
After a few seconds shares her choice: "Only You."
"The lyric says, 'I am nothing without you here. With you, I love without fear. Nothing, oh nothing they say about you has meaning to me. And we can't let nothing take this sweet something. I don't want nothing, only you.'"
She concludes, "I feel like that is a love song to my younger self, to remind me that there's something sweet that we're not going to ever let anybody take. We're going to fight for ourselves. And it's powerful."
Stream Alicia Keys' new album KEYS below.