"I didn't think one could make a song more toxic than 'Song Cry.' I stand corrected," Jay-Z told Jermaine Dupri via text message. The hip-hop mogul was reacting to "If I Get Caught," the new single from R&B duo dvsn (vocalist Daniel Daley and producer Nineteen85).
"If I Get Caught" samples Jay-Z's emotional track "Song Cry" from his 2001 album, The Blueprint. On the Just Blaze-produced tune, Jay-Z chronicles the journey of a relationship's beginning to end and confesses how his actions led to the breakup. Although he feels the pain of lost love, his ego prevents him from shedding a tear. Instead, he allows the song to cry on his behalf, courtesy of a sample from Bobby Glenn's vocals on "Sounds Like a Love Song."
In the third verse, he scolds an ex-partner for moving on to someone else — even though she was the one who dealt with his unfaithfulness and abandonment. "You don't just pick up and leave and leave me sick like that / You don't throw away what we had just like that / I was just fuckin' them, girls, I was gon' get right back," he raps. It's no surprise why Jay-Z considered the song toxic.
View this post on Instagram
"If I Get Caught," co-produced by Nineteen85, Dupri and Bryan-Michael Cox, explores the possibility of succumbing to temptation while in a relationship. Daley sings from the standpoint of a partner who doesn't intend to cheat, though if it did happen, it's not because he no longer has feelings for his lover. Therefore, he insists they shouldn't be ready to call it quits over one encounter: "I know you ain't gon' let / One little f*ck / Mess all this up," he sings.
After the song's release, fans flocked to Twitter to share their mixed reaction. While some folks applauded dvsn's new effort, others expressed their frustration. Thus, it sparked discussions about the state of today's R&B, including what's missing. One of the common criticisms of the track was people felt that it was a toxic R&B song that endorsed cheating. More on that later.
Rated R&B spoke with dvsn, Jermaine Dupri and Bryan-Michael Cox to dive deeper into their controversial single "If I Get Caught." We also talked about the Grammy-nominated duo's fourth album, which releases this year on OVO Sound/Warner Records.
The makings of "If I Get Caught"
It started with candid discussions in the studio, a safe space for artists to share their innermost thoughts with collaborators. "You know, we sit here, smoke hookah, kind of spilling different thoughts on situations we've been through," says Daley. "['If I Get Caught'] came from a time where a lot of us were talking about [our] situations with women [and] what creates insecurities."
One day, he and Nineteen85 arrived at Dupri's So So Def studio in Atlanta, Georgia. Dupri greeted them at the front door while singing the chorus. As soon as Daley and Nineteen85 heard it, they were instantly inspired to expand on the idea.
View this post on Instagram
Nineteen85 suggested turning the hook into a chant. "It was genius," says Daley. "I totally understood what he meant since we've used female choirs in our songs before. So, to flip it with a guy choir, but not a bunch of real singers, was a dope idea." (The all-male 'choir' includes Cox, Dupri, Nineteen85, Nelly, Polow Da Don, Justice Baiden, Keith Thomas and Antoine Harris.)
"It was one of those moments where we knew with the hook, like, 'Oh yeah. This is going to be a game changer and a conversation starter," says Cox. "Daniel is a really good storyteller. Once he heard the hook, he was like, 'Oh yeah, I got the verses.'"
When he penned the verses, Daley thought about his conversations about insecurities in relationships. "I wrote from the perspective of [being] in a situation with somebody who thinks they're cheating on them, and somebody who's had to watch the things their person was most attracted to turn into their insecurities," he explains.
Honest R&B vs. Toxic R&B
Before releasing "If I Get Caught," dvsn posted an image naming the five most honest anthems. It included Jay-Z's "Song Cry," SZA's "The Weekend," Usher's "Confessions, Pt. II," Drake's "Marvin's Room" and, of course, "If I Get Caught."
Each song depicts how complicated relationships can get, especially when there are external distractions. SZA proudly sings about being a side piece ("The Weekend"), while Usher finds himself caught up after his chick on the side gets pregnant ("Confessions, Pt. II"). Then, there's Drake drunk dialing an ex, pleading for her to leave her current boyfriend ("Marvin's Room").
View this post on Instagram
Their intention behind sharing the image was to show the different flavors of what some people may call toxic songs. Though, dvsn doesn't believe R&B songs that tell a raw and honest story, such as the ones above, should be reduced to that.
"Toxic is the word thrown around anytime we get into topics that are a little taboo or conversations people don't want to have," says Nineteen85. He doesn't fancy the term because he feels that it gets overused. "Some of these things aren't necessarily toxic; they're just very real or uncomfortable."
Daley concurs, "Honesty should never be looked at as toxicity. I don't think that somebody being transparent about their flaws should be looked at as toxic. What's toxic is someone [with] a bunch of flaws acting like they have none."
Songs about infidelity are nothing new. As Cox points out, "We can go back to 1986 with Shirley Murdock's 'As We Lay.' It don't get more toxic than that," he points out. "We can go back to [1972] with 'Me and Mrs. Jones' by Billy Paul." (Both classic songs are about adultery.)
He continues, "Then, Xscape had a record called 'My Little Secret.' I had a record with Trey Songz called 'Last Time.' These conversations have been happening since the beginning of our genres. I think the difference between ['If I Get Caught'] and those records I just named is the advent of social media. It really heightened the reaction. When 'Last Time' came out [in 2007], nobody could tweet about it."
Thoughts on the song's reception
As mentioned, "If I Get Caught" caused a stir on social media. Fans and critics aired their grievances about the song being overtly toxic, which sparked another debate about the lack of love songs in today's R&B.
One Twitter user tweeted, "dvsn is way too talented to be playing into the 'Toxic R&B' theme right now. Go back to the drawing board."
Another user wrote, "If I get caught cheating by dvsn is the most toxic gaslighting song I ever heard… But it's catchy."
Dvsn wasn't surprised by the mixed responses. "We knew the reactions would come because we've had the song since probably late January, and we've been playing it for a lot of people in the studio here," explains Nineteen85. "Just seeing how people react to it there, it almost always sparks arguments and debates."
Durpi addressed criticism about the song being toxic on Twitter. He mentioned "If I Get Caught" is practically a blues song with its raw delivery and uninhibited lyrics.
"The people I see with something bad to say about 'If I Get Caught' I'm sure have never listened to blues and if you never listened to blues, then you're musically blind in my book and you can't see what we did," he tweeted.
Some Twitter users pushed back at Dupri's statement, which he realizes could've been more nuanced.
"What I meant was in the blues, they express their feelings," Dupri clarifies. "They talk about getting drunk and what happens in that process. All the songs in the blues would always express feeling. I was also saying blues in a way, too, like old Negro hymns. They used to make songs about that moment. One person would start singing, and it becomes something everybody would start chanting. That's all I was trying to say."
Daley feels part of the shock stems from listeners not being used to a song of that styling. "Yes, it has blues chords and that chorus is super blues. But it also has a bop to it that hip-hop has to respect and pay attention to. It has big drums and 808s that are making people in the clubs react. It has an R&B vocalist and a Jay-Z sample over something that should be technically a ballad. All of these things stirred in the pot together have created something new. The song is unlike anything that's out there," Daley argues.
Nineteen85 echoes Daley's sentiments, adding "If I Get Caught" is more forthright than people may be accustomed to. "I think the bluntness is catching people off guard," he says. "I think it's the way it's being delivered — the way the group of guys on the chorus hits, the way the Jay-Z sample kind of narrates some of this, and the way the music sounds. It's that perfect storm of all of those things."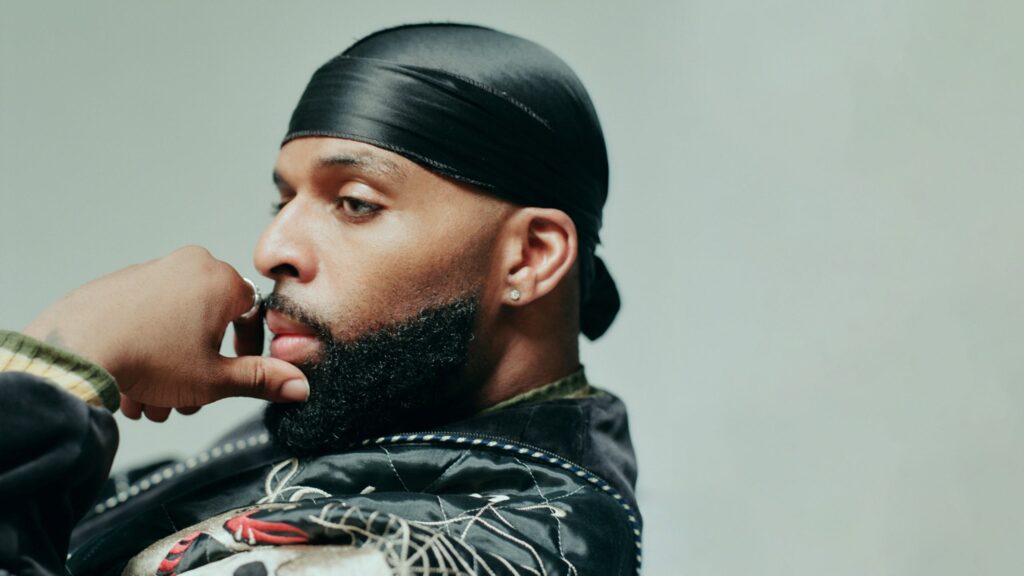 The direction of Dvsn's next album
Dvsn's upcoming album tells an overarching story, and "If I Get Caught" is the first in a series of chapters. "The theme of this whole album has kind of been like a new level of honesty and growth," says Daley. "['If I Get Caught'] sets up the story that we are about to tell in a crazy way."
Dupri describes the album, which is undergoing finishing touches, as "an honest space for a man." He continues, "It's a record that [speaks] to the challenges of a man — and Daniel being that one in particular."
Cox notes, "We wanted to do something that would delve deeper into the ups and downs of being an artist in a relationship — and what men go through in relationships in general. There's the part where you get your ego broken. There's a part where you fall in love. There's all these different elements."
The untitled project will follow dvsn's 2020 album, A Muse in Her Feelings, reissued in early 2021 with a deluxe edition titled Amusing Her Feelings. Nineteen85 hints that dvsn's next album will be more concise than its predecessor. "We touched on much broader ideas, sounds and tempos," he says. "We went to a lot more places, but this is all one movie. Right now, you're seeing the trailer."
Anyone uncertain about dvsn's new album after hearing "If I Get Caught," they, including Dupri and Cox, guarantee that it will exceed expectations. Dupri says, "If you are a fan of R&B, of myself and B. Cox, and if you are a fan of dvsn, you have to trust we are going to give you bits and pieces of our sound in these records. This is a solid R&B album."
"I feel like it's one of the most important albums of the year," Cox adds.
Daley concludes, "People are all opinionated on what they want out of R&B. Trust me, we're well aware and ready to lead the way. But, this [album] is a story. I can't give you crying in the rain R&B until you see the part where mistakes are made. If you're concerned about the state of R&B, don't worry, dvsn's got you."
Watch dvsn's "If I Get Caught" video below.