Are you eager to attend an R&B concert this summer? Live Nation will sell $25 all-in tickets to more than 3,800 shows in North America, as part of its annual Concert Week.
Starting May 10 through May 16, fans can participate in this limited-ticket offer that gives them access to live events at different venues of all sizes, from clubs and theaters to amphitheaters and arenas.
Among the acts participating are Lionel Richie and Earth, Wind & Fire, Janet Jackson, TLC and Shaggy, Jodeci, Anita Baker, and many more.
The presale for Live Nation's $25 all-in tickets begins Tuesday, May 9, with Verizon, Rakuten and RBCxMusic.
Tickets go on sale to the general public on Wednesday, May 10, at 10 a.m. ET, commencing Thursday, May 16, at 11:59 p.m. local time or while ticket supplies last.
Hilton Honors members can redeem their points to participate in this $25 all-in ticket promotion. Members can purchase tickets with all or part of their points by linking their Hilton Honors account with Ticketmaster.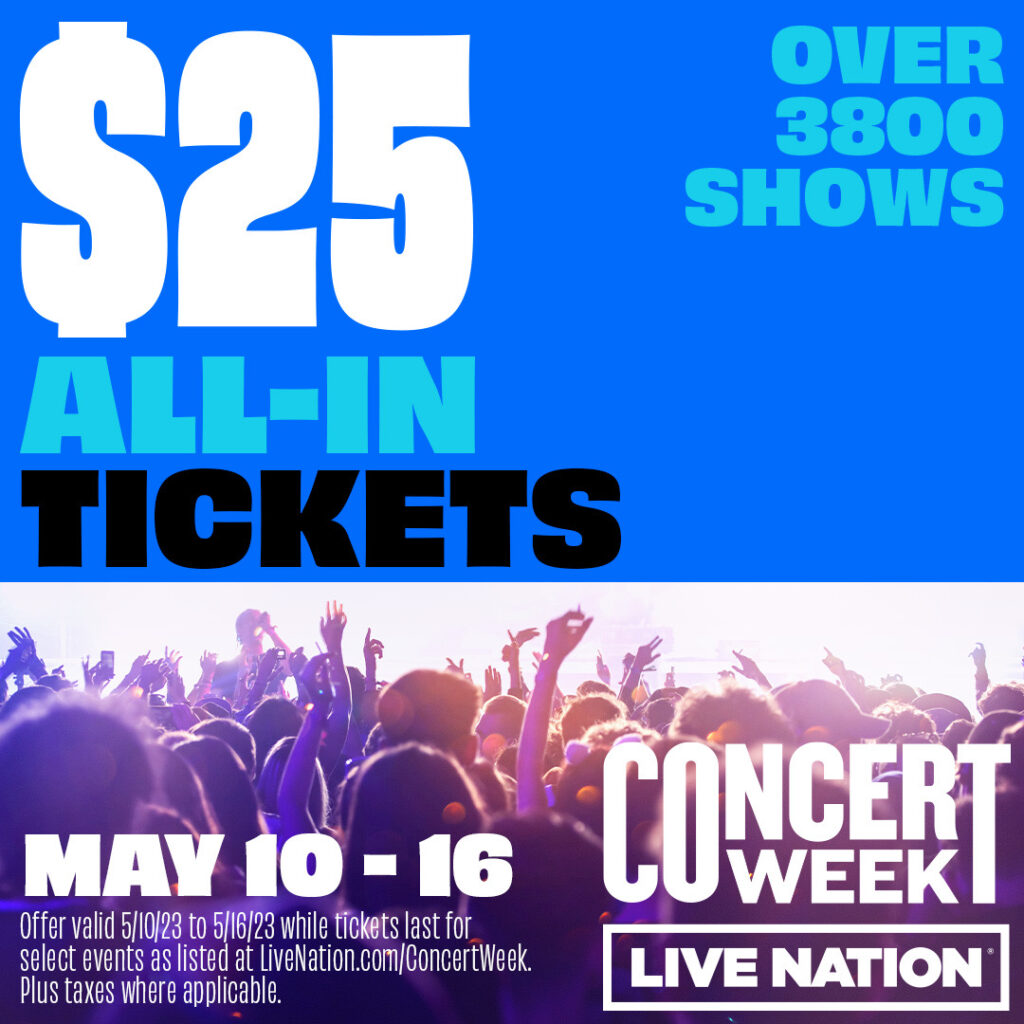 Here is a list of shows participating in Live Nation's Concert Week:
Janet Jackson
Together Again Tour
Dates: May 10-June 21
Supporting Acts: Ludacris and Lil' Kim (select date)
Territories: U.S. and Canada
Get more information
Anita Baker
Dates: May 12-December 23
Supporting Acts: Babyface
Territories: U.S.
Get more information
TLC and Shaggy
Hot Summer Nights 2023 Tour
Supporting Acts: En Vogue and Sean Kingston
Dates: June 1-July 14
Territories: U.S. and Canada
Get more information
Jodeci
Summer Block Party Presents: Jodeci, SWV & Dru Hill
Supporting Acts: SWV and Dru Hill
Dates: July 28-September 8
Territories: U.S. and Canada
Get more information
Lionel Richie and Earth, Wind & Fire
Sing A Song All Night Long Tour
Supporting Acts: TBA
Dates: August 5-September 15
Territories: U.S. and Canada
Get more information
ADDITIONAL INFORMATION
How Concert Week Works: From May 10-16, fans can visit livenation.com/concertweek to see the full list of participating events. Once they've selected a show, they should look for the ticket type labeled "Concert Week Promotion," add the ticket(s) to their cart and proceed to checkout.
Concert Week all-in tickets include all fees upfront in the $25 cost.
Any taxes will be added at checkout as applicable to each city, state and venue.
Concert Week all-in tickets are available for select Live Nation events, while inventory lasts.
How to Find Participating Shows: Fans can filter their search on livenation.com/concertweek by participating events, venues, or artists. While on the website, fans can also set the location to the closest city and the site will refresh to only include participating shows nearby.
Concert Week tickets will only be available until Tuesday, May 16, or while supplies last on livenation.com/concertweek.