Less than a week ahead of Mary J. Blige's second annual Strength of a Woman Festival and Summit, the Queen of Hip-Hop Soul announces the establishment of the PepsiCo x Mary J. Blige Strength of a Woman Scholarship. It will be awarded to one Black female student aspiring to or currently enrolled at a Historically Black Colleges and Universities (HBCU).
"The whole mission of this festival is to celebrate and advocate for Black women," says Blige. "So to have Pepsi, show up and show out in the way they do is overwhelming. With their support for the Strength of a Woman Festival and Summit, we are able to pay it forward in so many impactful ways and to be able to grant an HBCU scholarship for a deserving student is nothing short of incredible."
PepsiCo pledged $200,000 in part towards the scholarship and local organizations such as Silence the Shame, City of Refuge, Right Hand Foundation, and Earth Girl ATL, demonstrating support and elevation of women in need in the Atlanta, Georgia, area and beyond.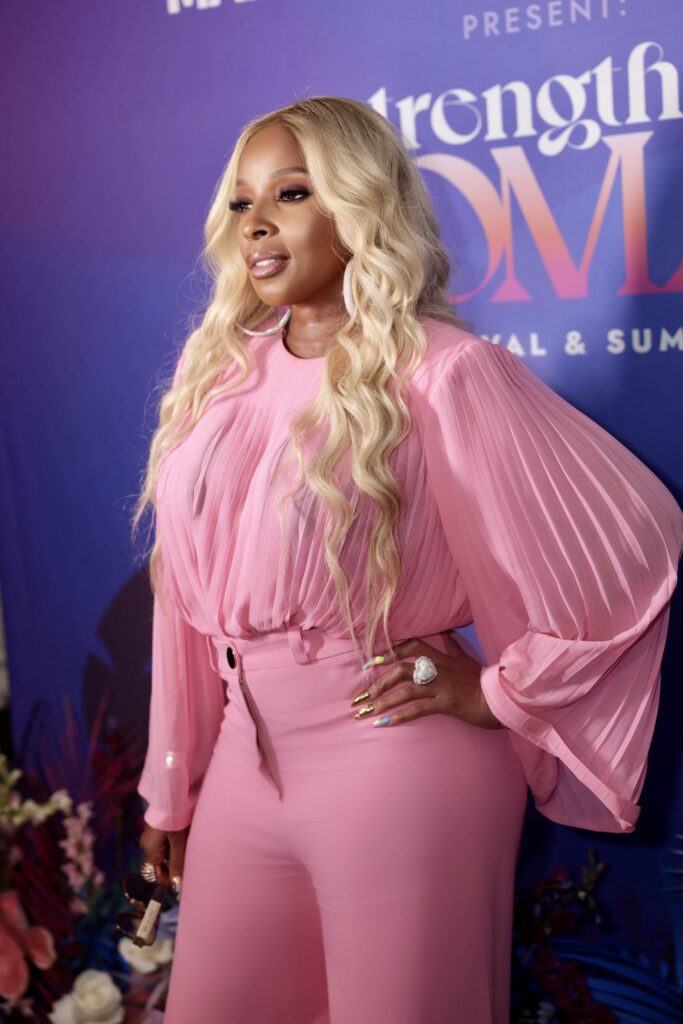 The recipient of the PepsiCo x Mary J. Blige Strength of a Woman Scholarship will be announced during PepsiCo's HBCU tour, dubbed the Historically Better Tour, this fall.
PepsiCo's commitment to the advancement of Black women doesn't end there. During Blige's Strength of a Woman Festival and Summit, the company will co-present with Blige a wide spread of opportunities to support the economic growth in Atlanta.
The weekend-long activities include Pepsi Dig In, a cuisine-centric event that will be happening during the summit (more on that later). It will allow summit attendees to sample signature dishes from Ms. Icey's Kitchen, Gocha's Breakfast Bar, Twisted Soul Cookhouse & Pours, and Local Green Atlanta, all of which are local restaurants run by Black women.
Inspired by the aspirational desire of Blige's festival, PepsiCo, in conjunction with its Stacy's Rise Project and Doritos SOLID BLACK initiative, will host a dinner to create access for local entrepreneurs and Black changemakers to connect and celebrate the impact of their companies and efforts within the community.
PepsiCo's Senior Vice President of Industry Relations and Multicultural Development Kent Montgomery, stated, "The Strength of a Woman Festival and Summit has proven to be a powerful platform for Pepsi and its brands to create opportunities that bring long-lasting change to amplify and elevate women. This year, with even more events for fans to experience, we want to recognize, celebrate, and support the voices of the community, from the incredible on-stage talent, including the iconic Mary J. Blige, to the on-the-ground local restaurateurs and entrepreneurs whose vision and passion inspire others."
Noted earlier, Blige returns to Atlanta for year two of her Strength of a Woman Festival and Summit, established last year as a three-day event in partnership with Pepsi and Live Nation Urban.
This year, the Mother's Day weekend celebration has been expanded into a four-day event, beginning May 11 with Robert Glasper at City Winery Atlanta and concluding May 14 with a comedy show, a purpose ball, and a gospel brunch.
At the State Farm Arena, additional performances occur between those dates, including May 12. Blige will headline night two, performing all b-sides from her iconic catalog. Additionally, she will salute the 50th-anniversary salute to hip-hop with sets from Busta Rhymes, Method Man, Jadakiss, Jeezy, and DJ Drama & Friends, as well as special guests Jodeci.
On May 13, an empowering summit, which is free for those registered, will be held at AmericasMart. Hosted by actress Marsai Martin, the day-long affair includes panel discussions, fireside chats, and keynote speakers, ranging from Ciara, Angela Yee, Iyanla Vanzant, and former mayor of Atlanta, Keisha Lance Bottoms, among many others.
Later that evening, fans will be treated to music by Ms. Lauryn Hill, the top performer. Additional performers include Lucky Daye, Muni Long, Coco Jones, and special guest Summer Walker.
"[I'm] just inviting some of the new artists that are making an impact in the R&B world and hip-hop," Blige told Rated R&B of the Strength of a Woman Festival and Summit.
"And just bringing the entertainment that people want to see and hear and having panels and strong women discussions and the whole thing that we did [last year] but just to another level with other artists that we love and respect and that people love and respect."
Get more ticket information at soawfestival.com.