Grammy-nominated singer Tamia was awarded an honorary Doctor of Music degree from Morris Brown College, an HBCU located in Atlanta, Georgia, on Saturday.
"Yesterday was the culmination of an incredible month in the realm of higher education for our family," Tamia wrote in an Instagram caption on Sunday morning. "I was fortunate to receive an honorary doctorate in music from @morrisbrownatl at yesterday's commencement ceremony. Thank you @drkevinjames and the entire @morrisbrownatl community for this incredible recognition."
In a separate Instagram post, Morris Brown's president Dr. Kevin James, wrote, "I am so proud of our Morris Brown College 2023 graduating class! I am also thankful for the powerful words of our commencement speaker Nzinga Shaw! Also proud to confer an honorary doctorate on Nzinga as well as Tamia!"
View this post on Instagram
Tamia noted in her post that her husband Grant Hill received an honorary doctorate from Fisk University earlier this month. The post includes a photo of her at his ceremony, along with her longtime collaborator Claude Kelly of the musical duo Louis York.
"Earlier this month, my husband received an honorary degree of humane letters from @fiskuniversity, the oldest institution for higher education in Nashville. He also gave the commencement address at their ceremony, where he gave inspiring & engaging remarks full of wisdom to the graduating class of 2023. #Fiskites."
She continued, "We are both proud and grateful to be honored and celebrated by these 2 amazing HBCU's, as we look forward to continuing to support them and their academic missions."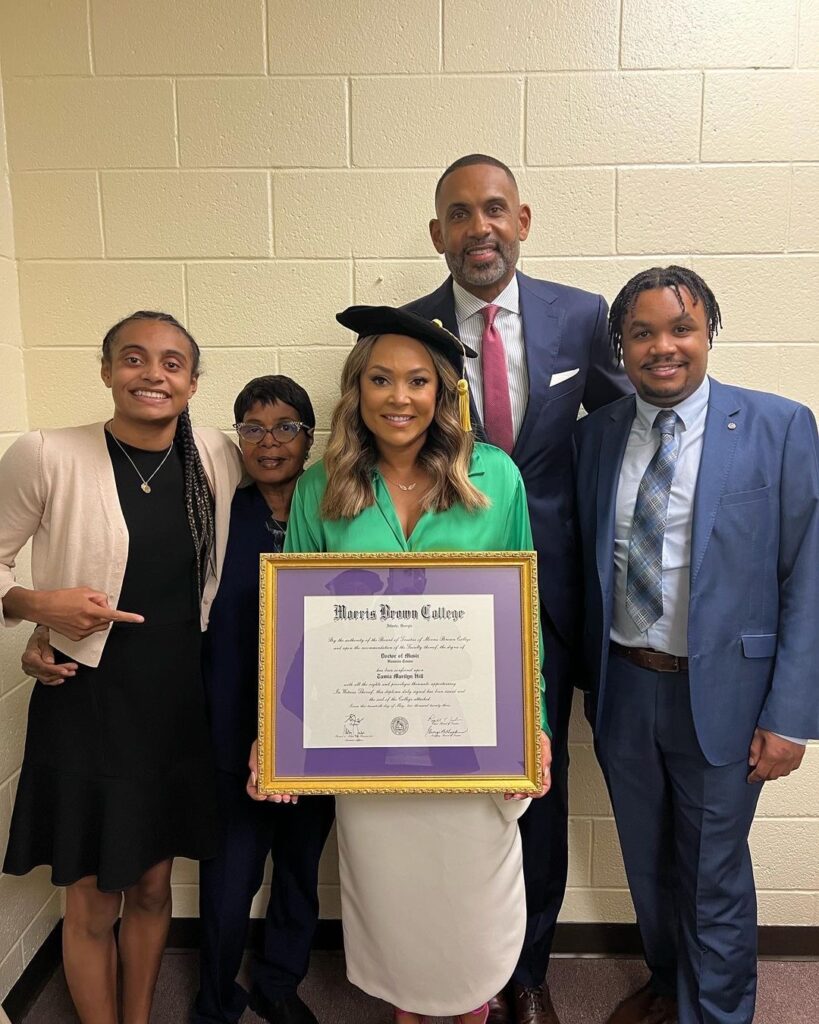 It's been nearly five years since Tamia last released an album. Her 2018 project, Passion Like Fire, was released in September 2018.
The album included her hit single "Leave It Smokin'," produced by Salaam Remi, which reached No. 1 on the R&B radio chart (formerly known as urban adult contemporary).
Passion Like Fire also hosted its other popular track "It's Yours."
In April, Tamia celebrated the 25th anniversary of her self-titled album, which included her signature song "So Into You."
"Happy anniversary to my first album. I love singing these songs today as much as I did 25 years ago," she wrote in an Instagram caption for a slideshow of the album cover and singles.
While it's unclear if there's new music on the way, Tamia does have some shows lined up. On July 28, she will perform in Detroit, Michigan, at The Aretha Franklin Amphitheatre. Then, on Sept. 30, she will play at Mable House Barnes Amphitheater in Mableton, Georgia.
Tickets are available on Tamia's official website.