Convincing yourself that you can't do something before you give it a try can cause you to miss out on endless possibilities.
Luckily Andra Day had a change of heart about turning down the major role of jazz icon Billie Holiday in Lee Daniels' critically-acclaimed biopic The United States vs. Billie Holiday. Now, she's a two-time Golden Globe nominee because of it.
Like many nominees, Day shed tears the Wednesday morning the nominations were announced. Emotions were running through Day, even the night prior and after production wrapped.
"I [had] been feeling this sort of almost guilt and shame and just unworthiness for whatever reason," Day exclusively tells Rated R&B about her initial teary reaction to the Golden Globe nods.
"I prayed about it and had such an amazing moment with God the night before. So I think it all just kind of poured out at the same time."
Day's tears were also reflective of her gratefulness to everyone involved in her portrayal as Holiday.
"I think about my cast: Lee [Daniels], Suzan-Lori Parks, Tasha Smith, and Tom Jones, and just how many people poured into me," Day says. "This was a gargantuan effort and a gargantuan leap of faith of incredible talent, present passionate people and beautiful Black people that made that happen. You're seeing all of them perform even in my performance."
Still taking both nods in, especially the Best Performance By An Actress In A Motion Picture — Drama recognition, the first-time actress realizes they both were not achieved all by herself.
"It was a reminder that you don't get to these places alone," Days says. "I think people go, 'Just work hard, and it will happen,' and it's true. I believe you have to believe hard, and you have to work hard along with it and be willing to sacrifice. But at the end of the day, Lee had to say 'yes.' Studios had to say 'yes.' SOP had to say, 'yes.' You feel grateful that all of these factors came together to create this incredible leap that feels like a perfect storm."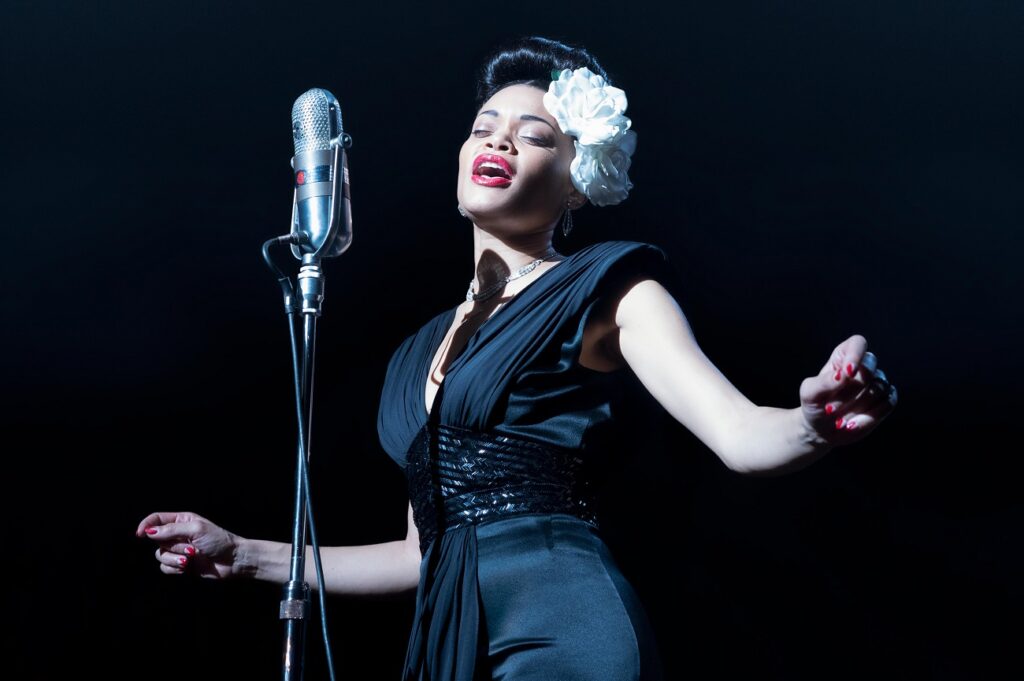 And a perfect film, too. The screenplay for The United States vs. Billie Holiday takes vivid pages from Johann Mari's bestselling book Chasing The Scream: The First and Last Days of the War on Drugs. Holiday, scourged to drug addiction to nurse past childhood trauma, was wrongfully attacked by the federal government for her dependency.
Agents' true destain for Holiday wasn't related to her drug habit but for her refusal to cease performances of "Strange Fruit," her jazz circuit standard dedicated to the senseless lynchings of Black people.
It was a song that Day covered in 2017 for an Equal Justice Initiative project detailing lynching history in America. She had no idea that she would be singing the protest song three years later, let alone playing Holiday, in the most-talked-about film of 2021.
"I was doing that because Bryan Stevenson is a great leader and a great hero. The monument to lynching and the Black history museum in Alabama are beautiful. What he had to go through in order to get these built let me know that racism is still so prevalent and so deep-seated."
Day, already a fan of Holiday and knew the importance of "Strange Fruit," scored her points before seeing the script. The additional criteria to fully embrace Holiday's complicated life came with her hard price.
Amid production, Day's innate singing ability took a hit while aping Holiday's brand of reedy, vocal brilliance. "With the smoking cigarettes and the drinking, and then not taking care of my voice, I did damage my vocal cords while I was on set. They are still recovering," says Day.
If you've listened to the rousing tracks that Day belted for the companion film soundtrack, you'd contest her vocal challenges. One of the undeniable songs is "Tigress & Tweed," an emotionally piercing record inspired by Holiday's controversial ballad. It earned Day and her co-writer and Academy Award nominee Raphael Saadiq a 2021 Golden Globe nod for Best Original Song.
Day says the planned end title song was "too difficult" to write while working on set. Once taping finished, she knew the right person to ring for the musical moment.
"Raphael and I had worked together on my first album. I love his music. I reached out to him about doing it, and he was down. He saw the movie, and he loved the performance, which was great because he's someone who knows me, so it's crazy for him to see me in such a different position."
Interested in instrumentation to match the rough draft to her overall concept, Saadiq replied with something that sounded flawless to Day. There was one perfect problem. "He said, 'There's a wrong cord, but it's beautiful.' I loved that description because I was like, 'That's Billie Holiday.'"
Before she came up with what she describes as "my favorite thing I've ever actually written in my life," Day found herself with writer's block for nearly two months. "I prayed about it. And then, all of a sudden, every single lyric poured out. It became so clear to me that I have to flip 'Strange Fruit.'"
Scents also inspired the lyrics. "She loved Tweed perfume and Tigress, which was popular at the time. I also thought about the scent of victory, which was the scent of our ancestors," says Day.
She also wanted the sacrifices of our forebears to be acknowledged with great honor. "Damu in Swahili means blood. I didn't want blood at our roots to be a sad thing. The blood of our ancestors is what strengthens us. So all those factors sort of came together," Days adds.
Another song that has earned Day prominence, as well as a renewal to the broken, is "Rise Up," from her Grammy-nominated Cheers to the Fall debut. It has been a mainstay in the top 10 on Apple Music's R&B chart for years.
It also has been a song she's raised her voice to sing during moments of trial and change, like last month's virtual Inauguration parade to welcome President Biden and Vice President Harris and mend the nation after four years of hate.
The song's ability to last and continue to inspire keeps Day grounded. "It's a blessing, and it's gratifying," Day says. "It makes me feel like, 'Hey, you're in alignment.' When you're in alignment and care about what you're doing and what you invest in it, it impacts people. And that's invaluable, and that's a reminder that music is a healing thing."
In search of regaining voice after her dedication to this role, Day is also en route of self-discovery while undergoing this new chapter of her life. "I believe God has got me. I'm just starting to get to a place of a little more clarity and starting to understand a little bit more about who I am and this new me, I guess, in this season of my life," Day says.
What from Holiday's life will sustain Day as a woman and as an artist months and even years after this press run, the hard-earned praise, and award season? "Her strength, especially as a Black woman," Days affirms.
"There was so much she shouldered on her own. It was her singing 'Strange Fruit' in defiance of the government and them going after her on the war on drugs that reinvigorated Thurgood Marshall and the Civil Rights Movement as we know it.
I think that's strength. That need to do what's right no matter what you're up against, no matter what you're facing. Also, her magnetism, the way she loved people and did not judge people, and sort of the way she lived her life as free as she could have as a liberated woman. Those are the things that I hope to carry with me."
The United States vs. Billie Holiday
hits on Hulu on February 26.