Mary J. Blige is celebrating Black Music Month in June with scripted content. The Emmy winner has announced two new original movies, in partnership with Lifetime: Mary J. Blige's Real Love and Mary J. Blige's Strength of a Woman. Both are based on songs from Blige's illustrious catalog.
Mary J. Blige's Real Love, directed by Camrus Johnson and written by Sonja Warfield and Rachel Ingram, is set to air on Saturday, June 10, at 8 p.m. ET.
The movie, previously announced last spring, centers around Kendra (played by Ajiona Alexus), an 18-year-old whose academic excellence gets her into an HBCU. Between hitting the books and work-study, Kendra meets Ben (played by Da'Vinchi), her photo class partner.
Kendra and Ben's budding romance is tested, from disapproving parents and financial hardships to an unexpected pregnancy. But it won't be until Kendra leaves Ben behind to follow her dreams that she understands if she and he have real love.
Fast forward 15 years later, Mary J. Blige's Strength of a Woman, directed by Shari Lynette Carpenter and written by Ingram, finds Kendra supporting herself as a photographer. While her career is thriving, she's dealing with an unsuccessful marriage and is left to wrap her mind around the life she's made.
As luck would have it, Ben and Kendra's lives intersect again. She must look inward to discover strength and love in new ways, which may lead her to a happily ever after.
Mary J. Blige's Strength of a Woman debuts Saturday, June 17, at 8 p.m. ET.
Blige is an executive producer for both films through her production company, Blue Butterfly. Ashaunna K. Ayars and Q. Nicole Jackson are co-producers through Blige's banner, while John Davis and Jordan Davis executive produce via Davis Entertainment.
Here's a bit of history behind Blige's two songs. "Real Love" is lifted from Blige's 1992 landmark debut album What's the 411? The hit song soared to No. 1 on Billboard's Hot R&B/Hip-Hop Songs chart (previously known as Hot R&B Singles). It also peaked at No. 7 on the Billboard Hot 100 chart.
Meanwhile, Blige's anthem "Strength of a Woman" is the title track of her 2017 album. She co-wrote the track Benjamin Wright, Davion Farris, Eric Dawkins and Brandon "B.A.M." Hodge. The latter produced it with Teddy Riley.
Lifetime aside, Blige is busy on two other networks. She reprised her role as Monet Tejada in season three of Starz's Power Book II: Ghost.
In a March interview with Rated R&B, the R&B icon opened up about her career development in the new season.
"What changes is the fact that people get to see she's a human being. She's mourning over Zeke, but she's also sad at the fact that she can't get out of the game when she was trying to get out. Now, she's super vulnerable but [has] suppressed anger because she's trying to figure out what's her next plan, what she's going to do now," Blige explained.
Blige is also host of The Wine Down with Mary J. Blige, an unscripted series on BET. So far, two episodes have aired.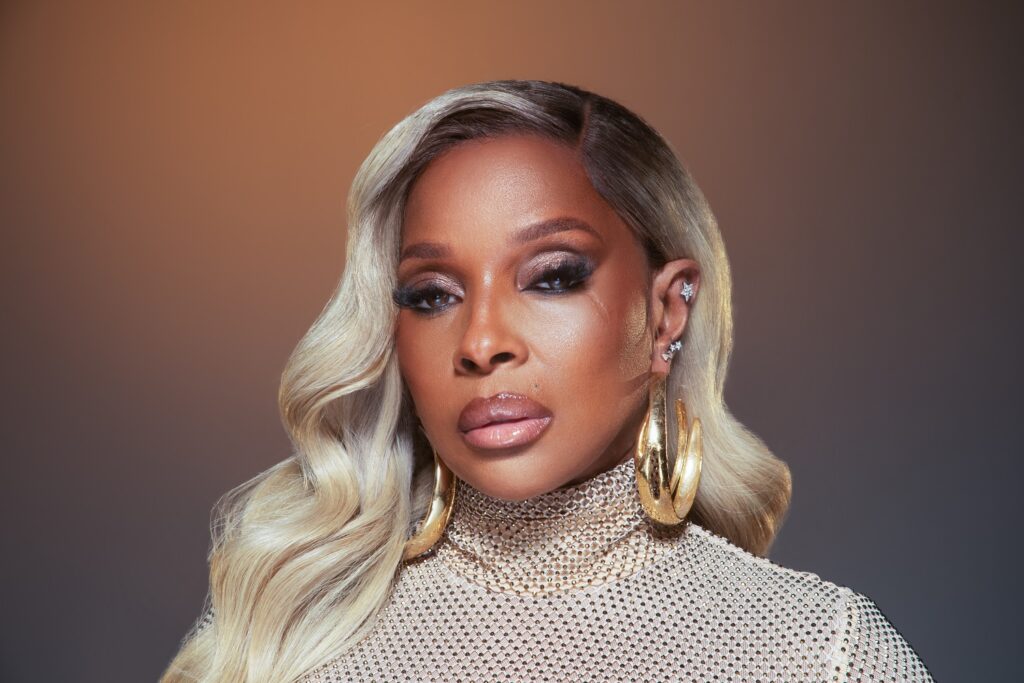 This Mother's Day weekend (May 11-14), Blige returns with her second annual Strength of a Woman Festival and Summit. Performers include Ms. Lauryn Hill, Lucky Daye, Summer Walker, Method Man, Jodeci, Robert Glapser and more.
"[I'm] just inviting some of the new artists that are making an impact in the R&B world and hip-hop," Blige told Rated R&B. "And just bringing the entertainment that people want to see and hear and having panels and strong women discussions and the whole thing that we did [last year] but just to another level with other artists that we love and respect and that people love and respect."
Tickets are on sale now for Blige's Strength of a Woman Festival and Summit.
Stream Mary J. Blige's "Real Love" and "Strength of a Woman" below.