Strength of a Woman is a comeback album from Mary J. Blige, who had proven herself indestructible after taking a few devastating blows to her unbreakable armor, from financial struggles and the ill-advised Burger King commercial to an insufferable marriage.
"I was already in a place where I was growing strong, but I was not sure about some things," Blige told Dèjá Vu of WBLS in 2017. "Once everything was revealed, it showed me that I have been the strength for me forever."
While a fair portion of Strength of a Woman is devoted to heartbreak and moving on from toxic love, it also makes space for resilience and perseverance, especially in the second half. The title track is perhaps one of the most impactful and empowering anthems from the stateswoman era of her career.
"Strength of a Woman" is suffused in tribal drums, a captivating beat, and theatrical strings and horns, helmed by Brandon "B.A.M" Hodge, Teddy Riley, and Benjamin Wright. With Davion Farris and Eric Dawkins as co-writers, Blige puts forth a message in the first verse of finding satisfaction within oneself rather than competing for the spot of others.
"I am woman, hear me out / Never claiming to be something I'm not / Don't want what's yours, just want what's mine/ Not tryna to take over, I just want my spot," Blige affirms.
Blige expresses her appreciation for the inherent and extraordinary power of women and gratitude for mothers in the spirited chorus. "How can life go on without me here? / It's impossible, oh, oh / All the pain endured to give life / And we keep giving and giving and giving / And that's the strength of a woman," she declares.
In the second verse, Blige portrays herself as a supportive partner or a source of help in a relationship. Her intention is not to undermine her partner's ego, but rather to establish her own sense of empowerment. She desires her partner to see her as someone who brings value to the relationship and as an equal rather than a burden.
She sings, "Not saying move over, I'm just here to help / That's what God made me for / You ain't gotta build by yourself / You got your pride, don't let it make you blind / Don't need to be walking behind / You're better with me by your side."
The most affecting moment of the uplifting anthem was the profound bridge. "We're the wisdom like a guiding light / We're the trees left standing through the storms of life / We love so hard and we've come so far / Can't hold us back / Cuz here we are," she sings.
Blige first previewed the song "Strength of a Woman" at a show in the spring of 2016, before the news broke of her divorce. The crowd gave her a standing ovation in response to the raw emotion she emitted.
She performed the track regularly during her residency at Foxwood Resort Casino and on the King and Queen of Hearts World Tour with Maxwell in the U.K. and Europe. It was during the latter concert that she first introduced her then-lead single, "Thick Of It."
A year after Blige's Strength of a Woman album and documentary were released, TNT partnered with her to feature the cast of Claws in the music video for the reaffirming title track.
Since then, Blige has embraced the strength of a woman concept and integrated it into her brand and a new movement. This has led to the creation of her second Lifetime original movie, Mary J. Blige's Strength of a Woman, as well as a festival in its second year bearing the same name.
Mary J. Blige's Strength of a Woman is directed by Shari Lynette Carpenter and written by Rachel Ingram. It continues the story 15 years after the prequel, Mary J. Blige's Real Love.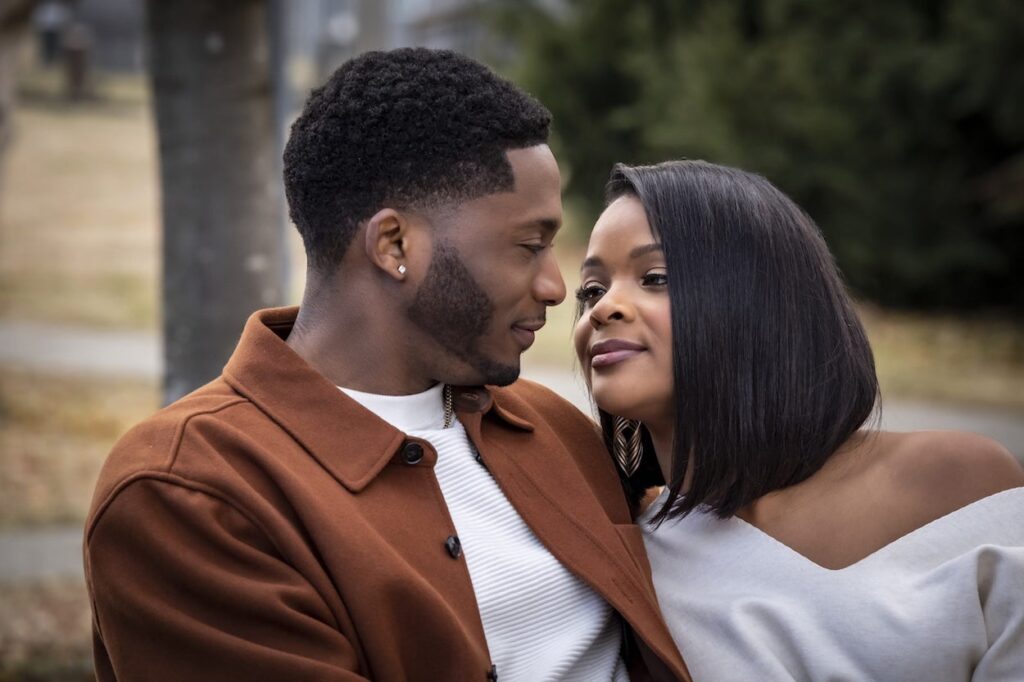 The main characters, Kendra (played by Ajiona Alexus) and Ben (played by Da'Vinchi), are HBCU students who were once attracted to each other in college. They went their separate ways but eventually reconnect. However, the duration of their reunion is uncertain.
In a recent interview with Rated R&B, Blige shared why she chose Alexus and Da'Vinchi as the leads for both films.
"I hand-selected them. I'm a fan of BMF and I saw them [in the series], and they were such strong actors. Everybody was great in BMF, but these two really stood out. I really believe in them, and I wanted them for the movie. So, their performances was phenomenal. They did great. They did excellent," Blige told Rated R&B.
Mary J. Blige's Strength of a Woman debuts on Lifetime this Saturday, June 17, at 8 p.m. ET. Watch the trailer and stream "Strength of a Woman" below in the meantime.
View this post on Instagram
Read more about the history of Mary J. Blige's song "Real Love" here.