Givēon collects more certifications from the Recording Industry Association of America (RIAA).
His 2021 compilation project, When It's All Said And Done… Take Time, is now certified platinum with more than one million equivalent units sold. "Stuck On You" has also been upgraded to platinum status.
Givēon's breakout hit "Heartbreak Anniversary," which was nominated for Best R&B Song at the 64th Grammy Awards, is now certified 4x multi-platinum.
Both songs are featured on When It's All Said And Done… Take Time, which debuted at No. 5 on the Billboard 200 chart.
"Heartbreak Anniversary" originally appeared on Givēon's debut EP, Take Time, and "Stuck On You" is lifted from When It's All Said And Done.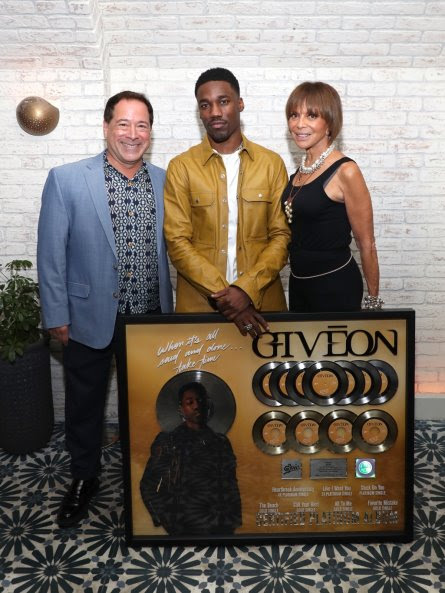 Givēon performed at the 2022 BET Awards on Sunday night. His set included a medley of "Heartbreak Anniversary," "For Tonight" and "Lie Again." The latter two tracks are from his freshly released debut album, Give or Take.
"My debut album Give or Take is a collection of reminiscences over the last few years of my life," Givēon told Rated R&B. "Suddenly having to adapt to a world in which there are so many eyes watching and experiencing a wide spectrum of emotions at once naturally brought these songs to the surface. All in all, Give or Take reflects the love and the loss I've had to face as well as the growth and the healing I've come to accept."
The 15-track project doesn't contain features. Givēon explained why he made this decision to Zane Lowe of Apple Music. "This story is so personal that there can't be another voice besides me and my mom because that's the conversation that was had," he said.
In August, Givēon will launch his Give or Take Tour with special guests Fana Hues, Saleka, Jenevieve and Rimon.
Revisit some of Givēon's past performances of "Heartbreak Anniversary" and "Stuck On You" below.