Khamari doesn't like to force anything that doesn't come naturally. The bio section of his Spotify page is a testament to this. "Been staring at this shit for 30 min," it reads. He may come back and update it one day, but that's what we get for now.
It's a similar approach that the singer, songwriter, and producer takes in his music-making process. He prefers to create with intention.
"I don't want to write things for the sake of writing or to appease somebody that isn't gonna connect with what I'm writing anyways," Khamari tells Rated R&B over a video call from his home in Los Angeles, California.
He continues, "There's times where I'll go weeks without writing 'cause I'm not feeling inspired. I'll collect different things, whether it's a conversation I had, something that somebody said to me, or something I saw in a movie or heard in a song, but I wanna say it in a different way."
Khamari reaffirms this concept on "Wax Poetic," the opening track of his debut album, A Brief Nirvana, out now on RCA Records. Over a dynamic piano, punctuated by a subtly restrained bass, Khamari invites listeners to delve into his thought process as he grapples with the challenge of expressing himself musically.
"I've been tongue-tied / Down and out these days / Words don't come easy these days / Hand on the pen, let the ink run dry / Rather say nothing / Keep what little piece of mind I've got," Khamari sings in the first verse. "'Wax Poetic' is about me trying to find the sound, the words and the stylistic choices to say the things I wanted to say in the way I wanted to say them," he explains.
Each song on A Brief Nirvana intricately weaves vivid lyrics and lush production into a harmonious tapestry. On the soul-baring set, Khamari embarks on an introspective journey in a world of isolation. He yearns for clarity in the heartfelt lead single "Doctor, My Eyes," lets go of love in the poignant "Sacred Place," finds solace within the sanctuary of "These Four Walls," pursues his ambitions in the Al Green-sampled "On My Way," seeks redemption in "Right My Wrongs" and ultimately sees the light in the spirit-awakening "Requiem."
Khamari adds, "This album is about the struggle of one growing into adulthood. I was making music out of my grandfather's attic previously when I was in Boston, before packing up my stuff, moving to Los Angeles, and trying to find myself socially out here — and dealing with my adult responsibilities. For a lot of people, day-to-day can be tough even if you have been an adult for a while. Those are things that are very real for people. That's something that I wanted to express with this project. Finding a brief nirvana for me was a battle and it was a fight."
In Rated R&B's interview with Khamari, the multihyphenate discusses signing to RCA Records, shares the meaning behind a few tracks from A Brief Nirvana and more.
Since dropping your debut EP, Eldorado, in 2020, you went on to sign with RCA Records. What made RCA the right home for you?
I went where it felt the best to go artistically and where I felt I would have the most creative control and the most support in the building. I just felt like RCA was the best home creatively for me.
What was your intention when making A Brief Nirvana?
When I started the process, I was getting introduced to so much music and different artists that were inspiring to me. I wanted to eventually do something similar to the effect of what they were doing, whether it was how they interacted with the culture, how people felt about their music when they listened, the language they used when they were writing, or the stylistic choices they made. My intention was to create a body of work that felt like something I wanted to make down the line. Halfway through the process, I realized where I [was] in the process. This was peak Covid time when I had started diving into writing the project. I made a decision to, instead of trying to skip those steps, kind of put together a compilation of songs to be vulnerable about the things I was going through so that I could have a stepping stone for the next project.
"Drifting" is one of the early tracks you dropped. You mentioned that the song is about escapism. With lyrics like "smoking way more than I should" and "couple sips had more than I would," it sounds like you're describing a time when you relied on certain substances. What's the story behind this song?
It's definitely about escapism; it's also about substance and addiction. I think we all have a lot of different unhealthy addictions, whether it be a substance, behavior or thought patterns. We were all going through Covid at the time and just things we go through in life. This song was about that, but also about getting to that place and mindset of being super unhealthy. It's that moment of self-awareness. I felt like there was a long period where every day was the same sh*t. I got up, went to my desk, made music and went to bed. With "Drifting," I wanted to tell that story about like, "Okay, now I'm self-aware enough to realize I'm in this position that I'm in. How do I wanna express that I wanna escape the situation? I'm not happy with it. But I'm also telling it for what it is."
When did you realize you were drifting?
I'm just a very heady person, I guess. I'm always thinking. Even before starting this album, when I wrote songs like "The Heat" and ["Demons (Eldorado)"], there were a lot of steps to realizing that this was a story that I wanted to tell. I feel like it's something that you kind of just know. I think depending on the way you tell stories, you tell them in different ways along your path. It's a very general song in the sense that it could apply to different things. Being in a situation where I was by myself every day and making music, there were a lot of things I did during that time that were productive, but there was also a lot of time to sit down and realize, "Oh, I really do feel alone at sea. I really do feel like I am drifting."
One of the lines in "Drifting" is "visions of a brief nirvana." Since your album is titled A Brief Nirvana, how would you describe the connection between "Drifting" and how it fits within the album?
Basically, "visions of a brief nirvana" in the context of that song is being in the middle of that monotonous day-to-day, feeling alone, feeling like you're drifting and you don't really see a way out. "Visions of a brief nirvana" is you having that moment of dreaming of that way out. It's seeing that light at the end of the tunnel [and] seeing that there is a way out and not necessarily knowing how to get there yourself. This is a song that's about the headspace I was in when I was writing the project [and] that line does tie to a thread in and out of every song.
The album cover shows you sitting on a bed with a pair of boxing gloves hanging on the wall. What inspired the creative direction behind this?
Part of the inspiration was Billy Joel's The Stranger cover. It's one of my favorite albums of all time. [He's] an incredible musician and songwriter. I thought it was a dope way to kind of tap into that inspiration. I think a lot of the artists that I respect and admire find really creative ways to introduce their fans and people that love them to new and different things that they wouldn't necessarily be exposed to along the way. I just wanted to add another little Easter egg in terms of the things that inspired me when I was creating the project.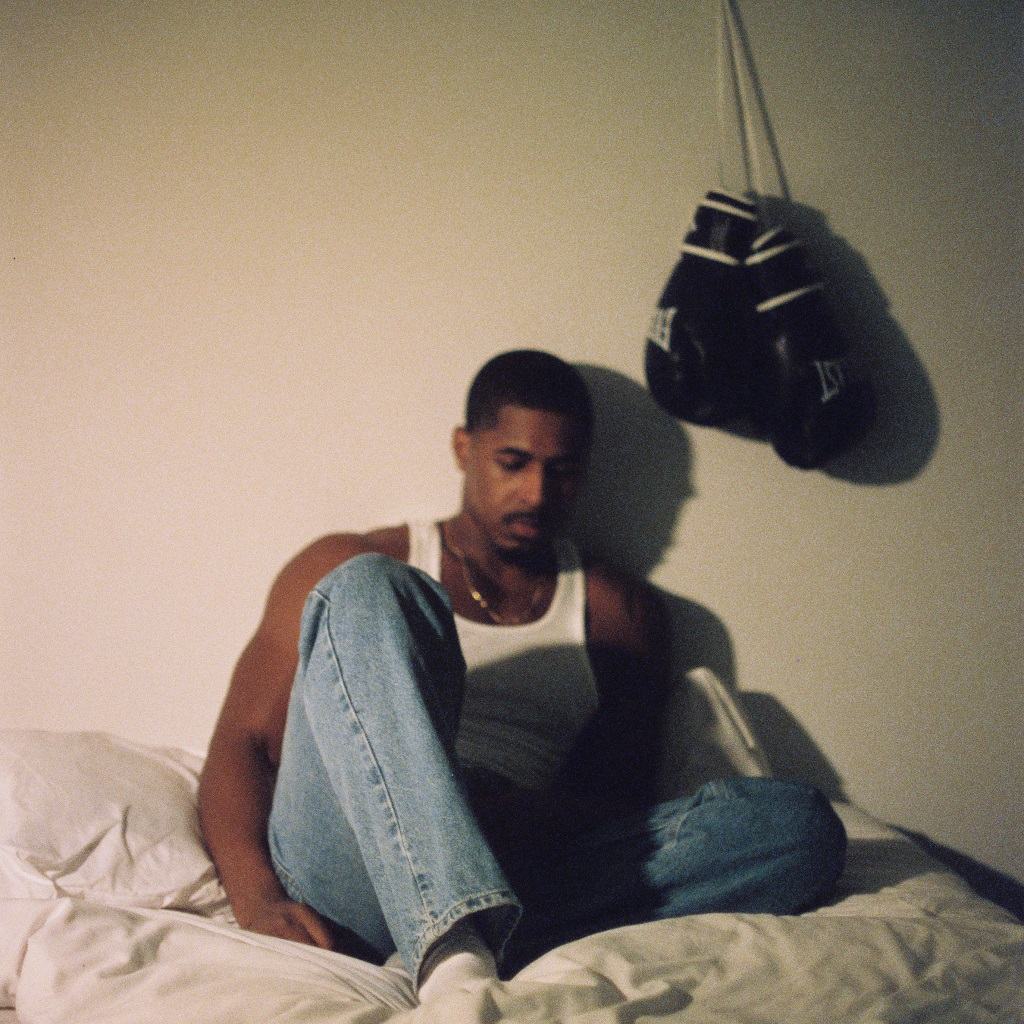 "Cherry Picking" is one of my personal favorites on the album. What's the story behind that song?
I think we all get to a point in certain situations, especially a relationship, where you realize there's a lot of downsides and upsides to a lot of things. I think part of coming into adulthood and having a little more perspective is realizing that you can't have one without the other. You can't cherry-pick moments and say, "Oh, this is a good representation of what the relationship is and isn't." For me, it was about being real with myself about what a relationship meant, felt, and needed to be for me.
What's the meaning behind "These Four Walls"?
It was around the time I wrote "Doctor, My Eyes" and I had just moved [to Los Angeles]. "These Four Walls" is about me romanticizing and finally coming to terms with the isolation that I was dealing with at the time. It kind of has undertones of "Diamonds From Sierra Leone" by Kanye West, where I'm making peace with what I have, and I'm happy because at least I know this is guaranteed. I was going through a very isolated period when I was creating the project. I wanted to touch on that even outside of "Doctor, My Eyes" in a more specific way.
The album contains a few samples that are well-cooked into the music such as Al Green's "Love and Happiness" ("On My Way"), Nina Simone's "Feeling Good" ("Drifting") and Darondo's "Didn't I" ("Right My Wrongs"). What was your approach when it came to sampling?
I don't sample things that I didn't discover [and] that didn't change my world when I discovered them. That doesn't just mean that I enjoy them, but I mean genuinely are a part of my DNA as a musician, writer [and] artist.
The previously mentioned samples come from soul songs recorded in the '60s and '70s. What is it about that era that appeals to you?
For a long time, it was the most refreshing and inspiring thing for me to listen to. I think the best musicians pull from a little bit of everywhere, but for me, there was a period when I was in love with the soul chops and the way that the music felt. Soul music is where it's at in terms of nostalgia and raw emotion. That raw motion is something I wanted to tap into for this project. That doesn't mean the next project might not pull from a completely different era or different types of artists.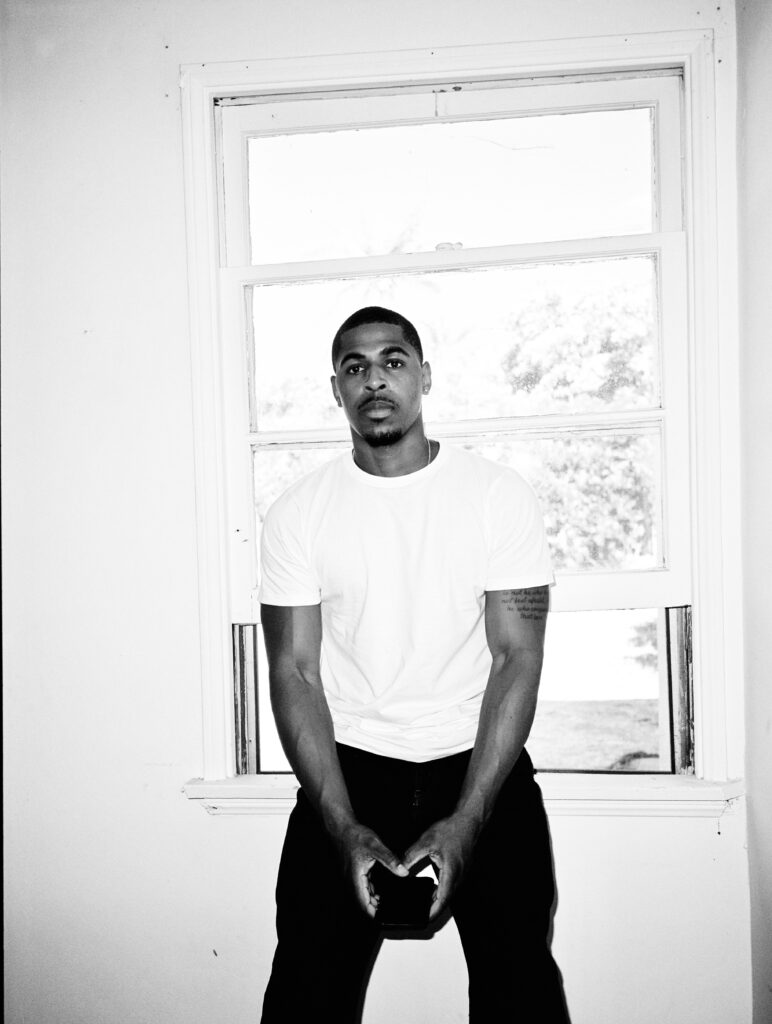 The album is full of raw and honest songs. What does it mean for you to have these songs now out for the world to consume?
I think as anyone that really cares about what they do, you'll never really truly be satisfied. I'm the kind of person that could work on something until someone taps me on the shoulder and tells me it's time to stop. Presentation is important and being very intentional in a time where there's less personal storytelling was really important to me. When [I turned] the project in, I wasn't hesitant because I felt like it wasn't good enough. I just wanted to make sure that I'm presenting the story in the way that I had envisioned it.
When you're not making music, what do you like to do?
I love watching movies [and] going to museums. It's a bit of a double-edged sword 'cause even when I'm not working [and] not making music, I'm looking for other ways to be inspired [and] other avenues to pull from. For visuals, I'm thinking about other ways to tell the story and build out the world that I've started to build. That's another important part that I enjoy about my favorite artist is they bring you into a world and it's not necessarily a song or even a project that they build. They build something around you.
What impression did you leave after making A Brief Nirvana?
Part of [how] I connect with certain projects is you need them at the time you receive them. You fall in love with them and listen to them over and over again until you play 'em out. I wanted to create that moment for somebody else that might be in a similar headspace that I was in. I wanted to kind of pay that forward. This is about creating things that people can connect with, fall in love with and play over again. It's the way I played [Kanye West's] The College Dropout or [Stevie Wonder's] Innervisions. It's more about creating something that I would've appreciated when I was in that headspace that I felt would've helped me out of that.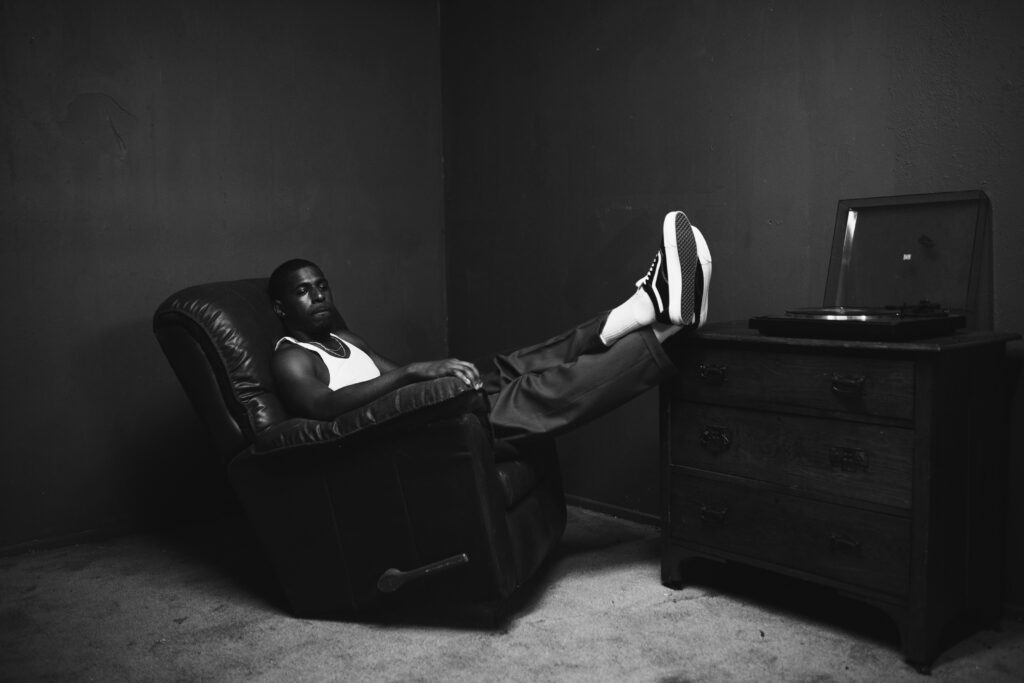 Stream Khamari's debut album, A Brief Nirvana, below.

(Continue scrolling to stream on Spotify.)