Netflix has shared an official first look at its upcoming original holiday movie, Best. Christmas. Ever! The movie directed by Mary Lambert will be available on the streaming platform on Thursday, Nov. 16.
Brandy stars in Best. Christmas. Ever! as Jackie, who reconnects with old college friend Charlotte (Heather Graham), suspicious that Jackie's picture-perfect life is not as joyful as her annual Christmas newsletters suggest.
Determined to prove Jackie wrong, Charlotte and her family pop up unannounced at her door, causing Christmas chaos with her assumptions. But, before it's all said and done, Jackie and Charlotte work together to preserve the true spirit of the season.
The film also stars Jason Biggs, Matt Cedeño, Wyatt Hunt, Abby Villasmil, and Madison Skye Validum. Charles Shyer and Todd Calgi Gallicano wrote the script, with Brad Krevoy as the producer.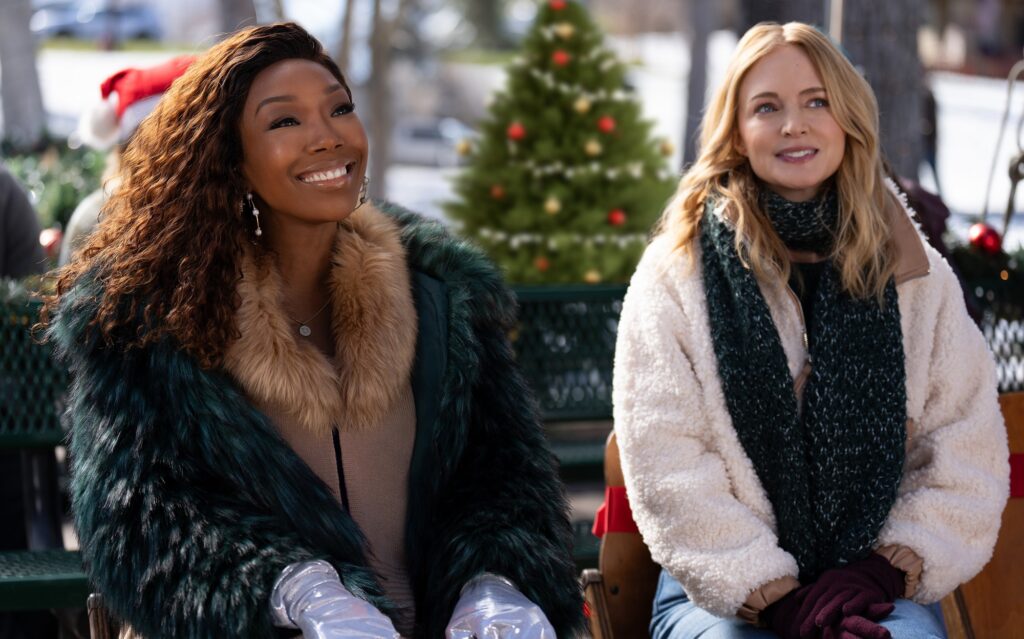 Shyer and Gallicano are also executive producers, along with Steve Berman, Bryan Bordon, David Wulf, Eric Jarboe, Jimmy Townsend, and Amanda Phillips.
Brandy was announced to have the lead role in Best. Christmas. Ever! during spring 2022. This was around the same time that she finished filming the first and final season of ABC's Queens.
She starred as Naomi in the latter hip-hop drama that featured Eve and Naturi Naughton as her former bandmates.
View this post on Instagram
Later in 2022, Brandy accepted roles in The Front Room, a psychological thriller, and The Pocketwatch, a sequel to Descendants, where she will reprise her iconic role as Cinderella. Jennifer Phang directs the latter movie.
New Brandy music is expected soon. Brandy's company, Brand Nu, Inc., partnered with Motown Records in June 2022. The first release via the deal was the official performance audio of "Rather Be." The original version of the latter track, co-written by Victoria Monét, is lifted from Brandy's b7 album.
Brandy is presently working on her untitled eighth studio album. In a January 2022 interview with Rated R&B, the Grammy winner shared the direction of her new material.
"I want to try different things with my music this next go-round, not just stick to R&B," she exclusively told Rated R&B. "I'm not just R&B, it's more in my core. I want to bring it all out. Whatever else I have left, I just want to give it."
Since then, Brandy has collaborated with several R&B artists, such as Mariah Carey, Arin Ray, and Nick Cannon, appearing on their albums and projects.
According to Grammy-winning producer and songwriter Camper, Brandy is set to appear on his forthcoming project, Campilation.
"I have all the R&B artists I love that's my family on the album together. [The album is] like what DJ Khaled did with hip-hop, but this is R&B," Camper told Rated R&B in an exclusive interview.
Camper and Brandy worked extensively on b7, which ranked No. 1 on Rated R&B's Best R&B Album of 2020 list.
In 2024, Brandy will receive a star on the Hollywood Walk of Fame. She will be honored alongside Toni Braxton and Otis Redding.