If anyone knows a thing or two about patience, it's Victoria Monét. The singer and songwriter just dropped her debut album, JAGUAR II, on RCA Records, after more than a decade of hard work.
The 34-year-old cut her teeth in the music industry in 2009 as a member of Rodney "Darkchild" Jerkins' short-lived R&B girl group, Purple Reign. Following the group's disbandment, Monét shifted her focus to songwriting and studied the greats such as the late LaShawn Daniels, who was pivotal in her writing and vocal production approach.
"He's the reason why I understood vocal production, adding harmonies. Seeing him write from scratch, seeing him go in the booth and mumble things and then they become words. All of that comes from him," Monét told The Associated Press in 2020.
Landing a placement on Diddy – Dirty Money's Last Train To Paris ("I Hate That You Love Me") forged the trail for more writing opportunities. Monét went on to write and vocal produce for more acts such as Chrisette Michele, Nas (she's featured on 2012's "You Wouldn't Understand"), Fifth Harmony and Ariana Grande. Monét co-wrote songs on Grande's debut album, Yours Truly, as well as her subsequent albums.
Monét's sharp pen cut through like a knife, allowing her to carve out her own trajectory as a singer and songwriter. She continued writing for others while keeping her eyes on her goal of becoming an artist, like a vigilant jaguar.
In 2014, Monét released her debut EP, Nightmares & Lullabies, Pt. 1, on Atlantic Records. Its sequel arrived in the following year. "Nightmares & Lullabies is a metaphor for the juxtapositions one's life can display – bad days versus the best ones and how they can play off of each other," Monét explained to Billboard. "My voice represents the lullaby, and the tribal undertone in the music is dark like a nightmare."
Nightmares & Lullabies would set up the cadence of her future releases. Her 2018 EP, Life After Love, was released in two parts. Part 1, inspired by a true story, is a vulnerable set of songs that sees Monét processing the aftermath of a breakup.
Where there's pain, there's healing. Part 2 continues the story with Monét finding the strength to move on and achieve happiness.
Life After Love, Pt. 2 arrived just a month after Grande's Sweetener album, on which Monét co-wrote two tracks: "pete davidison" and "goodnight n go." Both projects echoed a sense of overcoming challenging times.
In 2020, Monét turned heads with her JAGUAR EP. (She proudly pushed the project back one week to honor Beyoncé's visual album The Gift.) JAGUAR welcomes listeners into Monét's jungle that drips with sultry and steamy bangers like "Moment" and "Touch Me."
She worked closely with acclaimed producer D'Mile, with additional contributions from SG Lewis and Deputy, to create a sonic experience that delves into '70s soul. She was committed to ensuring that her earth-toned styling and vintage-like visuals mirrored her sound.
Initially planned to be a trilogy, JAGUAR was eventually condensed into a two-part series like Monét's previous releases, with JAGUAR II as the latest installment. Throughout her career, Monét consistently showcased her ability to strike a harmonious balance. Any sequel she's released has always come across as a meaningful extension of the larger story Monét was telling. JAGUAR II is no different. While it shares the same title as its predecessor, JAGUAR II drastically puts Monét where she rightfully belongs: at the summit.
Since JAGUAR, Monét has become a mother to her daughter Hazel, who makes an appearance on JAGUAR II (more on that later). She also signed a new deal with RCA Records, affording her more resources than when she was independent.
Where JAGUAR showed off Monét's sensual prowess, JAGUAR II roars unwavering strength and self-assurance. D'Mile, who went on to score Silk Sonic's breakout album An Evening With Silk Sonic, returns to the helm for II.
Monét eases into the album with "Smoke," the Lucky Daye-featured lead single, co-produced by D'Mile, Tim Suby and Yogi. The smoldering bass and regal horns, paired with their hazy vocals, are enough to get you high off contact. And you'll feel it quickly in "Smoke Reprise," where Monét's vocals sprinkle down like a gentle drizzle on a cloudy day.
While "Smoke" is Monét's obvious ode to weed, she also noted it represents "exhaling the old and inhaling the new." Monét's blazing mantra for "Smoke" could be applied to JAGUAR II in a general sense. While the album may mark the end of one era, it undoubtedly establishes the ambiance for what is to follow.
JAGUAR II brims with a high level of confidence, even when there were moments when Monét felt the opposite. The nostalgic "On My Mama," which samples Texas rapper Chalie Boy's 2009 hit "I Look Good," is infused with self-affirming lyrics. "I wrote it postpartum when I wasn't feeling my best, but spoke to how I wanted to feel," Monét previously explained.
Monét doesn't just encourage herself, she also wants to bring others along. "Cadillac (A Pimp's Anthem)," decked out with resonant bass sweeps and brassy horns, is an empowering tribute to women. "We women been winning since from the beginning / Of your whole life," Monét sings. The Kaytranada-produced standout "Alright" and Buju Banton-assisted "Party Girls" celebrate having a good time in a festive atmosphere.
Monét knows how to let her hair down, but she also knows how to set boundaries. "Stop (Askin' Me 4Shyt)," co-written by James Fauntleroy, humorously expresses Monét's annoyance with a persistent person. The kiss-off lyrics are reminiscent of songs like Erykah Badu's "Tyrone" and Destiny's Child's "Bug a Boo," with comedic lines like: "Do I look like a tree to you? Well, leaf me alone if I do."
As a masterful songwriter, Monét has shown that her ability to wordplay is unmatched. She can do it in a cheeky way on songs like "Stop" or in a sentimental way on songs like "How Does It Make You Feel." In the latter, she sings, "Just like the sand I'll always be for shore (sure)," over a dreamy backdrop punctuated by cinematic strings and tinkling xylophone. The soul ballad, which has traces of New Power Generation and Prince's "Diamonds and Pearls," captures the essence of unconditional love.
Monét has been very vocal about honoring legendary artists who came before her, including those from the '60s and '70s soul eras. The introspective "Hollywood" features Earth, Wind & Fire, creating a full-circle moment. Lyrically, the song delves into Monét's experience living in Los Angeles, where she first moved when she auditioned for Purple Reign.
Over glamorous instrumentation, with Verdine White on the bass, Monét sings about how it's easy to "get lost in all the glitter" and how it's important to remain grounded. Toward the end of the song, we hear Monét's daughter giggling. It could possibly represent how motherhood has reshaped Monét's thinking and given her a new sense of purpose. She's no longer living for herself but also her child.
As mentioned above, JAGUAR II is the final installment of Monét's JAGUAR series. It's only right that it ends with "Good Bye," a bittersweet send-off that cherishes the final moments of a relationship. Despite the fading union, Monét opts to end things on a good note.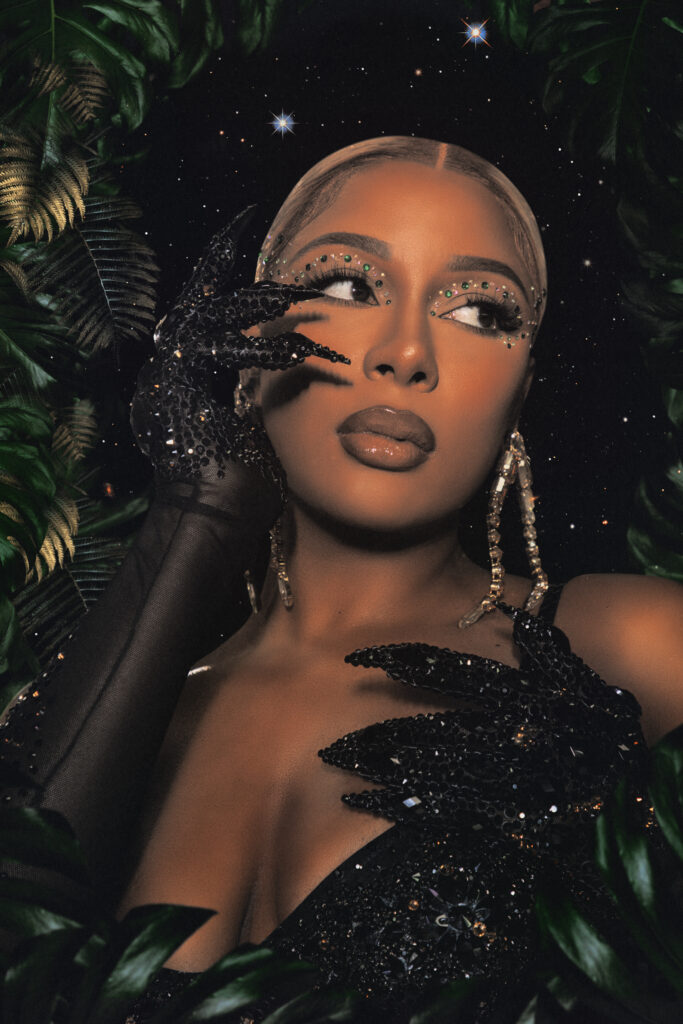 JAGUAR II pleasantly concludes the two-part series. The album further underscores Monét's capacity to thrive in varying soundscapes. It's a bit more expansive than her previous works. Monét seamlessly blends elements of funk, reggae, hip-hop and pop, while maintaining an R&B core. Her meticulous attention to detail is also apparent throughout the project. The songwriting is knife-sharp. The ad-libs and background vocals are effectively placed. The production is refreshingly opulent and textured. The track sequencing is impeccable. The album was undoubtedly optimized to elevate the listening experience.
Though JAGUAR II may mark the end of Monét's time in the jungle, she will emerge from it transformed. Like a stealthy jaguar that prowls through the night shadows, keeping a watchful eye on its surroundings and stalking its prey, Monét has poised herself for this juncture. We've traced her footprints. We've heard her distant roars. Now, it's Monét's time to fully pounce into the light with JAGUAR II, which is bound to leave an everlasting mark in her discography.
Rating: 8.5 out of 10
Standout tracks: "Alright," "Hollywood" and "How Does It Make You Feel"
Stream Victoria Monét's debut album, JAGUAR II, below.