In a span of ten years, K. Michelle released six studio albums, including her final R&B album, I'm the Problem, after starting out with a stalled career.
Her debut album, Rebellious Soul, which turned 10 in August, features "Can't Raise a Man," her first certified song, which sold over 500,000 units.
K. Michelle's second and third albums were very successful. Anybody Wanna Buy a Heart? became the highest-selling R&B album by a woman in 2014, while More Issues Than Vogue marked her third consecutive No. 1 on Billboard's Top R&B Albums chart.
Her final album on Atlantic Records was 2017's Kimberly: The People I Used to Know, while her first top 10 hit ("The Rain") on Billboard's Adult R&B Airplay chart was produced by 2020's All Monsters Are Human.
Fast forward to 2023, K. Michelle's final album, I'm the Problem, has arrived. The lead single, "Scooch," reached No. 1 on the R&B charts. The following year, three more singles were released to promote the album, including "You" and "Blame Yourself."
As the release date for I'm the Problem approached, K. Michelle gave us a sneak peek of her upcoming country music era as Puddin with her new single "Tennessee."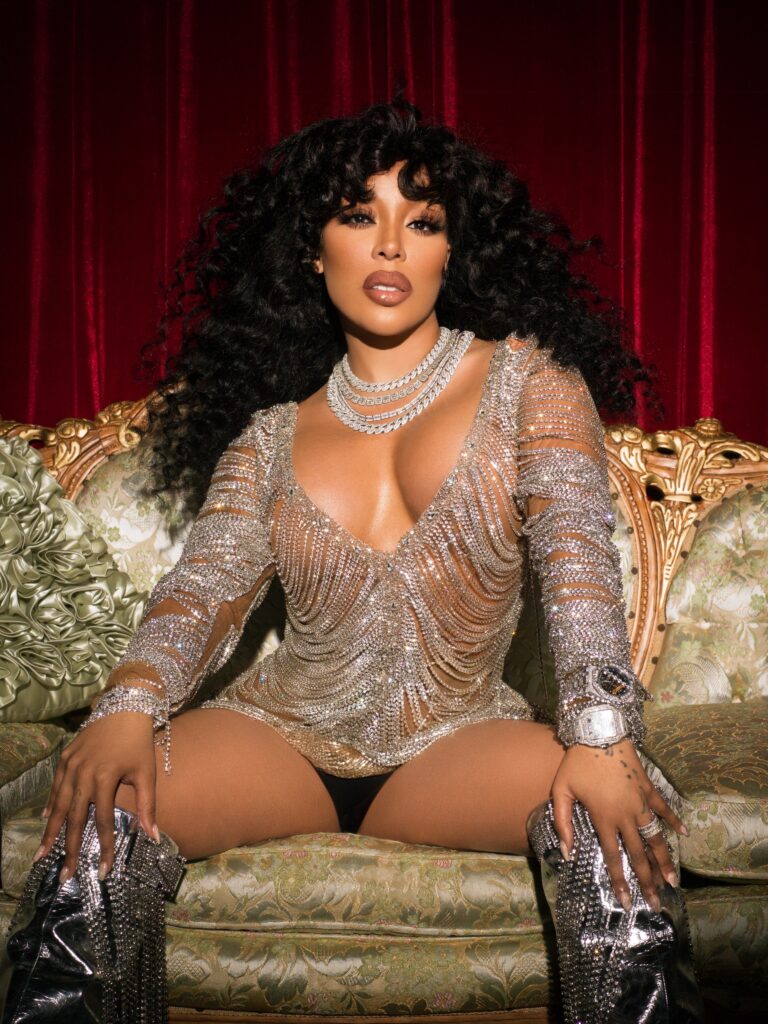 Regarding I'm the Problem, K. Michelle told Rated R&B in 2022, "I've been healing through this album. I have dealt with my relationship through this album. I have dealt with my relationship with my son through this album. I have dealt with where I want to go in my future through this album. I'm at a crossroads in my life right now. So that's what this is about."
In celebration of the release of I'm the Problem, Rated R&B has shared five songs that deserve to be heard.
"God Knew"
Much joy comes to the ear from the almost improvised guitar strums at the beginning of the track. On "God Knew," K. Michelle recounts leaving a toxic relationship, expressing gratitude for divine intervention in protecting her from another blow to the heart and taunting her former partner for his comeuppance.
"No Gain"
As the title suggests, K. Michelle pays tribute to the late Betty Wright's '80s classic "No Pain, (No Gain)," with an old-school vibe that will invite your best dance moves. She upholds her winning tradition of empowering women in difficult romantic situations with street cliches to help them feel sexy, confident and strong once again.
"This Man"
A piano is perhaps the best instrument for K. Michelle's candid writing style and emotive vocals. Amplified by melancholy piano chords, "This Man" finds K. Michelle singing about a man who left her heartbroken and traumatized after choosing another woman over her.
"You"
"You" is a poignant account by K. Michelle, whose downy vocals convey the struggle of trying to forget an unforgettable lover. Despite her efforts to move on, the thought of never getting over this particular person still haunts her, even after finding someone new or drinking to ease the pain. In the final 30 seconds of the ballad, K. Michelle gives a glass-shattering salute to Minnie Riperton's 1974 hit "Lovin' You."
"Gangsta In Me"
On K. Michelle's albums, her unapologetic attitude to show off, vent, and reflect is always apparent. That's the case in "Gangsta In Me," where she makes no apologies for protecting her peace at any cost.
Listen to K. Michelle's new album I'm the Problem below.