K. Michelle makes doing it all seem effortless. The Memphis, Tennessee, native recently released a new love jam ("Scooch") as the first single to her final R&B album, I'm The Problem, due this spring.
In the same breath, she has been working against the clock in Nashville with songwriter and frequent collaborator Carmen Reece to complete additional songs before she turns in the final list of songs ahead of her birthday.
"I wanted to give it a couple more days on it, and I'm finally going to let it go, so I don't become [Dr.] Dre Detox," K. Michelle says with a smirk, as she sips her Kombucha. After this call, she plans to go to the studio again for what she reveals is night two.
K. Michelle and Reece's reunion is perfectly timed, as the two collaborated for the first time in 2016 on More Issues Than Vogue, which celebrates its fifth anniversary this month.
As she works toward a successful trajectory on the music side, both in the R&B and country sectors, K. Michelle is in front of the camera on Lifetime.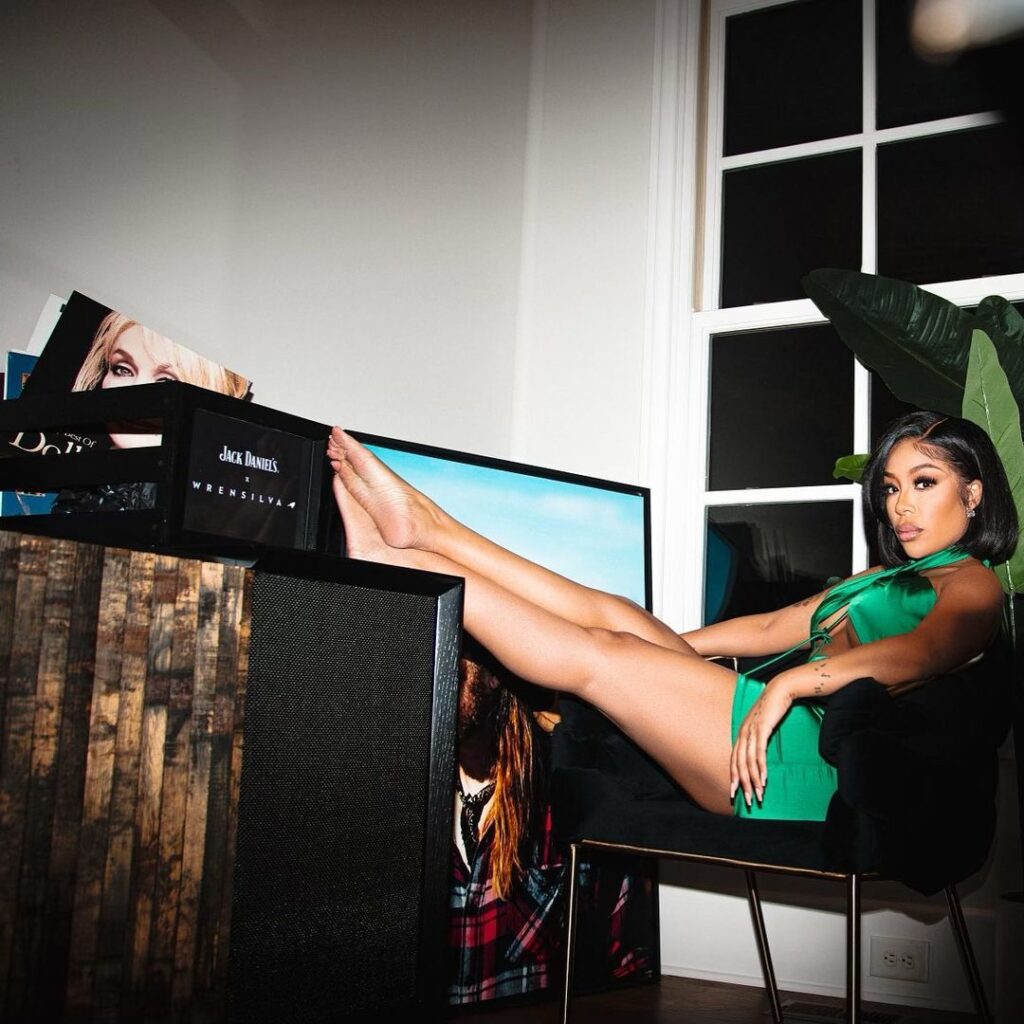 In February, she appeared in the network's thriller Single Black Female as Bebe, the best friend of Simone, played by Amber Riley.
In addition, she made a leap into the executive producer role of her new Lifetime series, My Killer Body with K. Michelle.
With new episodes, K. Michelle, who has been transparent about her healing journey following life-threatening silicone injections, turns the lens on other patients in need of corrective surgery after experiencing faulty body upgrades and post-surgery trauma.
"It has given me the opportunity to talk to other people like me," says K. Michelle, when asked about how her new show has birthed a new sense of purpose in her life. "I've been able to talk about surgeries I didn't know anything about.
I have heard [of] some surgeries that I didn't even know existed, so it's been kind of life-changing. I made a lot of friends. They're part of my family, forever."
In our interview with K. Michelle, she talks more about My Killer Body with K. Michelle, her forthcoming album I'm The Problem, leaning on Brandy for support and more.
Can I just say that I love the space you're in at this moment? You seem happier and healthier, more at peace and conscious about the K. Michelle you've evolved into over the years. How does it feel to have this version of yourself be applauded through this new and necessary platform?
It's good that I get to help. I think it's more about that. It's something I'm doing for my soul and myself, and that's something I'm happy with. As far as being seen on a new platform, I don't really care. People have no room to judge. They have to deal with their own life and clean out their own closet. So I don't care about looking different. I mostly care, honestly, that these women are comfortable and in a good place.
Among the show's patients, whose story was the hardest for you to rewatch?
It's a lot of stories. There is Bizzie's story. We connected a lot. But I think the hardest to watch is Brooklyn, the little girl whose mom [Iliana suffered butchered skin removal procedure]. It was a lot to see that child being so bothered by her mom's surgery. It makes you think about how your family and your child are affected by your decisions.
When you talk about the graphicness of all of these episodes, I do this [K. Michelle clinches herself] through all of them. They opened up so much. You get to see their surgeries. You get to see a lot of their scars. That's a moment.
I would film and then have to go home and just be like, "Man, I'm happy to be in a different place in my reconstruction and my healing." But it always reminds you of those years.
Let's switch gears. "Scooch," the first single from your forthcoming album I'm The Problem, is out now. Given all the songs you recorded for the album, how did you decide to go with this track as the lead single?
I wanted to do something different. I have a wide variety of music that I do for all the voices in my head. So I just do all this music all day, and that voice had never been heard—that two-step old school. I wasn't doing any male-bashing. That was a little different.
This album is super emotional, and I know that. I wanted to start with something a little bit more bright or something you could dance to. It's about to get warm. Hopefully, the COVID restrictions are lifted. I want you to be able to go out and just do your thing when it comes to that.
I got you — I know you gon' cry. I know you're going to be going off on somebody (laughs). I know you're going to pop it and get a little ratchet too. I got all of that, but I wanted to start off with something that just feels good with your cup up.
You said this new album is emotional for you. Could you expand on that?
All my albums are emotional but I think this one I've been accumulating so many records. I've been healing through this album. I have dealt with my relationship through this album. I have dealt with my relationship with my son through this album. I have dealt with where I want to go in my future through this album. I'm at a crossroads in my life right now. So that's what this is about.
You previously mentioned that I'm The Problem is your final R&B album. Are you still sticking to that, or can we see you behind the scenes as a songwriter?
I know where my focus [is], which is getting this [album] out so y'all [can be] happy and have some amazing music. That's my focus. Then I have the country album coming out, and that's something that's been with me for years if you know me. So that is a big focus in my life. Right now, starting a whole new genre in a whole new city, whole new everything, it's different. It's just a musical year for me, but it's a different vibe on it.
My R&B album is definitely some ole school 90's R&B crying shit.

— K. Michelle (@kmichelle) January 8, 2022
You said that your new album is inspired by the '90s. Name three artists from that era that have albums you can play from start to finish.
Anything Jagged Edge. I like all of that. Brandy and those around in there. It was just this soulfulness and R&B. I even loved Tamia. It's just that whole feel of the things like that made me be like, "Oh my God, I wanna sing. I wanna cry. I want a warm, familiar melody. I want you to hear what I gotta say." That's what that vibe of music is about for me.
You and Brandy had friendly banter on Instagram last year, where she offered her background vocal services for your new music. Did you guys get to connect?
We definitely got to connect. I don't know about music-wise. I'm not gonna tell y'all that (laughs). But I've been able to see a different support from someone who is a legend and someone that I just adore. I think she's absolutely amazing. So who knows what y'all gonna get. Who knows what will happen.
I love how interactive you are with your fanbase, especially on Twitter. I think that's important in today's climate because you get to hear what your devoted supporters want from you as an artist. How do you successfully work in the fan vision in your creative strategy?
They've always been with me. Some people keep their albums, and sometimes I wish I did that. They keep their albums, and they don't let people hear 'em until they come out. But since I had a mixtape, I let everybody hear what I was working on and see how they felt. So they've always been involved like A&Rs in my whole career.
They can get over-opinionated and ask for songs they never will get because they don't understand, you just make records, and the records might not [be released]. They think we are — and we are — like family, and they can curse me out and do whatever. So I just listen to 'em go off.
Blame yourself vs This man 💆‍♂️ I gotta pick by tomorrow 🎥

— K. Michelle (@kmichelle) February 18, 2022
Speaking of what the fans want, did you decide on a visual between the songs "Blame Yourself" and "This Man"?
Yes. I just shot a visual two days ago.
Do you want to tell us which one (laughs)?
No (laughs). The thing is, both of them will probably eventually get a visual. Not even just like videos, but I wanted my lyric videos to be pretty much where you could kind of see what I was saying and shot in a beautiful, different type of way. So I'll probably be shooting another one in two weeks to tell the story of the album, so they'll be okay.
Is March still the anticipated release month for I'm The Problem?
Yeah, if I ever just stay out the studio and just turn in my list by next Friday (laughs).
I'm supposed to turn in a finished album by March 11. I keep changing the track listing.
"Im The Problem"

— K. Michelle (@kmichelle) March 7, 2022
Don't miss all-new episodes of My Killer Body with K. Michelle Thursday nights at 8 p.m. EST on Lifetime. You can get caught up on the past episodes here.