With more than 25 years of dedicated R&B tunes and musical openness under his belt, Usher is one of the most influential acts of modern time. As a studio savant of Michael Jackson, Usher has seen and continues to see his pivotal impact in songs and vocal types and dance culture in established and emerging artists, from Chris Brown to The Weeknd to Gallant.
Beginning with his self-titled debut album in 1994, Usher had an inviting vocal attraction and style that instantly won a legion of life-long followers. His fandom maximized with the release of his sophomore (My Way) and third (8701) albums, respectively.
As far as landmark albums are concerned, Usher's 2004 diamond-certified Confessions will go down in history as a crossover masterpiece that played an integral role in the upkeep of contemporary R&B. It's why he was ranked second on the Artists of the Decade 2000s list published by Billboard in December 2009.
He followed up with Here I Stand in 2008, an album centered around his new life-altering experiences such as marriage and fatherhood. It was received with mixed reviews, but Usher knew how to meet the needs of his fans the next go-round.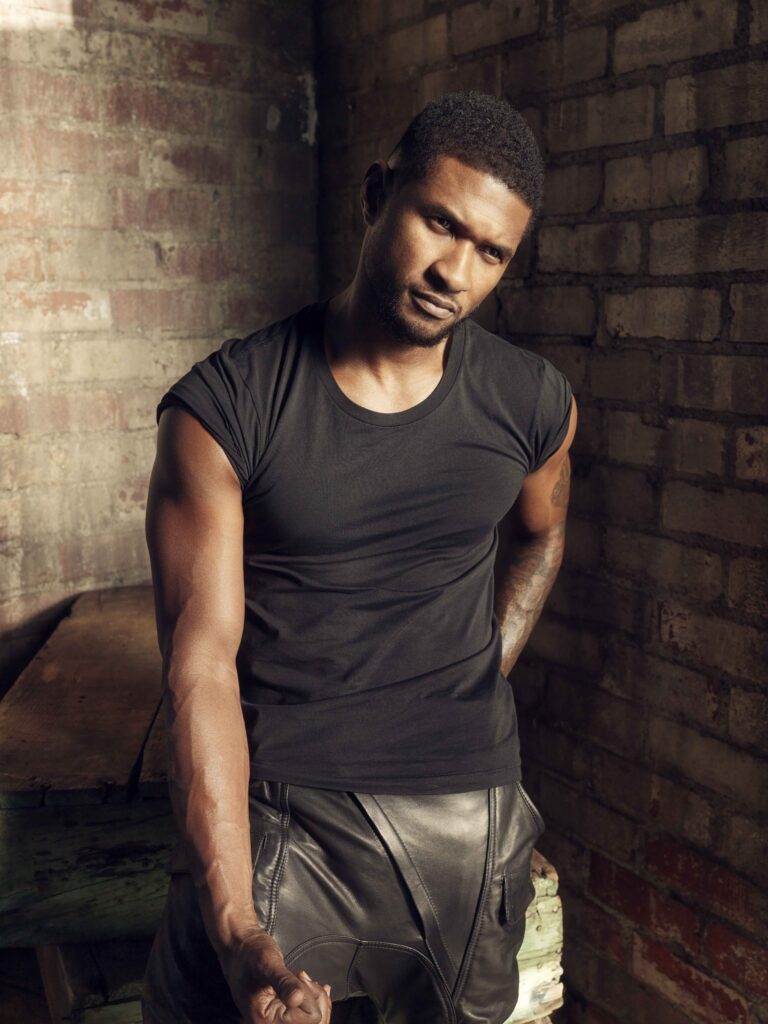 Raymond v. Raymond, the 2011 Best Contemporary R&B Album Grammy winner, was released in 2010. It featured loverboy songs that charted well on the mainstream urban and adult R&B front. He even possessed a synthesis of evolution where he endowed the EDM soundscape with innovative stamina.
Usher continued to confirm that his sustaining power as a leading force in music wasn't going to take a hit sonically. In 2012, he issued the ambitious Looking For Myself. He followed with a proper off-center album (Hard II Love) in 2016, and a trap-leaning EP (A) two years later.
In plain view, the ageless superstar has recently had an edge at radio as it relates to duets. He soared his way back to the top across diverse airwaves, with his collaborators like Summer Walker ("Come Thru") and Ella Mai ("Don't Waste My Time").
Usher even reclaimed chart domination and prestige without outside interference with the song "Bad Habit." It topped both R&B radio and the Billboard Adult R&B Songs chart late last year.
With all that said, the closest King of R&B successor deserves respect on his name. His overlooked and undervalued tracks rightfully merit justice as well. Now, with his Las Vegas residency in full effect, here are 15 underrated Usher songs.
"Twork It Out" — 8701
Written by: Usher Raymond IV, James Harris III and Terry Lewis
Produced by: Jimmy Jam & Terry Lewis
Somewhere in the handbook of wooing, choosing to skip a night at the club to keep your better half company is a sure way to score points and get lucky in the end. Usher hits the high score with his lady on this chill, laid-back listen, written and produced by Jimmy Jam and Terry Lewis. His flirtation skills are on high beam here, referencing an excess of close contact with a certain someone who has stolen a lot of his time. At every turn lyrical, Usher permits his new fling to push her rump up against him as if she were in the club where the ladies get in free until 11. And in the words of Tommy from Martin, Usher GTD.
"Dot Com" — Rhythm City Volume One: Caught Up
Written by: James "Pro J" Gass, Robert Daniels, Robin Thicke, and Usher Raymond IV
Produced by: James "Pro J" Gass and Robin Thicke
If you're a true Usher fan, you know all about this seductive web-surfing track, courtesy of Robin Thicke. Lifted from the Rhythm City Volume One: Caught Up soundtrack, a performance-based film starring the R&B heartthrob, the keyed-up come-on proves his proficiency with his home row keys. Logged in a private chat room, under the likely username 'Nice_N_Slow,' Usher is locked into a steamy conversation with a baddie who has all the right characters to get him stimulated.
"Bedtime" — My Way
Written by: Kenneth "Babyface" Edmonds
Produced by: Kenneth "Babyface" Edmonds
Here's an R&B lullaby that might have gotten lost in the crowd of Usher's breakthrough success spawning from his red-hot second album. Helped out on the songwriting and production tip by the untouchable Kenneth "Babyface" Edmonds, Usher is like a kid deprived of their teddy bear at night on "Bedtime." He sings with a deep yearning reminiscent of a Boyz II Men-inspired number about feeling restless without the company of his lady. He knows that whenever she is around, his days and nights are pleasant and peaceful.
"Do It to Me" — Confessions
Written by: Bryan-Michael Cox, Jermaine Dupri and Usher Raymond IV
Produced by: Jermaine Dupri and Bryan-Michael Cox
Most often, a cloying night out between lovers consists of good food and drinks. And if all goes according to plan, endless lovemaking is bound to happen. Usher ensures that his sexual needs and desires will be taken care of, as he assures he'll return the favor, following a lovely evening of kind gestures for his boo on "Do It to Me." With his vocal performance on this anxious groove as sweet as the skin of his lady friend, you can almost envision Usher at the restaurant table, hurrying the waiter to bring back the check. He is ready to get her home to unleash the sexual repression built throughout his day of sending flowers and a card to her workplace.
"Love You Gently" — Here I Stand
Written by: Andre "Dre" Harris, Vidal Davis and Raheem DeVaughn
Produced by: Dre & Vidal
A pairing we need more of soon is Usher and Raheem DeVaughn. With songwriting and vocal backing support from the self-proclaimed Love King, Usher plays out an at-home rendezvous where he has everything his woman needs to get stimulated and aroused in the right way; slow jams courtesy of Sade and Al Green and tons of foreplay. In no way is he nonchalant or modest about his intentions to give his girl a pleasurable love-making experience that addresses every one of her sexual needs. And if it takes all night, Usher seemingly has no problem going above and beyond to make her climax.
"Lessons For the Lover" — Looking 4 Myself
Written by: Rico Love, Pierre Medor, Earl Hood, and Eric "E" Goudy II
Produced by: Rico Love, Pierre Medor and Earl & E
Having been involved in different versions of relationships, Usher has presumably mastered the art of putting heated differences to the side with his companion. Judging by the lyrics of this Rico Love-contributed advice column, "Lessons For the Lover," the R&B superstar considers passionate lovemaking the proper solution. He contends that instead of boiling one's blood with minor lover's spats and allowing it to cause a romance's downfall, he suggests sweating it out in all the intimate places that make for fantastic makeup sex.
"Here I Stand" — Here I Stand
Written by: Andre "Dre" Harris and Vidal Davis
Produced by: Dre & Vidal
Someone, please give Usher a cabaret license because this Dre & Vidal-produced track has the trademark sound of a cozy, hangout spot for mature couples to hear sophisticated live music. The title track of Usher's post-marriage and Confessions album is a terrific song to calm the qualms of a lover whose mind might drift when their significant other is out and about. He firmly puts any doubts she has to rest, sweetly crooning his devotion to her and her alone across a fine piano and soft drumming.
"Slow Jam" featuring Monica — My Way
Written by: Kenneth "Babyface" Edmonds, Belinda Lipscomb, Boaz Watson, and Sidney Johnson
Produced by: Babyface and Ivy Skoff
Perhaps no better tune to caress and kiss slowly on prom and house party dance floors in 1997 than Usher's "Slow Jam" featuring Monica. Given that two previously teamed up two years earlier for a cover ("Let's Straighten It Out") on Mo's Miss Thang, it only fitted that Usher invited her on his next LP for an original track geared for their ripened tones. At the apex of this pairing is two softhearted voices meeting head-on to deliver a tender duet all about pausing love's blues for a passing romance that lasts as long as the DJ spins one slow jam after another.
"Pro Lover" — Raymond V Raymond
Written by: Usher Raymond IV, James Harris III, Terry Lewis, Bobby Ross Avila, Issiah J. Avila, and Miguel Pimentel
Produced by: Jimmy Jam & Terry Lewis and The Avila Brothers
When Usher stars as a philanderer, he does it oh so well. "Pro Lover" is a prime example. A lusty, smooth reggae production fuels the framework of this talk big cut. Usher boastfully sings of being a lady's man, unwilling and unready to be exclusive with only one woman. His grinds and strokes cause feelings to be mixed with his casual suitors, who somehow hold on to a glimpse of hope that he will leave his playboy days behind in place of their hard-won domesticity. Well, Usher knows he has a one-up and isn't going to entertain pipe dreams. He's a true player fo' real.
"What Happened to U" — Looking 4 Myself
Written by: Usher Raymond IV, Eric Bellinger, Noah "40" Shebib, Sidney Brown, Sean "Puffy" Combs, Reginald Ellis, Norman Glover, Carl Thompson, and Christopher Wallace
Produced by: Noah "40" Shebib and Omen
Usher understood the assignment of this Notorious B.I.G.-sampled track. In the process, he rehashed feelings about a past lover still on his mind amid his grand success. Like most people, he sees that money and accolades are merely placeholders and can't fulfill long-term happiness without someone special to come home to after it's said and done. At the same time, Usher realizes what he once had with this certain someone isn't recapturable but wishes things could be different. A man can dream, can't he?
"Tell Me" — Hard II Love
Written by: Usher Raymond IV, Ryan Toby, Trevian Chandler, and George K. Johnson
Produced by: Ryan Toby, Tre Drumz and Geniuz League
Usher knows what it takes to get his point across—even if it takes nearly nine minutes. The feel of this gentle rocker revolves around intense lovemaking. Feeding off the passionate responses of his lady, he amplifies his bedroom tricks and delivers an experience worthwhile. He insists this type of heated intimacy resolves issues instantly within relationships. If this is true, be sure to add this song to a grown folks playlist back-to-back four times and see it act as a problem solver.
"Whispers" — Usher
Written by: DeVante Swing and Darryl Pearson
Produced by: DeVante Swing and Darryl Pearson
It's hard to believe that Usher could ever be without words to express how he felt about a desired companion. That seems to be the case with this light-spoken number. Surrounded by a solid hip-hop base, light cymbal splashes, and a wah-wah guitar, Usher wishfully sings that his heart had a mouthpiece, so it could share everything he can't seem to muster up wherever he is around his girl. Even though Jodeci members DeVante Swing and Darryl Pearson are at the helm of this song's magic, Usher doesn't go after vocal signatures. He does salute K-Ci Hailey towards the end.
"Can U Help Me" — 8701
Written by: Usher Raymond IV, James Harris III and Terry Lewis
Produced by: Jimmy Jam & Terry Lewis
Help us understand why this mid-album gem, released as the final 8701 single, didn't soar to the top of the charts? We want to know. Behind this sterling piano ballad is none other than the legendary Jimmy Jam and Terry Lewis. Together they co-penned relatable lyrics in which Usher could seek answers from an unvalued lover who is close to walking out of his life forever. He learns another chance can't be bought with material things, and winning back her heart will come with some serious begging and pleading. Usher never sounded more sincere.
"Good Kisser" — Promotional Single
Written by: Ronald "Flip" Colson, Warren "Oak" Felder, Usher Raymond IV, Jameel "Jproof" Roberts, Terry "Tru" Sneed & Andrew "Pop" Wansel
Produced by: Pop & Oak, Ronald "Flip" Colson, Jameel "Jproof" Roberts, Terry "Tru" Sneed, and Natural
"Good Kisser" was supposed to be a return to form, of sorts, for Usher and the first single to attract the audience's attention to his Hard II Love album. But, for whatever reason, the lead song turned promo track didn't cause as much commotion as music enthusiasts like ourselves would have liked. Its lyricism smudged the lines of overtly carnal and tasteful imagery, while the miscellany of drums, whistles, handclaps, and other random noises make for a top-notch production. He solidifies himself as one of the industry's limitless voices, as it interchanges from feather-light to keenly slick—such a show-off track.
"Follow Me" — Confessions
Written by: Andre "Dre" Harris, Vidal Davis, Jason "Poo Bear" Boyd and Ryan Toby
Produced by: Dre & Vidal
For an artist like Usher, who has likely run across dozens of women in his lifetime, finding a perfect partner who understands him beyond his celebrity status is incredibly rare. That's the type of person Usher is cooing and signaling to roll with him on this Confessions cut. His note-perfect vocals here are steeped in swagger and finesse, acknowledging how his one-of-kind woman has unexpectedly seized his heart. From the well-handed, mid-tempo instrumentation to his well-textured harmonies and signature head voice wails, this is Usher at his finest.