Kem has released his first live project, Anniversary – The Live Album.
The R&B balladeer recorded the album at The Aretha Franklin Amphitheatre in his hometown Detroit, Michigan, to celebrate his 20th anniversary at Motown Records.
The delightful, career-spanning album includes Kem's signature songs such as "Love Calls," "I Can't Stop Loving You" and "Share My Life."
"Celebrating the 20th Anniversary of my signing to the Motown label is exceptionally significant for me. As a young man creating music, only in my wildest dreams could I envision a life that could encapsulate the magnitude of a moment like this," says Kem.
He adds, "My heart is filled with gratitude to my Motown family for having faith in my debut album, KEMISTRY, and continuing to support my musical journey of love. Having the last two decades of my career culminate in a live album recorded in Detroit, in the city and with the people who first heard "Love Calls" and helped put me on the map, is epic."
Anniversary – The Live Album also features some of his recent hits, including the chart-topping "Lie To Me" and "Stuck On You."
The former track, which appears on Kem's 2020 album Love Always Wins, peaked at No. 1 on Billboard's Adult R&B Airplay chart. Kem told Rated R&B in an interview that "Lie To Me," co-written by Anthony Hamilton, Salaam Remi and James Poyser, was one of the first songs he worked on for the album.
"That song was recorded first, before the majority of the album was even recorded," he revealed. "I knew that it was going to be the single just because of the vibe and the way that it feels. I wanted to come back and really set the tone for what was going to come."
"Stuck On You," from Kem's Full Circle EP, also reached No. 1 on the Adult R&B Airplay chart in April 2022. It marked his eighth chart-topper on that list, tying Kem with Maxwell and Charlie Wilson for the most No.1s among male artists.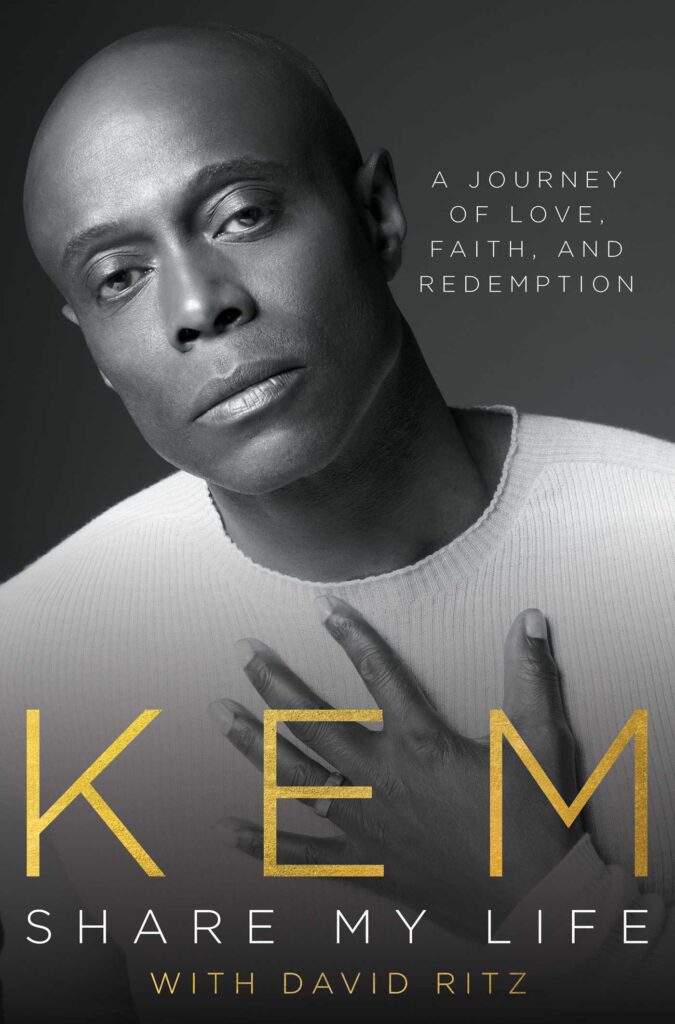 The Live Album isn't the only new item from Kem this month. Earlier this week, he released his first memoir Share My Life, named after his 2010 song. Share My Life chronicles Kem's journey to self-discovery. In the book, he gets candid about his upbringing, including his mother's struggle with alcoholism and his strained relationship with his father. He also gets opens up about his past struggles such as homelessness and drug/alcohol addiction.
Kem, who has been sober for over 30 years, spoke more about maintaining his sobriety in a 2021 interview with Rated R&B. "The principles that were integral in me overcoming my addiction are always at the forefront of my mind. I see everything through the lens of recovery and surround myself with people who know my background," Kem told Rated R&B.
"For me to pick up [a drink], I can't even begin to tell you the havoc and the wreckage that would take place in my life, especially after having been sober for so long. There's just so much to lose. I continue to do the things that have helped me to be victorious in that area of my life, regardless of whatever's going on."
Kem is currently co-headling the Soul II Soul Tour with Ledisi and special guest Musiq Soulchild. They are set to play in Chicago, Orlando, Washington, D.C., and more before concluding May 13 in Norfolk, Virginia.
Stream Kem's Anniversary – The Live Album below.