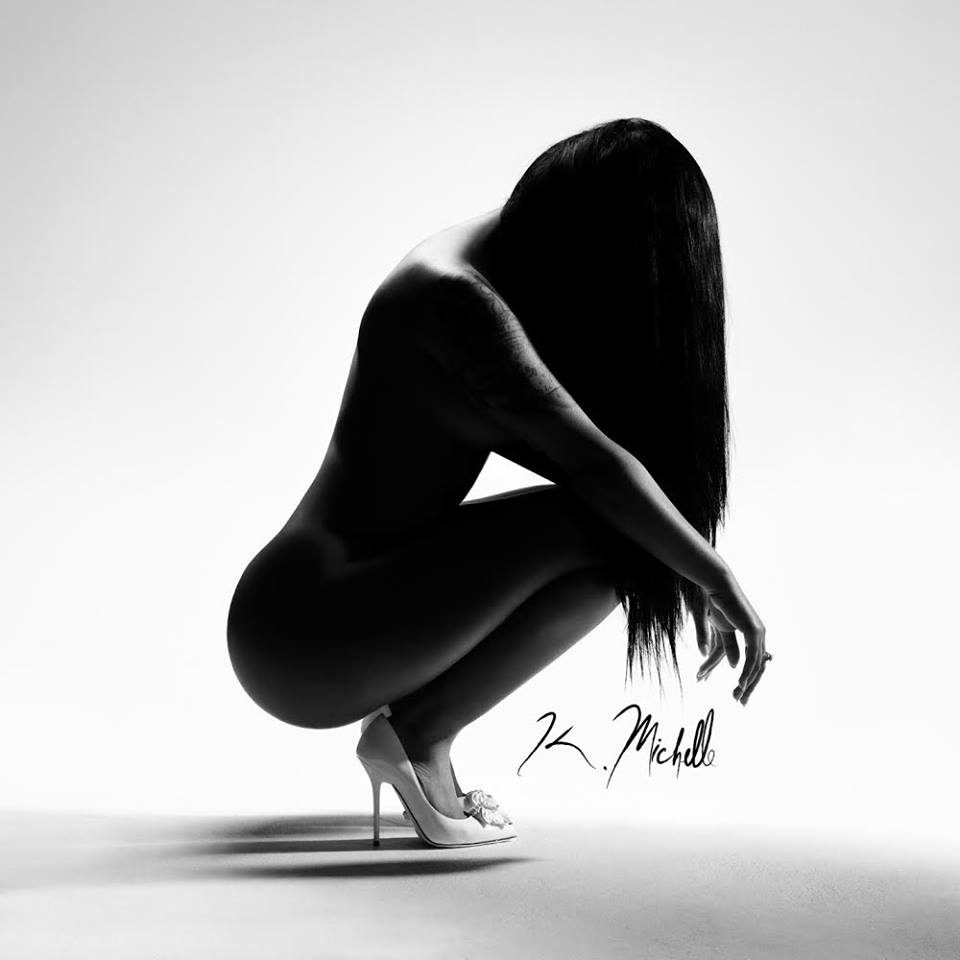 If there were any question as to whether the ever-blunt K. Michelle would continue to bare all on her new album, the cover photo alone offers a hint. Though strategically covering enough essentials to keep it tastefully artistic, a wardrobe limited to white pumps and arm tattoos indicates that she's still willing to get personal.
In recent years, the Memphis native has established herself as a pop-culture novelty: A reality star with actual talent. Many might have gotten their introduction to her in 2012 as an opinionated livewire on Love and Hip Hop: Atlanta's first season, but her initial buzz had already begun thanks to her music. Signed to Jive Records three years earlier, the singer-songwriter was the protégé of an artist/songwriter/producer on the label – none other than R. Kelly. Her critically lauded 2010 mixtape What's the 901? – with titular odes to her hometown and hip-hop/soul queen Mary J. Blige's influential debut LP What's the 411? – arrived in the midst of that partnership. Although she eventually parted ways with the superstar and label, she pressed on, releasing more mixtapes and singles before being cast on VH1's chronicle of life, love and major drama in the ATL.
Her true moment to shine musically came in August 2013 with the release of her major-label debut Rebellious Soul on Atlantic Records. And shine she did as the album entered the Billboard R&B chart at No. 1 and the pop survey in the runner-up spot. It was bolstered by hit singles such as "V.S.O.P." a thematic precursor of sorts to Mrs. Carter's smash "Drunk in Love" and the anthemic "Can't Raise a Man," which drew an Amen corner of women fed up with the Peter Pans in their lives. With her well-crafted new release Anybody Wanna Buy a Heart? she seems poised to build on the success of her breakthrough LP.
Characteristically defiant, the singer born Kimberly Michelle Pate opens her new set with "Judge Me," proclaiming that only God can take on that duty. "I know it's easy to point your finger at me 'cause I say the things that only y'all think," she belts over a classic-soul track driven by keys and jazzy horns. The song exemplifies the album's many moments of allegiance to timeless music of the past that still manage to offer a fresh, modern sound. Another is the emotionally conflicted "Going Under," a standout track where she quotes the famous hook "it's like a jungle sometimes, it makes me wonder how I keep from going under" from the iconic 1982 rap song "The Message" over a synth-laced groove.
The sexy come-on "Something About the Night" finds her singing over a concoction of thumping hip-hop beats and jazz-tinged '70s soul. She adds her own flavor to those musical ingredients, which gave rise to D'Angelo, Erykah Badu and other figureheads of the 1990s neo-soul movement. "Build a Man," on which she daydreams about creating the perfect guy, takes the throwback approach even further into the past with a bouncy doo-wop sound. The results are hit or miss: sure to delight fans of old-school, bubble-gum pop but likely too saccharine for those who lack their musical sweet tooth. The next track is an equally lovesick musing, a piano ballad entitled "Drake Would Love Me." Yes, that Drake. "I'd be the best he ever had, he'd be on his best behavior, he would make me so proud," Michelle sings of the hip-pop star. His zillions of female fans may want to sing along, but the straightforwardness of it all could make for an awkward moment should she run into him after he has heard the ode.
Then again, on Anybody Wanna Buy a Heart? Michelle's willingness to wear hers on her proverbial sleeve is part of her charm. On the potential hit "Cry," the songstress's penchant for melodic venting is on full display as she tells an ex, "You gone cry, you gone pay me in tears/ You owe me for all these years/ You gone cry, 'cause it's not about love, it's all about revenge." Her vocal delivery on that ballad and another entitled "Miss You, Goodbye" is a revelation, showing that she needn't wail to get her point across. The irresistible rock-and-soul single "Love 'Em All," a serial dater's expression of guilt over hearts left broken, is another example. She sings in a wonderfully tempered manner over awesome electric guitar licks in the verses and amps it up when the time is right, as the drums kick in on the chorus.
The deeply personal closer "God I Get It," with its country-pop instrumentation, ends the set on another genre-bending note. Having grown up in Tennessee, country and western has had a great impact on the artist, as she has said of her interest in performing that style of music. In fact, her musical interests are so varied that she earned a scholarship to Florida A&M University for, of all talents, yodeling. And with moving lyrics such as "I keep learning the same lessons while I'm missing out on blessings," "God I Get It" proves that she has got what it takes to touch the heart of any open-minded lover of music. Categories be damned.
Rating 4 out of 5 stars
Standout tracks: "Love 'Em All," "Going Under," "Cry," "Something About the Night" and "God I Get It"
Purchase K. Michelle's Anybody Wanna Buy A Heart on iTunes.