On Dec. 18, 2007, Mary J. Blige released her eighth studio album, Growing Pains, the follow-up to her chart-topping 2005 LP, The Breakthrough.
Surpassing the commercial success of The Breakthrough — which debuted at No. 1 with 727,000 copies sold in the first week — could have added pressure to Blige while creating its forerunner, but it didn't.
Before releasing Growing Pains, Blige told Target in a press interview, "The Breakthrough wasn't done to be critically acclaimed. It was done for the love of my fans and what I dealing with. Yes, we love all the glory and the success but the follow-up will be smooth because now we know exactly what to do and where we're going. I'm serious about my fans so I'm not even worried about making the hottest record in the world. I'm worried about making something that will connect with my fans."
Although Blige was determined to share songs that would resonate with her fans, it could be well argued that her then label, Geffen Records, was focused on nabbing another profitable single like "Be Without You." The love anthem topped the Billboard R&B/Hip-Hop Songs chart for 15 weeks and spent 75 weeks on the chart, making it the most successful single in the history of the chart. The question everyone wondered, "Could Blige beat its success?"
Bryan-Michael Cox, songwriter-producer of the monstrous single, exclusively tells Rated R&B, "I think it's always a little bit of pressure, especially from the label, to duplicate that success. You always want to outdo the last one. We don't live in a space where we are basking in the glory of one record. We want to make the next one better than the last one." Blige did just that … far beyond chart achievements though.
After adjusting to the overwhelming but deserved the attention of The Breakthrough, a rejuvenated Blige reappeared on popular FM radio stations with "Just Fine" in the fall of 2007. Supported by cheerfully synth playback and rosy lyrics, the new record steered vastly away from the colors of her past works.
As early studio sessions began with Blige, Terius "The-Dream" Nash, Christopher "Tricky" Stewart and Jazze Pha, the latter contributor vividly remembers the day he found out it would be the lead single. "When I was playing the drums for the beginning, she was like, 'This is my single. This is what I need. I'm feeling happy,'" says Pha.
"Fine" wasn't the pilot to Blige's blissful music shift. Her 2003 release Love & Life heard a spiritually augmented Blige professing a new perspective. Despite that optimistic transformation, however, it wasn't as chirpy as "Just Fine" and the music that followed.
While Blige's choice to shy away from her music norm rattled some of her core fans, "Just Fine" contributor Jazze Pha recalls why she opted to make this artistic change. "She talked about how people always want her to be depressed Mary. She wanted to let people know that she wasn't somewhere around here crying. At that time she was happy. She was alright, living life."
Regarding how fans would respond to Blige's sunny new recording, Pha tells us, "I already knew fans were going to love ["Just Fine"]. It was upbeat but it was still Mary. It didn't feel like something she was trying that was out on the limb somewhere for her or her fans. It felt right in the middle for her fans. It was different … but it still felt good for them." This statement proved to be correct.
The hopeful single reached No. 3 on the Billboard R&B/Hip-Hop Songs chart and No. 22 on the Hot 100. The gold-selling track also received two Grammy nominations, including Best Female R&B Vocal Performance in 2008 and Best Remixed Recording, Non-Classical.
Although Blige didn't win a Grammy for "Just Fine," that didn't stop her from giving it her all in every televised performance, especially during the 2007 American Music Awards that November. Rihanna, for one, couldn't help herself from dancing and singing along.
With the official release date for Growing Pains concrete and "Just Fine" taking off, Blige's then label released "Work That," another empowering track. Co-penned by Sean Garrett, the Theron "Neff-U" Feemster-produced cut championed self-confidence and encouraged listeners, mainly women, to be themselves.
In mid-November 2007, Blige found herself and "Work That" attached to an iTunes advertisement for the latest iPod. Shortly afterward, Blige shot a music video for the sisterhood anthem, but it never saw the light of day.
Despite the "Work That" music video being shelved, the empowering homiletic attained Blige another top 20 single on the Billboard R&B/Hip-Hop Songs chart. The album rollout continued as well with Blige working the television circuit with major appearances.
One memorable TV moment showed Blige playing CNN Heroes: An All-Star Tribute on Dec. 6, 2007. Poised and vocally prepared, the Queen of Hip-Hop Soul introduced "Come to Me (Peace)," the closing track of Growing Pains. All about forgiveness and mending what's been broken, the lyrics nabbed at the heartstrings of all six honorees and viewers at home.
After a few more daytime and late-night guest appearances and performances of "Just Fine," Growing Pains became physically and digitally accessible for fans. Occupied by crisper vocals, more modern but fitting instrumentation, and a refined view on love and life, Growing Pains cemented itself as her most polished album since 1999's Mary. Simply put, it's AN ALBUM.
We had the privilege of speaking to a few songwriters, producers and contributors about four tracks from Blige's Grammy-winning album. We also chatted with her makeup artist about the simplistically elegant album cover shoot.
Talk to Me
Written by Mary J. Blige, Eric Hudson, Johnta Austin, Verdine White and Robert Wright. Produced by Eric Hudson.
Out of the 16 tracks on Growing Pains, "Talk to Me" is the only record that includes a sample. Orchestrated by Eric Hudson, he used production elements of "Key to My Heart" by The Emotions for the heart-piercing tune, co-penned by Blige and Johnta Austin.
Over this bluesy sample, Blige's voice and soul shined, especially at the 2:19 mark, as she pleaded for her stubborn mate to communicate his true feelings. "Let's break down all the barriers standing in our way. Get over yourself for me. I'll get over myself for you. Let's get over ourselves for us. Let's start today, yeah."
Co-composer Austin, says his conversation with Blige for "Talk to Me" was similar to those they'd had during previous collaborations. "We would discuss where she was in life and how she wanted to convey a real emotion and description in the writing and everything built from that."
If You Love Me?
Written by Bryan-Michael Cox, Johnta Austin & Mary J. Blige. Produced by Bryan-Michael Cox.
From "Till the Morning" to "Feel Like a Woman," Growing Pains presented fans with a healthy balance of fast speed and moderate pace songs. Cox and Austin brought Blige back to home court with "If You Love Me?"
Backed by handclaps, whispers of "yes" and a beautiful piano, Blige requested her helpmate to prove his love for her in his actions instead of his words. The hip-hop soul pioneer rides beat the second verse in classic MJB form, "Now for the past three weeks you've been dipping, slipping, running around. Through the city. Through the town. Wait, what you doing?"
Surprisingly, the song wasn't originally written for Blige. "That was actually a record that we did for Monica," Cox tells Rated R&B. "I played it for Mary at one of our sessions just by accident. We had held the record so long that I forgot that Clive [Davis] had it on hold. When I played it for Mary, she was like, 'I want that song.' She cut the song, then I remembered I was like, 'Oh snap, we did this song for Monica.' It was kind of like Mary wanted it right then, so we gave it to her and she killed it. She flipped a few things, changed some lyrics here and there, but she killed it."
Now that Blige had "If You Love Me?" in her zipped album folder, Cox had to break the news to the After the Storm singer. "When it went down, that was my problem to fix," he says. "Of course, Monica is my sister and she knew that Clive was holding that record for no reason. So, through conversations … of course, I had to go and make it right, and we made Still Standing."
Shake Down (feat. Usher)
Lyrics and Melody by Mary J. Blige, The-Dream & Usher Raymond. Produced by Christopher "Tricky" Stewart and Jazze Pha.
In addition to "Just Fine," Jazze Pha contributed to two other tracks, including "Shake Down," featuring Usher. Using metaphors powered by passion and favorable love rulings, the vocals of the two music titans blend easily over the colorfully eccentric production.
Ahead of the mastered version of "Shake Down," the Atlanta native flashes back to Blige being front and center during the makings of the record. Something she had never witnessed, according to Pha. "With all those records that she's made, she had never sat there while [producers] made the music from start to finish. She said, 'Even when she worked with Puff, all the song were already ready when she got to the studio.'"
While Pha had a beat in mind prior to their session, he says, "I stripped it down and revamped it with the new music. I started the drums, and of course, Tricky [Stewart] came in with the keys on the record. Then, The-Dream started writing to it before it was complete. Tricky built the music around what The-Dream had done vocally."
Looking back on whose vision it was to get MJB and Ush on the same track, Pha believes, "It was The-Dream's idea. We were already working with Usher at the same time as Mary for his Here I Stand album. It made sense."
Stay Down
Written by Mary J, Blige, Bryan-Michael Cox, & Johnta Austin. Produced by Bryan-Michael Cox.
Succeeding the release of Blige's official singles "Just Fine" and "Work That," it appeared Geffen Records' marketing compass needed batteries. Dre & Vidal's "Hurt Again," a 70's-themed melancholy ballad served as the intended third and final single. Gaining enough radio airplay to peak at No. 55 on the Billboard R&B/Hip-Hop Songs chart, the single was quickly replaced by Cox and Austin's soul-stirring ballad "Stay Down."
Earlier listeners couldn't help but express their opinions on how "Stay Down" mirrored the writing blueprint of Blige's award-winning single "Be Without You." Although this fan theory still causes some unpopular criticism, Austin offers a simple rebuttal once and for all. "Maybe in some of the cadences and flow of the melody, but we definitely weren't thinking about 'Be Without You' when writing ["Stay Down"]," he tells Rated R&B. He continues, "Moments like 'Be Without You' are sometimes lighting in a bottle and you can't create in a way that forces trying to catch it that way again."
Cox adds, "What's crazy is people were a little critical then but now people go back to that song and talk about how much they love that song. It's kind of interesting to see how a song ages."
Contrary to "Just Fine" and "Work That," the Cox-produced track didn't see top 20 or much success on radio formats. But Cox renders his explantation for its underperformance on the charts. "I think the label just didn't prepare properly for [Growing Pains] in general," he says boldy. "I think they just thought it was going to ride on the fumes of The Breakthrough. I don't think they really thought they had to really work these songs. [The label was] going through a transition at the time. Ron Fair was exiting. There were some things happening inside of the building that I think affected the actual performance of the album and the single per se."
Despite the absence of promotion for "Stay Down," Growing Pains went on to win Best Contemporary R&B Album at the 51st Grammy Awards.
Album Cover Photoshoot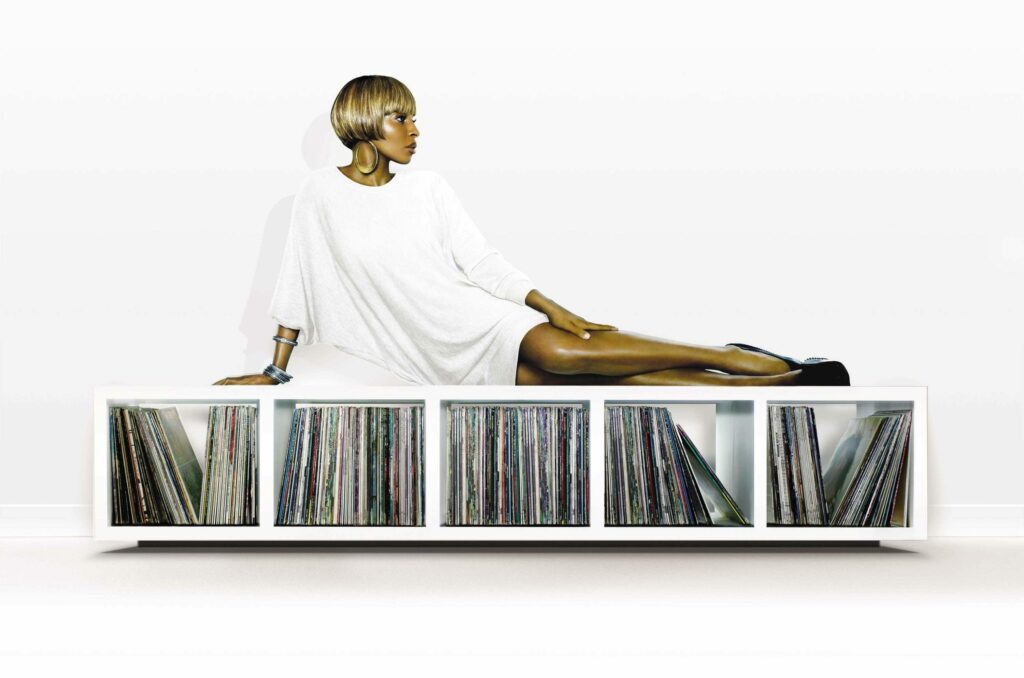 Making an album cover that stands apart from other artists' discographies in a record store can be a deciding factor for a buyer purchasing an artist's full oeuvre. Blige caught the attention of buyers with her regal Growing Pains cover.
Sporting a sharp-cut bob, an oversized tunic dress and colossal gold earrings, the simple yet elegant artwork catches Blige holding her head on a pedestal of confidence.
Celebrity makeup master D'Andre Michael reflects on his first cover shoot with Blige. While Michael knew photographers Markus Klinko and Indrani would nail the artistic direction, he strived for his own excellence. "All I kept thinking is I wanted to make sure it was perfect," he tells Rated R&B. "I know I wanted her to have dewy skin which was the focal point."
Pleased with the cover art and other shots captured for the Growing Pains booklet, Michael does remember stepping out of his comfort zone to please the photographer who didn't like makeup artists to use foundation. While Michael won't reveal his hidden makeup technique for this shoot, he did what any great face painter does — improvise.
Another striking moment for Michael from the Growing Pains photoshoot is what brought them there — music. "My most memorable moment was enjoying Mary's music choices like the Jones Girls, Michael Jackson and René & Angela. Still, we build our "dressing room playlists" together as we get ready for a show. We listen, dance, cry, laugh, sing-along and enjoy."
Although Growing Pains did not spawn a single as huge as its predecessor's lead-off, "Be Without You," Pains proved to be more famed than its build-up though. Sure, the album increasingly revealed that Blige still dealt with some uncomfortable luxuries (i.e. self-esteem, insecurities) of being a woman. What can be appreciated though is that she wasn't looking just through her lens when she wrote this record.
Unlike previous releases where Blige implemented her own personal walk of life, this collection of melodies ushered in a spirit of selflessness that finally gave her feelings some rightfully due privacy.
Famed music influencer Ne-Yo, who co-penned and co-produced four tracks on the album, concurs that Growing Pains at last aided Blige in living outside of her songs, namely on "What Love Is."
"Every song, though not always in first person the way you're accustomed to hearing Mary testify, was a journey into the place of self-acceptance and fearlessness," he tells Rated R&B.
"That place that allows you be OK with the fact that you're not totally 'OK' just yet. To the point where you can focus on love and its overall meaning, not just what it is in the realm of you … but the world."
Reflecting back on his candid studio sessions with Blige during this era, the Non-Fiction artist calls them "therapeutic" for not only Blige but for him too. "There aren't many sessions I've done that have been personally fulfilling and emotionally triumphant as the sessions for the Growing Pains album. I love MJB forever for allowing me to be a part of this growth."
We're happy to have been a part of this growth too, Mary.