with her hair pulled back and wearing noticeably little makeup and a latent, beaded necklace, the minimal cover photo for Mary J. Blige's 1999 album Mary exposed a part of her that she had never shared with her fans until that point. The monochromatic portrait, photographed by Albert Watson, revealed a scar under her left eye.
The intense mark, which still has its own secret back story, had been hidden over the years on her three previous album covers. In some way, the eye-catching scar added to the imperfection and vulnerability associated with Blige then (and now).
Much deeper, Mary also served as an aspirational plane for Blige to position herself as more than a hip-hop entity who had built her career on street-styled R&B with legacy soul samples. Mary was intended to introduce Blige as a supreme presence in the music realm that could shift her artistic thinking and deliver another quintessential album.
"The Mary album was supposed to break her out [the hip-hop box], establish that she could straddle any genre, still be herself and reach her audience," Kirk Burrowes, executive producer of Blige's fourth album, exclusively tells Rated R&B.
Blige made a point on Mary to challenge herself to inhabit the songs and render them with more vocal depth. She wasn't trying to prove her singing style to herself, but to critics who consistently put her distinctive voice under scrutiny.
"The reason why we were dealing with those criticisms were people who loved R&B saw her ushered in as a hip-hop vehicle," says Burrowes. "The people in hip-hop loved what they were hearing, but they couldn't discern it was the greatness that could [also] be R&B, jazz, and everything else. They loved it for what it was, so it kept her in a box."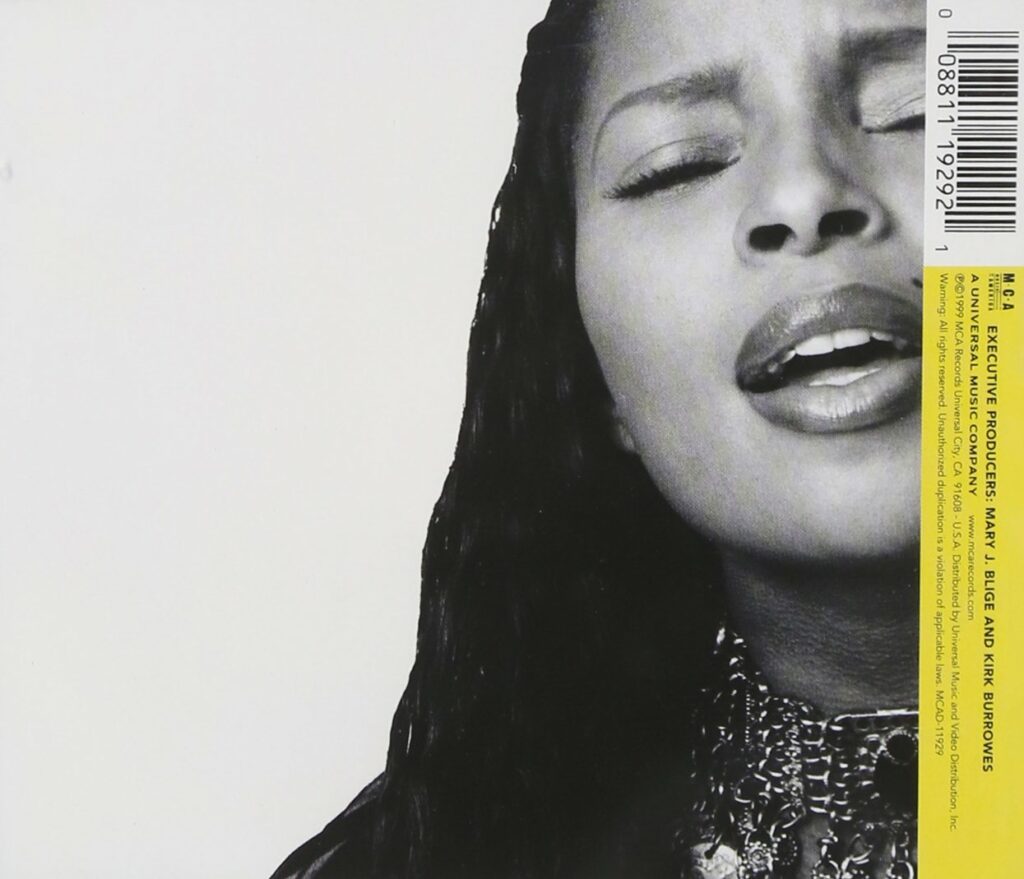 Blige's decision to liberate herself from her hip-hop reference point came at the right time. R&B had evolved, and artists were moving away from the New Jack Swing and urban soul arrangement palette and fusion of catchy melodies and hooks. The request for more soulful and meaningful songs was at an all-time high. Singers like Maxwell, Erykah Badu, Eric Benét, Angie Stone, and Donell Jones, were blazing the trail for this revitalized wave of R&B.
Never afraid to reshape the direction of her sound, the Queen of Hip-Hop Soul latched herself onto the strict R&B movement and released an aesthetic collection of 14 songs that adhered to the adult contemporary soul framework.
It was a bold move, though, considering the commercial success of 1997's Share My World – which was her first number one album on the Billboard 200. Four of the five singles from that album ranked in the top five on the R&B/Hip-Hop Airplay list; her highest chart moves since her breakout hits from 1992's What's the 411?.
Adding to the risks was choosing Burrowes to executive produce the Mary album. Although he had been a part of a cultural movement at Bad Boy with Diddy (then known as Puff Daddy) with hits for artists like Faith Evans, Craig Mack, and The Notorious B.I.G., it was his first time overseeing a studio album.
Burrowes remembers being under tremendous pressure from her then-label MCA Records to make an equally successful project to her blockbuster third album.
"I turned myself inside out to try and achieve that," he says. "She had knocked down so many doors with the hip-hop and R&B beats, we wanted to do something different with her because she has an amazing voice. She's very soulful and I needed for all the critics to understand that it wasn't just hip-hop driven. So, we wanted to recast her without losing momentum in the areas that she had already more than achieved."
Instead of keeping a similar pace for her fourth set, Blige returned to the studio to record Mary and delivered one of the most unexpected and substantial albums of the decade.
Turning her attention away from her celebrated collaborations with street poets, Mary granted the singer acclaim and recognition that transcended the rap world. The material here found Blige producing simply soulful tunes with industry elites, from Aretha Franklin and Elton John to Lauryn Hill and Diane Warren. She also reunited with past studio associates and worked with budding music wonders, including Chucky Thompson, Jimmy Jam and Terry Lewis, Cecil Ward, K-Ci Hailey, and Tara Geter.
In celebration of the 20th anniversary of Mary, we had the privilege to speak more with Burrowes and a handful of collaborators about a few records off the Grammy-nominated album.
"As"
Credits: Stevie Wonder (Writers); Babyface (Producer)
At the time Blige was readying the release of her first live album The Tour, she already had buzz surrounding her then-untitled fourth album. MTV reported her plans to market "No Happy Holidays," which appears on Mary, as the pre-album single in fall 1998. While Blige teased the uneasy, non-traditional carol in numerous holiday performances, including Motown Live later that year, she and her team decided not to move on the track as the lead single.
Instead, at the top of the year, George Michael released "As," his cover of Stevie Wonder's 1977 classic, featuring Blige. It appeared on his greatest hits album, Ladies & Gentlemen: The Best of George Michael. The Babyface-produced version was embraced internationally, yielding Blige her then-biggest U.K. hit (No. 4) on the main singles chart.
What Burrowes calls the "real first single" of Mary, "As" failed to receive a similar rollout for Blige's fans in the states.
"Jay Boberg, the president of MCA, did not want to let George Michael, who initiated that original production, to use it as a single in the U.S. to launch his greatest hits album," Burrowes reveals. "It pissed everyone off at Sony. It pissed George Michael off. It pissed everyone off, but we couldn't make Jay Boberg bend. He should have put it on the Mary album, but we couldn't put it on the album in the states because he wouldn't let George Michael put it on the Ladies & Gentlemen [album] in the states."
Michael called out Boeberg and MCA for refusing to license the remake in the U.S. because of his arrest on charges of lewd conduct in a public restroom earlier that year.
"All That I Can Say"
Credits: Lauryn Hill (Writers); Lauryn Hill (Producer)
In a change of direction, Blige went with "All That I Can Say," a breezy number written and produced tune by Lauryn Hill, as the lead single.
"We were able to secure that song because Mary stepped into the studio to do a duet with Lauryn on her debut, The Miseducation [of Lauryn Hill]," Burrowes explains. "The song was so much fun and it was so organic and it was such a beautiful duet. I was hoping that she would give Mary something so unique and so special that women can flop to it and people would gravitate towards it."
Burrowes' wish was granted. A week after it was sent to radio in June 1999, "All That I Can Say" gained more than 16 million listeners and debuted at No. 28 on the Billboard Hot R&B Singles & Tracks chart. The dreamy, retro song peaked at No. 6 on the chart nearly a month after the album dropped. It became a top 50 hit for Blige on the Billboard Hot 100 chart, which wasn't necessarily music to Burrowes' ears. He felt it deserved more.
"If we had launched that album with 'As' in the United States, it would have went number one around the world," he says. Then, the album would have opened up at number one and then 'All That I Can Say' would have sailed straight to number one right afterward. It was a consistent battle during that time because everyone wanted a piece of Mary and they wanted her to win."
Despite the single not causing a dent on the pop charts, it didn't halt the praise it received at upcoming award ceremonies.
The bright record caught the attention of the Recording Academy, notching two nominations including Best R&B Song and Best Female R&B Vocal Performance.
"Of course, [the label] thought it was too mellow and that it was very low key for Mary and very different. We liked that for her at that moment and I don't think we made a mistake," says Burrowes.
"Sexy" featuring Jadakiss
Credits: Mary J. Blige, Aaron Phillips, Kiyamma Griffin and Jadakiss (Writers); Floyd Howard and Kiyamma Griffin (Producers)
Although Blige mostly experimented with modern-day soul on Mary, she didn't abandon her hip-hop roots, which spilled out in track two "Sexy."
In familiar territory, the Jadakiss-assisted duet finds Blige investing in her Share My World sound script to lustrously crystalize the feeling of wanting to have someone who is simply off-limits in the love department.
Produced by Floyd Howard and Kiyamma Griffin, the sleek standout takes from Michael Jackson's "I Can't Help It." Howard tells Rated R&B he recommended the King of Pop sample and drum pattern, while Griffin came up with the melody.
According to Howard, the presentation of the hazy, fluid backdrop was completed a day or two before Blige heard and fell in love with it.
"The session was crazy because Jadakiss came in to do his vocals and killed it in one take," Howard recalls. "After he left, Mary came with Lil' Kim, and a few of their girls and it became a party."
"Don't Waste Your Time"
Credits: Denise Rich and Gen Rubin (Writers); Babyface (Producer)
Blige wasn't the only queen on the Mary album. Aretha Franklin, the Queen of Soul, rendered her prized voice on the Babyface-produced duet "Don't Waste Your Time."
On the surface to fans and critics, the buildup for this prestigious placement seemed like years in making. Prior to their soul sisters meeting, Blige proved to be a master student of Franklin's expressive music style with ambitious remakes of "Daydreaming" and "You Make Me Feel Like a (Natural Woman)."
Yet, Burrowes remembers pitching for another vocal diva to showboat with Blige on Mary. "I wanted Mary to do a duet with Whitney [Houston]," says Burrowes.
Burrowes tossed the idea out to music mogul and The Voice's gatekeeper Clive Davis, who he had built a relationship during Arista Records' joint venture with Bad Boy Entertainment.
While the casting for Blige and Houston's voice to meet on wax didn't pan out, they did share the stage at VH1's Diva Live in 1999, which was Davis' solution.
Burrowes says Davis hired Denise Rich as the songwriter for "Don't Waste My Time," which finds Blige lending her unschooled ears to the wise counsel of Franklin, who acts as a matriarch. Burrowes had a clause for the song's actual recording, though.
"One of my stipulations was they had to record the song together," says Burrowes. "I knew Ms. Franklin would record in Detroit, Mary would record in New York, and we would get something that was pieced together. I said, 'They're two soul queens, they got to do it together.' I know people who appreciate and love R&B would love for that to happen that way. "
At the 42nd Grammy Awards in 2000, "Don't Waste My Time" scored Blige and Franklin a nomination for Best R&B Performance by a Duo or Group with Vocal. While their duet didn't win, it did spark more collaborations between the two in the future.
Blige contributed two '70s-inspired songs on Franklin's So Damn Happy album in 2003. She also shares a Grammy with Franklin for Best Gospel Performance ("Never Gonna Break My Faith"). It's the Queen of Soul's 18th and final trophy.
"Not Lookin'" featuring K-Ci Hailey
Credits: Mary J. Blige, Jean Morris, Dean Hostler, and Ike Lee III (Writers); Ike Lee, III and Dean Hostler (Producers)
Talk about years of heartbreak drama coming to a head on one track. In one of the most surprising duets in R&B, Blige and her former boyfriend (and lyrics muse), K-Ci Hailey put on an intense performance in "Not Lookin'."
When the song was first pitched to Blige and her team, Burrowes recalls, "Mary intentionally did not want to involve that song [on the album]." They later decided to keep the record because it gave Blige another shot at a male-female feature since her Share My World duet with R. Kelly "wasn't really the meeting of the minds."
Burrowes remembers desperately pleading with Blige to consider Hailey as her duet partner for the blunt track. "I was like, 'Please Mary. He's the only person. We can't think of any other person. We need a guy and this is a new type of song with him. It's not a love song with you and him. It's an independent song. You don't need a man song. This could end the chapter.'"
Before Hailey was selected for the duet, Joe was considered. "He actually did the demo of the record, but we ended up not doing it with him and chose K-Ci," says Burrowes.
Although "Not Lookin'" was the edgiest record on Mary, Burrows believes Blige "gave a very meaningful and real powerful performance."
He adds, "It's not one of my favorites on the album, but once it was done, I was like, 'That performance and the two of them together closes a chapter for her and for all of the people that heard her and K-Ci duets on her albums and some of the live [performances] they did. It was a cleansing record."
"Give Me You" featuring Eric Clapton
Credits: Diane Warren (Writer); Manuel Seal and Nate-Love Clemons (Producers)
Beyond the first-rate remakes and anthemic ballads, other original numbers on Mary dwelled in sentimental confinements like the Diane Warren-penned ballad "Give Me You" featuring Eric Clapton.
Rather than writing a predictable record about Blige's heartbreak, Warren illustrates a beautiful story about yearning for the love of one's significant other and nothing else. The legendary songwriter decided to hand off this romantic ode to Blige for one essential reason.
"I just figured that was a really great song for her voice and it was kind of something different for her," Warren exclusively tells Rated R&B over the phone. "When I write a song, it's almost like casting. You just want the best voice and she has one of the best voices ever."
Even though Warren had recently worked with Clapton on the Runaway Bride soundtrack, she didn't present the idea to have him play guitar on the love song.
"It had nothing to do with me," she says. "[But] anytime you get two legends on one song, it's pretty fucking cool."
"Beautiful Ones"
Credits: Cecil Ward, Rich Harrison, Burt Bacharach, and Hal David (Writers); Rich Harrison and Chucky Thompson (Producers)
No matter how much Blige veered to the hip-hop world, her songs somehow included a genuine soul feel that took her audience back to the good times of the '70s and '80s records sung by her heroes. This proved to be the most evident on her sophomore album, My Life, which was saturated in a record bin of crisp samples by male R&B greats, including Barry White, Isaac Hayes, Roy Ayers, and Curtis Mayfield.
For this reason, Burrowes felt it was appropriate to tap Chucky Thompson, who was responsible for co-spearheading the bulk of the songs on My Life, for production assistance on Mary.
"He was one of the first producers I brought in because we wanted the soulfulness but not a repeat of what he had done for her on My Life," says Burrowes. "He was a great choice to bring in. I wanted her to feel comfortable."
Thompson had not worked with Blige in the studio since her second album and after she cut professional ties with Diddy. He credits Burrowes and Hank Shocklee (of The Bomb Squad), who was Senior Vice President at MCA Records, for reconnecting him and Blige.
"During that whole Share My World situation, I wasn't really a part of that. So, to come back and be centered around her family, and we're back in the same room as family, it was just building on our relationship," Thompson exclusively tells Rated R&B. "We were rekindling the things that stuck with us, which was the music and those vibes. I'm just happy that everything we work on surfaced and people got a good vibe from it."
Unlike his work on My Life, where he had a heavy hand the overall sound, Thompson enlisted hungry music makers to contribute to Blige's fourth album. Rich Harrison (Amerie, Beyoncé) and Ceil Ward (or Q), who did not get a chance to launch his career on Bad Boy Records, played a role in curating "Beautiful Ones."
On the enchanting ballad, which takes from "The April Fools" by Earl Klugh, Blige depicts a passionate fairy-tale ending with the man she can't live without. The metaphors she voiced in the song like the "door to a new beginning" and "my soul when there's no music to play" were a lot more breathtaking than her lyrics of any previous love songs.
The shade of her tone, which Burrowes says was in the same vein as Eddie Levert and Cuba Gooding Sr. (of Main Ingredient), made for an enthralling performance.
20 Years Later
Twenty years later, it has to be noted that Mary was more than a daring album to separate her from the "hip-hop artist" moniker she grew assumed to from critics and fans.
For the first time in her career, Blige scored multiple Grammy nominations for a full-length album she executive produced. Even though she didn't walk away with an award, she left the 42nd award ceremony knowing it was only the beginning for what was next to come. In a sense, Mary foreshadowed the possibilities of even greater nods for Blige and other Black women in her field, both emerging and seasoned singers.
Like Cecil Ward, who was a shelved artist on Bad Boy Records, Blige gave Teri Robinson and Tara Geter (of The Gyrlz) a renaissance career on Mary. The former Uptown Records signees, who were the female equivalent to Guy, didn't achieve the breakout success they had hoped for with their own music. Geter penned "deep girl power lyrics" on songs "Deep Inside" and "No Happy Holidays." Robinson lent her background vocals for the Elton John-assisted track.
Way ahead of diving deep into house music and UK garbage instrumentals on 2014's The London Sessions, Blige took a shot at disco on Mary with First Choice's underground classic "Let No Man Put Asunder." Even though Burrowes was "nervous" about Blige redoing the club smash because it had a "history and legacy in its own world," he knew the album closer was a "setup" for her fifth album No More Drama.
"It was a chapter end," says Burrowes about placing the spirited jam at the tail of the album. "We wanted to show a contrast. At the end of Mary, we knew wanted to be more electric and up-tempo with No More Drama. So, we wanted to set her fans up that we were not all about these soulful ballads."
Furthermore, Mary draws inspiration from Stevie Wonder's Songs in the Key of Life. Her admiration for his colorful music taste is justified in her immersive performance on "All That I Can Say" and her urgency on "Time," which samples "Pastime Paradise." Her hit remake "As" featuring George Michael is another sheer standpoint that Wonder's timeless and earthy resonance runs deeply through the sonic thread of this breakthrough work.
But beyond the music on Mary, Blige told another story through the regal artwork in her album booklet. In all the images, she went for an earthy look and exposed a newfound beauty that came with transitioning into Black womanhood.
"This album screams 'human,'" Blige shared to Billboard in July 1999. "It's me taking a look at me. And I'm getting me and my act together. It's all part of life's journey. I'm happy with me and where I am right now."
In what could have been an album that fell short of glory, Mary became one of Blige's greatest works. Arguably her most cohesive album to date behind My Life, this amazing art has aged well and officially branded her as an R&B titian.
Revisit Mary below.