On December 12, 2020, Keyshia Cole had 20 classics from her impressive catalog logged and ready to go head-to-head with Ashanti for a promised Verzuz battle. According to music executive and longtime collaborator Ron Fair, she was also set to debut new music from her eighth studio album. Unfortunately, the Saturday night main event was postponed to January 9, 2021, after Ashanti tested positive for COVID-19.
Beyond playing the obvious song picks from Cole's first three platinum albums during Verzuz, the gritty vocalist had an edge on Ashanti when it came to working in standouts from her four other solid albums. Calling All Hearts is a wild card LP from her substantial discography. It is stacked with enough gems for Cole to go round after round before dipping into her real hits. Still, it's an important album that didn't get a strong promotional push to extend Cole's consecutive platinum status.
Like the honest songwriting on her previous albums, Calling All Hearts was a reflection of her life at the time. She was in love and newly married to an NBA player. She was also glowing after experiencing motherhood for the first time. Having this new sense of focus, happiness, and joy in her life, Cole left no room for too many songs that didn't mirror those sentiments.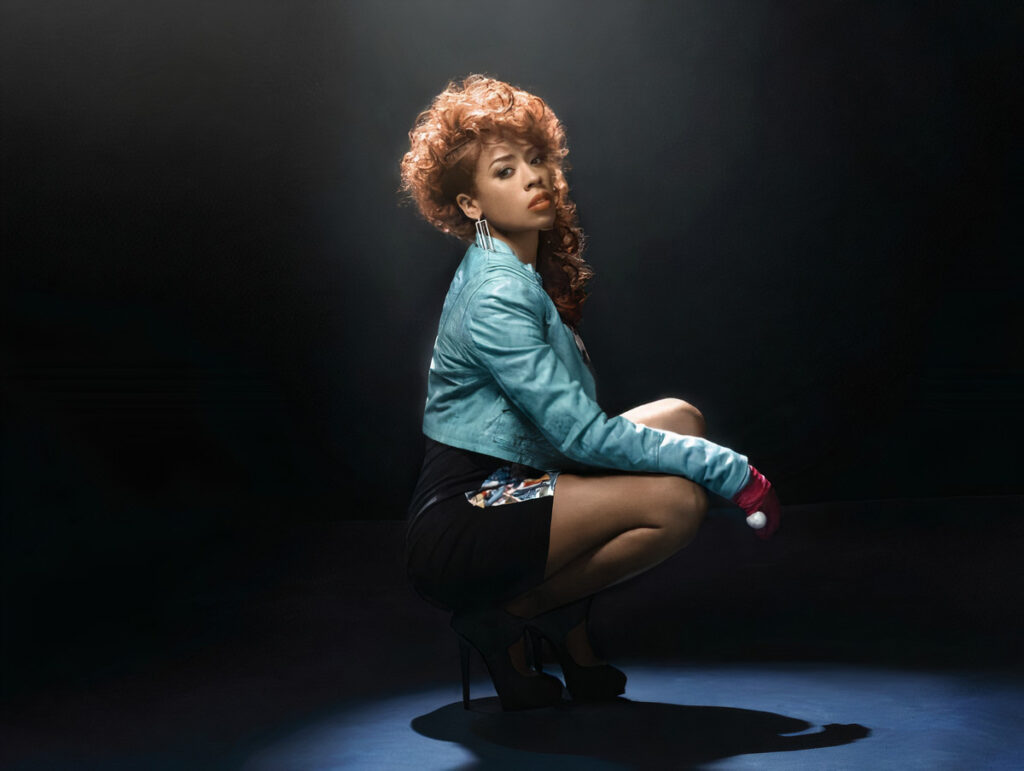 For an artist like Cole, who had a reputation for songs rich in heartache and betrayal, it didn't mean her loyal fans were ready to accept another collection of songs like A Different Me that represented her new reality. It was a necessary price that Cole was willing to take.
Before Cole took fans on a radiant journey of new love and life, she had one last ounce of aggression to get off her chest. "I Ain't Thru," the album's lead single, landed online in October 2010, and featured then-rising rap queen Nicki Minaj. In many ways, the song followed a tradition for Cole, whose last two first singles featured lyrical masters, including Lil' Kim and Missy Elliott ("Let it Go") and the late Tupac Shakur ("Playa Cardz Right"). Unlike the other tracks, which addressed the ins and outs of love, "I Ain't Thru" directly responded to those intimidated by her position in R&B.
The fiery track was built around striking organ notes with a serious undertone of an electric bass. Cole's stinging lyrics, particularly in the opening verse, had a target on it, and some speculate it was an R&B legend. "And I ain't worried 'bout y'all / All you hatin' ass broads / With your hatin' ass fits / Hatin' ass this, hatin' ass lips," she croons. Minaj's competitive wordplay was easier to decode, as she was throwing shots at a growing nemesis. While Minaj was a chart entry magnet at the time, it didn't result in the single's success. The song peaked at No. 54 on the Billboard Hot R&B/Hip-Hop Songs chart.
Soon after, Cole realized it wasn't a smart move to lead off the album with "I Ain't Thru" and that she should have taken heed to her label's advice. Her decision to go against the grain and release a statement that she has staying power in a fickle industry should be respected and appreciated.
Cole is a master of a sensitive love song. She can't be beaten when she takes this single route. "Long Way Down" is a fine example of her catering to that form of affectionate lyricism. The emotions expressed on the J.U.S.T.I.C.E. League-helmed track are those of Cole hesitating to give her heart away to another man who is only in it for his gain. In the wake of her love sabbatical, she happens to find someone heaven sent that was willing to mend broken parts of her life. But before Cole puts her heart in his hands, she explains to him why she can't fall from love's ascension again.
Inarguably, "Long Way Down" should have been the first single of Calling All Hearts. It had a song structure and lyrical quality reminiscent of pioneering divas that had triumphant comebacks to music in 2005, but with a vocal approach most suited for her and her enormous talent. Unfortunately, the music world couldn't fully appreciate it, as it only peaked at No. 91 on the R&B/Hip-Hop Songs chart.
If there's one takeaway from reviewing Cole's discography, it's that she isn't intimated to share a track with an imposing duet partner. On Calling All Hearts, she recruited Faith Evans and Tank to go through the trenches of love. Evans, an inspiration of Cole, contributes to "If I Fall In Love Again," a sampled-based duet about the experiences gained from a past romance and what key interests they're seeking from a future man and relationship. Tank and Cole's expressive voices braid together on the deep cut, "Tired of Doing Me." The dramatic piano-based recording explains the value of finding the right person after years of sadness and emptiness from meaningless and failed relationships.
Cole doesn't get nearly enough credit for the strength of her raspy alto and soaring range on Calling All Hearts. "What You Do To Me" and "Better Me" both make it impossible to ignore her vocal depth and growth. Meant to be heard on quiet storm airwaves, the former is an intimately-composed ballad that draws attention to sensualism that radiates from her passionate vocals. The latter is penned by the legendary Diane Warren and is a tender dedication to her then-husband about the positive change he made in life as an artist and woman. In her 2011 BET Honors performance of "Better Me," Cole demonstrated the variety in her incredible voice and received a standing ovation from renowned model and honoree Iman.
It's such a crime that Cole's label never invested in her future as a crossover success. She wasn't just an R&B staple whose voice and lyrics were pained and complex. She had sugary and sweet moments on her previous album, A Different Me, where she sang with a rush of newfound love and joy. Calling All Hearts' favorite listen is "Take Me Away," produced by Irv Gotti and Chink Santana and co-written alongside Gotti and Teray Jones. The track is light and breezy and demands dance floor attention. Cole's vocals are pleasantly high and spirited as she beams in happiness and declares undying love for her then-husband. Oh, how we wish we could turn back the hands of time and make this a major chart hit.
For an album with no major hits or impressive sales, the gold-selling LP was still a conscious culmination of songs that spoke directly to fans' hearts who were tired of being strong all by themselves. Calling All Hearts, which set the stage for her 2012 comeback album Woman 2 Woman, was a call for help dedicated solely to those willing and ready to find relief in a healthy and prosperous relationship. Granted, "I Ain't Thru" wasn't an ideal first single, but the rest of the album was a moment for Cole to live out her love even if every heart of her fans didn't respond.
Revisit Keyshia Cole's Calling All Hearts below.