No real musician can say that they haven't bitten from the palatable apple tree of musicality that the legendary Jimmy Jam and Terry Lewis planted in a fruitful R&B-pop garden some 30-plus years ago. Arden "Keyz" Altino is guilty, and for a good reason, too.
"When they do their production, I always felt like it had a little church music, R&B, jazz, and culture. You could feel the culture underneath their tracks," Altino tells Rated R&B. "You could tell they were listeners of the genre of music, and I've always been a fan of different genres."
Admiring artists like Prince, Madonna, Cyndi Lauper, and Kenneth "Babyface" Edmonds, Altino, who's of Haitian descent, vividly remembers growing up in Jamaica, Queens, and having his ear glued to varying styles of music.
"No particular genre grabbed me," he says. "I was just a lover of music. I didn't care if it was classical; I could listen to it. It could even be opera, and I'll listen to it."
He attributes most of his genreless mindset to his studies at LaGuardia High School of Music & Art and Performing Arts. Through the various fluid academic divisions to breed talented young minds in the universal spectrum of music, arts, and culture, Altino gained an appreciation and an understanding for diverse groups of creatives, no matter the genre or the person behind the artist.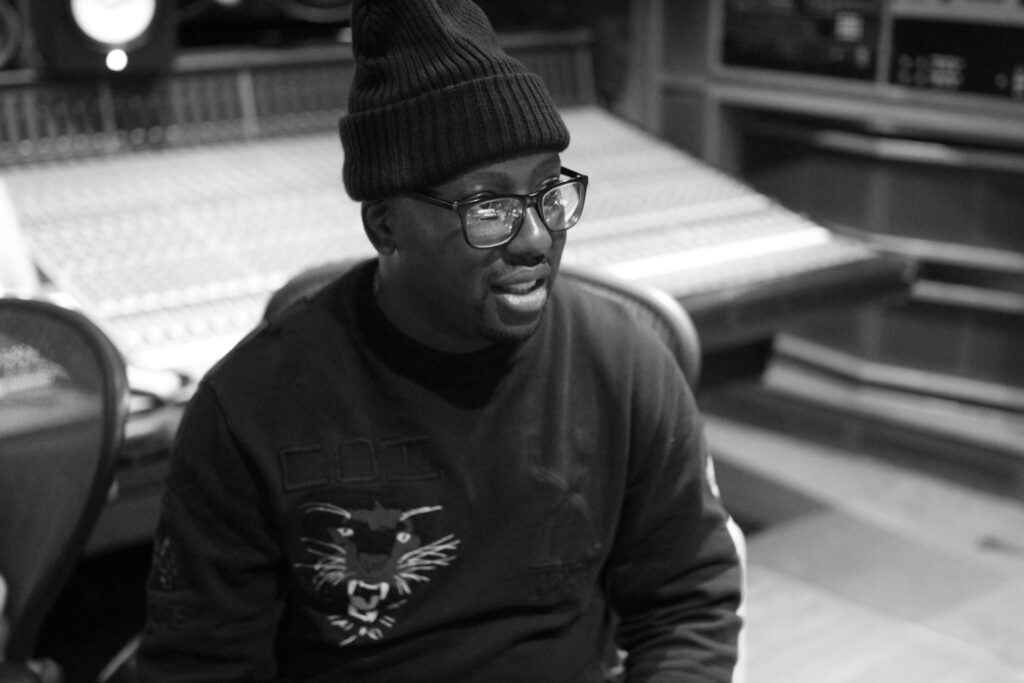 Altino does recall hip-hop being off-limits for student exposure. "They didn't want to go urban," he says. "They would concentrate on us studying classical and jazz and studying art with music and then studying the music in relationship with the art like dance. There was ballet and something called modern dance."
Even though he wasn't taught to love urban and hip-hop music in school, it was a part of his DNA. That's how he got his start in the music industry. He took his early engineering knowledge from Five Towns College classrooms and used it for Busta Rhymes sessions. Still green, Altino accepted the heavyweight MC's challenge to engineer for him, forgoing his education. He plans to do it sometime in the future.
After his stint with Rhymes, Altino developed a tight relationship with music vet Jimmy Cozier Jr. In turn, he landed his first placement ("Mr. Man") on Alicia Keys' hugely successful debut album Songs in A Minor. Along the way, their bond connected him to Jerry "Wonda" Duplessis and Wyclef Jean.
From there, Altino and his masterful keyboarding techniques and all-around showmanship went on to craft many records for Jean, Remy Ma, and JAY Z. Soon after, he picked up more steam and found himself in the presence of other great artists such as Mary J. Blige, Anthony Hamilton, Keri Hilson and Justin Bieber, to name a few.
For Rated R&B's Board + Pen series, Altino, breaks down seven songs from his songwriting and production catalog and recalls his studio experience working with a variety of R&B artists.
Estelle — "Thank You" from the album All of Me
Akon wrote it and demoed it in hopes of Mary [J. Blige] singing it. Kevin Liles came in the studio and when he heard it, he said, "I'm sorry. I'm taking this record. I don't care what you say because this one [is] for me (laughs)." Kevin Liles was [Estelle's] manager at the time, I believe. Craig Kallman, who was the president [of Atlantic Records] at the time, said, "I'm sorry, guys. This one we're taking."
The crazy part about it was I don't think Mary ever heard it. We didn't get a chance because when we created it, I would say the very next day, Estelle and Kevin came by. I think they even demanded, "Do not play this shit for her (laughs)." But that's how that came out. Of course, me and Jerry jumped on it. We got our boy Akene Dunkley on there. This was that era where we had a machine going. We were just cooking for everybody. We still got leftovers in the freezer, and they need to come out (laughs). We got to let them go.
Infinity Song — "Just Loving You" from the album Mad Love
[Execs] came to Jerry [Wonda] and myself and said, "Yo, we have this idea. We need your expertise." We went in with them, and at first, we didn't know what to expect. They told us, "It's this group, and they're talented. You met them before." I didn't realize I did. I met not all of them. I only met Victory [Boyd]. They always had an interest in people wanting to work with her. She's super talented.
From that point, we went in and heard this idea that Victory had. We took it and just ran. Jerry got on the bass. I got on the keys. She started singing, and then we brought in the group. Jerry started giving them a little vocal coaching, and we went in as we do. We understood their art and were like, "How can we make you guys feel like this record is so commercial, but yet still keep the integrity of who you guys are?" Most producers don't realize sometimes the records are 4/4 and in 3/4. It's something called time signature on a record. It's a field of assault. Most producers shy away from it because it's not the typical rhythm. It's not the typical feel of a record. But I could speak on Jerry's part; he's a chameleon.
It was an interesting journey, though. At one point, we were like, "Is this going to be good? (laughs)." But the moment you hear someone singing on a track, then you see the life of the music come together. We found the right ingredients and made it work for [Infinity].
K. Michelle — "God I Get It" from the album Anybody Wanna Buy a Heart?
K. Michelle is such an amazing artist. We did that [song] with Lil' Ronnie. He's good friends with K. Michelle and we're good friends with Lil' Ronnie. K already knew about us and wanted to work with us as well. We just said, "Let's all get together and do something." She's always loved the sound of country music. I don't know if you hear her talk about her music, but she's a big lover of country.
She wanted to merge country, R&B and soul together. When we did ["God I Get It"], she was like, "Yo, I'm looking for a vibe. It's got to feel country." So we just went in and got our guitar player and Philip Cornish, the keyboard player, worked on that with me too. He's Kanye West's musical director right now.
When this record really started working, it only reiterated to her that [I really need to be doing this]. I think that's what she's doing now. She's working on a [country] album right now.
Keyshia Cole featuring Elijah Blake — "Wonderland" from the album Woman 2 Woman
I was wondering if she was going to play that [during Verzuz]. Elijah Blake is a force to be reckoned with if you don't know about him. He's written a lot of records for Usher and a lot of people. [This duet] was instrumental because of him. She had a lot to do with making that record happen.
Elijah came, Keyshia came to the studio one day, and she heard it, and he was like, "I think you should step on it." She was like, "Hell yeah." That was a good time, too. So many moments. Keyshia is just a sweetheart. Elijah demoed it and only wrote one verse. Then they came in and wrote it together to finish it up. It was so funny how Elijah sped her up to singing, but it was almost like he knew she would love it. He was right.
Mary J. Blige — "Someone to Love Me (Naked)" featuring Lil Wayne & Diddy from the album My Life II: The Journey Continues (Act 1)
Bro, when I tell you, that was a movie. It's a block in my life where so much happened, and it's like, "Wait, did it really happen?" When created "Someone to Love Me," Mary [J. Blige] came to Platinum [Soundz], and we were working and locked in. Swizz [Beatz] was there; Diddy was there; Ne-Yo was there. Usher [and] Kanye [West] was there.
After Mary jumped on the record, Diddy heard the record and said, "F*ck that, I need this f*cking record in my life." She said, "I already have the record," and he was like, "F*ck. You do your version, and I'll do my version." They were borderline almost fighting. I was like, "Are y'all two serious? Y'all fighting over the record? (laughs)" They both loved the record, and [both] came out equally at the same time.
It was almost the last era of making a project where artists were locked in to make an album other than Beyoncé. Artists locked in, and a bunch of producers and musicians come through. Jerry was the leader of the whole situation. I was just a co-pilot and a vessel in the situation, and we were going in. We had amazing producers and musicians coming through Stanley Brown to Darkchild; of course, Swizz was there; we had Ray Angry, who's a producer as well. Man, it was a good time.
Jazmine Sullivan wrote a record, which they later put out on a soundtrack. It was called "I Want You." Man, when I tell you that shit was crazy, it was crazy. So many records, with so many people, came out [of those sessions]. We ended up doing the whole [My Life II: The Journey Continues (Act 1)], but you know, of course, there's always dynamics where other influences are involved, like the relationships she has with other producers. We had to give room for other people, you know? That's the politics of the game.
Miguel — "Do You" from the album Kaleidoscope Dream
That was one of our favorite records right there. I love Miguel because [he's] that kind of artist that's so eclectic and so musical and edgy as well. Miguel heard the track we did; we had an idea for him, and then we were like, "Yo, what do you think of this, Miguel?"
He was like, "Can you do me a favor? Can you take some of those drums out?" We were like, "We can do whatever (laughs)." [We] took some of the drums [out], and he jumped on the guitar, and he started playing, and we were like, "Ahh, that's it." If you listen to the music of that song, it's guitar-driven, and it's really simple. If you can see, it's spaced out where his vocals shine on the record. It's so sultry. It feels like you're floating. Sometimes you miss what he's saying and are like, "Wait, what you talking about? (laughs)." But he's just really talking about being high on life and just feeling good in your zen.
Justin Bieber — "U Smile" from the album My World 2.0
That record was supposed to be for Musiq Soulchild. We were working on his project MusiqInTheMagiq (2011). It was supposed to be on there but it never made it because Musiq never heard it. With that record, [Atlantic] was hoping for it to make him a little soul-pop. People knew him to do R&B. You hear Musiq Soulchild, and you think R&B, soul music. So, they wanted to try and bridge him out to the mainstream more.
We were playing his project for a bunch of A&Rs who wanted to see what we were doing and how it was going. We were like, "This is another record we're doing for Musiq Soulchild," and August Rigo's voice was on ["U Smile"] at the time that we played it. The next thing you know, we played the record, and Eric Nicks runs out of the room. He ain't say shit to us. We were like, "What the fuck was that about?" He comes back, calls [someone], and says, "Can you play that again?"
He heard it again, and he's talking, and we're like, "Who the fuck is he talking to?" He leaves out again and comes back and says, "I love that you guys are working on this Musiq Soulchild project. It's beautiful. It sounds great, but that record right there, we need it." We were like, "Uh, you can't have it. It's part of the project." He said, "That record we need for Justin Bieber." At the time, we didn't know who Justin Bieber was, but they told us, "He's a kid that's going viral. He's huge. Y'all need to be on this project. You cannot tell us no."
An hour or two later, I'm getting a call from L.A. Reid. He's calling us crazy. Everyone's calling all hours of the night, and we're like, "Yo, guys, I wish I could tell y'all that y'all can have the record, but this is Atlantic. Y'all have to work this out." At that point, we thought they were going to leave us alone, but no. They went to bat with Atlantic for the record, and they cut a crazy motherf*cking deal. Atlantic has part of the shares of that song, and so does Def Jam.
Stream our Board + Pen playlist: Arden Altino on Spotify and Apple Music below.