Alicia Keys has unveiled the cover for her upcoming young adult graphic novel, Girl on Fire, which is named after the title track of her fifth studio album. The book will release on March 1.
The coming-of-age novel, co-written by Andrew Weiner and illustrated by Brittney Williams, follows a young girl named Lolo Wright who discovers telekinetic powers.
Keys explained in an Instagram post, "She's from [Brooklyn, New York]. She discovers these incredible powers that she never knew she had. This is definitely a story for us about the superpowers we have inside of us that are yet to be revealed."
View this post on Instagram
In a past statement, Keys said, "When I wrote 'Girl On Fire,' I knew I was writing it for that girl in the way back row who needed someone to tell her there's nothing you can't do, that nothing is impossible."
She added, "When Andrew and I came up with the idea of translating the song into a young adult graphic novel, I knew that I wanted it to be about a girl coming to realize the strength she's always had. There's a little Lolo in all of us …"
Girl on Fire is Keys' first-ever graphic novel. It will follow her 2020 memoir, More Myself: A Journey, via Oprah Winfrey's An Oprah Book imprint and Macmillan's Flatiron Books.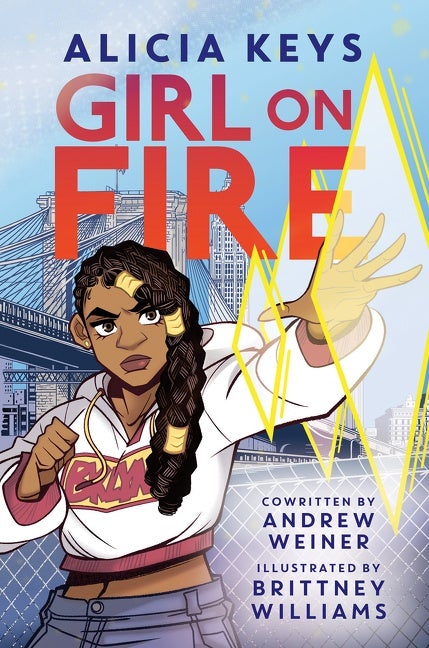 In December, she released her double-disc album, KEYS, via RCA Records. It marks her final album on a major label. It includes features from Brandi Carlile, Khalid, Lil' Wayne, Lucky Daye, Pusha T and Swae Lee.
Keys explained the album's concept to Rated R&B in an interview. "It is an invitation for all of us to show up to ourselves and not hold back any part of ourselves," she said. "I think a lot of us oftentimes feel like we have to dim it down and small it down. No, I refuse it anymore. I invite us all to refuse it because there's a power and a special energy that we all have."
In June, Keys will kick off the European leg of the Alicia World Tour. The North American leg will begin on August 2, in Charlotte, North Carolina. From there, Keys will play in other major cities such as Baltimore, Philadelphia, New York, Toronto, Chicago, Tampa and Atlanta, to name a few.