When Kenny Lattimore released his early buzz single "Pressure" last summer, it was apparent that he made a valiant effort to experiment and appeal to the next generation of R&B listeners.
That hunch was corroborated by his continued thirst for knowledge.
Lattimore found interest in mentoring years ago, with his latest effort, Here To Stay, as a part of his faithful dedication to nurturance. One of his proteges, Dra-Kkar "Madicin" Wesley, who he calls a "great writer and producer" responsible for his previous radio smashes, is partly to thank for this new album flourishing.
Before Here To Stay, Lattimore had his mind on recording a Frank Sinatra and Nat King Cole-inspired release. "I was not planning on doing a contemporary R&B album," he tells Rated R&B. However, conversations between him and Wesley about the mentee's request for new exposure within the music industry changed his mind.
Using his contacts to discuss business with distributors and attaching his label imprint Sincere Soul Records as an extra cushion, Lattimore knew he'd get Wesley the results he was looking for while also getting something out of the deal.
"When I started Sincere Soul Records, it was an effort for me to control the intellectual properties that I owned. I never wanted to run a label or anything like that," Lattimore expresses. "But mentoring is so dear to my heart and I think this album is going to fulfill its purpose of being that mentor project so that I can have a Madicin out.
Then people may begin to say, not only did Madicin do a great album on Kenny Lattimore, but [I'm] putting out some young artists that are going to be the future of R&B. In addition to that, I will become a student of what music is like today."
This ambitious undertaking meant looking at every possible way to stretch his talents and broaden his range. For some veterans, that could be intimidating, gambling with inspiration and trying something different. But for Lattimore, he embraced taking risks to not sound formulaic.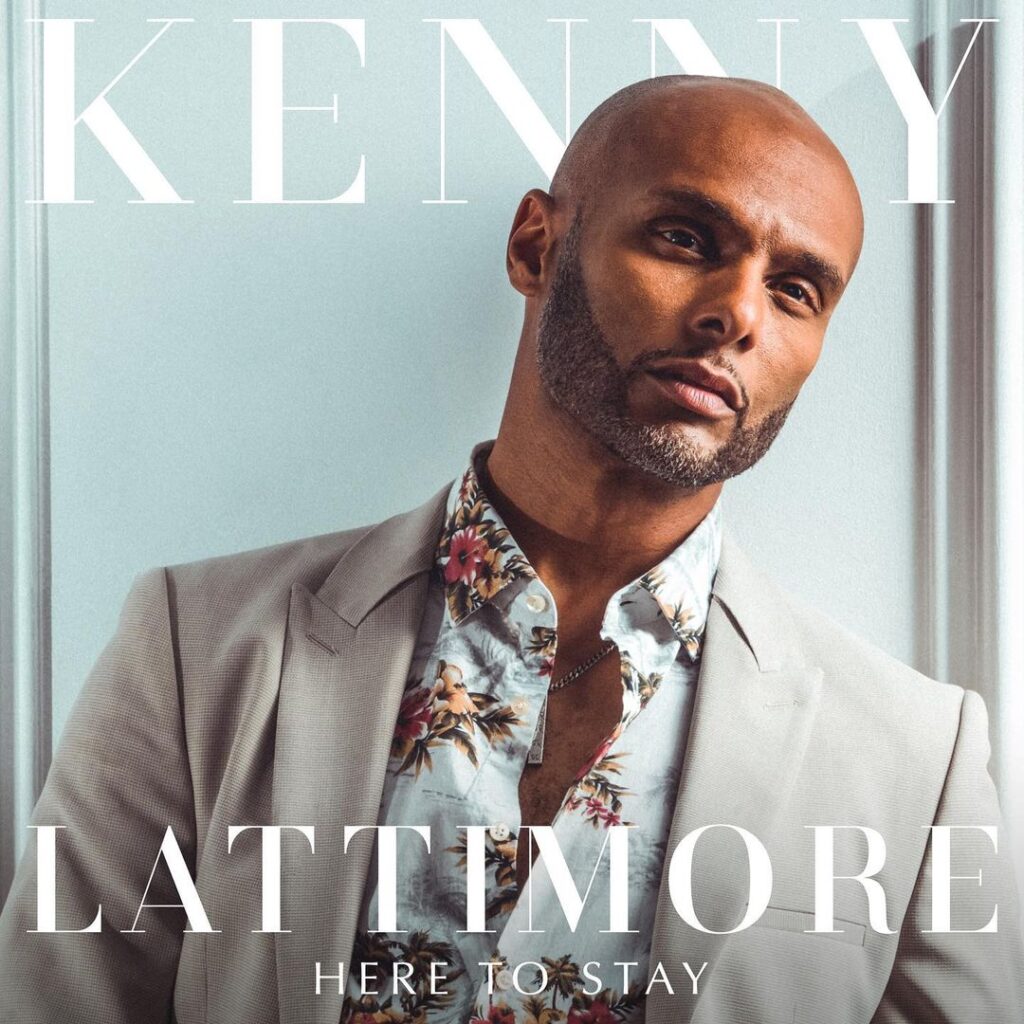 With studio help from collaborators like Wesley, Daryl Simmons, Aaron Lindsey, and Bizness Boi, Lattimore's Here To Stay relished in the present, mainly his marriage to Judge Faith Jenkins.
"The [album] starts out with 'Nothing On You,' which is about starting all over again but being open. Divorce didn't disqualify me to love again, and it doesn't for anybody," Lattimore declares.
Rated R&B spoke with Kenny Lattimore about his most recent album Here To Stay, how he selects singles to impact radio, his supportive relationship with his wife, Judge Faith Jenkins, and more.
Going back to the Frank Sinatra and Nat King Cole-inspired project. Are you still going to explore it in the future?
Absolutely. If you ever come to see me live, that is reflected in my show because it's a part of my story. I grew up as a classically trained singer. I was taking voice lessons, singing The [Great] American Songbook starting at 12 years old. I got more into classical music in high school and started studying Broadway and stage stuff. All of that grew to a point where I was offered a scholarship to any of the Maryland state schools. I was a Maryland distinguished scholar because that's where I finished high school even though I'm from DC.
View this post on Instagram
You and your wife are great cheerleaders of each other's endeavors, mainly on social media. What is it like to have such a supportive partner rooting for you?
It feels like this is the epitome of partnership. When you choose a great person you're on the same page and compatible with, the result is two people who are whole. It's organic communication and connection for both of us. We're about team. What's the best thing for the team right now? Having that concept with a person means everything in the world.
There are so many great single choices on the new album. How do you strategize on what's next up at radio?
For adult R&B music, radio is a challenge these days. We never sent "Pressure" to radio because radio is expensive. That's a different kind of commitment because it was my first song with SRG. I think that they took "Pressure" in to say, "Hey, let's test his streaming power. Does Kenny Lattimore have streaming power? Is there a base that will support him?" Thank God folks came to the table because I look at my career, and I say, "Wow, my major fans are not streaming. They're 50 and above. A small fraction of them might be streaming, but I need the new adult to be my fan and like this music."
So, when going to radio, I take the lead from my partners. Claude [Villani] and I were talking one day, and he said, "There's something really special about this 'Lose You' song." At first, I was like, "I don't think that's a radio song. It was like an experimental song. I was just playing to show that I could stretch out and come outside of the box that people may see me in terms of singing the ballads." But he said, "No, you were able to do something that I think really will speak to this generation. The lyrics are really good, and it's passionate." So, I said, "If you're willing to promote this particular song, let's try it."
Sure enough, it was interesting when we started to actually play it, that young generation of streamers came to the table. I think this album is showing that it touches all the different generations differently.
You recently participated in the viral ten-year challenge on social media. What's most significant about your artistic evolution from then to now?
Maybe it's that I have been unafraid to evolve with the sound of the times. I've just been unafraid of taking a risk and stepping outside of where people would normally think I'd be. I know that there are times when I would start an album, and people would be like, "Oh great. I want to submit to the Kenny Lattimore album," and I'd get all these songs where people wanted to give me another "For You" or "Never Too Busy" or something like that.
View this post on Instagram
I used to always feel like, "No. Let those songs be what they are." I never did this for the money and the fame. I did it because I loved it. I felt like, in order for me to continue to love it, it has to be a challenge. It has to be something interesting for me.
Generally, when an artist is at a label, you do similar kinds of songs to keep building on your legacy because of the commercial aspects of people buying the music. You have a hit song, you do another song similar to that. But for me, it was like, "That was what it was. Now, what is the next artistic step for me?" I just look at it from the standpoint of I'm just grateful that I've been able to continue to evolve and be challenged.
You have a record called "What Are You Waiting For?" on the new album, which celebrates living without fear as you work to create new moments in your life. With no fear, what are you waiting to do next in your career?
I am willing to do another R&B record (laughs). Doing the Frank Sinatra album and the Nat King Cole thing could put me into a category where it's hard to come back from. It's like, "Oh, well, he's that now." So just from a musical standpoint, I'm trying to be fearless in approaching that project.
For those unfamiliar with your new album or those who already have it in heavy rotation, what do you hope they take or have taken away from it?
I hope people discover it or take away that love is here to stay. It's not just a cliché because so many people sing about it. I hope that people get this passion that I have for singing a love song, and they say, "You know what? This guy is really committed to this because it's authentic. It's real for him."
I hope it gives them hope and encouragement that if you want to be in love, sometimes these are the elements that keep love alive: the sacrifice of "All In," the optimism of "Never Knew," the confidence of "Lose You." Understanding who you are and what you're bringing to a relationship.
None of it's easy because you have two different people from two different worlds, pretty much coming together to be a team and be a partnership. But I'm hoping that when people listen to it, it reminds them that if they want to be in love, there's hope, and you can be.
Stream Kenny Lattimore's latest album Here To Stay below.