For music critics and fans of the '90s, the start of a new Mary J. Blige album had become synonymous with Puff Daddy and his frantic calls or voicemails designed to get the young superstar in the studio.
The intro on her third album, Share My World, was much different than her previous LPs. It didn't have a voice message or a soundbite from her adviser.
Instead, it had producer Rich Nice narrating a lauded introduction where Blige's years of accolades and accomplishments were documented. The looming question: Where was Puff?
At the immediate launch of Blige's celebrity in summer 1992, Puff had always been there.
After getting his walking papers in 1993 as the lead A&R at Uptown Records, the label that canonized her career to superstardom a year prior, the zealous music exec and burgeoning entrepreneur started Bad Boy Entertainment.
He was still heavily involved in Blige's second album, My Life, while he operated his promising label.
But somewhere down the line, Blige, as shared in her 2011 VH1 Behind the Music episode, started to notice a shift in his dependability. He began to kick-start artists' careers that he had model in her street glamour image: mainly Faith Evans.
Confused and green at this marketing tactic used to promote other artists at such a peculiar time, Blige parted amicably with her longtime friend and collaborator before recording her third studio album. The two didn't reunite on wax until the early 2000s.
"He did play a big part in my life for a while and he did help me. But some people just have to go in separate directions," Blige said in a 1997 interview.
She added in a separate interview that year, "It hurt that I had to leave. But I got over it. It hurt a little bit less the more I went out on my own. Now it doesn't hurt at all."
As revealed in several interviews and featured documentaries, Blige, then engulfed in a stormy romance with K-Ci Hailey of Jodeci, was under the influence of drugs and alcohol during the sessions for her ruminative sophomore album.
By then, she had earned a rep as a difficult diva who showed up unprepared or uninterested in the interview as a whole, even making the interviewer uncomfortable at times.
In a widely infamous issue of Interview magazine from 1995, Blige suggested she and model-turned-journalist Veronica Webb needed to have a word outside after the line of questions did not amuse her. It was a nightmare image Blige had worked hard to expunge from her artist record during that time.
Admired by the respect Aretha Franklin commanded as a leading woman in the music business and also her resilience to still be at the top of her game, Blige knew wanting better for herself was only something she could facilitate. Even if that meant she had to leave day-ones behind.
Like Janet Jackson and her breakthrough 1986 album, Control, Blige had the same newfound sense of liberation to take her sound and persona to the next level.
She knew she had to assemble a new team if she wanted to do it right, and whatever she put out next to be even more successful than her first two albums. For Blige, this important move required time, which she had to her advantage.
Blige didn't need to rush another album release. Throughout 1996, she had hip-hop fans and radio airwaves in a chokehold, exercising her hip-hop soul status by collaborating with strong New York lyricists such as Method Man, Ghostface Killah, Case, Foxy Brown, and JAY Z.
That same year she won her first career Grammy in a hip-hop category, Blige flirted with mature R&B on the Babyface-penned "Not Gon' Cry." It was a dark tale of love and sacrifice and one of the immediate hits from the Waiting to Exhale soundtrack. It appeared on Share My World as its finale.
Until 1997, Blige had two consecutive multi-platinum albums containing a series of hit singles under her belt. She also had a seismic influence on her culture, not just by reorienting the style of hip-hop fashion through ghetto-fabulous hairstyles and clothes but by molding the sound of urban soul music.
Inarguably, Blige's impact in various facets across the R&B and hip-hop landscape was often embraced and repopularized in some form or fashion.
A few months before Blige's big release, neo-soul had found its queen — Erykah Badu — who shared in 2020 that her debut single, "On and On," was inspired by Blige's hip-hop soul classic "Real Love."
Even with two other game-shifting albums by other divas (Mariah Carey and Janet Jackson) on the cusp, Blige's reawakening after a three-year hiatus offered an abiding sense of balance during that epoch.
View this post on Instagram
This break-in rotation also revealed how Blige could genuinely improve and refine her music from then on, considering she had so many admirers, both those on the rise and those vying for her spot.
Part of that relied on her restyling herself as an urban soul fixture who could still put new and old samples to use and have a stronger contemporary feel than earlier releases—of course, having a brighter outlook didn't hurt, either.
To mark the 25th anniversary of Share My World, Rated R&B shines a light on eight tracks, including its singles and other classics. We also recognize how Blige masterminded her staying power with this album.
"Love Is All We Need"
Producers: Jimmy Jam and Terry Lewis
Writers: James Harris III, Terry Lewis, Mary J. Blige and Rick James
Blige made noticeable strides toward personal and musical growth. She leaned on the elite songwriting and production team of Jimmy Jam and Terry Lewis, who flourished in creating art that matched her presumed rosy perspective.
The duo, who had accumulated different peaks of creative excitement in Jackson's prodigious career, managed to do the same for Blige, handling a pair of the tracks on Share My World, including the Nas-assisted "Love Is All We Need."
For Blige, funk master Rick James had become a natural artist to sample, seeing that she already had his fingerprints on My Life. Jam and Lewis took inspiration in part from his 1985 B-side cut "Moonchild," carefully designing a nice old-school flare of loud drums, heavy bass, and sparkling keys for the lead single of Share My World.
In the song's verses, Blige is heard joyfully suggesting to her partner that the prized four-letter word could be the balm to rebloom their relationship.
Subsequent to her Grammy-winning teamwork with Method Man, where the pursuit of happiness was fixated in the company of their significant others, this joint venture with Nas rivaled that the fulfillment for one another resided at the heart of being devoted not only to each other but the power of love.
Even though "Love Is All We Need" wasn't the strongest single from Share My World, it still worked, at least as a continuation of the wide-eyed optimism found on her last album's lead single, "Be Happy."
"Everything"
Producers: Jimmy Jam and Terry Lewis
Writers: James Harris III and Terry Lewis
"Everything" is another Jam & Lewis contribution that pays homage to classics. Often titled by fans online as "You're My Everything," this retro single is a big reason why so many have endeared Share My World as one of Blige's most superior works.
There's real beauty here, from the beatific vocals, which convey an auspicious message of finding equanimity in your one and only, to the streams of peace and serenity that implode from the refreshing production.
An affectionate tune that marks the first of two waypoints on this album before Blige turns the switch to empowering her people, "Everything" gets some of its strength from the contrast in samples selected, including The Stylistics' "You Are Everything" and James Brown's "The Payback."
It shed Blige from the street-level usual and presented an unthought-of sentimental tribute that she now dedicates to the most high in concerts. These days, "Everything" is heard across urban radio, thanks to emerging rapper B-Lovee and his 2020 single "My Everything" and its various versions.
"I Can Love You"
Producer: Rodney Jerkins
Writers: Mary J. Blige, LaTonya Blige-DaCosta, Rodney Jerkins, Kimberly Jones, Carlos Brody and Nashiem Myrick
Share My World is a suite of writers and producers who metered plenty of chart accomplishments in their lifetime, some of which had their names (Babyface, Bryce Wilson) headline in 1996.
Others, like Rodney Jerkins, the then-budding megaproducer known as Darkchild, had a short while to go before he'd start to get the same type of constant phone calls those established stars were.
Not long after the moderate success of Gina Thompson's 1996 single "The Things That You Do," Jerkins caught wind through The Bomb Squad's Hank Shocklee, also an MCA Records A&R at the time, that Blige was holding a listening session in New York to recruit producers for Share My World. Coincidentally, he received the call because Blige was a fan of his work with Thompson.
So, as Jerkins recalled in a 2020 interview, he left his vacation in Virginia Beach with Teddy Riley and fled back to his dad's basement and constructed at least ten tracks he felt were urgent to Blige.
Jerkins said she was most impressed by the sample he swiped from Lil' Kim's Hardcore staple, "Queen Bitch," which would be recorded as "I Can Love You."
From beginning to end, this certified cult classic featuring the Queen Bee herself reflected what Blige does best: riding the beat of a retooled favorite and asserting her dominance as its new owner.
On "I Can Love You," Blige's sweet and sour tone emanates a definiteness that she has a one-up over an ex's new lady in the romance department. Lil' Kim matches her vanity of being the top pick, explicitly detailing her story as a devout lover to the late Notorious B.I.G.
Archival performances of "I Can Love You" with both Blige and Lil' Kim are rare to find, as evidenced by Blige's appearances on the short-lived Vibe and The Jamie Foxx Show.
But like on Blige's raw 1998 live album, The Tour, she never failed to leave Lil Kim's verse out of the mix. It wasn't until 2015, that fans would see the two perform it together at Hot 97's Hot for the Holidays special. They reunited again on stage in 2019 at the BET Awards and Essence Festival.
"Searching"
Producers: Rodney Jerkins and Fred Jerkins III
Writers: Mary J. Blige, LaTonya Blige-DaCosta, Xenos DaCosta, Rodney Jerkins, Fred Jerkins III and Roy Ayers
Blige is a creature of habit when it comes to saluting her soul heroes in her music. With the title track and centerpiece to 1994's My Life, she reminded us of acclaimed jazz vibraphonist and vocalist Roy Ayers and his 1976 classic "Everybody Loves the Sunshine."
An artist Blige listened to as a kid and revered then (and now), Ayers graced Share My World not just as a sampled talent but as a featured artist.
Rodney Jerkins and his brother Fred Jerkins III produced "Searching," which contained the gentle wafting of Ayers' favored instrument from his 1976 song of the same title beneath a gritty, shuffled hip-hop production.
As before, on Blige's signature 1994 song "My Life," Ayers' borrowed interpolation here felt similarly poignant and relatable to her message of universal solidarity and overall peace. Again, Blige's raspy voice had lots of soul and a magnified jazz quality.
She made a conscious investment to address social topics on a minimal scale, relatively through an experienced lens where she didn't come across as self-righteous but sensible.
This is never more apparent than in this line, "I'm not trying to preach to you / But I am still searching too, yeah / Me and you can do it," she attests. It even slightly references a song ("Everyday It Rains") she recorded for The Show soundtrack.
"Share My World"
Producer: Rodney Jerkins
Writers: Mary J. Blige and Rodney Jerkins
On Share My World's first half, Blige had songs tagged with some type of familiarity, whether from old records or newly-heard hip-hop tracks by recent collaborators and friends — Lil' Kim and JAY-Z — she played on repeat in her luxury ride.
The album's middle section is where the curation of made-from-scratch compositions is easier to spot. For the meditative title track, Blige and Jerkins made a sincere slow jam about resting recommitment on the shoulders of a muse she invites to be around forever and always.
The lyrics are enticing and classic Mary, as she had grown a reputation as an ingenue who placed emotional contingency on a lover on the fence about their companionship. But, this earnest imagery pulls at all the strings, especially its evenly paced glimmers of sumptuous keys, tactful guitar strums, and unhurried drumming.
The last two minutes of the timeless tune feel like Blige motioning listeners to the getaway of a wonderful realm she insists is where everlasting love resides. That portion of the titular track has become a call-and-response for her legion of devotees in recent concert years.
"Seven Days"
Producer: Malik Pendelton
Writer: Malik Pendelton
Long before Jada-Pickett Smith, Blige, at least in song, was entangled with a good friend after an innocent game of truth or dare. This sticky subject matter was highlighted on "Seven Days," the album's final single written exclusively by Malik Pendelton, who had worked with 702 a year earlier on their No Doubt debut.
Renowned guitar virtuoso George Benson had been enlisted to insert his acumen of heart-tugging melodies through chords. The album's masterpiece repeated the top five R&B/hip-hop chart victories of three of the four U.S. singles.
Already stated, Blige had been tied in a love affair with Jodeci's leading man for quite some time in the '90s. However, their tumultuous relationship came to a head when he, from her account, played down their engagement to a British talk-show host.
Affected and full of emotional intensity, Blige responded viciously with a forthright remix that surfaced soon after the standard version. Its new version is scattered with ruthless lines such as "don't claim your ass is ready when you're not / 'Cuz if you play me out, I'll blow up your spot."
She was merciless in her reenactment of this recharged rendition during a live performance at The Chris Rock Show. Blige reprised the awkward televised moment, but in a more sophisticated way on the Brook Lynn-assisted "Enough Cryin'" taken from 2005's The Breakthrough.
But she readopted barbed words from a deceived wife's perspective on the Jazmine Sullivan co-contributed and DJ Camper-produced "Set Me Free" in 2017.
"Missing You"
Producer: Babyface
Writer: Babyface
Blige enjoyed her first across-the-board hit with "Not Gon' Cry," a single Babyface wrote and produced in 1995. It was her first certified platinum single, also her first of seven Grammy nods for Best Female R&B Vocal.
With that, she teamed with him again for "Missing You," a less commercial success than her earlier smash but a record that would help define her as the premier soul performer of her generation.
There's no denying that Babyface took Blige in a different direction with this tribute of obsessive thoughts for an ex-lover. It challenged her background in the church and emulated the old soul greats she adored as a child.
"Missing You," which contained backing vocals from Shanice Wilson, sounded like something a young Aretha could have recorded when she taped the classic "Ain't No Way" many years prior.
Blige had a more modern tone to her musical approach, all while it was still rooted heavily in gospel's power. It almost felt like she was standing in front of a packed congregation with her eyes closed, as each murky note flowed seamlessly with the subdued wah-wah guitar and undulating piano while the choir supported.
This visualization came to fruition when she stood in front of a teeming group of her peers and much of the music industry during the 1998 Soul Train Lady of Soul Awards taping. Blige's standing ovation was deserved for such a raw and authentic rendition.
"Keep Your Head"
Producers: Poke and Tone (Trackmasters)
Writers: Mary J. Blige and LaTonya Blige-DaCosta
Always apparent on Blige's albums, specifically those in the '90s, are positive affirmations. In 1994, she told us she wanted to find contentment on "Be Happy". Then in 1999, she asked to be loved from the inside out on "Deep Inside."
"Keep Your Head," produced by Trackmasters, is a declaration of perseverance. The minimal arrangement allows for Blige to use the moment to further separate her celebrity from the person known as Mary J. Blige, bringing to light the private struggles she faces on a daily basis.
Used as the vessel, she ministers bluesy to her faithful followers about not feeding into negative thinking about you or your situation. She prescribed that the salve to overcome criticism is to hang tough with your chin up, never allowing others to see you sweat under the pressure of life.
On the sermon-like tune, Blige grounds herself on a solid foundation of positive thinking where she can empower not just herself but others to be brave through the good and bad times. Her present-day empowerment anthem, "Good Morning Gorgeous," has an atavism as urgent as her early personal oaths.
The Key Players
A significant portion of Share My World has Blige affiliated with Trackmasters. Steve Stoute, a still-thriving music mogul who managed her and the hip-hop production duo at the time, was named as executive producer alongside Blige on the set.
Also, that's the way the album begins, with Poke and Tone of Trackmasters, behind the boards of the infomercial intro that rolled out the red carpet for Blige's anticipated return. Poke had crossed paths with Blige on album two, having had a co-production credit on that album's lead single.
But together, with featured production assistance from Rich Nice, Trackmasters played a major part in connecting the dots on Share My World through the swaggered yet stunning beats on tracks and the intro and interlude, expanding her comfort zone with the essence that is hip-hop soul.
Share My World was a big album. In a sense, Blige had a mini-Puff in her ear this epoch, crippling the naysayers in the prelude of "Can't Get You Off My Mind": "Said I couldn't do it again, but I did."
Proud Mary
When Mary J. Blige was just 26, she had an album (Share My World) debut on top of the Billboard 200 chart for the first time. Blige preceded Carey and Jackson as the first among women in R&B that year to hit number one on the U.S. albums chart.
Along the way, she earned her second Grammy nomination for Best R&B Album and won an American Music Award for Favorite Soul/R&B Album.
She also made her performance debut on the show, serenading audiences with a sultry take of "Seven Days" alongside Benson. At one point in Blige's career, she was a mainstay at the AMAs during various album campaigns, from 2006 to 2011.
Having a hit album can put you in different spaces that you didn't once occupy. Blige made her acting debut as Ola Mae on The Jamie Foxx Show. In the sitcom, she got a chance to learn a few lines and get her feet wet in another sector of entertainment while promoting Share My World in solo and duet segments with Foxx.
This minor role primed the two for a future, award-nominated collaboration as well as a respected career for Blige as an actress, yielding a historic pair of 2019 Oscar nominations.
Inarguably one of the most anticipated R&B albums of 1997, Share My World was a step forward in Blige's evolution, becoming a catalyst for her to seize the unclaimed crown as the queen of R&B while wearing the hip-hop soul decoration concurrently.
Here, she asserts to be a leader, growing impatient on waiting for others to determine your destiny is the way to survive as an artist. This necessary emancipation from Puff's grip and the do-it-yourself album would let the world know she could sustain creative momentum on her terms.
As she said in an interview with MTV, "I see things differently now. I see things getting better for Mary." Twenty-five years later and in the fourth decade of her recording career, Blige has built a sturdy stature of healthy materiality to be envied.
View this post on Instagram
On Share My World, Blige got in complete control of her craft, deciding who she wanted to help narrate her artistic journey.
Managing to get key players such as Jimmy Jam & Terry Lewis, Babyface, and George Benson on board for Share My World set the stage for the access and pull she would have when it came time for Mary, which had appearances by Aretha Franklin, Elton John, Diane Warren, and Eric Clapton, to name a few.
Her range of collaborators expanded over the years, making her one of the most versatile artists of her time.
Even after many years of adventuring on stylistic excursions with each new album, Mary J. Blige still, at times, goes unrecognized in relevant conversations on impact and influence.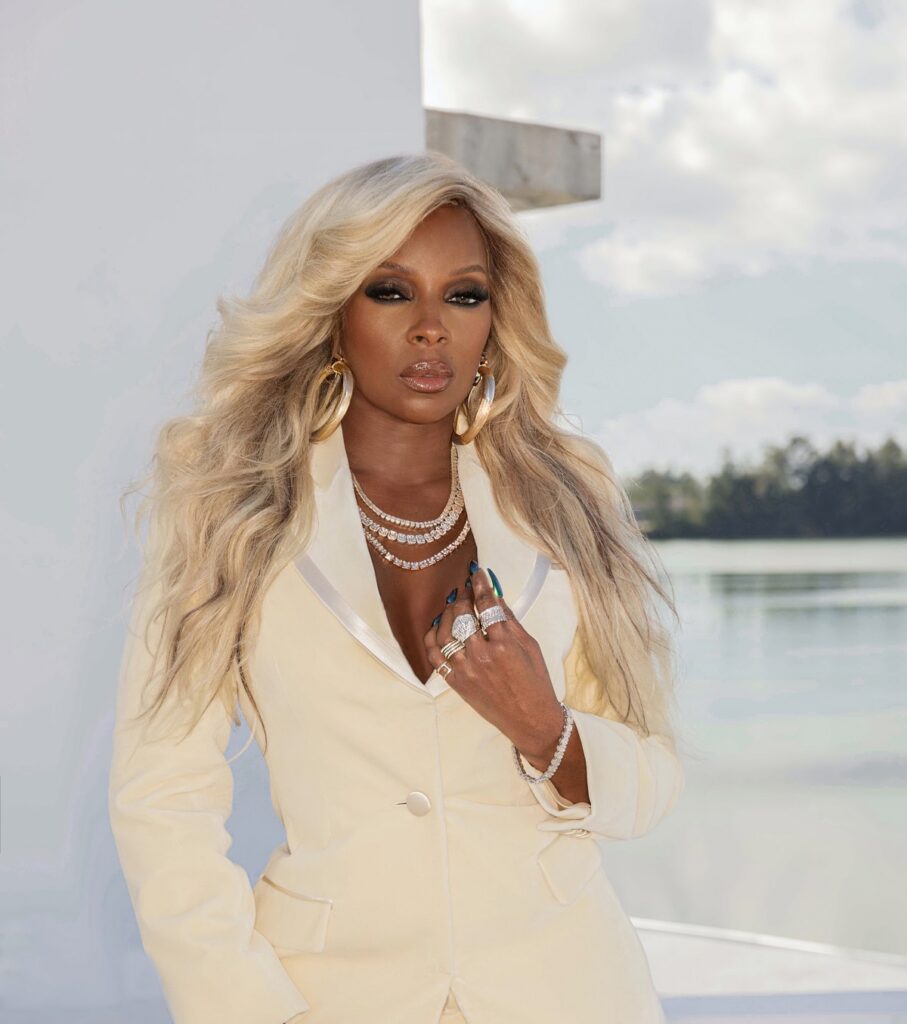 In fall 2021, Pitchfork published its list of the 200 most important artists across their platform over the last 25 years. Blige didn't end up a notable highlight on the widely circulated list even though she was mentioned in small print twice.
A puzzling moment undoubtedly, given that Blige's prodigious style, both in heartfelt vocal know-how and fashion, as well as the relatable story, still comes into view any time a fresh face has followed. If it wasn't noticeable, Keyshia Cole's A Different Me, is a pleasant overlap of Share My World in several ways, from the Nas feature to the turnaround in attitude and artistic culmination.
It's not always those who surfaced subsequent to her decades-long career that gets cast as some form of replication. Even legends, namely Chaka Khan, one of Blige's most idolized divas, have been coerced to be comparable to Blige.
"I went in one time, they'd hired another A&R, who told me: 'We need you to sound like Mary J Blige.' I said: 'You motherf*ckers need to get Mary J Blige then, and leave me alone,'" Khan told Guardian's Alexis Petridis in a 2019 interview.
It was no disrespect on Khan's part, considering she's co-headlining Blige's Strength of a Woman Festival and Summit later this spring. All this proves is that Blige was not overpraised in Share My World's opener, nor was it too soon for Rich Nice to envelop her as the most innovative female singer of her generation.
Such success still at such a high point in her career, Blige, 51, will receive the Icon Award at this year's Billboard Music Awards. It's a soon-to-be accepted trophy that she can gaze upon decidedly knowing that an important album like Share My World is a chief reason why she is its 11th recipient.
Blige asserted herself, took power over her life, personally and professionally, and hasn't looked back since.
Revisit Mary J. Blige's Share My Word below.