Ari Lennox is a storyteller. If you're familiar with her lengthy Instagram live sessions, she's known to tell detailed stories that involve vivid characters you want to know more about. Those same narrative skills were put to use for her debut album, Shea Butter Baby.
As the First Lady of J. Cole's Dreamville imprint, she's proven that she can play with the hip-hop labelmates, while holding down her own lane. Since the first application of silky goodness on her single "Whipped Cream," it was evident that Lennox fulfilled a soulful void that was missed in R&B but sorely appreciated.
Between dating and adulting, each of the 12 entrancing tracks on Lennox's debut offer something for all types of listeners. So, light up your faux cigarettes as you inhale Baby's addictive sonic energy and exhale Lennox's lyrical panache.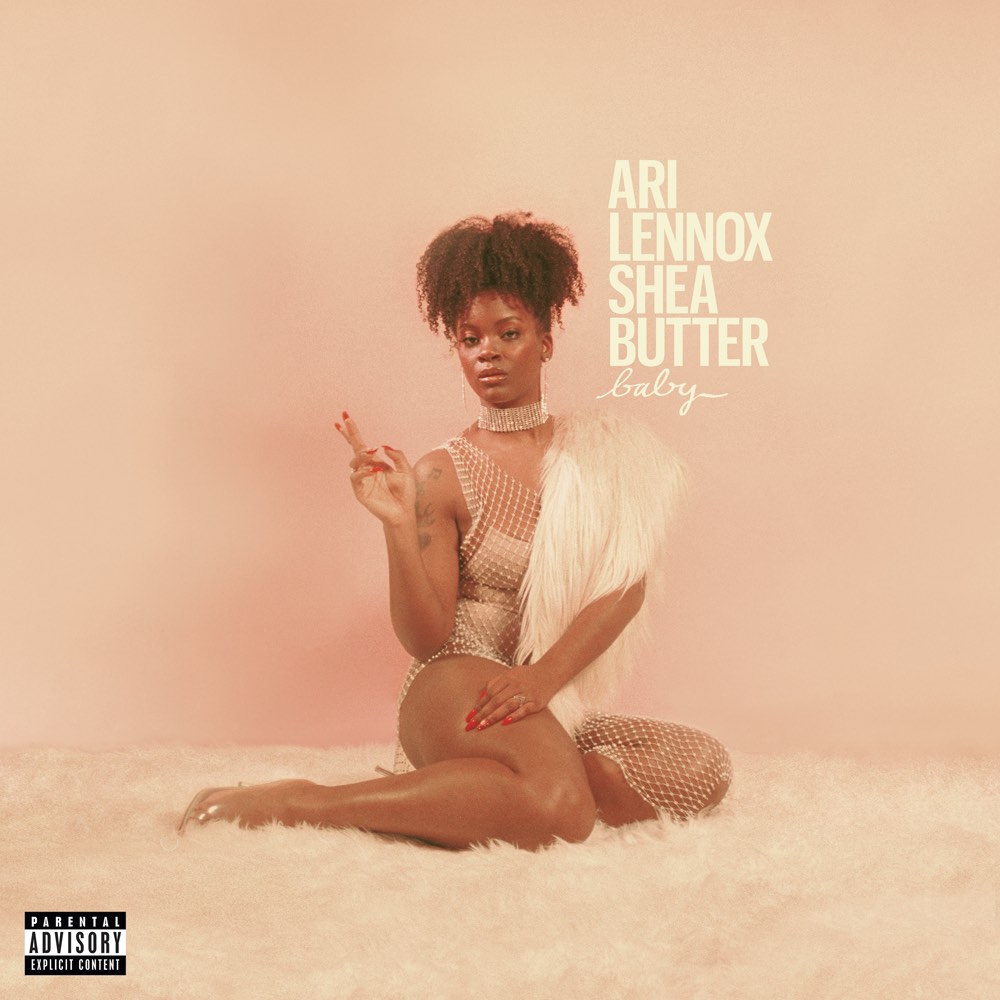 The opening track, "Chicago Boy," sets the ultimate mood of the album. Lennox recounts meeting an attractive man at CVS who catches her eye. She doesn't want to come off as thirsty but she knows exactly what she wants. Before ending the track, Lennox tells all the fellas it's time to leave so she can have a word with her ladies. She further warns that "it's about to get so fucking freaky."
Lennox effortlessly glides into "BMO," a nostalgic-feeling bop that shares similar production elements as "I Just Can't" by Faith Evans. From the first second, listeners can't help but be transported to a familiar space off the sample alone. Lennox's rich vocals and suggestive imagery help make a perfect addition to a summer playlist.
Sometimes, the best moments in a relationship is when both you and your boo thang get innovative and creative due to lack of funds. On "Broke," which features her labelmate J.I.D, the two express making the most of their financial situations together. Although money is low, it doesn't stop them from holding each other down and keeping love first. J.I.D's verse adds texture to the collaboration, switching up the cadence after every few bars and lending his raspy singing voice to the track.
Things get a bit heavy on "Up Late," which is the third track Lennox shared before the album's release date. With Masego on the saxophone, this sexy and sultry groove will have you hitting up whoever your joint is for an encounter in the after-hours. The flirty, yet light production balances the realer than life lyrics, exuding a yearning that can only be met physically.
Following the alluring title rack, the album takes a topical turn with "Speak to Me." Leading with the frustration of a confused partner, Lennox pleads for communication and clarity. She quickly turns on the softness in the second verse but switches just as fast when she questions the trust and authenticity of the bridge.
"New Apartment" is the continuation of "Cold Outside" from Lennox's Pho EP. There's no need to creep into the bedroom because she has a place to call her own. The content and delight of what it feels like to finally live alone is covered in each line.
"A Dolla Tree wine glass is in the air / Andre will get me there / No longer afraid of the dark, 'cause that light bill changed my heart (said it changed) / Made a n***a act smart (said that shit changed)," she sings. As great as it is to be independent there is a downside to it; a realization she reaches by the end of the song.
One of the rawest songs on the Shea Butter Baby debut is "Pop." With nothing but an acoustic guitar as the framework, Lennox questions whether she will still be taken seriously if she gives up her goodies. While it's another short-length album cut, she delivers the song by getting straight to the point — lyrically and vocally.
Lennox pushes beyond the limits with the emotionally spectacular "I Been." Showcasing her formidable range throughout the record, the pain of heartbreak is felt in each note. Even if you're not jaded by the act of dating, it's easy to feel that way, especially how this number is packaged.
With another smooth album transition into the first single "Whipped Cream," the feelings of hurt and disappointment progress. It's difficult to get tired of this tune because it hits the exact same bittersweet spot, whether it's the first or 100th listen.
"Static," the closing track, brings a sense of hope for this union she's been fighting for on this over 40-minute melodrama. Glimmers of faith peak through the lyrics like a distorted picture on a CRT television. Rounding out her Shea Butter Baby album on a happier note encompasses the variety of ups, downs, and everything in between that entail love and relationships from a Black woman's eyes.
Among the melodies lie the relatable bluntness and common intimacy that take place in romantic relationships. Lennox's penchant to capture the essence of normal, regular everyday occurrences is sharply precise. Instrumentation is the project's prevailing thread with an old-school '70s flare that fits in subtly. There isn't just one standout song on Shea Butter Baby, as striking delivery and vocal moments emerge out of each composition.
The album's fluidity can be credited to flawless sequencing; it's perfect as there isn't a single shift out of place. Soul and emotion are the major players of Shea Butter Baby and no matter what your status may be, you can't say you didn't feel something from this album.
Rating: 8.5
Standout tracks (hair textures): "BMO," "Pop" and "I Been"