A number of solo female acts dominated in 2004. Alicia Keys, Beyoncé, and Christina Milian each had their own look and their own unique music style. When Ciara burst on the scene, her girl-next-door charm and flexible dance moves separated her from the pack.
Six albums and 15 years later, the entertainer can still 'work' a stage and generate generous radio airplay for satisfying singles. Now, after testing the waters with singles like viral hit "Level Up" and pep-rally warmup "Dose," Ciara is ready to expose her Beauty Marks on her new album.
Considering Ciara released three distinct tracks in 2018 that each had a completely different feel and vibe, one can say that her taste sonically has evolved tremendously over the years.
Her lead single, "Level Up," featured the high-energy dance stylings inspired by the New Jersey club scene. CiCi echoed the now popular Afrobeats sound on her Tekno-assisted track "Freak," while her third offering, "Dose," blared an HBCU-halftime show.
Even though her previous singles have been a mix of daring sounds, they all connect by making us move; a gift Ciara has presented us from the beginning of her career.
With her 2004 triple-platinum debut album, Goodies, Ciara gained popularity for her inimitable fusion of crunk and R&B. The energizing of mix earned her the princess title of the newly formed genre that stormed the city of Atlanta at the time. While Lil' Jon ("Goodies") and Dre & Vidal's ("Oh") production assistance helped shape the sound of Ciara's first full-length album, it was Jazze Pha, who she was signed to on his label Sho' Nuff Records and one of the executive producers for Goodies, that had a great hand in successfully curating the sound and energy on the record.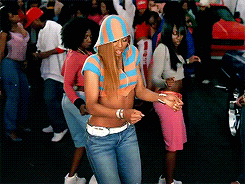 For The Evolution, her sophomore coming-of-age album that reached No. 1 on the Billboard 200, Ciara got more involved in the creative process. She lent her in-studio gifts to both songwriting and production, in addition to the role of executive producer — a position she has held on every album since then.
By 2009, the musical landscape began to take a different sonic direction and Fantasy Ride was a result of that. While Ciara's third album leaned toward the electro-pop sound, it also gave way to a few dance elements, such as the album's standout track "Love Sex Magic." Melding dance and pop together with a trace of retro funk, Ciara's curiosity for a different flavor earned her a nomination for Best Pop Collaboration with Vocals at the 52nd Grammy Awards in 2010.
Jackie, her last album, was one of her least performing albums to date, debuting at No.17 on the Billboard 200 and spending a total of four weeks on the chart. Amidst the album's poor chart performance, Ciara felt her fifth album was "her best body of work" to date and rightfully so as the album touched on her high profile break up with rapper Future and her burgeoning journey as a new mother.
Even though Jackie wasn't as successful as her previous studio albums, that didn't stop fans from supporting Ciara when she reemerged on the scene in the summer of last year. With over 171 million views on YouTube, "Level Up" became one of 2018's worldwide initiatives and proved that her musical presence was dearly missed, especially after inking huge performance opts like Bruno Mars' 24K Magic World Tour, the American Music Awards in November and Dick Clark's New Year's Rockin' Eve at the top of 2019.
Almost four years after her last effort, Ciara has catapulted in ways beyond what she could imagine for herself on the business aspect. In February, she announced her new entertainment and record label, Beauty Marks Entertainment, with the album being respectfully named after the company. This new and exciting venture allows Ciara to be more involved with the entire album process than in previous projects, from the management side to the music releases.
"Being able to have that freedom and flexibility is so special," explained Ciara to Billboard earlier this year. "There have been moments in the past when I've felt creatively handicapped just because I have to wait for the powers that be to make the decisions for me and then they take a long time. I'm just waiting and waiting and losing time and before you know it, six months pass by."
This newfound freedom she has acquired permits Ciara to release the kind of music she wants when she wants. If there's a single she strongly believes in, there's no hesitation or push back from label execs since she is the label. All decisions and ideas are finalized by Ciara and her team, a choice she didn't have early on in her career.
Members of the C-Squad are beyond excited for their General and the space she has eased into since taking her career into her hands. From being the centerfold on InStyle Magazine's April edition and Vogue Arabia's February cover, to snagging appearances on Ellen and performing during the Monday Night Football series, it's evident that Ciara is stepping into the HOV lane that is guiding her return to music.
Ever since @ciara got out of that contract she has been BOOKED on these major networks and getting all these great looks. Maybe she was better off doing everything herself. Congrats!!

— IG @KPholla12 (@KPSWORLD) May 3, 2019
The album, Beauty Marks, will feature all five of the already rolled out singles, including her most recent love notes "Greatest Love" and "Thinkin Bout You," which lean towards a more pop element that Ciara has eagerly delved into.
Her latest single, "Thinkin Bout You," has been bubbling since its March release and building much anticipation for the new album. It's her second-highest viewed video of this era on YouTube, with more than 14 million views.
Noticeably considered the next big hit for Ciara, she debuted the continuously growing single at the 2019 Billboard Music Awards, tributing Janet Jackson with a series of seductive dance shots. Her 14-year-return since showing off her Goodies at the 2005 ceremony, had music stars Taylor Swift and Jennifer Hudson singing along to the disco-tinged groove while she rocked the house.
Since her electrifying show at the recent BBMAs, "Thinkin Bout You" has cracked the top 50 on mainstream pop radio, indicating the alluring appeal it holds for summer madness.
According to Ciara, Beauty Marks will have "something on there for every mood." When discussing what to expect on the BBMAs red carpet, she shared, "I don't slow it down too much on this album. I want to kind of keep a tempo going but there's something on there for every mood and everyone."
An exciting discovery on the album's track listing is track six, "Girl Gang" with Kelly Rowland. The two friends have taken a hiatus from the limelight since their last albums but this pairing will undoubtedly excite their large fanbases, likely to become a fan-favorite record.
Separately, both ladies are known to create a jam that's bound to boost heart rates. It's safe to predict the possibly high-tempo track will thump with undeniable rhythmic precision. And if their pairing is driven out like Ciara's current single, it will heighten the demand for her co-star's forthcoming indie album as well, signifying Ciara's impact as a champion for major turned independent artists.
In an interview with New York's Z100 in late March, Ciara revealed a track she and Skylar Gray (Kehlani, Diddy-Dirty Money) worked on has made the album. "I have an incredible song that I co-wrote with my friend, Skylar Gray, and she also produced the song. And it really encompasses what Beauty Marks means to me on a personal level." When describing the album title, she mentions embracing the scars that you get from going through life's obstacles. With a compelling definition, it's possible the track could be based on the same sentiments.
Ciara's next album seems to be giving us a bridge of new sounds that connect to her core elements. The superstar has worked with longtime collaborators like Jasper Cameron and Rodney "Darkchild Jerkins from previous albums that helped shape her sound. On the flip side, the new contributors like Space Primates and J.R. Rotem on this album grant her the opportunity to venture to a fresh, yet a bold assortment of genres and sounds we have yet to hear from the talented entrepreneur.
"Ciara can keep doing her signature style but adapt to the new sonic landscape of hip-hop/R&B," Rotem said in a 2018 interview. "She's a superstar and that doesn't get old."
In calling all the shots from start to finish, Beauty Marks will be a boundary-pushing album that Ciara has envisioned creating on her own terms for a long time.
Beauty Marks is available everywhere on May 10 via Beauty Marks Entertainment.