Front + Center is Rated R&B's artist discovery series, putting new and emerging R&B singers at the center of your attention.
Devin Tracy has already checked off a generous number of goals off his career bucket list: performing sold-out shows, being sampled, and landing major network television placements, to name a few. Whether you've heard his vocals on "Things Change" from Bryson Tiller's Anniversary album or painting scenes on the hit HBO drama I May Destroy You, Tracy's artistic presence is covering ears to a considerable degree.
The Jacksonville, Fla. singer-songwriter remembers singing at an early age, explicitly belting out "Loving You" by Minnie Riperton in the first grade. As a child, he was aware of his exceptionally unique voice, but it wasn't until singing in church as a teenager that he embraced his gift earnestly.
Nestled within the countertenor/alto range, Tracy's vocal compositions are reminiscent of Stokely, the frontman of R&B band Mint Condition, Tevin Campbell, and Raphael Saadiq. Where they coincide is their ability to assertively hit high notes that most men can't. Equally as sexy, his ear-grabbing range and delivery stand out amongst the gruff tenor and bass palette most are used to hearing from male R&B singers.
"I don't sound like anyone else," Tracy proclaims to Rated R&B over the phone. "No one has heard of this sound; a guy with a beard and when he sings, he sounds beautiful as f**k. Who does that?"
Pulling influences from a few artists, including Phyllis Hyman, Luther Vandross, and Sarah Vaughn, the similar inflections in Tracy's voice melt through his delicately striking manner in delivering lingering notes and riffs. While staying true to his roots, he maintains those nuances amidst a soulful brew of jazz, R&B, and boom-bap hip-hop.
"I grew up listening to R&B, but my vocals could be placed on any track," said Tracy. "You can place it on acoustic folk. You can place it on country. I could be on a house song. I could be on a hip-hop song. I could be on an R&B song, a soulful track, an eclectic track, electronic music. I wanted to set my vocal ability up for that reason so I can be on any and every song, but I can always go back to the roots of how I started, which is R&B, jazz and soul."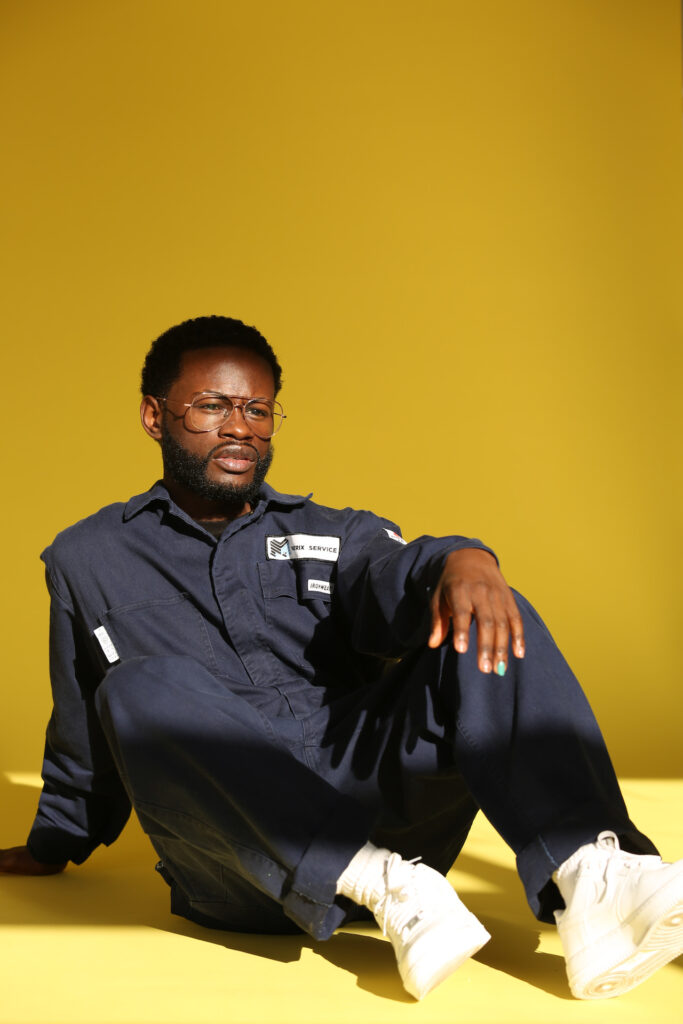 Tracy's singing career began to unfurl when he moved to New York in 2012. The culture shock was a mere buzz for him, as the excitement of being in the city overshadowed any fear or uncertainty he may have had. Over the years, he credits his community, including singers Anais and Fousheé, for tremendously assisting him in getting settled in the foreign city.
In finding his sound and footing, he eventually worked with the production team The Vamp (MAAD) and released three projects in three years, including Goodmorning in 2015. By 2017, the bonus track "Something 2 Say" caught the ear of Andre Power, co-founder of record label and music collective Soulection, activating the budding relationship with the creative faction. Once Power retweeted the song, it caught fire online, igniting Tracy's dream to work with Soulection.
Most fans may have been introduced to Tracy's work through Baltimore producer J.Robb and his Soulection White Label collection released in October 2017. On songs "TakeMee" and "GoodLovinn," listeners experience the intrinsic connection when the two work together. Akin to Timbaland and Aaliyah or Pharrell and Kelis, J.Robb has played a key role in helping shape his sound. Growing up listening to the same artists such as J Dilla and Chaka Khan, that similarity helped form their musical bond.
"He's an incredible producer. Every time we work together, it's literally magic. I grew up wanting to embody the old-school artists I would listen to. I put it towards his music and it's like glue. He just gets it."
Through the developing relationship, he released his first EP for their Black Label series the following year. Solidifying the avant-garde neo-soul properties he's known for, Tracy credits his relationship with Soulection as a significant piece in his career.
"They helped people see my true talent, more fans, more people that support that I wasn't even expecting. They helped with my trajectory, of course, and they helped the world to see who Devin Tracy really is because it's gotten me into rooms that I didn't think I would be in."
Now located in Los Angeles, Tracy has applied the attention from the partnership to present his debut EP don't take it personal. He recounts the varying emotions from a failed relationship as he pries his feelings from his heart and lays them bare over five tracks. The EP trails the realizations of each emotional stage, leading to him taking the necessary steps to recover.
"I can't bottle this in. I have to release this because it's a process," he admits. "Whenever you break up with someone, it takes you a while to get over that breakup. I was in a five-year relationship and after we broke up, I was like, 'I don't know what else to do.' My mind was all over the place. Then I started writing songs that were pertaining to what I've been through, leading up to it, and this was almost a year ago."
Tracy supplies a variety of moods and energies that are slightly foreign from his familiar offerings. The closing number "therapy" provides an updated take on a modulation of west coast R&B, while "easy" is one of the instrumental-heavy tracks that bores a delicately straightforward vocal styling.
True fans may find themselves gravitating toward "nlm." Produced by REO (Beyoncé, Keyshia Cole), the nouveau soul production stays true to him with the hip-hop inclined drums. Morphing his pliable vocals around spring-like aural layers, Tracy lets his old love know an unfortunate loss is to be endured.
"That's why we're not together because egos always get in the way whenever you're trying to get somewhere in life, in a relationship," he shared. "Especially if you guys are in the same field. Like, you still could have been with me. We still could have been together. As long as we checked our ego at the door, we could have been great. We could've still been in love, but we didn't do that. It wasn't just him, it was me as well. Egos got in the way and it ate us alive."
One thing Tracy has learned during these experiences is to do what's best for him on all levels, despite the perception of others. With don't take it personal being his most intrusive work to date, he opens himself for growth on his terms.
"It's almost like I wrote like a memoir, but in the form of my songs," Tracy confesses. "I don't want people to take my journey personally and to say like, 'you could have done this," because again, it was a process for me and I had to learn to get over it. This was my way of doing that, through writing, through my art. I was like, let me just go ahead and write my s**t, do what I do best. This EP is meant to heal others and is meant to take people on a journey."
Stream Rated R&B's Front + Center playlist on Apple Music and Spotify. Listen to Devin Tracy's new EP don't take it personal below.