Front + Center is Rated R&B's artist discovery series, putting new and emerging R&B singers at the center of your attention.
According to The Shindellas, a 'shindo' is the feeling you get when you're so inspired and excited. Goosebumps arise on your skin, and chills consume your body. Named after the term they coined, Stacy, Kasi and Tam are bringing the 'shindo' in full force.
The Nashville-based dynamos present a refined panache that has been missing and is being welcomed with open arms. The group emits a number of attributes that have caused people to pay attention: cohesiveness, musicality and purpose. Their poised presence alone is enough to make someone give their music a fair shot.
Immediately as the women appear on our video call, an intrinsically powerful force is felt. It's painstakingly clear the cultivation of their connection that circuits through them transcend past the music. As a distinct mirror of their art, they reflect empowerment, sisterhood, kindness, and love.
"We want our music to be a safe space," declares Kasi. "Whoever you are, show up as you are, and you will be welcomed here. You are allowed to be yourself without fear."
Allowing oneself to be without fear is one of the many self-proclaimed mantras The Shindellas hold dearly. It stems from personal experiences, as the trio officially met in February 2017.
They each truly had no clue what the group would become, as they were in their respective corners of the continent. Yet, unknowingly, they manifested their wildest dreams with the producer/songwriter duo extraordinaire Claude Kelly and Chuck Harmony as the common conceptual thread.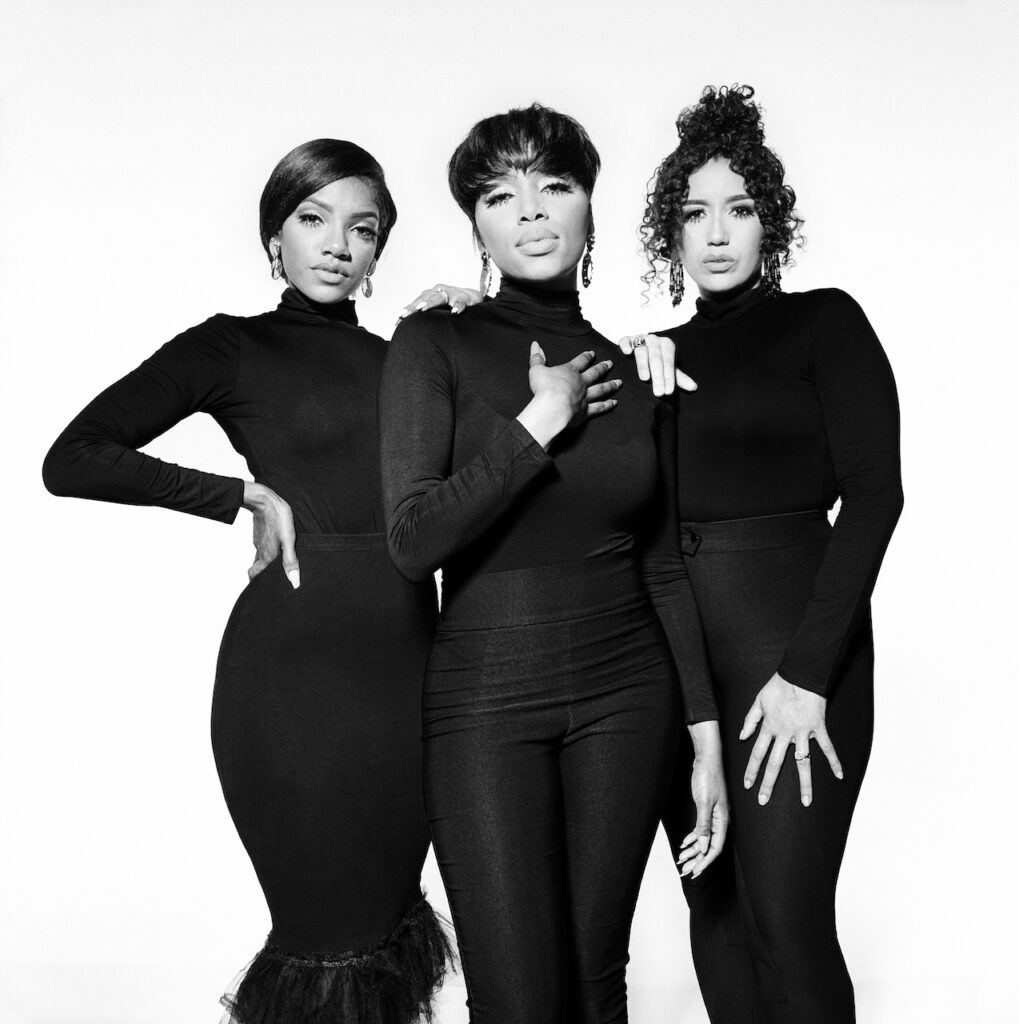 Stacy was the first to be approached with the idea for the girl group. As a background singer for Harmony's band, he presented her with his ideas in 2015, and she was undoubtedly on board.
"They wanted to make their own music for themselves and to explore [music]," Stacy shares. "They came up with the concept of The Shindellas as a vision, and brought us together.
I loved the idea of making music that my grandmother and my parents could listen to. I felt proud of sharing the message and the storytelling behind the music. So they came up with this idea, and I was with it, and we started this search. It took us almost two years to find the right people."
After receiving feedback on her music from Harmony at an event SAE Institute in Los Angeles in 2010, Kasi was convinced that interaction would jump-start her music career.
"I just knew I was going to go in, he was going to see me, hear my music and be like, 'That's her, she's the one,'" she says.
For six years, the two kept in contact via social media. She was eventually offered the opportunity to join The Shindellas. Though her objective to become "the one" revealed itself differently than she imagined, the result was evidence that there was something bigger in store.
Already having a presence on Vine and Instagram due to her singing videos, Tam's performance of "Santa Baby" prompted Kelly to extend an invite to be a part of the group. Shortly after a phone conference with the Weirdo Workshop team, things effortlessly fell into place.
"I felt a pulling immediately," Tam recalls. "They flew me out to Nashville. I got a chance to meet everybody, hear music and vibe out. In that moment, I knew that I needed to be back here."
The reality of going into the unknown was a common fear across the board. Second-guessing the decision to move to cross country, leaving behind a stable career, and relinquishing control to let faith lead the way were a number of apprehensions the group had to conquer. Yet, they knew in order to move forward, fear had no place in what they set out to achieve.
The Shindellas have been releasing music since 2018, but their debut album Hits That Stick Like Grits has put people on notice, garnering recognition that is beyond well-deserved.
Kaci explains, "It really is the story of us and everything we want to leave in this world. We went into it telling the guys we want to talk about more than just romantic love. We want to talk about self-love. We want to talk about the fears we faced, and we want to tell our truth in that. Womanhood. The album sounds like a woman."
Mature, assured, confident and vulnerable, Hits That Stick Like Grits fills a void in R&B and music as a whole. Aside from stepping up to the plate to represent the withdrawn space girl groups has taken over time, The Shindellas have an honest mission behind every fiber of their being.
Their heady vocal capacity, razor-sharp harmonies, and ability to manufacture bodily reactions from listeners are the misplaced locks the triad has opened with their official premiere.
They touch on a missing sentiment in music on the album's intro with the lyric, "Why nobody's singing like the rent is due?" It's a thought that has been echoed throughout the years, and the Weirdo Workshop signees have an idea of why some have been late on their payments.
"There are wonderful singers out there not being amplified or they're still trying to find their full truth," Stacy explains. "They're still in that search and just need a little support to get there. I think a lot of people are taking the low-hanging fruit. It's not always easy telling your truth and thinking outside of the box the way that we do. Every day, it takes the three of us to come together in a shared mission to move forward. We don't see that. We're not shown that. And that's what it speaks to."
Kaci adds, "The music industry has never been controlled by musicians. There's also this element as social media has grown, which is amazing because you have access to so much more, there are people controlling who's on a playlist or who's being amplified. They're not all musicians.
There's a business model that doesn't fit in with being an artist. In order to get yourself out there, it's easier to follow the model so that your music is getting heard. There's a lot of singers who are incredible, but just to be heard, have to kind of reduce to this [model] to get their voice out."
She continues, "It's scary when you aren't hearing big singing to come out singing big because people aren't used to it anymore. We're reintroducing people to that [on the album]. That was why it was important for us to all sing leads. We all have different voices. We need to hear diverse voices and performances again."
Banishing fear from any space it occupies, "Fear Has No Place" is an intrepid declaration of standing in your capabilities. With subtle church organs, the sermon-adjacent energy aligns with their reasoning to release the album on a Sunday.
Getting past all doubts has been a theme for the ladies. This track has served as a supportive guide for Stacy. "It got us through 2020," she admits. "It's a mantra. 'Fear has no place in my heart.' It really pulled me through. It also helped to musically pull me through the rest of my fears that I had to shed, in order to be myself vocally."
For Kasi, the following track, "Lullaby" happens to mean the most to her. Backed solely by a piano, The Shindellas beautifully awaken our subconscious with a choral arrangement of affirmations to remind us that the power in being ourselves as we are is more than enough.
"To me, it sounds like you've heard it [before]," Kasi realizes. "It feels like you grew up with it. It sounds like your fairy godmother. Every time we perform, when we [sing] 'I am what God made / beautiful and brave,' I can't help but put my hand on my chest. I can't help [to react] when we say, 'For an instant healer, find the closest mirror.'
We were performing one day and I always would picture a mirror, but I just happened to look over and we were around a piano. I saw [Stacy and Tam], and was like, 'You are my mirrors.' It reminded me, what we want is to show that when women come together, powerful things can happen. Our sisters, our community, our tribe, those are our mirrors too."
Tam has a sentimental attachment to the closing number, "Happy To See You." Originally released in 2018, the soulfully acoustic track challenges people to honestly reflect on their happiness as the ladies recognize their listeners in their true entirety. Possessing a slight '90s feel with the instrumental arrangements, it's no surprise that many gravitate to the song. The delivery of the lyrics alone is a melodic magnet that'll undeniably lift your spirits.
"It was the very first song that we sang together," she reveals. "It's a fan favorite for so many reasons. That song really spoke to me the most. It was demoed at the time, but where we took it was magical."
Words to describe the bond between these women would truly be a disservice to what they've built. Their dedication to creating great music is equally important as the relationships they've fostered within themselves and amongst each other.
While a significant amount of current music tends to make us subdue our emotions, Hits That Stick Like Grits is deeply encouraging people to honor and process their feelings, not simply because they exist but also because they're genuinely valid. The Shindellas are giving us something we didn't know we needed and their exceptional gifts couldn't have come at a better time.
Stream The Shindellas' debut album, Hits That Stick Like Grits, below.