Many have heard the saying: If it ain't broke, don't fix it. It's a timeworn phrase often thrown around in different spaces, much like the music industry, to keep individuals seemingly complacent in an area of their forte.
Eric Bellinger's artistic scope and effortless talent have helped him easily dominate the world of streaming for a solid decade, continually releasing a plethora of diverse projects, all of which he never considered a proper album. He came to this catalog realization after seeing a Nipsey Hussle interview where he proclaimed he had never come out officially since there was no machine backing him.
"He was like, 'Yo. I ain't never released no album. You're not calling this no album until it's released on a major label [and] until it has the same fair push as these other [artists]. So until then, I ain't released no album. I've been releasing mixtapes, LPs [and] EPs,'" Bellinger tells Rated R&B via a video call.
Identifying with how the late rapper/philanthropist categorized his intermediary releases, Bellinger approached New Light, his first full-length album, with commercial promise and implemented key elements from a major-label playbook to his independent action plan.
This aim included upping the ante on everything from his publicity team to photographer and videographer, along with the choice of high-profile songwriters and producers he involved this go-round. "It may seem like it's independent, but we're doing it, real major," Bellinger affirms.
He adds, "I feel like being independent forced me to be a boss and make sure that everything that I want to do is everything that I want to do. But, with that comes delegation, trust, patience, and willingness to remain a student while still in most situations needing to come across as a teacher."
Bellinger issued the uplifting "Shine On The World" as the first single from New Light, which was highlighted by three additional early tracks, including the exclusive "Only Fan," the gift-giving "Go Get It," and the Sevyn Streeter-assisted "What About Us."
Aside from Streeter, a frequent collaborator, he amplified his profile with contributions from Brandy, Dom Kennedy, Kierra Sheard-Kelly, Teedra Moses and The Game.
In our interview with Bellinger, he discusses New Light, working with Brandy, evolving as an artist, working his wife into his visual world, and more.
You are by far the most consistent male R&B artist. Last year alone, between joint tapes and solo work, you released six projects. With each new release, what would you say is the one thing that remains constant and motivates you to record?
I would say that each project is a theme of what's going on currently in my life. Although there's been a lot of them, every project has always been true to the moment and timeline of my life. When it was Choose Up Season, I was choosing it up. When it was Cuffing Season, I was cuffing. When it was Eventually, I was giving hope to the ladies. On Eric B For President [Term 3], I was campaigning to be the greatest. Then, when it was quarantine time, I adapted. Now, since I've had a lot of time with the quarantine, it allowed me to tap into this new light and find a new character, new motivation, and a new drive for myself.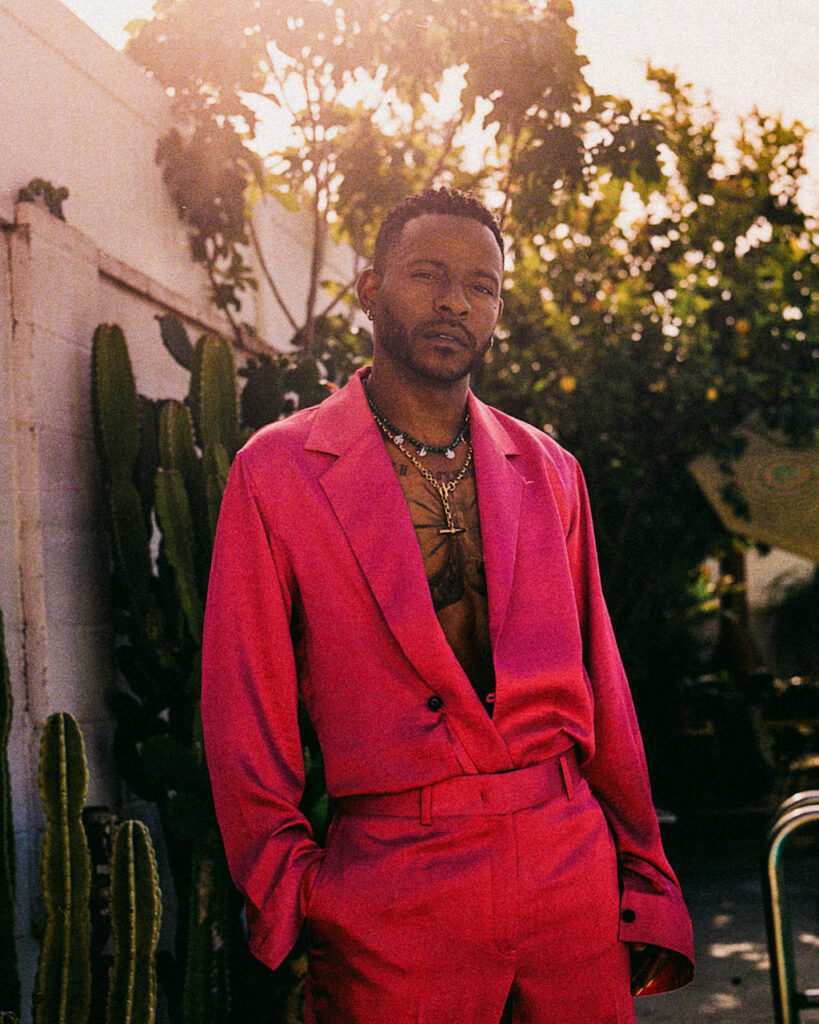 If someone were to look at your discography and see so much music to choose from, they might assume you have trouble focusing on one project. Is there any truth to that?
As far as the consumers, they can listen at their own pace. I may create faster than n***** able to listen, but that don't mean you are forced to listen. You can listen to one project a year for 35 years. Now, at 70 years old, you're finishing the Eric Bellinger project compilation series, except I might have a couple more, so you might have to finish at 80 years old (laughs). I feel like if you can listen, listen. If you can't, pick one. They are all going to be good.
If there's one thing to be said about you, you're not afraid to collaborate. Your last solo studio album,

Eric B For President: Term 3

, had no guest appearances, though. Your new album

New Light

does. How do you know when it makes sense to have a featured artist rather than manning a track alone?
It depends on my intention at the moment and other artists' availability as well. Term 3, I was creating new songs at home, and nobody was really working. It was just me. Instead of trying to get features on the songs, I said, I'm going to give people a body of work just on me, except for I'm going to have my wife in all the videos. I'm going to shoot a video for every single song [and] tell a story.
I remember seeing your wife in multiple videos last year, and you were tributing her in various ways. How was it including her in your creative space in that way?
It's good. Luckily for me, the way our relationship works, I am in love with my best friend from 20 years ago. We put each other first. We're not trying to go viral. We respect each other so much. People see that. People know we not here for no gimmicks. We love each other, and y'all just happened to get to see it and witness what's going on.
Is it ever difficult for you to think of your fans looking at you through fresh eyes as you evolve as an artist?
The main thing is me genuinely finding out who I am at the moment and what I want to be. Luckily my fans have accepted the trial and error that comes along with Eric Bellinger. They feel like they're a part of my journey.
You and Sevyn have great collaborative energy, having linked up for songs on your earlier projects, The Rebirth and Born II Sing Vol. 3. It's no different on "What About Us." What was the vibe like reconnecting again?
The third time's a charm. We had "Film Me" and "Catch 22," but this is the first time we shot a video. In a lot of cases nowadays, if you ain't got no video, it ain't no real song because YouTube is the only platform in certain countries in the world. I look at it like now they're getting to see us together. [She's] my friend and my family. We grew up in this music together, from writing for artists and releasing projects [and] supporting each other. Now people can see real, genuine chemistry.
Brandy makes an appearance on New Light for "Euphoric." What did you take from your studio experience with her?
I learned that you got to go for it because there was a moment where I was closing out the album. I was like, "Man, I really would love Brandy on a song. That would be fire. I don't care what song. I don't care what she do." It came a moment when I was like, "Just hit her. Just got to reach out. You got to go for it." As I went forward and talked to her, we merged the question into scheduling, the scheduling into execution, and the execution to mixing and mastering. Then the mixing mastering to the actual signing of the side artist agreement. It's a lot of steps [before things] come to fruition, but the whole process just let me know, "If you want something, you got to go for it."
Is there any plan to shoot a video for the collaboration?
I want to do some more videos, especially that one. We could do something real futuristic. When I played that song a couple of times for people before Brandy was on it, they were like, "I don't know, E." I'm like, "It's different [and] futuristic. This bounce ain't your normal bounce. My melodies, my cadence (starts singing), I knew what that was, and Brandy knew what it was, and those of you that hear it know it's just different. It's not the same type of bounce or the same energy. So I knew when I played the song for Brandy, it needed to be something like Full Moon or Afrodisaic. Something next level.
I love the choice to use bounce music on "Girls Like You" featuring Teedra Moses. How did this song come to be?
I went to a week camp in Orlando. It was the first song that we wrote in the camp. I asked the producer, KC, "Yo, we need something bounce." He's from New Orleans. I was like, "Yo. I know you got one of those bounce beats, bro. I need something catchy, fun, TikTok, summertime [and] will make people go crazy." He played that beat [and] I'm like, "Yo. This is crazy."
When it came down to picking a feature, Teedra is somebody that I love and have been a super fan of for a long time. Me and Teedra had been DM-ing already for months. We met at a Grammy committee voting board and got super cool. I was like, "Yo. We got to do music. I'll let you know when I got the one." ["Girls Like You"] was it. I sent it, and that was the fastest turnaround. She sent it back in two days, and I'm like, "This is how it should be. No politics. All love and family." A lot of the songs and the process were that easy.
You've described this new album as a reintroduction to Eric Bellinger. What's the impression you are hoping to leave in the minds of existing and new fans?
That I am the R&B singer for this culture [and] generation. Not only because I can sing because I understand what it means. I've studied the greats. I know what Usher did and what everyone that has come before has done. I know what Eric Bellinger could do. I'm paying attention to everything around the music now to make sure people have a little bit more to hold on to. I think the album sounds exactly how I want it to sound. Now, I can say I have an R&B album. I know a lot of the music that I've released in the past has been a lot more uptempo, from club songs [and] real turn up because I'm from the West Coast. That's what we do. We turn up.
But I'm an R&B singer. I went to Atlanta and worked on this album. A lot of the music you [hear] got Jazze Pha [and] Ayo & Keyz [on it]. A lot of these songs are going to be the heartbeat for R&B, and I understand that. I had to get my turn up off. Now I think people can expect a much wiser and mature Eric Bellinger for the albums to come.
Experience Eric Bellinger's New Light below.