"Coming out of the rubble of It Was Good Until It Wasn't and into the light, on to the road," Kehlani tweeted in September 2021, along with a trailer for their third album, Blue Water Road, the follow-up to 2020's It Was Good Until It Wasn't.
The artwork for It Was Good Until It Wasn't illustrates two perspectives. The front cover shows Kehlani standing on a wicker chair, with a running garden hose in hand, as they peek over their stone wall into a neighbor's backyard.
It appears to be the perfect summer day with light blue skies and minimal clouds. Contrastingly, the back cover shows Kehlani in distress and teary-eyed, as their smoke-filled backyard has been destroyed by debris from their burned home.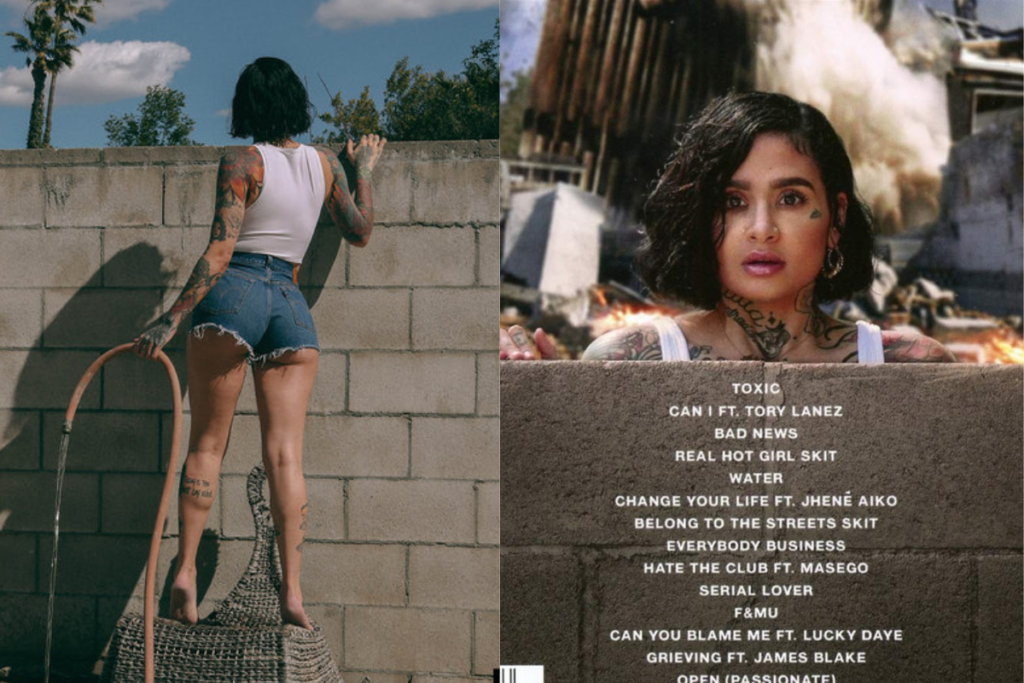 "[The destruction] is technically in my backyard—this is the shit that's going on in my life, in my head, in my spirit," they explained to Pitchfork. "It tells the story of the album, of a romantic situation I was in, with everything behind me being really crazy, and what's in front of me being really crazy too."
Both sides of the cover depicted a harrowing picture of Kehlani's quandary, where what was behind them was ruined, and what was ahead of them looked doomed.
The Blue Water Road trailer sees a bloody and bruised Kehlani hobbling along a deserted dirt road at dawn. They escaped the mayhem occurring in It Was Good Until It Wasn't but got hurt in the process. Towards the end of the eerie clip, Kehlani is overshadowed by a mysterious figure.
Blue Water Road's cover art evokes a different mood, though. At a glance, Kehlani appears more relaxed and serene, swinging their wet hair — which grew since the previous album cover — with a scenic view of the Pacific Ocean behind them. It's the first time we see a candid photo of Kehlani on an album cover.
It's indicative of their blissful approach to Blue Water Road, out now via TSNMI/Atlantic Records. The 38-minute body of work was executive produced by Kehlani's longtime collaborator Pop Wansel, who has worked with artists like Usher and Nicki Minaj.
The opener, "Little Story," sees Kehlani being forthright about their shortcomings that played a role in a past relationship's demise. They take accountability for being emotionally unavailable, hoping they can turn the page and start a new chapter together.
Over bucolic guitar plucks and sparse string swells, Kehlani sings: "Oh yeah, I want you to do it again / I want you to pick up the pen / And write me into your story / You know I love a story / Only when you're the author." Kehlani later reveals in the song that they've been "workin' on bein' softer." It may sound like a simple lyric, but it's a line that unlocks the depth of the rest of the album.
Being a softer person doesn't necessarily mean being weak. We naturally armor ourselves in uncomfortable or endangering situations. It's a form of self-protection. We're able to turn it off in some cases. But there are moments when we cannot turn it off because we're so used to constantly having our guards up. These experiences add to our emotional baggage that weighs us down like a computer's cache.
Kehlani previously described Blue Water Road as a destination in their mind. "I'm giving everyone access. It's an emotional journey, a sexual journey, and a spiritual journey," they explained. While "Altar" describes a spiritual connection to lost loved ones, Kehlani spends a lot of time swimming in the sea of love on the album.
On the Justin Bieber-assisted "Up At Night," a lovestruck Kehlani can't seem to get their partner off their mind. "Thoughts of you keep me up at night," they sing on the breezy tune, which samples Soul II Soul's "Fairplay" on the production. "Melt," one of the album's standouts, written solely by Kehlani, beautifully captures the feeling of falling in love. Kehlani is so deeply enamored by their partner that their connection feels like they are morphing into one being. "If I ain't have all these tattoos, I would think that it's your skin," Kehlani sings on the buttery smooth tune.
"Tangerine" is the most sensual track on the album. With writing support from Nija and Phabo, Kehlani metaphorically sings about oral sex with their woman: "Nectar on my face again." The erotic track transitions seamlessly into "Everything," Kehlani's self-penned love note to their partner.
The softness they were working on in "Little Story" is on full display on "Everything." Kehlani's heartfelt lyrics are caressed by warm violin strings and delightful guitar strums. "I love the way you tеach me / Love the way you listеn / You know all my details / You so damn attentive/ You got my attention," Kehlani sings on the self-penned tune.
Blue Water Road is the calm that happens after a storm. A more matured and mindful Kehlani shines throughout the project. Interestingly, their original plan was to record songs for a deluxe edition of It Was Good Until It Wasn't.
Kehlani rented out an Airbnb on Bluewater Road in Malibu, California. As they got more involved in the recording process, they became disconnected from the album. "Mentally, I wasn't in the deluxe of my last album. Mentally, I was super far away from my last album in general," Kehlani told Nadeska Alexis of Apple Music's R&B Now.
Instead of adding to the chaos happening in the previous album, they used the opportunity to escape. The voyage to Blue Water Road started at the scene of It Was Good Until It Wasn't with the running garden hose. It was Kehlani's attempt to put out the fires happening around them. Sure, there are instances when this makes sense, but there are other times it's unbearable, and the only option is to let go. Ultimately, Kehlani decided to create a new world with Blue Water Road instead of attempting to rebuild their damaged property with a deluxe album.
Blue Water Road is a holistic view of Kehlani's transformative journey to contentment. It's light and joyful, but it's not toxic positivity. Kehlani doesn't pretend that all their problems and flaws magically disappear at Blue Water Road. The Jessie Reyez-aided "More Than I Should," which mimics the bass synths in Ginuwine's 1996 classic "Pony," finds Kehlani unfaithful in a relationship. They try to justify their disloyalty by asking their sidepiece: "Is it really cheatin' if she ain't lovin' me right? / If she's not touchin' me right? / Leaves me lonely every night?" To complicate matters, Kehlani seems to be catching feelings: "And I like (You) / More than I should."
Kehlani connects with Syd for the third time on "Get Me Started." (They previously worked together on "Out Loud" from Syd's latest album, Broken Hearts Club, and "Birthday" from Disclosure's Energy album.) On "Get Me Started," which features background vocals from Ravyn Lenae, the two try to make sense of a dwindling relationship and whether it's worth saving or not. While Kehlani prefers to "choose peace over stress," Syd sings from the perspective of a partner who isn't ready to call it quits.
"Wish I Never" is a kiss-off to an ex ("I'm so over this / I wish I never") with some personal accountability sprinkled in ("Never meant what I said to you"). The upbeat production samples Slick Rick's 1989 hit "Children's Story." Sidebar: Kehlani's "How We Do Us" from their debut mixtape Cloud 19 contains elements of Montell Jordan's party-starter "This Is How We Do It," which also samples "Children's Story."
Speaking of party starters, the two-step banger "Any Given Sunday," featuring Blxst, will get any brunch crowd moving with mimosas in hand. Co-written by Phabo, the flirtatious groove shows off Kehlani's confident side. "Call me daddy, in front of all your bitches in the lobby," they sing.
Kehlani concludes the album with "Wondering/Wandering," featuring Thundercat and Ambré, where they candidly share lessons learned from their self-discovery journey thus far. "I had to learn to trust and fall / Receive it all, surrender," Kehlani sings. In the end, we hear a cute exchange between Kehlani and their daughter Adeya as they observe "blue water" and "boats" in the distance.
Overall, Blue Water Road makes for a listening experience that will move the body, declutter the mind and uplift the spirit. Kehlani's sparkling energy shines throughout the album like sun glitter, and the track sequence flows like a gentle breeze. It'll leave you wondering where Kehlani will venture on the next album.
Score: 7.8 out of 10
Standout Tracks: "Get Me Started," "Everything" and "Any Given Sunday"
Stream Blue Water Road by Kehlani below.
Release Date: April 29, 2022
Label: TSNMI/Atlantic Records