Over the past two decades, Faith Evans has created an incalculable collection of first-class R&B music. Since her debut album Faith, released in 1995, Evans has captured the hearts of music lovers with her gospel roots coupled with her contemporary R&B and Hip-Hop sound.
With songs like "You Used To Love Me," "Never Gonna Let You Go," "I Love You" and "Kissing You," Evans' music has resonated well with fans and critics. Even her independent projects Something About Faith and R&B Divas received much support — especially the latter album which was nominated for a 2014 Grammy for Best R&B Album.
With a musical resume to be proud of, Evans plans to release her sixth studio album, "Incomparable," this year. The title of the album was inspired by one of her faithful fans. "I took that phrase from one of my fans who called me 'the incomparable Faith Evans,' darling," she laughs. "I said, 'I like that' and I thought it would be a nice title."
If you think Evans feels pressured to compete with her R&B counterparts, think again."I certainly feel confident that I've created my own niche and my own lane as far as in female R&B music," she says. "I definitely know there is only one Faith Evans."
While Evans could toot her own horn about one musical trait she has that sets her apart from other female artists, she can't think of just one attribute. "That's hard to say because I don't think it's so much of just one thing but a combination and how I present it," explains Evans.
"There's a lot of people who have the same musical traits or maybe they listen to the same people or have a gospel upbringing or listen to jazz music, you know what I'm saying? But the way I present it is just the way I present it. I can't even really tell you what it is," she laughs.
Although she can't identify one trait, her fans have. "I know my fans say the way I do my backgrounds and lay out my harmonies but that's just something I just kind of developed over time with me recording in the studio since I was a pre-teen," explains Evans. "I'm really, really good at arrangements, background arrangements, and song arrangements but that's just one element."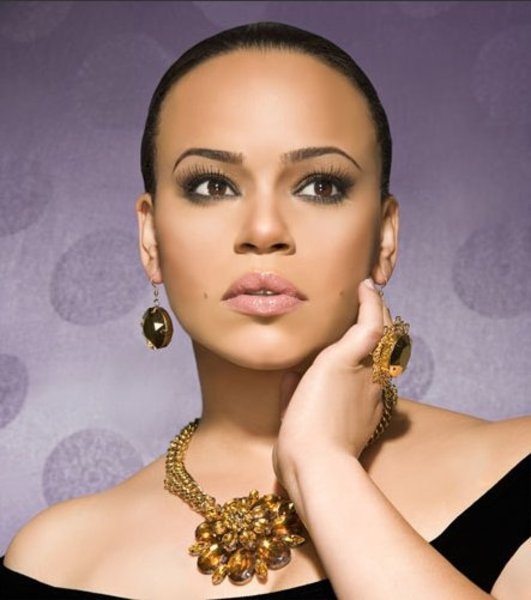 Migrating back to the details on her new album Incomparable, Evans confirms that she collaborated with fellow R&B powerhouse Keke Wyatt on a track called "Make Love," which was recorded during season two of "R&B Divas: Atlanta." She adds the hook on the track produced by Lamar "Mars" Edwards of 1500 or Nothin', is reminiscent of "Come Over" off her debut album.
"We were in LA, watching R&B Divas together and I was playing some unfinished stuff from my album and that track came on and it was just the hook. Then Keke started singing and I said, 'Hey, let's go in the studio," says Evans. "So we all jumped into five cars and 20 people just went to the studio. I let her lay her verses down, which she wrote. Later on, I sang the second verse over and we got a dope record."
While some artists may change his or her sound to follow the trends of today's R&B music, Evans doesn't plan on doing that with Incomparable. "Definitely no reinvention over here. I'm not really one to fix something that's not broken," she says. "I've never been one to try and do something because of what's hot right now. Don't get me wrong, if I felt like I needed to by all means I wouldn't be opposed. But that's really not what's in my spirit."
Instead, Evans is more interested in making timeless music. "I'm very happy with just the fact that I consistently put together good music — whether it's as promoted or not. Whether it sells as much as the last one or not," says Evans. "Of course that's your goal to sell records and to get fans but at the same time I'm very happy with the fact that I have an album full of quality, good R&B music."
Evans says she has no problem working with different producers and new artists. However, she makes it clear that she isn't pressed to work with anyone because of his or her popularity in the industry. Evans' collaborations with producers and artists usually happen organically, which is why she can proudly call producer Chucky Thompson her musical soulmate. "We created such great and classic songs just off the whelm," says Evans.
"Just kind of clowning in the studio with our talents. I would hear him playing a bunch of chords and say 'You should loop that and I'll write to it.'Those were just magical moments because we were having fun and doing what we were blessed to do."
Thompson, who worked on Evans' debut album has been in her life for nearly 20 years. She declares that Thompson's production will never be something not worth listening to because he's so musically talented. She also realizes no matter where they are in their careers, he will always be like family to her. "He's like my brother," says Evans. "We talk and work together constantly…so that's a musical relationship that I will always have. Good people recognize good people."
Along with working with Thompson on her first project, she collaborated with him on Mary J. Blige's sophomore album My Life. This November will mark the 20th anniversary of the album. While Evans was still a rookie in the industry during the recording process, she knew the album was destined to be magical. "I knew it was a hit album," recalls Evans. "Even the songs I wasn't a part of I just felt a certain energy and the way Puff [Daddy] was going at it."
She describes the recording process of My Life was like an assembly line, "There was somebody different in every room working on a song," says Evans. "Mary [J. Blige] would pop in and out and do her thing — lay her parts, write her parts. By the time we actually hooked up and became friends, a lot of the album was already done. But Puff would call me in if something was missing like a bridge, a hook or a vamp. Then we would go to the studio, go to the clubs, come back and finish working in the studio. It was awesome."
After talking about her contribution and memories of the My Life album and barring away from her musical happenings for 2014, Evans explains why she will not return on season three of R&B Divas, a show she once executive produced. She stands behind her decision that she never wanted to be a cast member. She just wanted to be an executive producer. However, once cameras started rolling and she could not be as plain-spoken as before, she knew it was time to remove herself from that entire situation.
"If I could not have creative input, then it didn't make sense for me to be a part of it, especially as it pertains to myself," says Evans. "I have a lot of things that are dependent on me like legacies and such. So I have to be mindful of that and careful of what I attach myself to. So, in moving forward, for me I have to have some kind of creative input. That's how it is with my music and that's how it has to be with everything else I do in business. So that's not excluded."
Evans also touched on the potential duets album with Carl Thomas who announced the plans last December. Despite all the attention, the possible joint album garnered — no recording has been started and probably won't anytime soon.
"Carl and I have definitely talked about doing stuff together in the future and an album was certainly something we talked about but it's not something actually in the works," Evans reveals. "We initially talked about a project that I'm going to do with a bunch of different male artists. I wouldn't rule it out [duets album] but it's not something that's actually in the works right now."
As far as other her musical projects, Evans hopes to hit the studio with music legend Anita Baker for a project outside of R&B that could follow the release of her sixth studio album. "Ms. Baker says she wants to write together on a song but I'm like girl I will let you write for me, " laughs Evans. She explains why she would leave everything to the "Lately" singer.
"When I'm around grace I just fall back — sometimes too far back. They be like 'Girl if you don't sing,'" laughs Evans. "I just get extremely nervous and shy. Not like I doubt myself but it's just a respect thing. It's like do you have to be in here while I sing. But I'm actually going to break out of that in honor of Ms. Baker wanting to write with me."
While Evans has her forthcoming album Incomparable slowly cooking on her musical stove, she anticipates turning on a few more burners for different projects she hasn't tackled just yet. "A greatest hits record and a live album — but those are things that won't be so tedious to make," says Evans.
"Even outside of music, there are a lot of other TV projects that I have in the works. I have some film projects that I want to get the time and the finances to take time out to just focus on those things for a minute. I don't like to have too many things going on at once but I will try my best to get them done. If you're going to cook a meal, you got to cook a meal. I'm always doing something."
Evans plans to release her "Incomparable" album this summer. Although she's been working on the album for almost two years, she still doesn't have a concrete date for the soulful collection. She just wants her new album to be right for fans and have the proper setup to reach them. "Even to me with the R&B Divas [album] it had the element of the TV show. However, that does not necessarily equal people buying the album," says Evans. "So [the new album] still needs a certain amount of promotion, which I hope to have. I'm excited about it."
If you missed part one of our interview with Evans where she talked about her new collaboration with Missy Elliott, check it out here.
Follow the R&B veteran, Faith Evans on Twitter @faithevans.