Front + Center is Rated R&B's artist discovery series, putting new and emerging R&B singers at the center of your attention.
Joyce Wrice pans her camera on a Friday afternoon Google Meet call to the recognizable window from her music video, "That's On You," which was shot last year in her Los Angeles home.
The singer/songwriter had to adapt to the adjustments of the world but as a creative, Wrice makes optimal use of her resources, transforming them into simplistically beautiful pieces of art.
Before Wrice created her own music and lent her vocals to melodic boom-bap production for rappers like Westside Gunn and Asher Roth, she recalls falling in love with R&B and hip-hop/soul from car rides with her father.
"Vividly, I remember being about four or five," she shares with Rated R&B. "I was in the car with my dad, and we were just getting inside the car from the store. 'Only You' by Biggie and 112 started playing, and I was like, 'Oh my gosh, what is this? I love this!' I loved everything about it. So, that kind of introduced me to hip-hop.
Then my dad had Tamia's album, her first album. When that was playing in the car, I was so fascinated by her vocals, the emotions behind the vocals, the backgrounds, the harmonies, the ad-libs. What she was doing was what I wanted to do. In that moment, I was like, 'I want to do that.'"
Those influences became the commanding energy that can be felt in her latest single, "On One," featuring Freddie Gibbs. The irresistibly mellow jam is reminiscent of the R&B/hip-hop duets that reigned supreme in the '90s, providing a slightly uptempo transition from the sinuously moody trenches of the genre's current landscape.
The recoiling bass trails behind Wrice's honey-glazed vocals, juxtaposed by Gibbs' soothingly rugged tone to create a car worthy track that's right on time for the spring/summer season.
Wrice released her first project, Stay Around, in May 2016. The EP features production from J.LBS (Jorja Smith, Justine Skye), SiR, and her good friend Mndsgn, who is integral to the start of her singing career. Wrice credits him for helping her find her sound and her voice during a period of discovery and development.
"Stay Around…it was just a girl who loves to sing and create. She had gotten her heartbroken and put all that pain and emotions into the music. It was the EP that was made off of me hustling at the time. I was juggling jobs, so my sessions were at like midnight to 5:00 a.m. just to go back to work in the morning. I'm really happy with the songs that we made, still. It was a time where I was figuring it out, and I'm so grateful for it."
A little shy of five years later, Wrice finds herself releasing her debut album, Overgrown. Executive produced by Grammy award-winning producer D'Mile, the in-demand sound architect, made way for the California native to shine through a well-coordinated body of work. Honored to work with the young legend, Wrice wanted to make sure she gave his amazing production justice.
"My A&R started putting me in sessions, and he put me in a session with D'Mile. When I looked D'Mile up, I was so shocked that he worked with so many artists that I loved. I was like, 'Oh my God, this is a dream come true!' So when we first started making songs together, we had to really get our flow going.
In the beginning, I wasn't really making what I liked, but I had to just trust the process. The first strong song we made was 'On One,' and when we made that, that set the tone of how I wanted my album to be; I wanted it to be energetic. I wanted to have a lot of bounce, and I really wanted to challenge myself to make more uptempo records."
As producing a final product holds just as much weight, Wrice practices mindfulness and revels in the opportunity the process brings. She converted her occurrences with life and love into a proudly therapeutic album that freed her from past situations.
"I had some experiences and went through a lot of different emotions and lost myself. I was able to use these studio sessions as opportunities to put how I'm feeling in song form and take what I was writing in my journal into the music. I was really able to create value from the heartache and pain that I was going through and also the good times, too, make it into songs."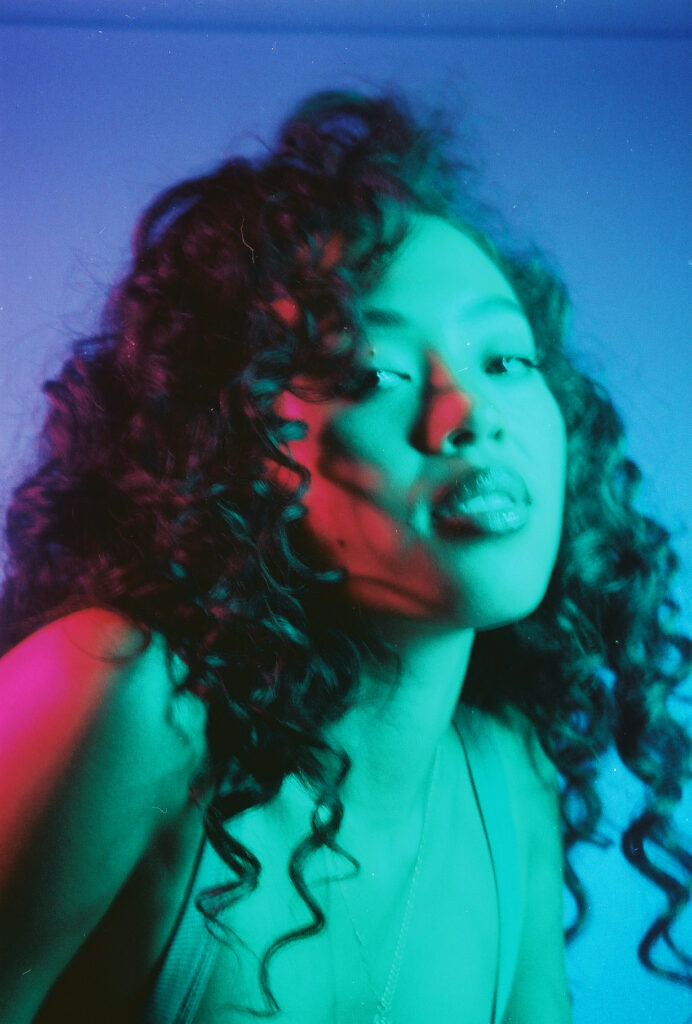 When it comes to reaching goals that one set for themself, there's a stage of metamorphosis to get through. Doubts and fears have to be left in the past to move forward onto something that'll cause a significant change.
The album closes with the title track, where Wrice recognizes what it takes to leave her comfort zone to step into an unknown but fulfilling space. As she arrived at a point where she was tired of letting her fears define her, she placed her struggles on a stripped-down, piano-based record to not only edify and reflect on her own journey but for listeners to do the same.
Wrice also lends encouragement by highlighting her Japanese heritage, an important aspect of who she is as an artist and a person.
"I think representation is so important. I want people to feel a part of what I'm doing. Especially, I think for the Asian community, it's really difficult to see yourself in this industry. It's very rare. It was important for me to shed light on my Japanese culture. I grew up listening to Japanese music that had English incorporated in it. So it inspired me to want to do the same."
Being an independent artist is an undaunted position where accountability and ownership lie within the person and team willing to do the work. Having full creative control over every aspect of your career can be scary but calling all the shots is tremendously rewarding.
During the last three years, the road to Overgrown has been paved with new developments, challenges, and uncomfortable moments that Wrice can admit have ultimately made her the happiest she has ever been. In casting away her apprehensions to make way for the victories, she allows others to step into the warmth of her light.
"I want them to be inspired. I want them to feel encouraged, uplifted, and I would love for people to just feel something, anything. I would love for them to want to play it for someone else. I think it's so fun when you can share something you really enjoy with another person. I would love for that to happen. I would love to be the soundtrack to people's lives."
Listen to Joyce Wrice's debut album Overgrown below.
Stream Rated R&B's Front + Center playlist on Apple Music and Spotify.