In recent years, music lovers have expressed their desire to see more active R&B groups. If you're on Twitter, chances are you've seen posts of fans reminiscing about some of their favorite groups while also yearning for them to be more prominent. FLO, the British trio consisting of Jorja, Stella and Renée, is here to fill the void — and they're off to a great start.
Their debut single, "Cardboard Box," went viral on Twitter after a snippet of the video was shared on the platform. The clip has four million views and the official video on YouTube has garnered three million views since April.
Produced by MNEK, "Cardboard Box" is a revival of late '90s/early '00s R&B. Much more of that sound flows throughout their debut EP, The Lead, which is out now via Island Records UK/Uptown Records/Republic Records. "We were literally brought up on that music. Our parents played that music [and] taught us about music. That's our inspiration — that whole era," Renée tells Rated R&B over a video call from London.
The Lead opens with "Cardboard Box," a catchy kiss-off anthem about being fed up with an unfaithful lover. "So I'ma put your shit in a cardboard box / Changing my number and I'm changing the locks," they harmonize on the chorus.
"Immature" explores the lack of communication in a relationship. "Summertime" is a blissful tune about enjoying time outside with friends and not letting anyone steal your joy.
On the penultimate track, "Feature Me," FLO offers a peek at their sultry side as they sing about taking control in the bedroom. "Set the scene and feature me / Touch on me / Get on your knees / I'll take the lead," Stella sings on the chorus.
The closing track, "Another Guy (Acoustic)," is a melancholy ballad that tells the story of a love gone wrong.
FLO has spent the last few years bonding and creating music. The Lead is just a preview of what's to come from the promising group. "We're very proud of [The Lead]," says Stella. "It encapsulates us being together, being strong and getting through anything. I think that's a good message we like to put out for the people who listen."
Renée adds, "For me, the EP literally means taking the lead, being strong in all that you do and being a woman."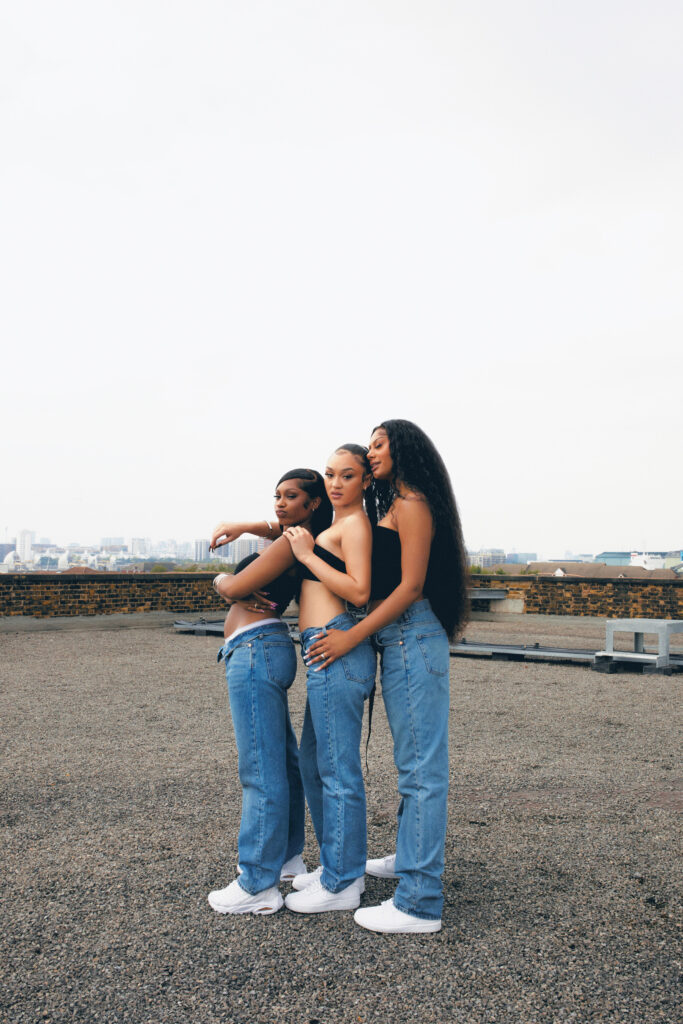 In four months, FLO has already gained 580,000 monthly listeners on Spotify and 330,000 followers across their social media channels. The group is already attracting devotees who have created fan accounts on social media to keep others in the loop of what they're doing. With a lot happening so fast online, the group remains committed to protecting their mental health.
"We have each other, which is a really amazing thing," says Renée. "Whenever something's going on, we can lean on each other. I [also] have my mom who I can talk to about anything. I always trust the advice that she gives me or like how she tells me to deal with a situation."
Jorja is adamant about keeping her circle small. "It's scary when you start adding more people into the mix. You cannot trust any of these people. So, just keep your circle small because you don't know anyone's true agenda."
Stella concludes, "It's important to set boundaries with how much time you spend looking at social media. It's hard to do because you want to look at what people are saying."
In Rated R&B's interview with FLO, the R&B trio breaks down every track on their debut EP, The Lead.
1. "Cardboard Box"
JORJA: I remember it being really easy to write "Cardboard Box." It was one of our first sessions with MNEK, who is the most talented person in the world. We was just having a conversation — because usually in the beginning of sessions, you just have a chat about what's going on in your life at that moment in time. I know it was a bit of a rough time for me.
RENÉE: The just words came. It was like [creating] a happy breakup song. You know you're going through a situation, but you still wanna feel good about it.
2. "Immature"
STELLA: Well, we didn't actually write that. It was written at one of our writing camps that we did last year. It was written by our good friends MNEK, KABBA, Ryan Ashley and Jamal Woon. They kind of knew us and the sound we wanted to make and they just literally got it perfect.
RENÉE: When we sung it, it just felt natural like everything we would say. Because we're friends with them, they know what's going on in our lives. It's like a therapist. They write it all out for you and they come to the conclusion for you and then hearing it back, it just makes so much sense. You're like, 'Oh my gosh, you took my words,' and that's what it feels like.
3. "Summertime"
JORJA: We also didn't write that one (laughs).
RENÉE: But, we did inspire that song (laughs). MNEK, KABBA, as well as Jamal [Woon] were in the room writing. Our writing camp had multiple rooms, so we were in another room writing another song. I came in there and they were like, 'Give us some inspiration.' So I gave them a monologue about what I'm gonna do this summer — just good vibes, being with your girls and having fun. Then they made this incredible song.
JORJA: All of the songs [on the EP] are tailored for us. It's not taking random demos. These are songs that have literally been written on behalf of us, so it all feels really natural.
4. "Feature Me"
RENÉE: We did write this one!
JORJA: It's our favorite, as well. That song captures everything we love about R&B. I remember when we first heard that beat. It was at the end of our writing camp last year — literally last day vibes. We'd never worked with this producer. We didn't even know who was coming. He whipped out this beat and it was game over (laughs). I remember on the way back from the writing camp, I listened to that song over and over again in the car. It still just takes my breath away.
5. "Another Guy (Acoustic)"
RENÉE: We also wrote that at our writing camp. We released the acoustic version, but there's a studio version. Aston Rudi produced it.
STELLA: We wanted to do something together. When you're at a writing camp, because there's three of us, we usually split up for a little bit. So, it was an evening. We just had a glass of wine and Aston started on the beat and, yeah, it was cute.
Stream The Lead by FLO below.