LaTocha Scott's solo career began at an early age. Growing up, she had a church choir director, Mary Sims, affectionately known as Sister Sims, encourage those talents.
"She put me on the program and gave me a song called 'I Made a Vow,'" LaTocha tells Rated R&B, seated in front of a piano, dressed in white. "That song catapulted me to a different atmosphere. That was my first solo, and I was nervous at first, but when I opened my mouth to sing, I knew that's where I belonged."
As a youth, LaTocha took her appreciation for Sister Sims and desire to be a soloist to an amateur singing contest, where she won against high school seniors. It certainly helped that she had a father involved in music who helped nurture her and her sister Tamika Scott's singing abilities.
It wasn't long before the two sisters instantly became a distinct force in R&B, where they befriended Kandi Burruss and Tameka "Tiny" Harris, becoming Xscape. Once signed to Jermaine Dupri's So So Def label, the quartet built a solid fan base, and with quite a few hits, including "Just Kickin' It" and "Who Can I Run To," they became one of the most recognizable voices in their field.
While Xscape was unknowingly solidifying a name for themselves at the time, LaTocha still had dreams of being a solo artist.
The idea of LaTocha pursuing a solo career was pitched to Dupri following the group's second album, Off the Hook, released in 1995. "Jermaine came to the group and said, 'Hey, let her do her solo stuff, and you guys can do some soundtracks, and the bigger she gets, she comes back, and we'll do another album,'" LaTocha recalls. "It didn't work out for me in that way, so I stuck with the group, and we just made history."
That fire inside to go solo still lingered after the release of Xscape's 1998 album, Traces of My Lipstick.
After Xscape disbanded for a nearly 18-year hiatus, as other members forged blossoming careers outside the group, Scott stayed active in music. She appeared on The Best Man soundtrack in 1999, contributing her debut solo single "Liar Liar."
The song, produced by Anthony Dent, was also meant for an album titled Life Goes On. That effort did not materialize, though LaTocha remained determined.
In 2003, she released Solo Flight 404, which some would consider the equivalent of a mixtape but what she describes as a "street album."
Released through an affiliation with Raw Deal Records, in conjunction with Rock City, her management at the time, Solo Flight 404 was designed to feed her urge to record music.
"It was just a street album; that's what people were doing when they just wanted to do music," says LaTocha. "It came out to be a good project. I did a couple of shows —a lot down South — and people received it."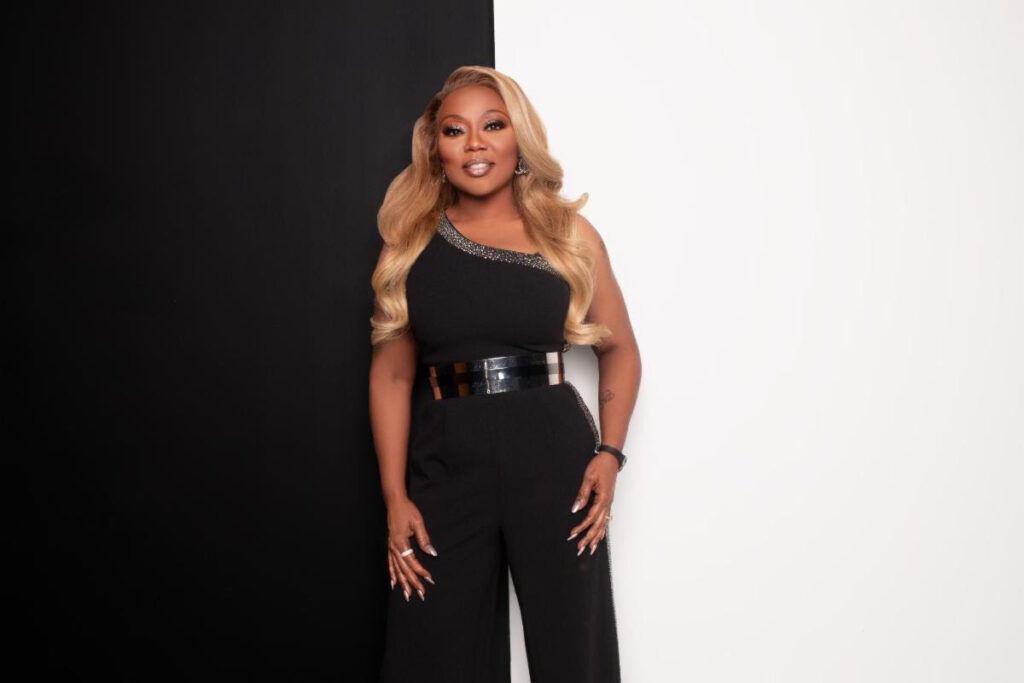 As LaTocha continued to navigate a solo path, more R&B material from her surfaced, even well after she and the rest of the members of Xscape reunited in 2017. The desire to explore other sounds and lean into what her grandmother wished for her and her sister years ago eventually drew her back to making gospel music.
"There are times when people feel like you should stick to one genre of music. My palette is so diverse when it comes down to music," she shares. "The gospel was my first start to music, period. I grew up singing gospel and was like, 'I really want to go back to that.' That's something my grandmother always asked us, even myself, 'Are you ever going to go back to gospel, baby?' So it was always important for me to instill where I came from."
LaTocha's welcome return to the world of worship started with "Full Time Love" in 2021. It's a song title that LaTocha casually references in the intro of The Invitation: A Conversation With God, her proper debut solo album, available now via her Made Girl Music imprint in partnership with Motown Gospel.
Striking this partnership is something that LaTocha sees as beneficial in the long run. "Most of the time, when you sign a deal, the label will supply everything, you get an advancement, and then you have to recoup. That's not the case for me. I ended up investing in myself and did it that way so that I can have ownership, [which] just means that you own your masters and your voice," LaTocha explains.
She adds, "I don't want to live my life and do all these songs for someone else to tell me that they own it."
Two months after announcing this deal, LaTocha released "Stay With Me" as a prelude to her first album.
It helped the music she released subsequently synchronized with LaTocha's appearance on Bravo's SWV & Xscape: Queens of R&B, which debuted this spring. Other singles were issued from The Invitation, including the fervent devotional "I'm Yours" and the R&B-tinged "Afraid."
LaTocha's latter track, the current focus of the album, gained early support at R&B radio, making it one of the most added songs. It is also her first solo song to appear on any Billboard chart, reaching No. 17 on the Adult R&B Airplay chart at the time of publication.
In Rated R&B's interview with LaTocha, she discusses her new gospel album, support within the gospel community, reality television and more.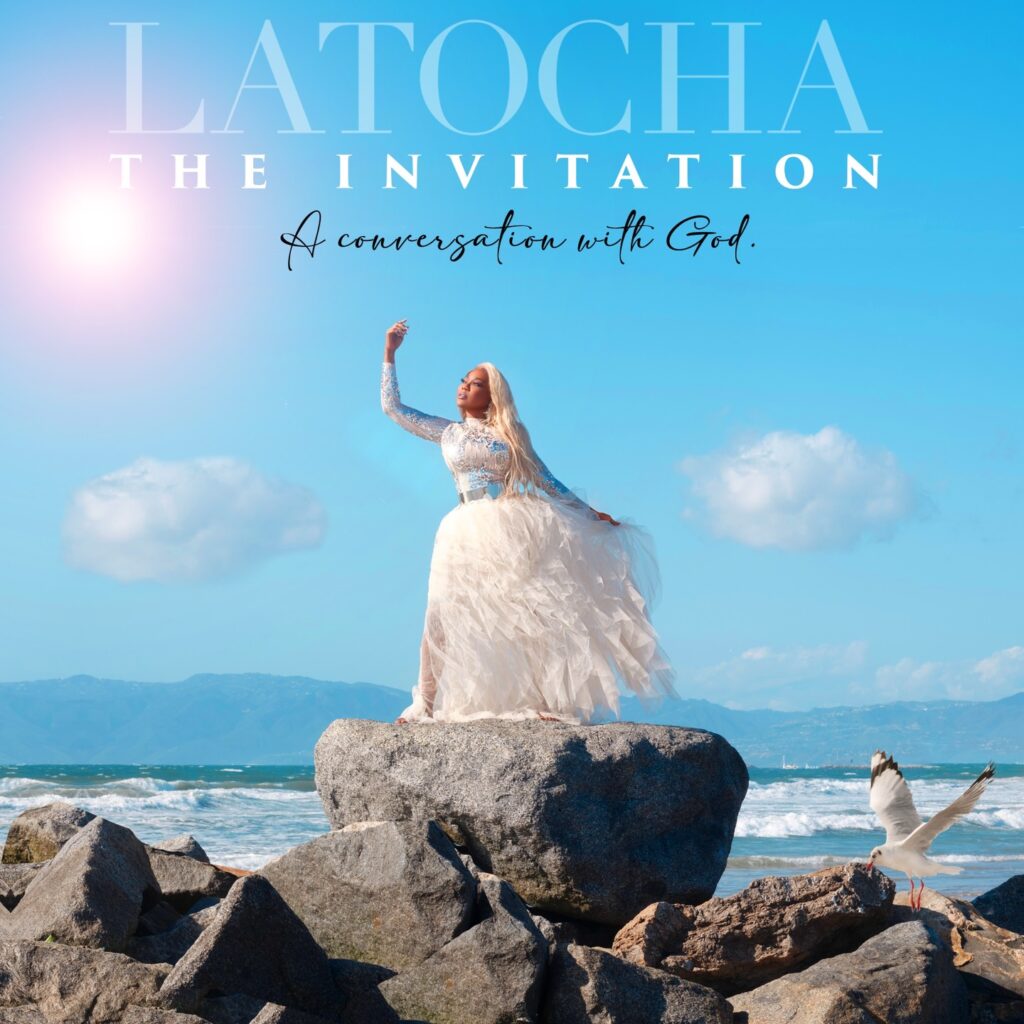 Why did you decide to call your first album, The Invitation: A Conversation With God?
Because that's what it was. It was a conversation that I had with God, and I felt like I was inviting everyone into this space that I was in. It was times when I would come in, and I felt a way about talking to people and not being able to trust people again. I had to have that conversation with God, like, "Why do I have to go through this? Why am I so afraid to talk to people? 'Cause every time I do, they're not my friends; they betray me." I've had so many different conversations with God. I just wanted to invite everybody into that and normalize it 'cause we don't have those conversations. We talk to people and then find out that those people are not for us, or sometimes people don't want you to succeed because they have hidden agendas.
The Invitation: A Conversation With God is your first official solo album to be released, and it is also a gospel album. What was your favorite part about that experience?
My favorite part of this album is just speaking from my heart. It was evident when I was in the studio that everything was coming outta me, whether it was me trying to uplift or telling people to love yourself or me saying, "God, are you gonna turn this around?" I was able to be vulnerable in that space and not have any judgment. Sometimes in a workplace, you have people who stand over your shoulder, [and] try to tell you what to do. It makes it a job. So I found that it wasn't a job anymore. It was just therapy for me. I was able to release those emotions that were inside.
You released a handful of singles leading up to the album's release. "Afraid" turned out to be the focus track, and it's your first solo song to appear on any Billboard chart. Why did you want to push this song?
Everything was happening in real-time. The song was happening. The time I took to create the video was right after the things that were going on while we were filming [SWV & Xscape: The Queens of R&B]. The things that had been said in the media about me — those things that hurt — I just took all that hurt and materialized that to let people know that this is what I'm going through. With videos, we've gotten far from actually staying consistent to what the lyrics are talking about. And sometimes people look at it, "Oh, this is an R&B record." No, this is a gospel record 'cause I was crying out to God. But if you hear it and feel like, "Okay, it's a little bit of R&B, that's fine, too," I'll take it.
But it was me taking all those things that I'd gone through and being able to get over it. Those were my adversities. Those things that were said were very hurtful and the song "Afraid" is that. I'm crying out to God saying, "I'm afraid. How do I start to trust again?" And he is like, "You can trust me." So I've given everything all to him, and I'm like, "I can't live this life without you. As long as he doesn't leave me, I'm fine." So that was just my heart. When I went in the studio, I cried. People in the studio were crying because I was able to get out my frustrations and my emotions. And that's why when you say you like that song, it means a lot to me because it hits different for me too.
You filmed your music video for "Afraid" in the controversial dress worn at the 2022 Soul Train Awards. Why did it feel important to wear that dress?
Because the dress didn't mean that to me. I just put the dress on, and it was so much feedback from the dress. Of course, I didn't get the color memo, but that's neither here nor there. It's over with. But I use things to inspire me. I use things to be able to get over [something]. That dress was one of those things. I remember after the red carpet, I got home, and my mother called and was like, "You're on this Dish Nation, and on this network and that network." And I'm like, "Why?" Some of my friends were calling and texting me like, "Oh my God, the dress and what happened?" So I just used the dress as me getting over things. I even submerged the dress in water.
I don't care about the dress. It wasn't even about that to me. It was about showing up and getting the accolades that we finally were receiving. I was happy about that. Then I was a little upset because we changed stylists and the stylist didn't tell my stylist what color they were wearing. So, of course, I get out of the car and feel like, "Oh wow." But I said when we get on the stage, we're all gonna make sure we have on the right color 'cause that was the color scheme we knew. But I put the dress in the video to let everybody know I don't care about the dress. It's a beautiful dress, but I don't care about the dress. It is the person in the dress, and that's what people fail to realize. I have feelings. I'm a human being, but I got over it.
There are songs with replay value on this album, including "Free Me." What is no longer holding you down or back?
People's perception — the opinions of others. I don't look for anybody's opinion. I go to the Creator. He's my critic. I don't look to critics; I look to the Creator. If there's something that's off with me, I go talk to God about it. So the critics, I don't care about that. If something goes up or down with me, they're not gonna be there. All the comments mean nothing. They can't add to my life. They can't take away from my life. I've taken the bumps and bruises, so I can say now that I'm stronger because of it. Now, the people I love, they mean everything to me.
"Gratitude" is a beautiful way to close the album. What are you most thankful for right now?
I'm most thankful for life, for the opportunity to have another day on this side of heaven. To be able to love on people and receive so much joy just listening to music and experiencing life is a gift. The older I get, I understand what that gift is. It's not to be secluded or make you feel a certain way to live it and live it out loud. I'm learning every day to appreciate the small things. [Also,] the love I receive and people like you who embrace the music, talk to me, and allow my voice to be heard. It's a lot of things I'm grateful for.
Has anyone from the gospel community surprised you and told you they were a fan of the new album?
Jekalyn Carr and Erica Campbell from Mary Mary. I've interviewed with both of them, and they love the album. They speak highly of it. We've become friends way prior to this because of the walk in life and we've met each other in passing. I think the spirits aligned. When they heard the music, they gave me some uplift. They was like, "Girl, we love it. Just keep going." That's encouragement to me.
Xscape recently earned five new awards from the RIAA. Among those awards was a double platinum certification for the group's debut single, "Just Kickin It." What does this achievement mean to you?
The legacy still lives. To be here 30 years later and for people to still love the music and love us, outside of the ups and downs we've faced in a group or outside of being sisters, is everything to me. And to have a new generation still singing and kicking it with us is everything.
We've seen how things have played out on SWV & Xscape: Queens of R&B with you and Xscape and your sister Tamika. With three reality shows under your belt, including Xscape: Still Kickin' It and R&B Divas: Atlanta, would you ever consider doing reality television again, and if so, what would be the ideal conditions for it to happen?
I would love to do something that's a lot more positive and reflective of what it is that I like to do. I love to cook; I have my cookbook [LaTocha's Planted Lifestyle] out. So, something where they show me in a different light of me, being in a space that I love, maybe cooking or on the road doing something or in the studio or helping young girls. Something very positive where it speaks to people more than just a lot of negativity and drama because, honestly, that's not what I signed up for anyway. I thought that we were getting to a tour. I thought that we were getting the music and that it was gonna be celebrated, but not so much. But if I ever had to do it again, it would be on those terms.
What do you want listeners to take away from The Invitation: A Conversation with God?
I want listeners to reflect [and] to embrace any part they hear that hits their soul. I wanna leave an imprint on people's hearts and lives forever. Music will never die. Even when I listen to Whitney Houston, I think about something that resonates with me, whatever song she's singing. So just that the music [from this album] doesn't die, that it lives within all of us, and that they take a little bit, whether it uplifts them or inspires them or makes them heal, or they find laughter in times where it's grief.
View this post on Instagram
What's next for LaTocha?
I definitely want a tour. I love being on the stage; that's the next thing that's gonna be on the horizon for me. I'm looking forward to doing a Christmas album and connecting with people. Also, having seminars to speak to young women, doing movies, maybe even another genre of music. Whatever my heart's desire is, I just wanna do it. And anybody else out there, they should do the same thing. If it's anything you wanna do, try it. Don't live with regrets.
Listen to LaTocha's new album The Invitation: A Conversation With God below.