Tone Stith is no stranger to performing. His first major gig was back in 2017 when he opened up for August Alsina's Don't Matter Tour. Amid his constant song and project releases, making recent noise with two 2021 EPs, FWM and Still FWM, he's had a clutch of special guest tour gigs with Dinah Jane, Nicole Bus, and H.E.R.
After headlining his first tour, titled after his FWM EP, in 2021 and a subsequent trek in 2022, Set The Tone Tour, Stith is set to make history in Nashville, Tennessee. He is booked as the first-ever artist to headline AB, the restaurant formerly known as Anzie Blue. The venue has been renovated and transformed into a live music and event space.
Stith will perform May 5 to kick off AB's inaugural residency, powered by Lovenoise. He'll be joined by rising act Bryant Taylor.
Editor's note (May 2): According to a press contact, Stith's show scheduled for May 5 has been postponed and will be rescheduled for another date.
"Tone Stith's performance is the first in our plan to host artist residencies, showcases and songwriter series, which will provide a stage for extraordinary talent from all genres to shine," said AB's co-owner Marcie Allen Van Mol.
Stith knows the weight of headlining the launch of this new venue falls squarely on his shoulders, but he knows what his impact will mean for years to come.
"To be a part of anything that's in the newer stages of growing, I think, is very crucial to my career," Stith tells Rated R&B. "I love that in a lot of situations that I've been in, it's been like, 'Hey, you're one of the first people to do this and do that.' I think that's important because 5-10 years from now, when things are really hitting the fan, it's like, 'Hey, this is where we started.'"
Stith was initially slated to perform a two-night residency at AB. Now, he will play May 5 for his fanbase and May 6 as talent for a standalone prom in honor of B Hayes, a Nashville Christian School student who gained national attention for being turned away from their senior prom for wearing a suit.
Editor's note (May 2): According to a press contact, Stith's show scheduled for May 5 has been postponed and will be scheduled for another date.
Ahead of the residency, Tone Stith spoke with Rated R&B about what fans can expect from his show, possibly changing his stage name and what's next.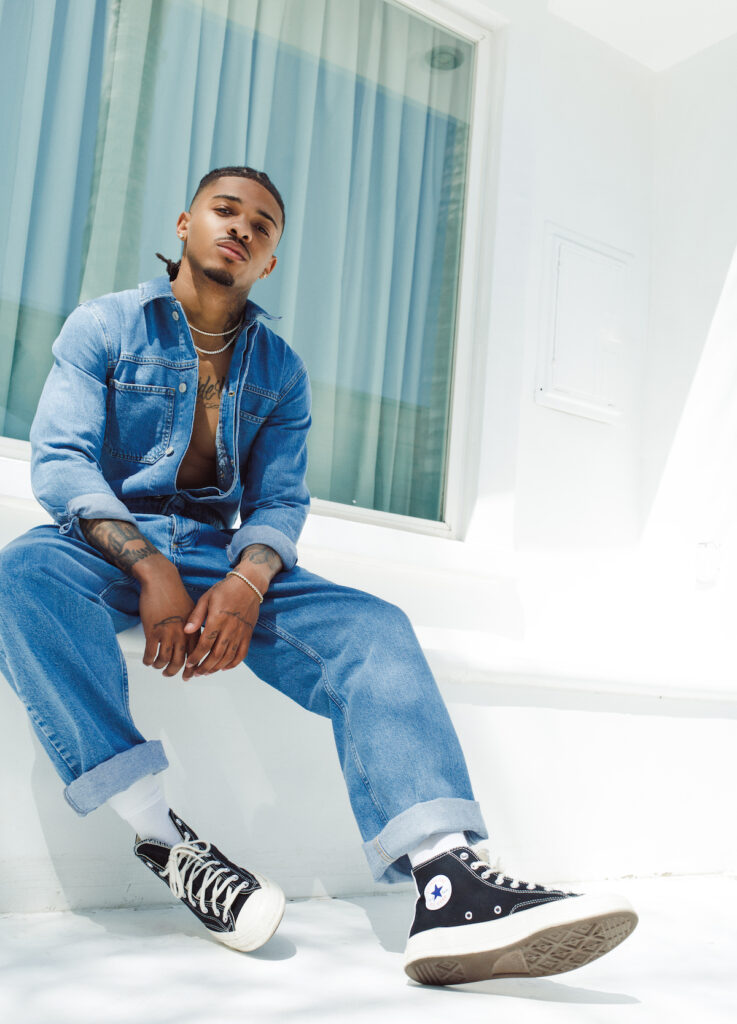 As the inaugural artist to headline at AB, how do you plan to make this set stand out from anything you've done previously?
Since we're in Nashville, I gotta turn it up on the musician side. I'm very excited about that. I started doing my acoustic set on the Set The Tone Tour, but now it's just taking that to the next level. That's a big part of my artistry–that intimate section in the show where it's just me and a guitar. I'm very tapped into that and making that more of the special segment, versus me up there dancing and hitting my moves.
I hear you're recording your new project in Nashville. Is this your first time working out of Nashville?
Yep, this is my first time working out of Nashville. I love the vibe. I could already tell this is gonna be a hub for me that Atlanta became 'cause I wasn't doing a lot of work out of Atlanta until maybe late 2020. And now, every year, I find myself in Atlanta at least three months out of the year (laughs). So I feel like Nashville is gonna be the next state to add into passing.
What inspired you to record your next project in Nashville?
For me, it's a different feel. It's time to experience different cultures [and] different places that I really haven't spent time in, learn and adapt so when I put my project together, that feeling is there.
You released the song "B.E.D" last year. How does that song fit into the direction of your new project?
Let's say "B.E.D" was the final stages of Tone Stith, as everybody else knows me. It was like, "Alright, y'all. This is the last one of this kind" (laughs). It's cool because of the transition to this next project; people are not ready for it. It's a step in the more musical direction for me, and that's where my heart is. Growing up in church and being able to play everything, and being around bands and productions, my career is now moving in that direction and I'm excited about that. I'm learning that a lot of people love that [song]. It is the stamp on the era of Tone Stith from my first project [Can We Talk] to my last project FWM. But now we're jumping into POV.
What does the title POV mean to you?
This next project is my point of view on love and the ups and downs in relationships. [It addresses] things that people are afraid to come out and say, 'cause they feel like it might be too soft or too corny. But for me, there's a lot of toxic things going on in this world, but I wanna be the guy at the forefront that's like, "Hey. It's okay to love somebody. It's okay to care for somebody and bet it all on somebody [even when] you don't know the outcome." In my situation growing up, my parents were split up until I was about 12 or 13. I experienced both sides of having single parents and them getting back together and still being together today. I got to watch their relationship grow, how they love each other, even though they had differences, split [and] came back together. So it's my whole story up to this point in my life about love: the good and bad things, being the person that was cheated on and being the cheater. So I'm excited to get into it.
What things personally are happening now that make you feel you're in the best musical place?
Let's say a lot of things for me were feeling like I didn't have a voice, or I didn't have control over what was going on in my life. I was easily influenced by other people and their ideas of what they thought and who they thought I was. Now, I feel like I've woken up and am at that point where I'm taking control of my destiny, who I am [and] what I want to be.
You mentioned "B.E.D" was designed to be a transitional period for the Tone Stith we've grown to love. You recently hinted on social media about possibly changing your stage name. Is this something you're seriously considering?
I was trolling; I can't lie (laughs). But it ended up being good 'cause it raised conversation. People on Twitter were freaking out. But I'm not gonna let the cat out the bag right now, but possibly.
There's nothing wrong with a rebrand. With all the success you've had as Tone Stith, would you keep that same formula going with whatever name you decide?
Absolutely. And even if I did change my name, it wouldn't be far off from what it is now.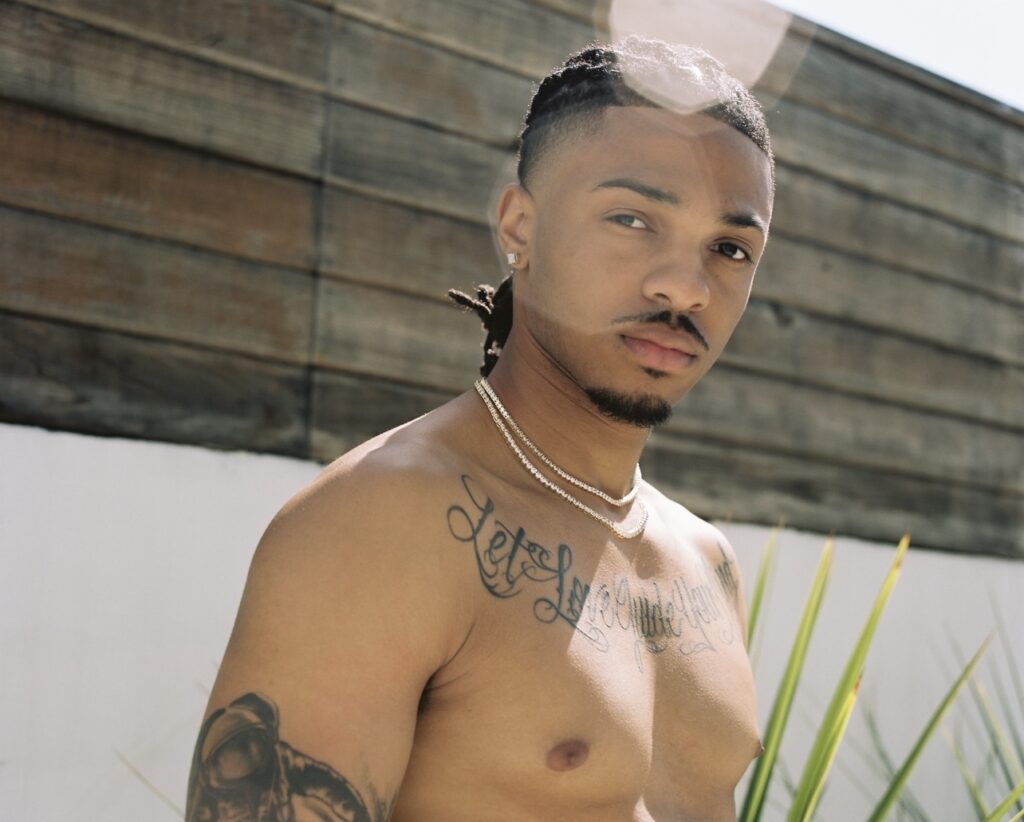 You have co-writing and co-producing placements with Chris Brown, K-Pop act BAEKHYUN, Lil Duval, and most recently on Vedo's new album Mood Swings. Who else are you working with or would you like to work with?
SZA is at the top of that list. My boy Lucky [Daye], which we may have some work coming out on, not POV, but the next project. I also love Flo. I think they're dope. They came outta nowhere and just started running it up (laughs). Bruno Mars [and] Silk Sonic. That'd be a big thing for me because it's just a musical thing, and I appreciate their talent.
Editor's Note (May 25): Tone Stith's upcoming single "Girls Like You" did not release May 19. Instead, it will release June 23.
What's the timeline between POV and your debut album?
So, the single drops May 19, and then the project drops at the end of June. It's gonna be perfect. June is Black Music Month and also summertime. I've never had a drop for summertime. This is new for me, and I'm excited. Everybody at my label is super excited. I've been getting so much support and love on this project. There's been a lot of collaborations as far as artists, who've written on here and producers too. I wanna ride the wave of this project and run it to the ground, and I'll set up for next year for the album.
What can you say about the upcoming single?
The song is called "Girls Like You." It's my point of view of my first heartbreak. For me, it was a really big deal. I was very green as far as love goes. The first person I was giving my all to, even though it was young love, it was like, "I'm here 150%." Then when that person stabbed my back, it was like, "You messed it up for everybody else. Now I got this evil side of me" (laughs). So the song is like, "Hey, it's girls like you that f*cked it up for everybody else." But I love it because even when women have heard the song, they could relate, and vice versa in their situation too. So I think it's gonna be a really big song, and everybody can feel me on this one.
Get tickets for Tone Stith's residency at anzieblue.com.