Known for his instinctively unmistakable falsetto and exceptional songwriting for big names such as Usher and Rihanna, Elijah Blake's dreams and future aspirations aren't tied into anyone else's. Instead, he's focused on his own.
The equally skilled songwriter and vocalist carefully adjusts his LED light in his cozy studio, asking for direction on his brightness ahead of his Zoom video call. The radiance bouncing from his side of the camera was indicative of his chirpy mood about the interview and the studio session scheduled later that evening with JoJo, who he calls "one of the best singers that ever lived."
View this post on Instagram
He's antsy about the meeting. Not only because he's amped about what the two will create in the recording booth, but because he wants to pick her brain about her Blackground Records experience. It's the eve of Aaliyah's One in a Million album being made available across streaming services for the first time, making the conversation less intrusive and more relevant. It's all part of his recent songwriting approach, crediting a session with Mary J. Blige for this method.
"Before my session with her, I just talked to her for a long time. It didn't hit me until five years later. 'I was in the studio having a conversation with Mary J. Blige about her life.' I try to do that with artists now. I take those experiences, and I incorporate them into my storytelling so that these stories or experiences don't get lost," Blake explains to Rated R&B.
Another thing Blake is doing more of these days is collaborating with artists. He's never been one for features, he said a few times on the call. "I don't like the politics that go into them," he mentions. "I don't like when people get on my song and talk about something completely opposite. It shows me you're not paying attention, or you don't respect my craft."
Editor's Note: The Neon Eon was pushed back. The LP is scheduled to arrive on Friday, November 5, 2021.
His position on collaborations changed with The Neon Eon, his new album out this September. Trinidad James appears on the lead single, "Dreams." However, he wasn't the only artist meant to have a supporting role on the tranquil track.
"It was really important for me to get SAINt JHN on 'Dreams,'" Blake reveals. "I was excited about it, but even though it didn't happen, Trinidad [James] was the only option. It wasn't a plan B. The goal was to have SAINt JHN and Trinidad because I love that they both understand fashion or their art is centered around fashion."
Blake is also rapturous about how the fashion world embraces him. It caused him and his stylist Sam Woolf, who also dresses Lizzo, Doja Cat, and Bebe Rexha, to coin the theme: disruption. He says, "If it's a photoshoot and he's like, 'I don't know.' I'm like, 'Now, I want to wear it because now it has to be disrupted.' Everything in my head is like: 'Does it cause disruption?'"
It's also the reason why the song's supporting video, directed by frequent collaborator Sean Alexander, attentively underlines his and James' matchless fashion sense. "I kept telling the director, 'I want it to look like a Queen and Slim movie,'" he details.
In Rated R&B's interview with Elijah Blake, he talks more about The Neon Eon, how Prince's defiance struck a chord within his own artistry, his experience on BET Presents: The Encore, and more.
Your new single "Dreams" is out now, and it features Trinidad James. What's the story behind the song?
The producer Killah B (Brian Vincent Bates), who also did "Positions" with Ariana Grande, was like, "I didn't know how young you were because of your voice." I guess because the artists I listen to are like Donny Hathaway and more old-school type of artists. He was like, "I wanna take that direction with this album. So sonically, how can we bring those two worlds together?" I was like, "Let's do a record that sounds like Marvin Gaye was trapping out the bando (laughs)," but I croon the whole way through the record and brings those two worlds together. It still feels young and fresh because of the tempo and the cadences, but the integrity, vibrato, and vocals stay consistent throughout the record.
You sing, "You don't need your wings to learn how to fly." Can you elaborate on this line and how it relates to your journey?
I had so many fears in the music industry because of different management companies, different label situations that I wouldn't even allow myself to experiment. I was so afraid of the outcome not going well. And now I'm learning that's flying, taking that chance, and creating something that makes you anxious and makes you nervous. That's art. You're not doing it the safe way. It's a little boring, especially now in a time when anybody can do music. Anybody can get a Pro Tools and get some Auto-Tune. [But] what are you really speaking on? What are you touching on? What is the uncomfortable subject matter that's going to make you stick out from the multitude of different artists that are coming out every day?
What are some dreams that you still want to achieve in your music career?
I wanted my own gold or platinum record for myself as an artist. I have some for [Usher's] "Climax," Rihanna, [and] [Justin] Bieber, but I've always wanted one of my gold plaques. I think "I Just Wanna" just went gold.
I want my own Grammy for my own album. "Climax" won a Grammy, and Rih's Unapologetic album won a Grammy, but I want my own Grammy.
My own number one record, too. We just decided we're taking "Dreams" to radio. We're doing things different. Every action I'm taking right now is in conjunction with accomplishing my dreams and not someone else's. I feel like in past label situations, I was meeting their standards. Sometimes that bar is low, sometimes that bar is really high, but now everything I'm doing is really [to] attack those dreams that I'm having and really see them play out.
Many artists and labels go after streaming so much until it almost feels like they forget radio is still a key competent in working a single to its greatest potential. Thoughts?
For me, I've never really had a proper radio strategy in my career. "I Just Wanna" is the furthest that it went [on radio]. Dej Loaf [was] on that record, [and] she was really big at the time. I had to jump on top of tables at Def Jam and was like, "Take one of my goddamn songs to radio."
When I came out as an artist, Bijoux 22, my first mixtape, did so well streaming. I've always done well, streaming-wise and mixtape-wise. I think sometimes the label gets comfortable. They're like, "Oh, well, if we don't got to spend enough money for people to stream you, we won't." But as an artist, I want everybody to hear my shit. I don't just write these songs and just hope that the backpackers hear it or for the people at Pitchfork to hear it. I want little kids to hear my music. I want 90-year-olds to hear my music because I'm telling real stories. I think radio plays a part in opening your music out to the masses, for sure.
The new album, The Neon Eon, comes out this fall. What inspired the title?
It starts saying, "Because of the internet, music will never be able to be put into one genre." You can't limit things and say, "Oh, that's country. Oh, that's rock. Oh, that's R&B . Oh, that's pop." It doesn't make sense because back in the day if your parents were born in Nashville, you were born in Nashville, [and] nine times out of 10, you grew up hearing country music permeating throughout the household. I wouldn't be surprised if your favorite artists are Garth Brooks or LeAnn Rimes or whoever.
If you grew up in New York and your mom was blasting Mary J. Blige and Biggie, it makes sense. But, because of the internet, you're no longer limited to just what the radio station is playing in that area. So what happens is you're inspiring a new generation and infusing just a bunch of different colors.
That's why I call it The Neon Eon because it'll never be the same because now that kid that's producing out of Nashville. Yeah, he grew up listening to Rascal Flatts, but he also grew up loving Young Thug because it was at the palm of his hands. He was listening to Apple Music, Spotify, or whatever. So that's how you have a Lil Nas X who's a little cross of just different genres and different experiences.
I've always felt like I've existed in that. I've always loved Coldplay, and people just always thought I was weird because I listened to Green Day, but then I also listened to Tupac, and I also listened to Faith Evans. So now I think it's the time to incorporate live instrumentation with trap drums, with 808s, with a live bass, with church harmonies. That's fun to me because it's indicative of the time that we're in right now.
My all time favorite ARTIST https://t.co/P0K6Ztr6Ol

— Elijah Blake (@SirElijahBlake) July 28, 2021
With your album Audiology, which took from the title of Prince's Musicology album, you didn't go after radio cliques. Instead, you experimented with different sounds. Being that he's one of your inspirations, which version of him do you most identify with in terms of the way you write and create music?
I think the Purple Rain album. There was a level of like, "I know what the f*ck I am, and I know who the f*ck I am." In the beginning, he was super avant-garde because I think he wanted motherf*ckers to know, "I don't give a f*ck. Stop trying to put me in a box." And I went through that. I might've gone through that with Audiology because everything was so safe for me. There were so many cooks in the kitchen. Before I could decide how I wanted to do something, it was already filtered through six different A&Rs for other executives.
So that's why I went butt-ass naked on the Audiology cover because I wanted to do something so crazy that now you can't put me in a box no more. People would get away with doing way more. I would do something so small and they'd be like, "Oh, he's crazy." So, I was like, "I'm going to go butt-ass naked, so you can't have any expectations because of what I wear or how I look." I feel like I watched how Prince was in this frequency that he was vibrating on through Purple Rain, where he kind of made it make sense. The songs had more of a structure. You can tell that he cared more about the presentation throughout that process.
I know you released "Bad Liar" last year. Will it make The Neon Eon tracklist?
At first, I wasn't going to put it on there just because COVID happened, and then like the whole world, had to go into reset. But I remember how Keyshia [Cole] told me that song made her feel, and I remember the place I was in when I wrote the song, and I'm like, "No, I'm not going to let COVID ruin anything else for me." So I made the decision while we were in mastering to put "Bad Liar" back on the project because, again, quarantine happened, and so many people didn't hear that song. And it does fit in the story that I'm trying to tell with breaking down stigmas within the Black community, especially Black men.
As Black men, we limit ourselves based off of what society has told us is normal for Black men. I don't want to conform to that because all they do is villainize us in the media. We're either drug dealers or murderers or thugs. That's not what I want to perpetuate. I want to perpetuate freedom of thought so that these gender norms are broken down, and Black men are free to fully express themselves and be their best selves moving forward.
In the last few years you've formed two duos: KaraJishi (with Ben Strick) and 199∞ (with Jordin Sparks) and released respective projects. What were those two experiences like, cultivating a new sound alongside another music creative?
That was my form of therapy. I would like to say that those projects might have been for me or weirdos alike at that time. Those weren't projects that we put out to sell 90 million records. It was niche. Jordin and I were sitting down one day talking, and we were singing "One Sweet Day." She loves Mariah Carey, and I love Mariah Carey. Then we went into singing "Whenever You Call" [a Mariah Carey duet with Brian McKnight.] Even when I sit down with Snoh Aalegra, who's like a sister to me, we can sing almost every Mariah Carey duet with another male artist. So when I was doing that with Jordin, I was like, "Yo, I miss duets. I miss Avant and Keke Wyatt."
She was like, "Let's do a project that reminds us how '90s R&B made us feel when it was male and female vocal textures, coloring, and playing." So we did that. It was like a project that some people didn't know they needed. Me and Ben were the same way. He was like this electronic producer, and he was so melodic, and I programmed it, and it made me feel a way. I was like, "I want to do a project with you." We talked about anime. We knew all the Dragon Ball Z characters and all that. So that was super fun as well.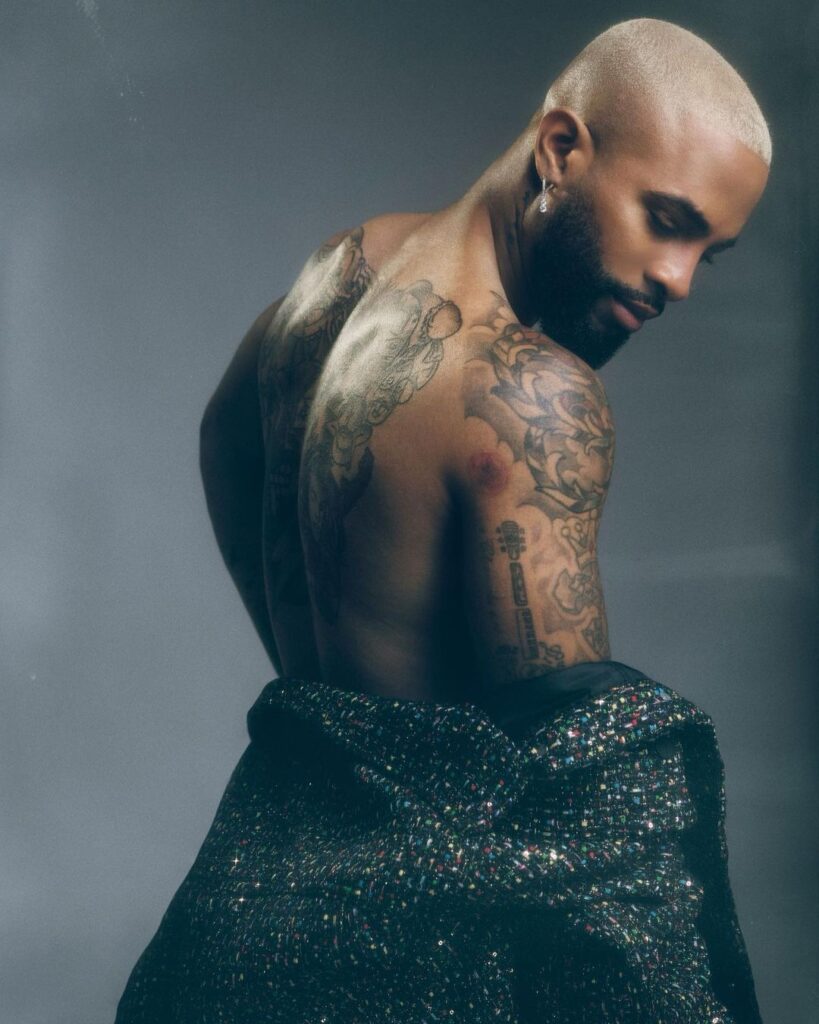 Let's talk BET Presents: The Encore. You were tapped to assist with songwriting and were interestingly placed in the middle of a war about success. Do you think it's appropriate for writers and producers to define their success or should that be left up to audiences?
That's a really good question, man. That's a really good question because I'm in this space now where I understand both sides of that. I understand letting your work speak for itself, but I also understand sometimes you gotta just be like, "Yeah, don't play with me."
If they ordered a season two with an all-male R&B cast, would you be open to joining?
The only way I would do it again is if it was a male cast. I'm passionate about music. I'm passionate about my art and watching myself, like when I speak, I talk with my hands, and it was so hard to get my point across in a house full of women because you don't want to come off hyper-aggressive. But I also grew up in a family full of women. So I thought I was amazing at having conversations in real life. Then you watch yourself on TV, and you're like, "Okay, well, you might come off this way." I'm super pro women's rights, so I'm very careful with how I handle women. I feel like, in a house full of men, I can approach situations how I would like to, be passionate, and not come off a certain type of way on TV because TV is a magnifying glass. It magnified everything.
Stream Elijah Blake's new song "Dreams" below.