At the 62nd Annual Grammy Awards this Sunday, H.E.R. and Daniel Caesar are competing for their second win in the Best R&B Performance category.
The two R&B stars won last year for their double-platinum duet "Best Part," which appeared on Caesar's Grammy-nominated debut album Freudian and on H.E.R.'s Grammy-winning self-titled compilation.
However, this year, H.E.R. and Caesar will go head-to-head in the Best R&B Performance race for their own respective collaborations. Caesar's nod is for "Love Again," a well-layered duet featuring the formidable vocalist Brandy. Meanwhile, H.E.R. is looking to court attention for her smash single "Could've Been" featuring Bryson Tiller.
While taking home the Best R&B Performance honor for either H.E.R. or Caesar would further prove they are at the top of their game, it could possibly shift the future focus of the Recording Academy and other industry insiders on their duet partners.
The Recording Academy has had its share of controversial snubs with Grammy nominations. It was no different when the 2017 nods were announced. Tiller, who first saw success in 2015 for his hit "Don't," earned his first nomination for his follow-up single "Exchange."
Appearing on his 2015 T R A P S O U L debut, the Mekanics-produced track was up for Best R&B Song at the 59th Annual Grammy Awards; however, the song lost against "Lake By the Ocean" by Maxwell.
Unfortunately, Tiller didn't have any other chance to win a Grammy that evening, as he was only nominated for one award. As one of the brightest stars of 2016, it was incredibly puzzling to see that he wasn't considered a Best New Artist contender.
Most surprising was the glaring omission of his T R A P S O U L album in the Best Urban Contemporary Album running, despite its release within the eligibility period and its fast-track to platinum status ahead of the 2017 ceremony.
Aside from a blockbuster RIAA certification, the album ushered in yet another sub-genre of R&B that continues to be adopted by newcomers and established artists.
A year later, though, it appeared that a Grammy was in Tiller's grasp with the sensational summer hit "Wild Thoughts." The dance-flavored collabo, which features Rihanna and DJ Khaled, proved a hit, earning placements on several worldwide charts, including topping the UK Singles Chart and the number two spot on the Billboard Hot 100.
The global smash and its hot music video received wild nominations and wins at various award shows, such as the MTV Video Music Awards and the iHeartRadio Music Awards. Still, with all its mainstream attention, "Wild Thoughts" didn't leave a mark on Recording Academy voting members who left the track out of all expected Grammy categories, most noticeably Song of the Year and Best Rap/Sung Performance.
Snubbed again at winning his first Grammy, Tiller and his co-stars put on pleasant faces and rocked the crowd with an electrifying performance of the monstrous record at the 60th Annual Grammy Awards.
After a few years of experiencing the cold shoulder by the Recording Academy, Tiller could be a front-runner for his first trophy in the Best R&B Performance category. Featured on H.E.R.'s first I Used to Know Her EP installment in August 2018, "Could've Been" instantly became a fan-favorite. The thumping slow jam finds the two singers meshing their unique vocal approaches to coo about the possibilities of a missed romance.
Taking over the top ten on the urban adult contemporary airwaves and the Billboard Adult R&B Songs chart, respectively, the D'Mile-produced track soon shot to number one on both charts ahead of the summer months. The traditional R&B chart victories were firsts for Tiller, who found much of his well-deserving success on the urban airplay front.  
Beyond the compelling chart glory, "Could've Been" became another platinum single for both H.E.R. and Tiller. Now that he is nominated again, alongside a new Grammy favorite, things are looking up for the trap soul hitmaker. And while Tiller and H.E.R.'s duet could take the Best R&B Performance trophy, Brandy and Caesar are easily an unbeatable pair, too. 
The Vocal Bible, who is readying her highly-anticipated seventh album, is inching closer to her best chance in 15 years at winning her second Grammy, with assistance from the category's previous winner Caesar. 
The Recording Academy has shunned many of music's finest artists, like Brandy, time and time again, leaving many guessing what the criteria to walk away with the gold is.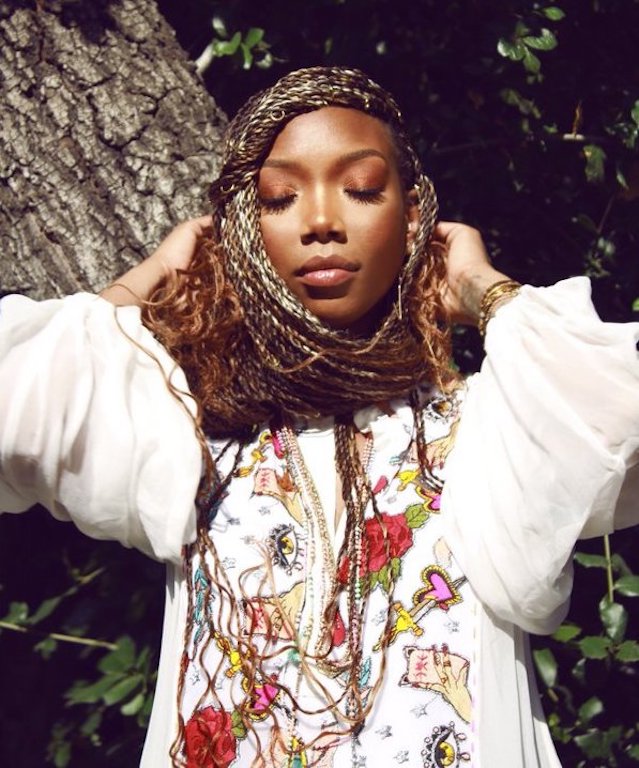 Throughout her 25-year career, the vocal acrobat has been nominated a total of 12 times. At the 41st Annual Grammy Awards, she scored four nominations – the most of her career in one night – for her sophomore album Never Say Never. She left the 1999 ceremony with her only career Grammy for her duet "The Boy is Mine" with Monica. 
Her 2002 album Full Moon and the 2004 follow-up Afrodisiac both scored nods Best Contemporary R&B Album, an award that joined the R&B field in 2003. But even between 2005 and 2014, Brandy hasn't snared one nomination for her last two albums (Human, Two Eleven). 
Having not seen a nod in 15 years is quite baffling to a B-Rocka fan. In 2012, she released Two Eleven, a masterpiece that deserved a Best Urban Contemporary Album nomination for her ingenious vocal techniques and the recordings notable production and impeccable songwriting at the 56th Annual Grammy Awards in 2014. 
Adding healthy competition to the Best Pop Solo Performance category for "Without You" and nods for Best R&B Performance and Best R&B Song for her Chris Brown-assisted chart-topper "Put It Down" wouldn't have been bad either. 
Labels must be occasionally reminded to properly submit its artists' work to respective categories, while the Recording Academy's voting members have to actually select winners based on actual talent and not name recognition.
Considering Brandy's 2019 Best R&B Performance nod, it appears that both the label – Golden Child Recordings and Brand Nu, Inc/Entertainment One – and the Recording Academy are in agreement on musicianship this go-round.
"A lot of the time when I suffered not being able to get my music to the masses, it's because I was singing the wrong songs," Brandy told Silent of TrueExclusives in May 2018. "Yeah, I can make a song sound good. But if I don't believe in the song, then it's not going to go anywhere."
Her belief in the "Love Again" duet with Caesar went somewhere. Released first as a track on Caesar's second effort Case Study 01, their beautiful connection was also worked as the lead single off Brandy's upcoming album.
A month after its arrival, the breathtaking song about complex relationships soared to the top 10 on the Billboard Adult R&B Songs chart. It became her highest charting single on the respective chart in 20 years, as "Almost Doesn't Count" peaked at No. 2 in 1999.
A week before the 2020 Grammy nominations were announced, "Love Again" rose to the number one spot on the Adult R&B Songs chart, resulting in her first chart-topper on the chart.
Brandy has been having a career resurgence in the form of awards. She was bestowed the Lady of Soul Award in 2016. She received the Cathy Hughes Excellence Award at the 2018 Urban Honors. Last year, she took home the BMI President's Award. So, picking up her second Grammy isn't impossible this year. 
Additionally, if Brandy does win, it could likely position her and her next album to receive much Grammy love at the 2021 ceremony – if her new work is released during the eligibility period. 
According to her updated Twitter bio, a February album release is now the talk of the town. That said, Brandy could even have one of the biggest nights in music like her fellow '90s sisters Mariah Carey (2006) and Mary J. Blige (2007).
While voters could seemingly be behind either "Could've Been" or "Love Again," the Best R&B Performance race is still a tough category. 
Other nominees include Lizzo, who is the most nominated artist this year. The breakout star of 2019 is up for "Exactly How I Feel" with Gucci Mane. The unfazed track appears on her critically lauded album Cuz I Love You. 
R&B rookie Lucky Daye is in the running for "Roll Some Mo," another D'Mile-produced cut. The track is featured on Daye's Painted debut, which is also up for Best R&B Album. 
Also part of the competition is Anderson .Paak, who won his first trophy last year in a rap field. The occasional rapper/singer is nominated for "Come Home" with André 3000. Co-produced by Jairus "J.Mo" Mozee, the pleading collaboration appears on .Paak's R&B-heavy Ventura album. 
To see who the Best R&B Performance Grammy goes to when the envelope is opened, watch the 62nd Annual Grammy Awards live on Sunday, January 26 at 8 p.m. EST / 5 p.m. PST. The ceremony will be hosted by 15-time Grammy winner Alicia Keys. 
Which record do you think will win Best R&B Performance this Sunday? Tweet Antwane at @9thwonderofPR.