It's the day before he kicks off his headlining Obsession Tour and Eric Bellinger is feeling anxious. He's ready to get back on stage and bond with his fans. "It's like you've been anticipating a moment and it's finally about to happen," Bellinger tells Rated R&B. "The closer I get, the more anxious I am to just walk out on stage."
Bellinger's Obsession Tour is named after a song from 1(800)HIT-EAZY: Line 2, his joint album with producer Hitmaka (more on that later). The devotional anthem was released as the album's lead single last fall.
"'Obsession' embodies everything that I'm pushing — the narrative of R&B is very alive. From the guitar to the melodies to the vocal performance, I think this one offers everything that I'm trying to project. I really wanted to emphasize the song with the tour name as well as the remix," says Bellinger.
The remix of "Obsession" features Grammy-winning singer/songwriter Muni Long. She appears in the second verse, telling her sneaky link that she also has an emotional connection with him. "Won't stop till you're in my possession," Long sings.
"Obsession" and its remix appear on 1(800)HIT-EAZY: Line 2, the sequel to Bellinger and Hitmaka's 2021 project, ​​1-800-HIT-EAZY. In addition to Long, Line 2 boasts appearances from Blxst, Cordae, Fabolous, Kalan.FrFr and Tink.
In Rated R&B's interview with Eric Bellinger, the Grammy-nominated singer/songwriter discusses his new project, reflects on his past work, shares the vision for his new label and more.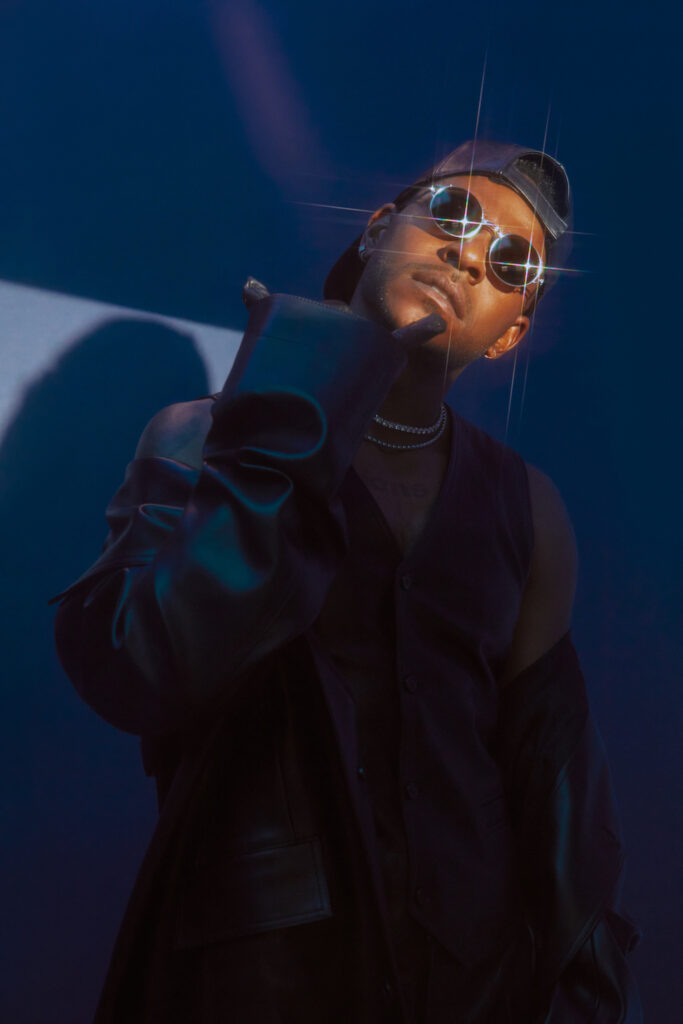 Since the 2010s, you built a reputation for being a consistent artist by constantly releasing mixtapes and other projects. Did you ever feel pressured to remain consistent based on what fans got used to?
No. I feel like I'm the Tupac of R&B. I have so much music that it was never me reaching a quota. It was more so seeing how many projects we could put out because I didn't want it sitting in my laptop. It was never hoping I had enough songs. It was always the remedy to having too many.
Looking at your discography, you tend to release trilogies: Born II Sing, Cuffing Season, Eric B for President, etc. Did you know beforehand that there would be a sequel to 1-800-HIT-EAZY?
Yeah. When I say I have a million songs and I could release a million songs, that's how Hitmaker is. When you put us two together, it's kind of crazy. When I released part one, I had a million songs that I was like, "Oh, we'll use these for part two." Now we're releasing part two and it's songs that I'm crying about that aren't on this album that we've done (laughs). I'm talking about songs that are just as crazy and could be singles. There's definitely, if you ask me, a line three on the way.
Definitely looking forward to that.
Yeah. I do five years apart for The Rebirth. We got one and we got two. Next year will be [The Rebirth 3].
In 2018, you released Eazy Call, which has that phone theme. Is that part of the HIT-EAZY canon or is it a standalone project?
I look at that as separate. Eazy Call is something that I released as my album. And man, that was a great time. When I linked up with Hitmaker, I just kept the name Eazy going. It was more so Eazy is here to stay [rather] than the phone. The phone thing came because when you put "Hit" [and] Eazy together, it sounded like a calling card. We threw the 1-800 on it and it took that to another level. If I did Eazy Call part two, it would be separate from the Hitmaker stuff.
What was it like working with Hitmaka again for part two? Was there more collaboration, or were these songs left over from the first project?
No, so for the first project, we had a bunch of songs and picked our favorites. Say, for example, Chris Brown didn't take a song or Trey Songz or Usher, we would just say, "This is [for] the album." Line 2 is more intentional. It was like, Wow. That actually went crazy. People were loving those songs. Let's get in and make Line 2 on purpose." Now the songs are very catered.
You teamed up with Tink for "I'm Tryin." What inspired that song?
It's honest. It's about a guy that's trying to do right, but it's a crazy world (laughs). Tink is somebody that's not afraid to step on that song and call him out on his bullshit. So it was real dope to have that back-and-forth dialogue with her. And just R&B, man. That's a real hook. It's that shit we talk about when we say R&B is missing, per se.
How about "Sum 2 See" with Blxst?
That's the no-brainer out of the whole album. If you don't like nothing else on the album, you going to love that song because it's so catchy. It also has a visual. Anytime you got a visual, it's definitely like, oh, that's a real record right there. Let me pay more attention to it because I can see it. And you got my brother Blxst on there, who's my longtime friend. Before he had any music out, me and Blxst was rocking.
What was it like working with Blxst on this song in particular?
Man, it was dope because we've worked so many times when I saw the potential in him. Now, he's the world-touring Blxst. It's the same feeling of working with my guy, but now it's amazing because I know that the world is about to hear it and respect him in a way that I knew should have been done five years ago.
This year marks the 10th anniversary of Born II Sing Vol. 3. What's the first memory that comes to mind for that project?
The artwork. I redid The Godfather poster. I was like, "I'm the godfather of this R&B sh*t. I'm going to redo the cover to the point where it's making a statement."
What do you hope listeners take away from 1(800)HIT-EAZY: Line 2?
I want this to be that forever refresher album for people. When you think of Brandy's Full Moon, Usher's Confessions, or Jagged Edge's J.E. Heartbreak, this album will forever be fresh. Some albums just don't have a date on 'em. I think this is one of those because we were able to tap into the classic [sound] while still having the feeling that's current. It's real dope, man, from the features to the samples.
When I first got some notoriety in the game, it was when I released a song called "I Don't Want Her" featuring Problem. We sampled Kriss Kross, The Jackson Five and Ohio Players, and it was a dope song. I saw a couple of tweets and comments that made me detour from making music like that because I seen somebody saying, "Oh, this song is only hot because it's a sample." That challenged me subconsciously to make music without samples in it. So I was doing a lot of songs to make it known I can make a hit, whether it's a sample or not. Now I'm like, let's go back to what I know. I don't have anything to prove to anybody. I'm happy to still be doing what I love to do.
How do you balance feedback from fans and critics with your intention on how you want to do something?
It's a love language with my fans. I can say, Hey, I'm going on tour. I can pick the songs myself, or I can go on [Instagram Live], like I did, and ask them, "What songs do y'all want to hear on tour?" And we go through the catalog together. It's for them. I can sing any song out of my 30-plus album catalog, and it's the same to me, but I want to know which songs out of the catalog you still listen to, whether it's new or old. I think me and the fans found a great balance because both of us were willing to work together.
Besides your new project and tour, what's next for you?
I'm trying to work my way up on the acting side as well as developing my label and giving new artists a shot.
What's your vision for your new label and what type of artists are you looking for?
Just the artist that's really talented. They don't necessarily have the most streams or followers on TikTok, but they're hungry and the world needs to see them. If I can get some work ethic out of them, it's limitless.
Stream Eric Bellinger and Hitmaka's new album, 1(800)HIT-EAZY: Line 2, below.