Leon Thomas III contemplated whether or not to put "My Will" on his debut album, Electric Dusk, out now on Ty Dolla $ign's EZMNY Records/Motown Records.
The "really deep record," as Thomas describes to Rated R&B, is a melancholy confessional where he languishes in a state of desolation. He sings about feeling defeated and shares his funeral wishes, noting his desire to have his DNA preserved: "so maybe in the future there could be another me that's not so damn apathetic," he croons.
The song was in reaction to some of life's downturns that put him in a place of uncertainty, particularly when he was going from one world of notoriety to another of obscurity.
Born in Brooklyn, New York, Thomas cut his teeth in the acting realm at age 10 as Young Simba on Broadway's The Lion King. After his voice acting stint as the singer for Tyrone in Nickelodeon's The Backyardigans, he later returned to the network in a leading role as Andre Harris in the teen sitcom Victorious. It's here where he gained fame alongside castmates Victoria Justice and Ariana Grande.
Transitioning into music, Thomas formed the production duo The Rascals with Khris Riddick-Tynes. Together, they scored works for artists such as Ariana Grande ("Honeymoon Avenue"), Toni Braxton & Babyface ("I'd Rather Be Broke"), Zendaya ("Something New") and many others.
Thomas would later score placements with major acts such as SZA ("Snooze"), Givēon ("All To Me") and Drake ("In The Bible"), to name a few.
Part of "My Will" draws from his experience crossing over from acting into music. "Coming from being a child actor into trying to be accepted in the music industry as a producer, songwriter and artist, and sometimes not really being felt or heard, can really put you in a dark mental space," shares Thomas. "Especially with the financial struggles, trying to provide for my family and not necessarily always being able to reach that goal."
This sort of vulnerability is what prompted Thomas to include it on Electric Dusk. His intent behind creating this album was to establish a genuine human connection. "I think people need to understand that I'm human and I go through the same moments that everybody else does," he states. "Sometimes in the midst of a death in the family, a breakup, financial problems and career struggles, you can be in a dark place, and it's okay to get up from that place."
Electric Dusk is the second expansion of the Leon Thomas multiverse first launched with his 2018 EP, Genesis. Thomas' debut album, titled after a popular drive-in theater in Los Angeles, is thematically informed by his passion for film. "Cinema played a huge role in the inspiration for a lot of these songs. It was imperative to keep that foundation because these are definitely scenes from my life," he explains.
In Electric Dusk, Thomas presents a world where he explores his sexual desires ("Sneak"), falls in love ("Love Jones"), endures heartache ("Breaking Point") and longs for a meaningful relationship ("Crash & Burn"). His experiences with love are dotted by self-reflective moments where he manifests financial stability ("Blue Hundreds") and sinks in hopelessness while he outlines instructions for after his death ("My Will"). Thomas' genre-bending cinematic album includes guest appearances from Ty Dolla $ign, Victoria Monét and Benny The Butcher.
In our interview with Leon Thomas, the multitalented artist takes us behind the scenes of Electric Dusk, decodes the meaning behind select tracks, shares why isolation is important in his creative process, and reflects on songwriting and production success.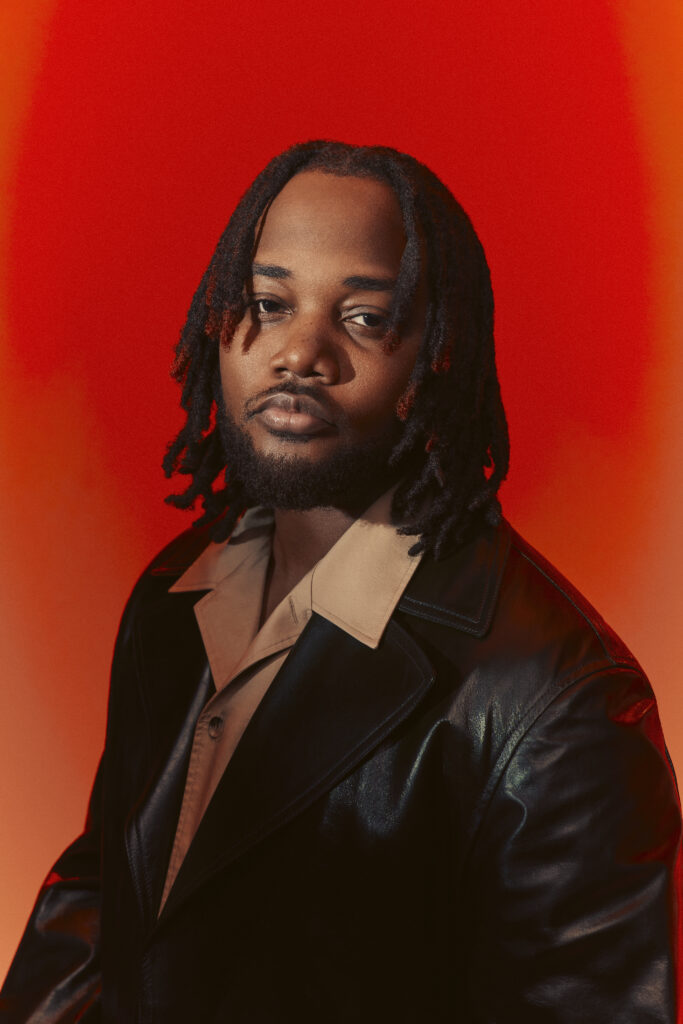 You have been hinting at Electric Dusk since 2019. How has the album evolved since you first started working on it?
I've learned so much just by being in the studio with all the artists I collaborate with. I feel like I pick up a new tool for my toolbelt every time I'm in with somebody of legendary status. I think over these years, I understood the importance of a sound more so than anything else. This album is a great example of that. I worked with the same producers for most of it and also co-produced on a lot of the joints myself. It was cool to see everything progress in the way that it has. When I first started, I kind of thought this album would sound a bit different than what it ended up sounding in the end. I'm glad I took the time to figure it all out.
How did the sound change?
When I started the album, I was on this mission for everything to feel unbelievably alternative. Over time, I've found a way to still work on tracks that give this album a bit more range and the ability to be accepted by the masses in a way. Some of the experimental decisions I was initially making are kind of spoon-fed on this first album. I like that we're spoon-feeding some things that may be a bit harder to understand for a broad audience.
Why did you feel the need to sort of dial back the alternative approach?
It wasn't necessarily an intentional thing. A lot of it was me evolving, becoming more established as a producer and songwriter, hearing what's going to work next from a lot of the bigger artists, and picking up some of the frequency and adding it into my own gumbo.
Distortion seems to be an element that reoccurs in your art, whether it's how your single artwork and album artwork are designed or how you pitch up and filter your voice on certain songs. Is this all by intention?
Absolutely. My decisions as an engineer and a producer are very meticulous. I want people to understand that I'm operating from a different frequency than a lot of my other R&B counterparts. I want people to feel uncomfortable at times. I want people to feel like, "Man, this is different. I've never heard anything like this." I'm excited for people all around the world to get a taste of where my brain was at during that time when I made this album. The pitching of the vocals is definitely my calling card. You can hear it on major tracks that I've done for huge artists like Drake, SZA and even Ariana Grande. I think it's important for me to have that implemented on my own albums so people understand where that sound derives from.
Last year, you tweeted: "Isolation brings out my creativity." How isolated were you when making Electric Dusk?
I was pretty isolated. No pets. No steady girlfriend through a lot of this. Music was definitely like my significant other. The stories of me trying to balance work life [and] trying to build a relationship — and how sometimes that can be problematic — are written all throughout the album. Isolation was a big part of being able to really zone in and hear what I was trying to say for my inner voice. But working with people like Axl Folie [and] being in the studio with a lot of the core producers that I did have involved on this project definitely helped it not feel so lonely. But there were definitely plenty of times where it was just me in the studio. I engineer myself, so it's just me, some speakers and my thoughts. I'm glad that I did have co-producers and writers that could help build this vision out with me toward the end.
I've been staying a hotel while I prep for my first music video for electric dusk. Isolation brings out my creativity.

— Leon Thomas (@leonthomas) April 5, 2022
"Blue Hundreds" has a blues-rock feel and doesn't sound like anything else on the album. What's the inspiration behind it?
I really wasn't doing super well financially at that time, but I had this big deal looming. It was kind of loading up. I feel like that whole record was a manifestation for me. I woke up that day feeling like, "All right, this deal's on the hook." I remember I was listening to The Zombies' "Time of the Season," and was like, "I wanna do a pocket similar to that." I started playing drums, guitar, and bass just to match. I had this lyric in my head, but I felt like it was more of a chant. I ended up repeating that chant until it became something great with a group vocal. I played saxophone on it as well. It was cool 'cause it was like a jam session with myself in my guest house. I wasn't affluent or anything yet, but I was still speaking that into existence. I had the swagger of being in that place. It's cool listening to it now because I really spoke a lot of great things into my path.
You teamed with fellow singer-songwriter Victoria Monét on your "Breaking Point (Remix)." How did that collaboration come about?
We were trying to figure out who would be the perfect voice to pair up with me on that record for a couple of months. Victoria Monét was a great idea that me and my A&R came up with. She is one of my favorite artists that's out right now. "Breaking Point" seemed like the perfect joint to make it make sense. I think we have a lot in common, being that we both worked behind the scenes for a long time and are finally getting some flowers for what we do as artists. I feel like coming together was a beautiful thing because there's a lot of mutual respect there.
"My Will" is another standout on the album. It feels like the most personal, where you sing about your mental state, your funeral wishes and more. What moved you to create this song?
"My Will" is actually a really deep record. Over the course of my life, I've had downturns where I felt like I didn't know where everything was going. Coming from being a child actor into trying to be accepted in the music industry as a producer, songwriter and artist, and sometimes not really being felt or heard, can really put you in a dark mental space, especially with financial struggles, trying to provide for my family and not necessarily always being able to reach that goal. That was a song where I was looking for lyrics in my notes and essentially found a passage that I had written, where I was just in a dark place that day, which was years before I actually ended up writing the song.
I decided rather than starting with lyrics, I was going to start by turning each thought that I had in that paragraph into a record. It was an interesting moment for me. "My Will" is a very vulnerable record and a record that I battled with if I was even going to put it on the album. I think people need to understand that I'm human and I go through the same moments that everybody else does. Sometimes in the midst of a death in the family, a breakup, financial problems and career struggles, you can be in a dark place, and it's okay to get up from that place. That's what this whole album is essentially about. It's the ebb and flow of life.
What's the story behind "Sneak"?
It was just a fun record. That was a record that was inspired off of this newfound confidence I was feeling. I was waking up on the right side of the bed. The sun was shining, everything was cool. Sometimes when life is in that place, I can kind of operate from a different frequency musically. That was just a byproduct of me just being on the right side of the bed that morning. It's no specific story attached to it or anything. It was just me catching a vibe.
We spoke before about your experience co-producing SZA's "Snooze." Since then, the song has been certified 2x multi-platinum by the RIAA and has reached No. 1 on multiple radio formats. How are you processing that sort of success while focusing on your music?
I'm big on gratitude. I try to wake up grateful regardless of if there's a No. 1 hit or not. But to be completely frank, I've been really happy about it. It's something that makes me smile every time I see new goals that that song has reached. SZA is an amazing person and a phenomenal artist. She's always been somebody on my bucket list to work with. To have a song with her, period, was an amazing thing. To see it get flowers and a successful response was like a dream come true. Balancing that with my artist stuff that's coming up for the album has been interesting because now I'm definitely in demand by a lot of artists, especially in the R&B space. I've been focused very heavily on packing up my first album marketing-wise and also working on my second album as well. It's been a lot of focus on myself, so I'm kind of having to switch gears, mentally [and] creatively.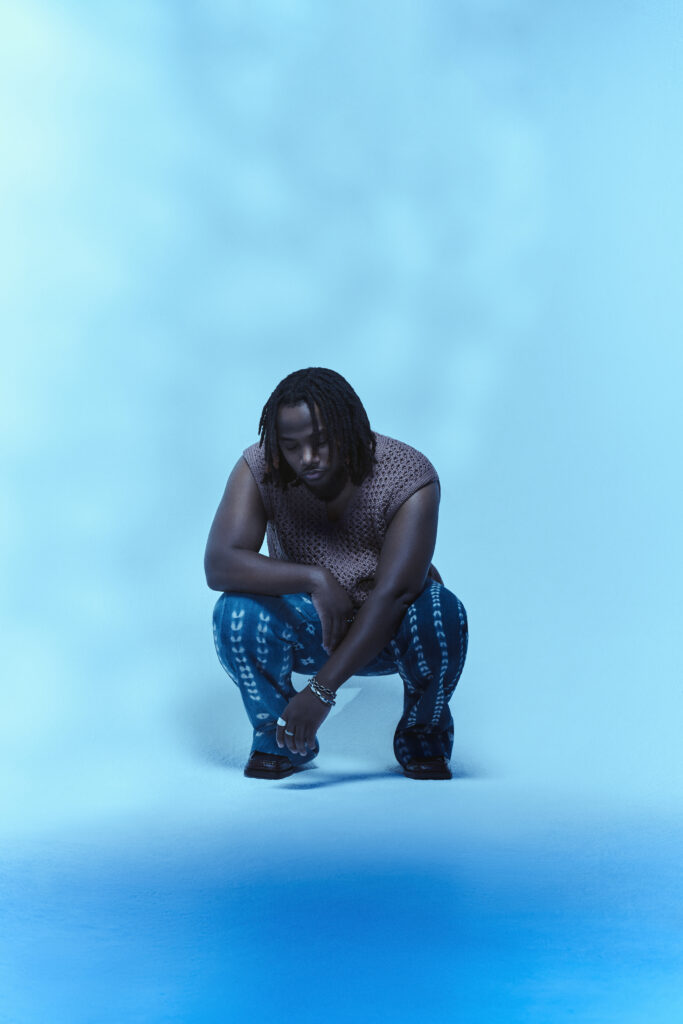 When it's all said and done, what do you hope listeners take away from Electric Dusk?
I want people to understand how human I am. There's so many examples of me in very shiny situations. I think the distortion, both visually and sonically, is to genuinely show how much growth has happened over these years, how painful growth can be [and] how beautiful growth can be. I want people to see me [and] hear me. It's kind of hard to do through the voice of other artists that I write and produce for. This album was a really great example of me laying it out all out on the floor and hoping that people understand where I'm coming from. I want people to listen with open ears and open minds because I'm definitely taking some chances on this one, but I feel confident that people are understanding me.
Stream Leon Thomas' debut album, Electric Dusk, below.