The Shindellas — Kasi, Stacy, and Tam — are having a moment and fully embracing it.
In May, they achieved their first Billboard-charting single, "Last Night Was Good For My Soul." The party-ready groove became a top 10 hit on Billboard's Adult R&B Airplay chart.
"Can I just say the way we found out we were top 10 was [from] Rated R&B," Kasi reveals. "I screenshotted it and texted to every single Weirdo Workshop group chat. We have several."
Weirdo Workshop is an independent label founded by the songwriting and production duo Claude Kelly and Chuck Harmony, also known as Louis York.
The Shindellas were formed in 2017. Hailing from different parts of the U.S. — Stacy (Bellevue, Washington), Kasi (Chicago, Illinois), and Tam (Wharton, Texas) — relocated to Music City, where Weirdo Workshop is based. The vocal powerhouse group officially began releasing singles in the summer of 2018, and in December 2019, they released their debut EP, Genesis.
"We've been embraced with open arms," Kasi says about acclimating to the Nashville music community. "Nashville is really a songwriter's city [and] an artist city. "People take their craft very seriously here, so it was just a natural fit for us." Stacy adds, "[It's] Music City. Just excellent music and the appreciation of songwriting."
"Honestly, we got here at the perfect time because the Black community is in somewhat of an art renaissance right now — from music to actual art," notes Tam. "It's amazing. We're just so grateful. We've built such an incredible community. People love us here [and] support us 100 percent."
In 2021, The Shindellas made history as the first R&B band to perform at the CMT Awards in Nashville. In the same year, they released their debut album, Hits That Stick Like Grits. Written and produced entirely by Louis York, Hits featured anthemic tunes such as "Fear Has No Place" and "When You're Lonely."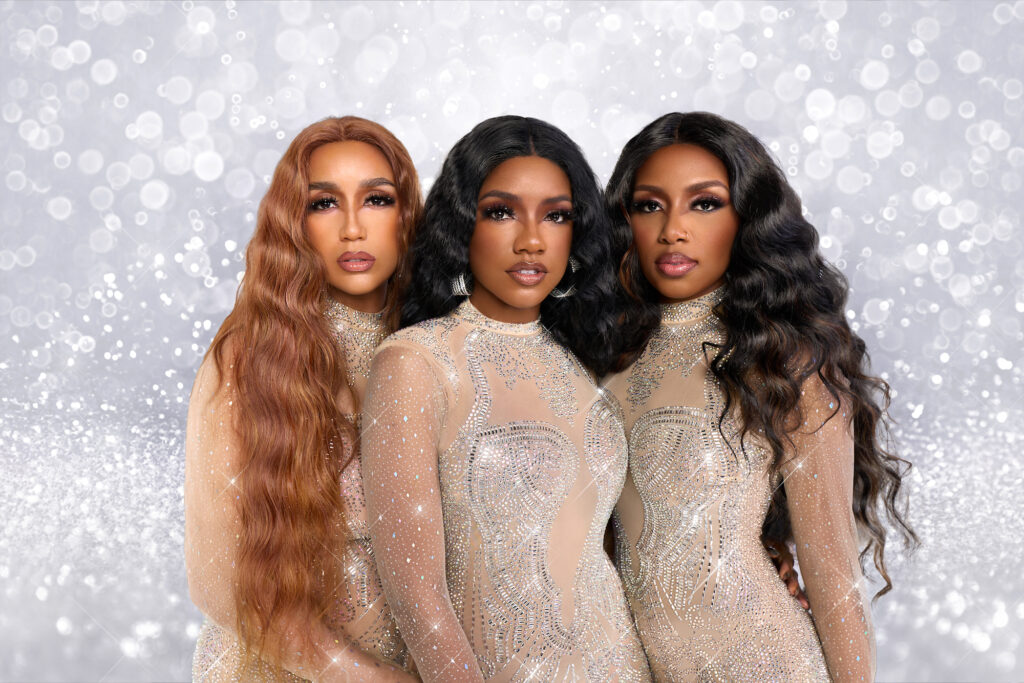 The Shindellas' sophomore album, Shindo, out now on Weirdo Workshop/Thirty Tigers, offers an intimate look into their personal experiences.
"It was so affirming because this is the album where we actually got a chance to co-write with Claude and Chuck on at least four of the songs," says Tam about the overall feeling of recording their second album. "It just felt really good to be able to tell our stories our way. You get to hear the growth and the evolution of each of us individually, but also collectively."
"This is definitely an album of confidence," adds Stacy. "We are showing our femininity, our love and sexuality. It has so much of our own personal stories and perspectives in it. I'm so excited for everyone to hear it because, like Tam said, you can hear each of us so much more in this album."
Where Hits That Stick Like Grits nourishes the soul, Shindo ignites it. "We wanted to feel joy," Stacy explains. "We had gotten through the last couple of years. In Hits, you feel that the mantra music like 'Money,' talking about capitalism, and 'Fear Has No Place.' All of that was necessary at that time. Now we're in this time where [we] want to feel good. We got through that [and] we need to celebrate that. We are showing a much-needed space of joy, two-stepping and community."
Shindo opens with "Up 2 You," a sweltering funk groove punctuated by lively bass riffs and strutting piano. The Shindellas radiate confidently as they leave the ball in a potential partner's court. They know what they can bring to the table but aren't interested in forcing anything. They harmonize: "Yes, I'll be leaving it up to you / What you wanna really wanna do?"
The song originated from a few lines that were created by the trio. "We sent it to Claude and Chuck [and] the next thing you know, they came with this whole song," Stacy reveals. "It kind of showed that whole vibe of a confident woman. It says 'Up 2 You,' but we're really in charge." Kasi adds, "It's powerful. It's cunty."
"We are the sum of all of our influences. You hear it so heavily, especially on that track," Tam shares. "Claude and Chuck are legends. How they curated the whole experience and allowed us to tell the story was so cool."
While songs like "Juicy" and "Ooh La La" skate in flirtatious territory, "Kiss N Tell" takes listeners on a cosmic journey in the bedroom. But it isn't just any old bedroom; it's a sacred place where the highest level of intimacy is explored with unwavering trust and discretion. "That was the first one we all wrote together," Kasi reveals.
"Kiss N Tell" was initially intended for The Shindellas' EP, which would also include their 2022 summer anthem, "BBQs and Body Rolls (Intro)." However, that project soon turned into a full-length album. Still, "Kiss N Tell" fits seamlessly into the overarching story told on Shindo. "It evolved into something a lot different, but I'm not mad because 'Kiss N Tell' is that girl," states Tam.
The previously shared "Think of Me" is yet another highlight on the album. "When it gets hard for you / Here's what I want you to do / Think of me kissing you / Think me holding you in my arms," Stacy sings on the heartwarming tune.
"Think of Me" is sure to satisfy R&B purists. "[It was] necessary to hear a classic R&B ballad, classic modulation, [and] a classic love song," Stacy explains about the song's inspiration. "We wanted to have that [as] a part of the album [and] wanted that feeling."
She admits that she was brought to tears when recording the song. "After 'Think of Me,' I cried. I even have a video of that. I'm just curled up crying. I don't even know why," she chuckles.
The heartfelt number was written by Claude Kelly and Chuck Harmony some time ago.
"They have so many beautiful songs that haven't been released or just sitting there waiting," shares Stacy. She was the one who brought up the song when they were brainstorming the sonics of the album.
The writing process and conceptualization are some of Kasi's highlights of creating Shindo.
Tam echoes her sentiments. "It would definitely have to be our writing sessions," she says of what fulfilled her during the process. "It was just so enjoyable. We'll just talk, and somebody will throw out a word and then we'll be like, 'Hmm, what can we say after that?' It's really a creative hub, and we're brainstorming how we want to tell a story. That had to be the most fulfilling because we are working with two legends."
When it's all said and done, The Shindellas hope listeners will embrace the album's effervescent spirit, allowing it to illuminate their daily lives. Tam shares, "I hope they lean more intentionally into finding the joy in their life and being present in moments. That's something that we're learning as a group. We have to be present in all of our moments — the accomplishments, the ups and downs, all of it. It makes so much of a difference when you're in that space."
Kasi adds, "On a subconscious level, I hope people feel that feeling of, 'Wow, really everyone can shine.' [There's] so much rugged individualism that we forget that collectively we get anything done. I hope people feel that, move in that, empower each other, and empower communities."
As for their vision for what's next, The Shindellas will continue spreading their love and light to all. "We make music for everybody. We want to be intentional about that part of it," Tam declares. "But also pushing the needle forward is a goal. And I think we're really moving in that vein on this album."
Stacy concludes: "The R&B girl group is back and on fire!"
Stream The Shindellas' second album, Shindo, below.