Ari Lennox has revealed her sophomore album, age/sex/location, releases Sept. 9 via Dreamville/Interscope Records.
The 12-song album will include Lennox's previously shared tracks "Pressure" and, most recently, "Hoodie." The former was released as the album's lead single on Sept. 10, 2021. It eventually reached No. 1 on the R&B radio and Billboard charts, becoming Lennox's first leader on either list.
In May, "Pressure" also pushed sales of more than 500,000 equivalent units, marking her third gold certification this year behind "On It" with Jazmine Sullivan and "Whipped Cream."
"Hoodie," the second song released from age/sex/location, debuted Aug. 12. The Elite-produced single was unrolled with the Mez for Heirs-directed video. Dreamville affiliate Isaiah Rashad starred as Lennox's love interest and social media comedian Khadi Don as her friend.
It is unclear at the moment if Lennox's song "Chocolate Pomegranate" will be part of the official tracklist for her forthcoming album. It has amassed over six million streams on Spotify since its September 2020 release.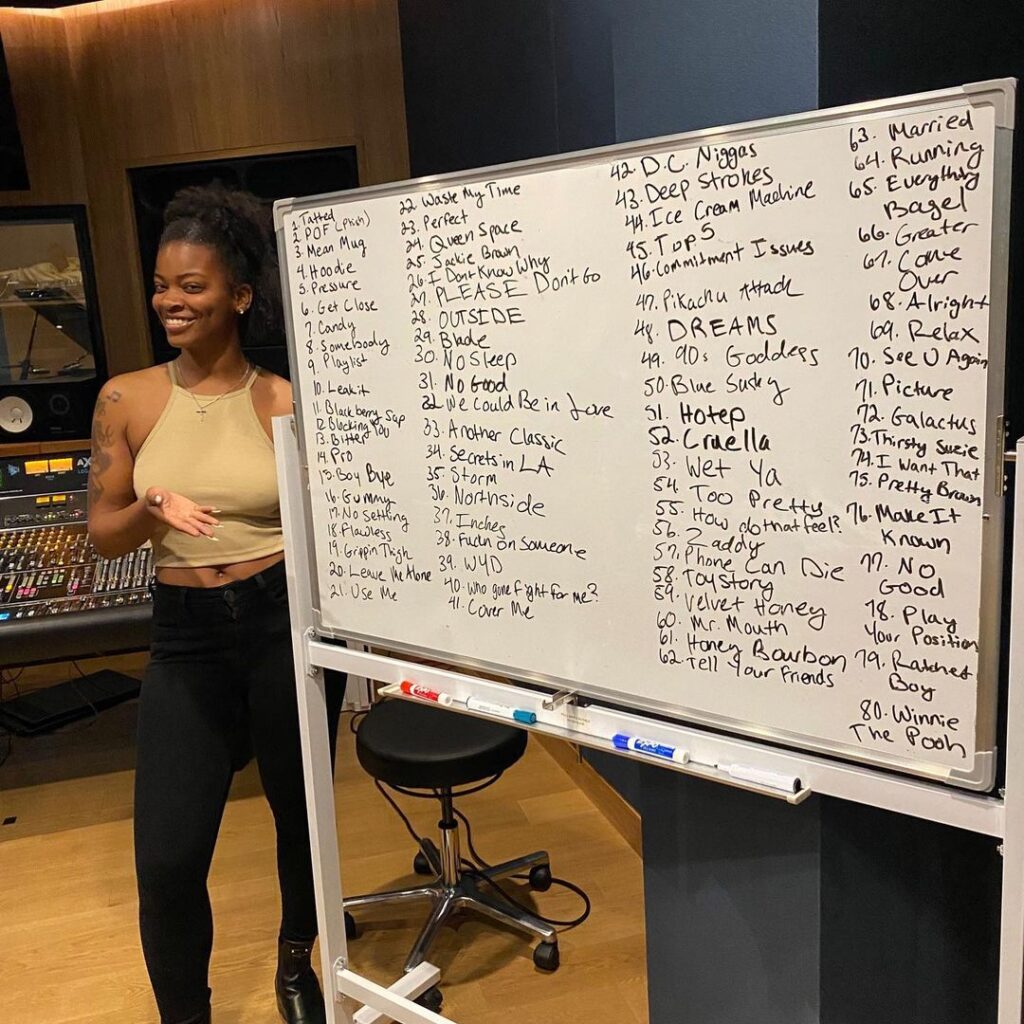 Lennox's long-term collaborator Elite shared a whiteboard of 80 songs she recorded for age/sex/location. Besides the two early songs, "Blackberry Sap," which appeared among the 80, was released as part of Dreamville's D-Day: A Gangsta Grillz Mixtape, hosted by DJ Drama, in March.
Producers and songwriters Elite, Bryan-Michael Cox, Jermaine Dupri, Johntá Austin and Jai'Len Josey are confirmed contributors on Lennox's forthcoming album. It has not yet been revealed if Lennox's sessions with Missy Elliott will leave the cutting board.
Lennox's upcoming album is the follow-up to her acclaimed 2019 debut Shea Butter Baby. The album featured the J.Cole-assisted title track, plus the focus track "BMO" and "Whipped Cream." The title track has been certified platinum, selling over one million equivalent units. It marks Lennox's first platinum-certified release. Meanwhile, "BMO" is certified gold.
Shea Butty Baby was named Rated R&B's Best R&B Album of 2019. In the year-end blurb, contributor Anders Hare mentioned that "while the project did not receive many accolades during its run, it remains a staple piece of the late 2010s, sealing Lennox's status as one of R&B's reigning princesses."
On Sept. 18, Lennox will support age/sex/location at the 107.5's WGCI Summer Jam in Hazel Crest, Illinois. Chlöe, dvsn, Tink and Keyshia Cole and many more are set to perform at the event.